Tokemata Retreat

100 Cemetery Road , Cobram VIC 3644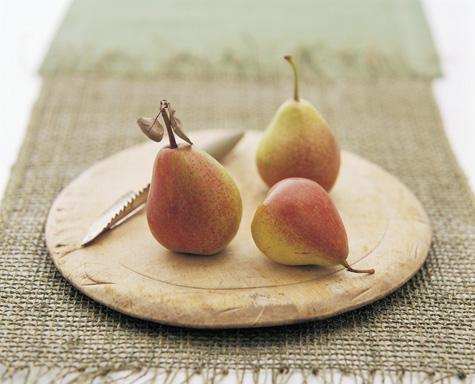 Fruits of Goulburn Valley
Goulburn Valley
Famous for it's fruit growing and vineyards, The Goulburn Valley region stretches from Seymour in central Victoria up to Echuca on the Murray River.

Regarded for its rich chardonnay, The Goulburn Valley region has been producing wine since the 1860's Tahbilk Winery and Vineyard, one of the oldest in the country, pioneered the area with some of the finest drops including marsanne, shiraz and rousanne.

As well as the vineyards some of Austraila' finest fruit is grown in this region including apples, pears, peaches and other stone fruits which are sold at local markets and roadside stalls.

Goulburn Valley Map
Loading map, please wait...
Goulburn Valley Map - Legend

Multiple Hotels

Hotel
Click on the map markers for more information. Hover over the map to zoom in & out or see satellite & terrain views.
Goulburn Valley: Where To Go / Sightseeing
Vietnam Veterans Commemorative Walk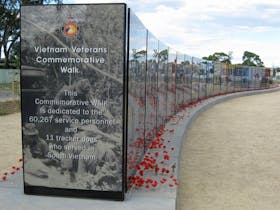 The Vietnam Veterans Commemorative Walk was opened in March 2013. The Wall includes both the names of all Australian veterans who served in the Vietnam War and a photographic timeline.
The Commemorative Walk is not to memorialise those who served in Vietnam and/or those who paid the ultimate price, but to commemorate the service all who played their part in what turned out to be a tumultuous part of Australia's history. Plaques in the interpretive centre give an accurate history of the times prior to military commitment, the period of involvement and the aftermath.
The Walk meanders amidst native trees and grasses that resemble rubber trees and rice paddies. Plants synonymous with Vietnam. 106 panels of DigiGlass with the name of every Serviceman and Servicewoman who served in their various capacities. The names are separated by the Service in alphabetical order. Behind the names is the picture story of the Vietnam conflict and the wall is lite of an evening.
A recreation of the Luscombe bowl, red brick pavers, a black granite memorial Cairn, a Centurion Tank, a replica of the Long Tan Cross, a Huey helicopter and other artillery pieces complete the walk.
The wall is lite nightly.
High Street
Seymour, VIC, 3660
Located 0.7K from Goulburn Valley
Old Post Office Seymour - Fine Art Gallery and Licensed Restaurant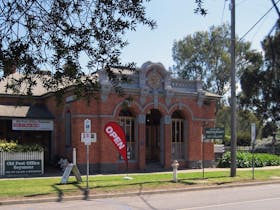 The Fine Art Gallery with its licensed restaurant were established in 1992 in the restored C1872 Old Post Office and Postmasters Residence. The multi-roomed gallery has grown to represent the best in Australian art.
The award winning gallery proudly presents a Seasonal Exhibition Program of major exhibitions plus a large and continuously changing collection of traditional, modern, impressionist and contemporary works of art by noted Australian artists. Wildlife paintings and sculpture are also featured.
The centrally located, elegant, award winning restaurant offers a relaxed atmosphere to enjoy a coffee, meal or browse the gallery with a glass of local wine in hand. This majestic old building and its gardens are home to owner operators Louise Barling and Garry Broderick.
The fully licensed restaurant, which has an open fire and is centrally located, encourages the visitor to sit and enjoy the wonderful ambience, view the art and craft and browse the paintings.
Only 95 kilometres north of Melbourne, in Seymour Victoria, on the bank of the Goulburn River, the Old Post Office Seymour offers something different, if not unique, that showcases all that is truly Australian Art. Well worth a visit!
50 Emily Street
Seymour, VIC, 3660
Located 0.8K from Goulburn Valley
Seymour Railway Heritage Centre
The Seymour Railway Heritage Centre operates special passenger services throughout Victoria and interstate utilising its extensive fleet of preserved diesel locomotives and air conditioned steel and heritage wooden passenger carriages.
Passenger trains are available for charter and can be utilised for weddings, birthdays, conferences and other special functions. Trains have a licensed bar and kiosk. Contact them with details of any requirements and they will prepare a quote for you.
Keep visiting their web site for details of upcoming tours and a booking form.
Locomotives, freight and passenger rolling stock is available for hire to Government and private operators on short term or long term lease.
The SRHC employs a workforce that has developed an enviable reputation in the rail industry for maintenance, engineering and specialised restoration work.
The Centre is located in the heart of Seymour Victoria about 100 kilometres North East of Melbourne and the Depot is served by both broad and standard gauge tracks providing excellent access to the entire rail network.
Email operator for more information on guided tours of the depot.
70 Oak Street
Seymour, VIC, 3660
Located 1.1K from Goulburn Valley
Goulburn Valley: Events
The Gospel Belles Rockin the White Church
The Gospel Belles singing group, Kerri Simpson, Kelly Auty, Marisa Quigley and Diana Wolfe, are renowned for their power-packed vocals, earthy humour and captivating?stage shows. They deliver classic gospel and blues songs in the African-American tradition, and their?interpretations of the genre are rousing, authentic and, on occasion, ever-so-slightly irreverent.
Each of them accomplished performers, singers, songwriters and musicians in their own right, the?Gospel Belles come together on special occasions to share their joyous music with audiences of?all ages.
Award-winning and ARIA-nominated Australian blues and gospel singer Kerri Simpson, with Kelly?Auty, Marisa Quigley and Diana Wolfe, created the Gospel Belles in 2006 to perform swinging?interpretations of their favourite gospel and blues songs.
The significant talents of these outstanding singers and big personalities combine to create a rare?musical treat, with charm galore and more than a dash of dry wit thrown in.
Event Dates
2016
      7th Oct
      7th Oct
4 Anzac Avenue
Seymour, VIC, 3660
Located 0.3K from Goulburn Valley
Tastes of the Goulburn
Tastes of the Goulburn celebrates many of Seymour's Goulburn River Valley wonderful attributes. The festival allows regional winemakers, restaurateurs and producers to showcase their finest produce.
With great music from a variety of bands and performers, plus tireless entertainment for the kids makes this a day not to be missed.
The festival features local produce, gourmet foods and crafts, regional wineries and tastings, live music, children's activities and heritage train rides.
Please refer to website for full program details.
Event Dates
2016
      15th Oct
Station St
Seymour, VIC, 3660
Located 0.3K from Goulburn Valley
The Seymour Market
The Seymour Market runs every third Sunday of the month. The market sees many stall holders, selling items such as fresh produce, plants, home wares and handmade goods.
The Seymour Market also offer delicious coffee and foods to enjoy and live performers each month.
Event Dates
2016
      16th Oct
      20th Nov
      18th Dec
2017
      15th Jan
      19th Mar
      16th Apr
      21st May
      18th Jun
Tallarook Street,
Tallarook
Seymour, VIC, 3660
Located 0.4K from Goulburn Valley
Geelong and Queenscliff Road and Rail Heritage Tour
The Seymour Railway Heritage Centre invites you on a special vintage diesel haul heritage railway tour to Geelong on Saturday 8th October, with an option to travel on to Queenscliff by Coach.
Whilst in Geelong why not enjoy the beautiful parks, beach front and shopping or how about travelling on to Queenscliff and including one of these fantastic optional tours?
Day out with Thomas
Queenscliff Fort
South Bay Discovery Tour
Queenscliffe Maritime Museum
A day for the whole family. They look forward to seeing you.
Event Dates
2016
      8th Oct
Station Street
Seymour, VIC, 3660
Located 0.4K from Goulburn Valley
2016 August Occasion - Agnes Szetey @ Old Post Office Seymour
August Occasion is an Annual Art Exhibition held at the C1872 Old Post Office Seymour.
Two world recognised solo artists alternate. Even years Agnes Szetey and odd years Paul Margocsy. Agnes is known for her depictions, in oil, of the Australian bush and heritage. Paul is internationally acclaimed for his watercolour/gauche Bird Paintings.
Openings are held on the first Sunday in August at the Old Post Office Seymour where art and culture, history and heritage, wine and food all combine. An invitation is extended to attend the openings, chat around the open fire and enjoy a complimentary glass of local wine and refreshments.
The Old Post Office Seymour is one of Central Regional Victoria's premier privately owned commercial Fine Art Galleries and was established in 1992. Only one hour from Melbourne, it offers something different, if not unique, that is truly Australian.
The restaurant, with its open fire, is centrally located. Visitors are welcome to enjoy the relaxed elegant ambience, choose a hearty meal or snack from the extensive menu or just browse with a glass of Goulburn Valley wine in hand.
Seymour is a short drive from Nagambie and just 95 kilometres from Melbourne.
Event Dates
2016
      30th Sep
      1st Oct
      2nd Oct
50 Emily Street
Seymour, VIC, 3660
Located 0.8K from Goulburn Valley
2017 Equine and Wildlife Exhibition @ Old Post Office Seymour
The Old Post Office Seymour is internationally respected as a Fine Art Gallery exhibiting Equine and Wildlife paintings and sculpture.
Artists this year have been given free range to create works in many mediums, sizes and price ranges. Whatever and however they can interpret the topic - the Gallery is expecting everything from formal animal portraits, landscapes with animals, digitally enhanced photographs to abstract depictions. The seven room gallery should be full of large and small, delicate and flamboyant works of Art - a delight to the senses and eye.
The C1872 restored building also displays a continuously changing exhibition of traditional and contemporary art created by many of Australia's best known and awarded artists. Most are also internationally awarded and exhibited. Also regularly on display is a selection of Murano glass jewellery imported direct from Venice, Italy.
The Art Gallery and Restaurant have been owner operated in residence since established in 1992. Garry and Louise invite you to visit, view the art, admire the building or relax in the outside area. Stop long enough to enjoy just a coffee or stay to dine. You're welcome to browse the multi-roomed gallery with glass in hand.
Event Dates
2017
      5th Feb
      8th Feb
      9th Feb
      10th Feb
      11th Feb
      12th Feb
      15th Feb
      16th Feb
      17th Feb
      18th Feb
      19th Feb
      22nd Feb
      23rd Feb
      24th Feb
      25th Feb
      26th Feb
      1st Mar
      2nd Mar
      3rd Mar
      4th Mar
      5th Mar
      8th Mar
      9th Mar
      10th Mar
      11th Mar
      12th Mar
50 Emily Street
Seymour, VIC, 3660
Located 0.8K from Goulburn Valley
2016 Summer Art @ Old Post Office Seymour
Annual exhibition held at the Old Post Office Seymour, Summer Art is a group show of work suitable for giving, collecting or investment. Opening November and continuing through to end of January.
Each year the Gallery welcomes the festive summer season with a new display of Australian Art. The continuously changing show allows for the works to be collected at the time of purchase.
The exhibition features many artists that have exhibited over the years. All are multi-award winning artists and most have exhibited internationally. Many price ranges, subjects, styles, sizes and mediums are covered hopefully producing something for everyone.
The gallery exhibits paintings and limited edition prints by the same artists. Also on display is an extensive range of sculpture, pottery, art glass, woodwork and jewellery.
Centrally located in the award winning art gallery is a fully licensed restaurant that serves everything from a Devonshire to an A La Carte extensive menu with a complimenting local wine list and is open during the day and of an evening.
Event Dates
2016
      19th Nov
      20th Nov
      21st Nov
      22nd Nov
      23rd Nov
      24th Nov
      25th Nov
      26th Nov
      27th Nov
      28th Nov
      29th Nov
      30th Nov
      1st Dec
      2nd Dec
      3rd Dec
      4th Dec
      5th Dec
      6th Dec
      7th Dec
      8th Dec
      9th Dec
      10th Dec
      11th Dec
      12th Dec
      13th Dec
      14th Dec
      15th Dec
      16th Dec
      17th Dec
      18th Dec
      19th Dec
      20th Dec
      21st Dec
      22nd Dec
      23rd Dec
      24th Dec
      25th Dec
      26th Dec
      27th Dec
      28th Dec
      29th Dec
      30th Dec
      31st Dec
2017
      1st Jan
      2nd Jan
      3rd Jan
      4th Jan
      5th Jan
      6th Jan
      7th Jan
      8th Jan
      9th Jan
      10th Jan
      11th Jan
      12th Jan
      13th Jan
      14th Jan
      15th Jan
      16th Jan
      17th Jan
      18th Jan
      19th Jan
      20th Jan
      21st Jan
      22nd Jan
      23rd Jan
      24th Jan
      25th Jan
      26th Jan
      27th Jan
      28th Jan
      29th Jan
      30th Jan
      31st Jan
50 Emily Street
Seymour, VIC, 3660
Located 0.8K from Goulburn Valley