Dracula's Haunted House

-

Haunted House Attraction

Gold Coast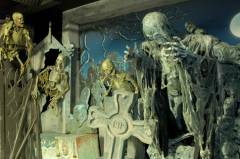 Haunted House
Inclusions:
- Five level walk through Attraction, experience mind blowing Special FX, Animated Monsters and Optical Illusions.
Price:
Adults: A$25
Children: A$19
Description:
The Haunted House Attraction offers an amazing interactive journey through Creepy Comedy Satire, Museum oddities and Optical Illusions. Set in a 5 level purpose built building the Haunted House features include a 'Deadly Australian Creatures Collection' where visitors encounter at close range the terrifying thrill of a giant crocodile, funnel web spider and white pointer shark. Also on show are the Vampyre Liar, Mirror Maze and Phobia Level! State of the art animation and Special FX bring this attraction to life.
Child Policy:
Valid for 01APR16-31MAR18:
Child: 0-9 years inclusive - not recommended.
Child: 10-17 years inclusive - child rates apply.

Important Information:
Valid for 01APR16-31MAR18:
Does not operate:
- Dracula's Haunted House Attraction does not open 25DEC.