Melbourne Star Observation Wheel

-

Sights and Lights Flight

Melbourne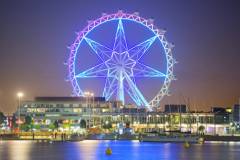 Melbourne Star
Inclusions:
- 2 x Entry to the Melbourne Star Observation Wheel incorporating a 30 minute flight (to be used either day or night).
- In cabin audio tour and map.
Price:
Adults: A$46
Children: A$32
Full Itinerary:
Melbourne Star invites you to experience Melbourne in a whole new way. A unique introduction to the city, with all its colour, culture and eccentricities giving visitors and locals alike a new way to engage with Melbourne's vibrant cityscape. Experience a single 30 minute flight including a complimentary in-cabin audio tour and map.

Important Information:
Valid for 01APR17-31MAR18:
- Due to operational requirements prams, mobile scooters and walking frames are not permitted within the cabins.
- Non-motorised wheelchairs are available is passenger is unable to walk abord unassisted.