Tahune Air Walk Pty Ltd

-

Tahune AirWalk Admission

Regional TAS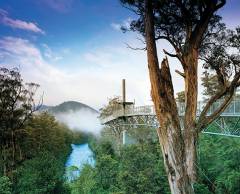 Tahune AirWalk
Inclusions:
- Entry to Tahune AirWalk.
Price:
Adults: A$29
Children: A$15
Full Itinerary:
Valid for 01APR17-31MAR18:
- Experience breathtaking views of the the forest canopy, wild southern rivers and glorious scenery. Marvel at this uniques 620 metre long elevated walkway high above the forest floor. Experience breathtaking views from the cantiliver suspended 50 metres above the Huon River. Journey through the forest to the 2 spine-tingling swinging bridges suspended over the mighty Huon and Piction rivers or simply enjoy the peaceful Huon pine forest walk.

Important Information: