EMCR (Group X) - Downtown - Inclusive
Avis Australia Northern Queensland (Off-Airport)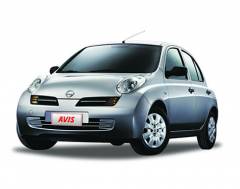 Nissan Micra or similar 3 Door Hatch Manual
Recommended Passenger Capacity:
4
Baggage Capacity:
1 medium suitcases and 1 overnight bag/small suitcase.
Supplier Description:
Why not add Avis to your travel plans and make the most of your holiday by enjoying the flexibility and convenience that an Avis car rental provides. Situated at all major airport and city locations and offering a wide range of late mode vehicles to choose from, all at great rates, renting with Avis is sure to make your holidays escape more enjoyable. All Avis vehicles are airconditioned and come with 24 hour roadside assistance. Plus you get unlimited kilometres in Metropolitan areas as well as free maps to help you find your destination. Avis gives you the freedom to escape to where you want to go.

Vehicle Group/Type:
Group X - Nissan Micra or similar 3 Door Hatch Manual.
Inclusions:
- Vehicle Registration Fee (VRF).
- Loss Damage Waiver (LDW).
- Goods and Services Tax (GST).
- Unlimited kilometres for rentals commencing in Metropolitan and Country locations
- 100kms per day for rentals commencing in Remote locations. Excess kilometres charged at 27.5c per kilometre.
- Administration Fee.
Does Not Include:
- Concession Recovery Fee (CRF).
- Premium Location Surcharge (PLS).
- Excess Reduction (ER).
- One Way Rental Fees.
- Refuelling Service Fees.
- Applicable miscellaneous charges.
- Optional charges.
- Frequent Travellers Program.
Hire Terms:
Please Note: The vehicles shown are examples. Specific models within a car group may vary in availability and features such as passenger seating, luggage capacity and fuel consumption.