Boorowa Accommodation, Hotels, Tours & Information
Boorowa
The モRunning of the Sheepヤ down the main street of Boorowa during the Irish Woolfest often reminds visitors of the モRunning of the Bullsヤ in Pamplona. Boorowa's Irish Heritage is another reason for celebration at this award winning festival. This event takes place on the Sunday of the October long weekend and is fun for all the family. Located on the Lachlan Valley Way only an hour and a quarter north of Canberra and three and a half hours from Sydney, Boorowa is a vibrant country town which is the place to visit for a True Country Experience. Boorowa's wide main street is reminiscent of a bygone era and has been transformed with beautiful old world lighting, exquisite paving and spectacular roses. Immerse yourself in Boorowa's heritage by following the shamrocks on the Shamrock Trail where each building on the map is depicted with a brass plaque and an explanation of its heritage. Or take a stroll along the Riverwalk where you might be lucky enough to see a platypus, or see ducks in the pond. Boorowa duck pond is one of the three places in the world with a water jet. Boorowa, Canberra and Geneva. Many shops are retained in their original state as they were in the days of the emporium. St Patrick's Catholic Church resembles a miniature cathedral with its Italian marble and stunning stained glass windows one of which is dedicated to the Irish Liberator Daniel O'Connell. Indulge yourself with lunch or dinner at one of Boorowa's cafes or restaurants. Visit our excellent galleries, with paintings, art and craft and collectibles for that perfect gift with the country flavour. Organise a group to take a special packaged day tour of Boorowa. Visit Frogmore where Sarah Jane Country Crafts and the Spring Valley Farm which grows stunning flowers have their home or take a drive to Rugby, Reids Flat and Rye Park, the home of the Old School Retreat.
Boorowa: Where To Go / Sightseeing
Carmen's Collectables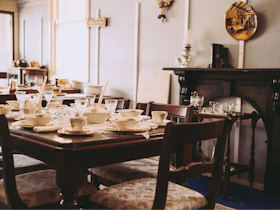 Carmen's Collectables offer friendly personal service in your selection of quality chinaware and furniture items. Also available are kitchen paraphernalia, retro, vintage and crystal items; tools and old farm wheels.
Come on in and find that one off item for your home whilst visiting beautiful Boorowa!
Carmen can not wait to meet you!
18-18a Marsden Street
Boorowa, NSW, 2586
Located 0.1K from Boorowa
Boorowa Historical Museum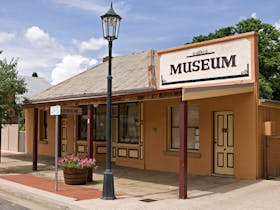 The Boorowa Historical Museum is located in a gorgeous old pis? work, heritage building in the central business district of Boorowa. It is the last pis? work building in Boorowa and has been lovingly restored.
The museum is linked with the Lachlan Valley Museum Group and hosts some exciting travelling exhibitions. Although opening hours are limited, it is opened for visiting bus tours or on request. It is open on the day of the Irish Woolfest when it often houses a special bushranger exhibition. There is a permanent wool display housed in the building.
35 Marsden Street
Boorowa, NSW, 2586
Located 0.2K from Boorowa
Deb's Remedial Massage
Deb is a Remedial Massage Therapist and provides a feeling of relaxation to the whole body. As a wellness clinic, every need is catered for with Reiki, Reflexology, Pheta Healing and Integrated Massage. Body Wraps, Body Harmony and Hot Stone Massage relax your body and create a peaceful aura. Indulge in soy candles, bath salts, and the Australian Bush Flower Essence, or try crystals to create a balance. The whole atmosphere is one of harmony and balance.
This is an appointment only product.
82A Pudman Street
Boorowa, NSW, 2586
Located 0.2K from Boorowa
The Shamrock Trails
The Shamrock Trails are historical walks around the new town, the old town and the Riverwalk of Boorowa. These trails are depicted on a brochure with shamrocks painted on the pavement to lead the way. Each building depicted has a brass plaque with cameo details of the history of the building. These trails are also used in guided tours of Boorowa.
The Old Courthouse Building which houses the Visitor Information Centre is the first stop on the Shamrock Trails. A great location for clean toilets and Devonshire Teas.
Follow the Shamrock Trails around Historical Boorowa to learn about Boorowa's History. Trail One - Stroll the main street in 25 minutes. Trail Two - Walk around the town in 60 minutes. Trail Three - Explore Old Burrowa in 75 minutes.
This is a great way to experience Boorowa's history first hand. The brochure is available at the Visitor Information Centre.
Boorowa
Boorowa, NSW, 2586
Located 0.3K from Boorowa
Glenara Gallery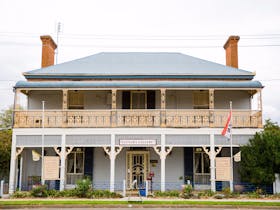 Glenara Gallery is located in a beautifully restored house and garden. Here you will find a fine display of quality gifts, including old coins with birth dates, jewellery, paintings and hand made wooden furniture and products made in the workshop.
Joan is the artist and has some delightful country scenes on display. Kevin is the carpenter and creates some beautiful wooden furniture out of a wide range of specialised wood. If you can't see what you want he will make it on request. Kevin is also an Architectural Draughtsman and is responsible for accurate drawings of many houses around the region. Glenara House is a beautiful heritage building in it's own right.
Weddings often take place in the beautiful garden lovingly maintained by Kevin Seccombe. Coaches are welcome.
71 Marsden Street
Boorowa, NSW, 2586
Located 0.4K from Boorowa
Boorowa Town Pool
The Boorowa Swimming Pool operates from November until March every year.
Please Note that the pool is closed to the public on Friday evenings from 6pm due to the local swimming club use. They are also closed to the public when swimming carnivals are organised to take place.
And is closed to All individuals on Christmas Day.
There is Free entry to everyone on Australia Day
Market Street,
12
Boorowa, NSW, 2586
Located 1.0K from Boorowa
Moppity Meats
Moppity Meats butcher shop is open, offering a range of farm fresh produce to the people of Boorowa. James and Hugh Bowman are the owners of the Moppity Meats. The boys are farmers and pride themselves on delivering the best cuts to their butcher shop. Moppity Meats from the paddock to the plate!
The boys offer great specials on locally grown produce daily.
Visitors regularly divert to Boorowa purely to purchase their high quality meat.
Moppity Meats,
Marsden Street
Boorowa Area, NSW, 2586
Located 10.7K from Boorowa
Saint Clement's Retreat and Conference Centre
Saint Clement's is a contemporary, well-resourced retreat and conference centre set on 800 acres in a tranquil, picturesque setting.
Conducive to reflection, prayer and study, it is also an ideal conferencing and meetings centre with modern, air conditioned facilities. It has a peaceful ambience that will meet the needs of both individuals and groups.
Kalangan Road
Galong, NSW, 2585
Located 20.8K from Boorowa
Boorowa: Events
The Shine Shield Swimming Competition: Boorowa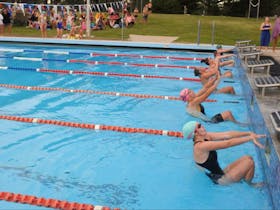 This event involves a range of organised swimming events, canteen facilities and family picnic. Swimming teams from Yass, Binalong, Boorowa, Harden and Jugiong participate. Hilltops Council lifeguards will provide supervision and first aid response.
Event Dates
2018
      6th Jan
Market Street,
12
Boorowa, NSW, 2586
Located 1.0K from Boorowa
Boorowa: Travel Tips
Boorowa Visitor Centre Courthouse Arts Craft Co-op
The Visitor Centre Courthouse Arts and Crafts Co-op is located in the Old Court House Building next to a clean toilet stop and provides visitor information, sells local handmade products and has a Magistrates Tearoom where you can indulge in a most decadent Devonshire Tea.
Browse amongst the display of locally made products, historical books and souvenirs. A fine choice of handmade jumpers is available for purchase along with wonderful local jams and cakes just like grandmother made. Find a gorgeous gift for every occasion.
The volunteers who operate the Co-op enjoy welcoming visitors and discussing local tourism locations. Ask what there is to do in Boorowa and you will be pleasantly surprised.
As well as the delicious Devonshire Tea, the Magistrate's Tea Room provides toasted sandwiches and a welcome respite on your stopover.
The Visitors Centre organises day tours of Boorowa for buses and groups as required.
Old Court House Building,
Marsden Street
Boorowa, NSW, 2586
Located 0.5K from Boorowa
Boorowa Map
Boorowa Map - Legend

Multiple Hotels

Hotel
Click on the map markers for more information. Hover over the map to zoom in & out or see satellite & terrain views.