Angourie Accommodation, Hotels, Tours & Information
Angourie
Angourie is a charming seaside town on the northern tip of Yuraygir National Park. With spectacular views of the coastline, a glorious natural setting and a laidback, relaxed lifestyle, Anggourie is a popular holiday destination. In the 1960s, Angourie became famous as one of the best point-breaks in Australia and is often visited by the world's best surfers.

Angourie is renowned for its fresh water Blue and Green Pools that were originally rock quarries before filling with water. The pools are very deep and are a popular swimming spot. Enjoy the breathtaking coastal walks of Yuraygir National Park, browse the local art and craft stores or dine at one its restaurants and cafes.
Angourie: Where To Go / Sightseeing
Angourie Blue Pool
The Angourie Blue Pool is extremely deep and is a very popular swimming hole. There is a walking track to the Angourie Blue Pool from the car park area at the eastern end of The Crescent, Angourie.
The rock shelf separating the pools from the ocean is an interesting area to explore and families often picnic around the picturesque freshwater pools.
As the Pool is subject to naturally occurring algae on occasion, which could prevent swimming, we encourage visitors to get in contact with Clarence Valley Council in relation to the water condition at the time, and check for Council's signs at the entrance, which advises visitors of the current swimming and water conditions.
The Crescent, Angourie Via Yamba
Angourie, NSW, 2464
Located 0.1K from Angourie
Angourie Beach
Angourie Beach was declared a National Surfing Reserve in 2007, the second site in Australia to be recognised for its significance to recreational surfing and, as such, is considered sacred by Australian surfers.
If the NSW North Coast can be said to have a half dozen legendary point-breaks, Angourie is undoubtedly one of them. 'Discovered' in the 1960s by the first generation of Australia's surfing counter-culture, Angourie remained relatively unheralded for the next three decades.
Famous these days for being Aussie surfing legend Nat Young's home break, Angourie remains a pristine environment bordered by the Yuraygir National Park. The swell needs only be one or two metres for the point to start breaking, at which stage it's rideable for surfers of most abilities, but anything bigger should only be tackled by confident board-riders.
Angourie Beach
Angourie, NSW, 2464
Located 0.4K from Angourie
Pippi Beach Yamba
Pippi Beach is an idyllic location to soak up the sun and enjoy the crashing waves of the Pacific Ocean. It is a popular surfing beach which has a large number of enthusiastic surfing competitors turn up for the annual 'Pippi Beach Surf Classic'.
Pippi is patrolled by the local surf club in season.
Fishing off the rock shelf on the northern end at Yamba Point and the southern end at Flat Rock, is another popular pastime for locals and visitors. Picnic tables, parking and toilet facilities are all available.
Southern Pippi Beach is also a leash free area for dogs.
Pacific Parade
Yamba, NSW, 2464
Located 4.4K from Angourie
Nicholson Fine Foods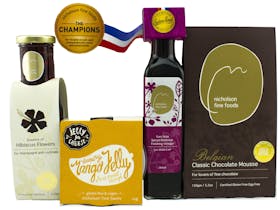 Foodie paradise in Yamba! Come and experience Yamba's home of champion artisan gourmet food products at Nicholson Fine Foods, winner of 12 Australian Champion Trophies.
A "tour and taste experience" can be organised by calling the factory on the phone number provided and making a booking. The 'tour and taste' will take about 60 minutes and is available after 4pm on weekdays and some Saturdays by appointment.
It's all about Belgian Chocolate, Fruit Vinegars, Garnishing Pearls and Spice Mixes.
Come and taste what all the fuss is about!
Unit 1, 4 Mooli Place
Yamba, NSW, 2464
Located 4.6K from Angourie
Yamba Museum - The Story House
The award-winning Yamba Museum, operated by the Port of Yamba Historical Society, is centrally located. Check the web site for up-to-date information about special exhibitions and events at the Yamba Museum. Like the Facebook page for glimpses of Yamba's past through historical photos.
The museum displays focus on the settlement of Yamba and its strong maritime history. The collection includes objects that highlight the diversity of Yamba's history, from the telescope once belonging to Francis Freeburn, the first pilot and pioneer in Yamba, to the shark-bitten surf board and mock school room display.
Research services include access to an extensive photographic collection, publications available for purchase and the impressive knowledge of the museum volunteer guides.
Coach tour groups and school visits are welcomed and the Old Kirk can be booked for functions and events such as weddings or private exhibitions.

River Street
Yamba, NSW, 2464
Located 4.8K from Angourie
Yamba Lighthouse
Stories about the first lighthouse seem to vary a little but it seems that there was first a rudimentary structure of a platform with a kerosene lamp on it on the most easterly part of Pilot Hill.
This was replaced in 1866 by a small wooden humpy whose shutters were opened each night to dispense the rays of a large kerosene lamp placed on a bench. It was in the same place as the first and next to the flagstaff.
Tenders were called in 1878 and a permanent light was built in 1880 by W. Kinnear at a cost of 1,097 pounds. You get a beautiful view from the grassland that surrounds the lighthouse. The lighthouse itself is not open for inspection. (Lighthouse Custodian is the Department of Infrastructure, Planning and Natural Resources).
Pilot Hill
Yamba, NSW, 2464
Located 4.8K from Angourie
Angourie: Events
Yamba Surfing Festival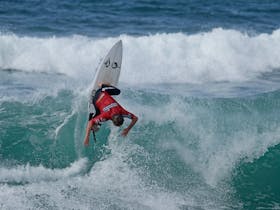 Surfing NSW has combined the NSW open state shortboard, longboard and logger for men and women in 2016.
Saturday 28 and Sunday 29 May - Open Shortboard State Titles (Men and Women)
Monday 30 and Tuesday 31 May - Open Logger and Longboard State Titles (Men and Women)
This event is based around the most elite surfers in the state and results will determine the Open Male and Open Female team for 2016 Australian Surf Festival in August at Coffs Harbour for the Surfmasters and Longboard divisions.
Event Dates
2016
      31st May
Marine Parade,
The Pavilion
Yamba, NSW, 2464
Located 2.6K from Angourie
Mal's Blues Bar
Yamba Golf and Country Club's back deck becomes a 'blues central' on the last Sunday of every month with Australia's premier electric guitarist Mal Eastick and monthly invitational guest performing.
Mal has been a long time performer playing with some of the best acts on the Australian music scene Mal. He has performed at high profile events such as Broadbeach Blues Festival, Bimbadgen Blues festival,Thredbo Blues Festival, and as a guest in a premiere guitar show featuring Kevin Borich, Phil Emmanuel, Phil Manning and others.
Catch Mal and special guest on the last Sunday of every month at Yamba Golf and Country Club. For details about the guest acts or for more information visit the Club's website or Facebook page.
Entry is free and the Club courtesy bus is in operation from 2pm. Seafood Steak and Seafood will be open for lunch and dinner.
Event Dates
2016
      31st May
      1st Jun
      2nd Jun
      3rd Jun
      4th Jun
      5th Jun
      6th Jun
      7th Jun
      8th Jun
      9th Jun
      10th Jun
      11th Jun
      12th Jun
      13th Jun
      14th Jun
      15th Jun
      16th Jun
      17th Jun
      18th Jun
      19th Jun
      20th Jun
      21st Jun
      22nd Jun
      23rd Jun
      24th Jun
      25th Jun
      26th Jun
      27th Jun
      28th Jun
      29th Jun
      30th Jun
      1st Jul
      2nd Jul
      3rd Jul
      4th Jul
      5th Jul
      6th Jul
      7th Jul
      8th Jul
      9th Jul
      10th Jul
      11th Jul
      12th Jul
      13th Jul
      14th Jul
      15th Jul
      16th Jul
      17th Jul
      18th Jul
      19th Jul
      20th Jul
      21st Jul
      22nd Jul
      23rd Jul
      24th Jul
      25th Jul
      26th Jul
      27th Jul
      28th Jul
      29th Jul
      30th Jul
      31st Jul
      1st Aug
      2nd Aug
      3rd Aug
      4th Aug
      5th Aug
      6th Aug
      7th Aug
      8th Aug
      9th Aug
      10th Aug
      11th Aug
      12th Aug
      13th Aug
      14th Aug
      15th Aug
      16th Aug
      17th Aug
      18th Aug
      19th Aug
      20th Aug
      21st Aug
      22nd Aug
      23rd Aug
      24th Aug
      25th Aug
      26th Aug
      27th Aug
      28th Aug
      29th Aug
      30th Aug
      31st Aug
      1st Sep
      2nd Sep
      3rd Sep
      4th Sep
      5th Sep
      6th Sep
      7th Sep
      8th Sep
      9th Sep
      10th Sep
      11th Sep
      12th Sep
      13th Sep
      14th Sep
      15th Sep
      16th Sep
      17th Sep
      18th Sep
      19th Sep
      20th Sep
      21st Sep
      22nd Sep
      23rd Sep
      24th Sep
      25th Sep
      26th Sep
      27th Sep
      28th Sep
      29th Sep
      30th Sep
      1st Oct
      2nd Oct
      3rd Oct
      4th Oct
      5th Oct
      6th Oct
      7th Oct
      8th Oct
      9th Oct
      10th Oct
      11th Oct
      12th Oct
      13th Oct
      14th Oct
      15th Oct
      16th Oct
      17th Oct
      18th Oct
      19th Oct
      20th Oct
      21st Oct
      22nd Oct
      23rd Oct
      24th Oct
      25th Oct
      26th Oct
      27th Oct
      28th Oct
      29th Oct
      30th Oct
River Street
Yamba, NSW, 2464
Located 4.5K from Angourie
Angourie Map
Angourie Map - Legend

Multiple Hotels

Hotel
Click on the map markers for more information. Hover over the map to zoom in & out or see satellite & terrain views.