Dungog Accommodation, Hotels, Tours & Information
Dungog
It is from these beautiful hills that the name Dungog, 'A Place of Thinly Wooded Hills' was derived. The hills are at their most striking in the early morning or the evening when the light casts long shadows from the trees and mist hangs in the valleys. Dungog first settled in the 1820's is two and a half hours easy drive from Sydney. With its wide streets and country charm it is the shopping and business centre for a thriving community based on beef cattle, controlled logging of hardwoods, dairying, deer farming and tourism. Welcome to the clean air and rolling landscape of the Barrington Tops and foothills. Here there is everything from the charisma of busy little towns to the working vistas of an active farming community and the marvellous wilderness of sub-tropical rainforests. Real country flavour beyond the towns the main roads meander, wooden bridges rattle, herds of cows pass to and from milking, gnarled trees line the way and galahs and rosellas flash their colour in flight. Often there is an alternative route, a gravel road perhaps, to make a round trip, maybe through the forest or criss-crossing creeks and spurs where dogs stare from a farm gate and the kids are out on horses. World-class wilderness most of Barrington Tops will always be forest, protected as State Forest and National Park, and with pristine regions designated Wilderness Areas and listed under World Heritage legislation. There is wide diversity, from vigorous regrowth stands of tall straight eucalypts, to ancient beech forest pure and undisturbed. There is rich sub-tropical rainforest in the lowland gullies, and twisted, stunted snowgums on the high plains. Immersed in nature through the forest there are tracks for mountain-bikers, horse riders and four-wheel drives. There are sites that are idyllic for bush campers. There are crystal-clear streams with sparkling waterfalls and pools where people might have swum for 40,000 years. And if you know your plants you'll find the food that was the mainstay for the Aboriginal people when only they were here: native grape, yam, crabapple, matrush, tamarind and other native plants.
Dungog
Dungog: Where To Go / Sightseeing
Dungog Historical Museum
The Dungog Historical Society was formed in 1963 and since 1968 has operated a museum in the heritage-listed former School of Arts building. The purpose of the museum is the collecting, preserving and interpreting of local heritage for everyone. The society aims to promote local history - including family history and the museum collection - to the local community and the general public. They can assistance with research enquiries in person or by correspondence.
The collection reflects the area's rural history, including dairying, the timber industry, and local manufacturing including items from Wade's Cornflour Mill Dungog. Domestic items include household items and a photographic collection. Items that grandmother used for the daily running of the house, dentist equipment for pulling teeth, medical items, known Dungog citizen's stories, and history. Horse drawn carts and buggies and shop items are also on display.
There are guided tours of the museum. Bookings essential.
105 Dowling Street
Dungog, NSW, 2420
Located 0.1K from Dungog
Dungog James Theatre
The James Theatre was once the social hub of Dungog, not only for its film screenings, but its balls and dances, catered for by the Wattle Club ladies.
The Theatre fell on hard times and fell into disrepair until it was purchased by the Dungog Shire Council in 1979 to provide a large function centre for the community. Cinema screenings were continued during the 1980s and 90s and until 2007 by a dedicated Ken Reeve, in spite of the increasing challenges posed by television and videos. Since then the community has worked to keep the Theatre building operational for films, live performances and functions.
The James Theatre is available for hire for film, music or dramatic events as well as weddings, parties, dances, educational uses and meetings. Events happening throughout the year.
6 Brown Street
Dungog, NSW, 2420
Located 0.2K from Dungog
Farm Visit
Farm Visit is a unique visit to an authentic working Dairy Farm just outside Dungog at the foothills of the Barrington Tops and alongside the magical Williams River.
Come and watch the cows wander over the creek up to the bales (where the milking happens), make butter from fresh New South Wales milk, taste test local cheeses, pat and bottle feed the cutest calves. Experience for yourself what a milking on a Hunter Valley dairy is all about.
198 Dowling Street
Dungog, NSW, 2420
Located 0.3K from Dungog
Dungog: Events
Dungog Arts Society Annual Art Exhibition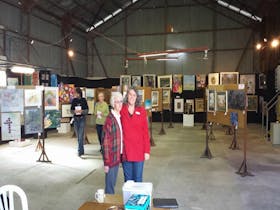 Dungog Arts Society was established to foster creative activities for its members and to further develop artistic awareness in Dungog. Paintings are of local areas and other structures, scenery and many other subjects, so come in and buy or browse the art work. The artists have creative items that will please all, and you will be amazed by some very good talent.
The reward is in the successful result of the exhibitions and events, and the delight members feel when their work is appreciated.
They sincerely hope you are able to join them for Opening Night, refreshments and entertainment provided.
Event Dates
2017
      8th Sep
      9th Sep
      10th Sep
      11th Sep
      12th Sep
      13th Sep
      14th Sep
      15th Sep
      16th Sep
      17th Sep
Dungog Arts Society,
96-102 Dowling Street
Dungog, NSW, 2420
Located 0.1K from Dungog
Down Memory Lane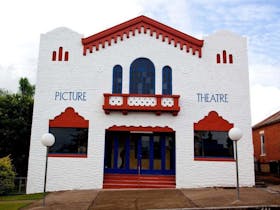 Down Memory Lane is a rare chance to enjoy classic Hollywood fare on the big screen.
In 2016, the theatre will present:
March - Roman Holiday (1953) with Gregory Peck and Audrey Hepburn;
May - Vertigo (1958) with James Stewart and Kim Novak;
June - High Noon (1952) Gary Cooper Grace Kelly;
September - How Green was my Valley (1941) with Roddy McDowell and Maureen O'Hara; and
November - Breakfast at Tiffany's (1961) with George Peppard.
Subscriptions are available, or buy your ticket at the door. Tickets include a classic movie preceded by live music for half an hour. Morning tea available for purchase.
Group packages available.
Presented by Friends of James Theatre Inc.
James Theatre,
6 Brown Street
Dungog, NSW, 2420
Located 0.2K from Dungog
Dungog Community Christmas Lunch
A Christmas Lunch hosted by the Dungog Community Centre. Alone and no plans for Christmas lunch? Join them and have a scrumptious Christmas Lunch to enjoy a wonderful Christmas Day with all the trimmings of food, fun and laughter. Get back that true sense of what Christmas is meant to be about.
Dungog Public School Hall,
Chapman Street
Dungog, NSW, 2420
Located 0.2K from Dungog
Dungog Markets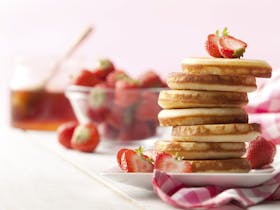 On the first Saturday of the month (except January), local farmers and artisans bring their fresh, seasonal produce and handcrafts to the Dungog Market.
Stalls include handmade arts and crafts, jams, relishes, vinegar's and preserves, organic soaps, cakes, slices and biscuits, garments, plants, St Andrew's kitchen and seasonal farmer produce. The markets are held at St Andrew's Presbyterian Church. The grounds are open for set up from 7.30am.
Come for breakfast, come for a browse, come for artisan crafts and farmer produce.
St Andrew's Presbyterian Church Grounds,
60 Dowling Street,
Corner of Chapman Street
Dungog, NSW, 2420
Located 0.2K from Dungog
Dungog Pedalfest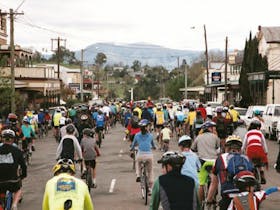 Dungog Pedalfest is a celebration of cycling and sociability over the second weekend in September each year!
This weekend is a major fund-raising event for the local community and is proudly supported by the Rotary Club of Dungog - a cause well worth pedalling for!
Weekend events include music, dancing and food at the nearby Bandon Grove School of Arts, Dungog Society Art Show (a must visit!), local markets and ever popular Dungog Cinema.
For those who ride a bicycle there's a assortment of cycling activities for all ages and abilities. This year, refreshments have expanded from the ever popular muffins to include other delights. View details on their web site of the various rides for you to try!
In response to many requests, the Chichester Dam Ride will be running again on Sunday, which explores the upper Williams River valley on the scenic road up to the dam at Chichester for morning tea.
Event Dates
2017
      8th Sep
      9th Sep
      9th Sep
      10th Sep
      10th Sep
Corner of Dowling,
and Brown Street
Dungog, NSW, 2420
Located 0.2K from Dungog
Dungog: Travel Tips
Dungog Shire Visitor Information Centre
The Dungog Shire Visitor Information Centre is located in the town centre of Dungog, at the corner of Dowling and Brown Streets.
The centre is staffed by friendly locals committed to providing you with all the information you could possibly need on what to do and where to go in this magnificent area. For example: great rainforest walks, waterfalls and beautiful views of the surrounds.
You can even make bookings for accommodation through the centre. So call in, have a chat and while you are there, have a look at the displays on various aspects of the region and pick up some brochures on the many highlights you will want to indulge in while experiencing this world heritage wilderness.
Souvenirs and other merchandise are also available for purchase.
Corner of Dowling Street and Brown Street
Dungog, NSW, 2420
Located 0.2K from Dungog
Dungog Map
Dungog Map - Legend

Multiple Hotels

Hotel
Click on the map markers for more information. Hover over the map to zoom in & out or see satellite & terrain views.