Charlotte Pass Accommodation, Hotels, Tours & Information
Charlotte Pass
Charlotte Pass is located in the heart of the Snowy Mountains. It is Australia's highest village at 1760 metres above sea level. The resort is snowbound in winter with access only by over snow transport from the Perisher Valley Skitube Terminal.

The village was named after Charlotte Adams who, in 1881, was the first woman to climb Mount Kosciuszko. It is the oldest ski resort in Australia and home to the historic Kosciuszko Chalet that was built in 1930.

In summer it's the starting point for two main trails to Mount Kosciuszko - the nine kilometre Summit Walk and the 12.5 kilometre Main Range Trail. At the beginning of the Trail Heads there is a scenic boardwalk called the Snowgums Boardwalk with an observation tower to view the Main Range of the New South Wales Alps and Mount Kosciuszko.
Charlotte Pass
Charlotte Pass: Where To Go / Sightseeing
Charlotte Pass Snow Resort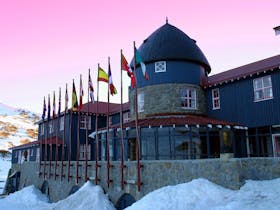 Get away from the busy competitiveness of the mountains and enjoy the snow and outstanding accommodation at Charlotte Pass Snow Resort. With friendly and personalised guest service, no lift lines, no cars, uncrowded slopes, and unobstructed views of the snow gum-covered mountain peaks of Mount Kosziuszko, you'll know why you've decided to stay.
After an action-packed day of skiing, snowboarding, and snow shoeing, rest your head in style at Kosciuszko Chalet Hotel, the resort's premier ski-in ski-out hotel. All rooms offer spectacular valley or mountain views, and when it comes time to unwind, there are two bars, a bistro caf?, and a fine dining restaurant.
Charlotte Pass
Charlotte Pass, NSW, 2630
Located 0.7K from Charlotte Pass
Kosciuszko National Park - Charlottes Pass to Snowy River
This walk follows the old Summit Road - closed to public vehicles since 1976 - to Mount Kosciuszko. The walk passes through snow gums, heath and herb fields and provides sweeping views of the Main Range and Snowy River. After crossing the Snowy River (4.5 kilometre) the walk climbs gradually to Seaman's Hut (six kilometre), Rawson's Pass (eight kilometre) and the summit of Mount Kosciuszko. A further trail heads back from Mount Kosciuszko to the chairlifts of the Thredbo Alpine Village.
Type of forest: Alpine, grassy woodland
Walking distance: 4.5 kilometres each way
Time: three hour return
Difficulty: this walk incorporates steep inclines and descents; moderate fitness is recommended.
How to get there: Kosciuszko National Park is near Jindabyne, a five-hour drive south of Sydney. The walk begins at Charlotte's Pass.
Kosciuszko National Park,
Start of Summit Road (Charlotte's Pass)
Kosciuszko, NSW, 2642
Located 0.9K from Charlotte Pass
Main Range Track
The Main Range Track is considered one of Australia's great day walks. Above the tree-line in the alpine area of Kosciuszko there is a 22 kilometre loop walk which begins and ends at Charlotte Pass. The track takes walkers across the Snowy River, up over Mt Carruthers towards the summit of Kosciuszko itself and then by Rawson's Pass and down the hill back towards the starting point. The best time to do this walk is between December and March when the wild flowers are in bloom.
Type of forest: Alpine
Walking distance: 22 kilometre
Time: Dawn to dusk
Difficulty: High levels of fitness are required. Visit the Snowy Region Visitors Centre in Jindabyne to check conditions, register for the walk and hire a Personal Locator Beacon.
How to get there: Kosciuszko National Park is near Jindabyne, a five-hour drive south of Sydney. The walk begins at Charlotte's Pass.
Kosciuszko National Park,
Start of Summit Road (Charlotte's Pass)
Kosciuszko, NSW, 2642
Located 1.0K from Charlotte Pass
Perisher Ski Resort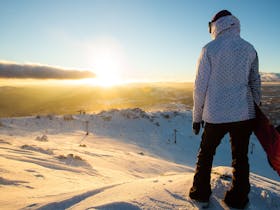 Perisher Ski Resort is Australia's largest ski resort encompassing the four resort areas of Perisher, Smiggins, Blue Cow and Guthega, plus the Skitube Alpine Railway and The Station Jindabyne. During winter up to 47 lifts operate across the resort areas, including the Freedom Chair at Guthega!
A family snow holiday at Perisher is a truly magical time to spend together, especially for the kids! There's no need to spend every minute skiing or snowboarding either, Perisher has a great variety of family friendly activities available with Night Skiing, Fireworks displays, Tube Town (the resort's own snow-tubing park), scenic chairlift rides, heaps of apr?s entertainment and its famous progressive terrain parks and halfpipes that kids just love.
Perisher has something for everyone, please visit the web site for more information.
Kosciuszko Road
Perisher Valley, NSW, 2624
Located 7.2K from Charlotte Pass
Charlotte Pass and Lookout
At 1760 metres, Charlotte Pass Village is the highest resort in Australia and is snowbound for most of the ski season. The ski lifts are right on the doorstep, there are no long queues and you get more time on the snow. The Village is ideal for parents and children, with gentle slopes for beginners, plenty of intermediate terrain, challenging advanced runs and cross-country trails.
Eight kilometres past Perisher Valley towards Mount Kosciusko, Charlotte Pass Village is the highest village in Australia. Access is by over snow transport from the Perisher Valley Skitube terminal.
Charlotte Pass Lookout and Boardwalk are accessible during the summer months by car. Enjoy the majestic views and there are numerous walking tracks you can take in Kosciuszko National Park.
Kosciuszko Road
Charlotte Pass, NSW, 2630
Located 7.6K from Charlotte Pass
Skitube
Skitube is a convenient and innovative train ride travelling from Bullocks Flat through Ramshead range, into the Kosciuszko National Park and onto Perisher Valley and Blue Cow Mountain. The distance is 8.5 kilometres, 6.3 kilometres is underground making it one of the longest underground train tunnels in Australia and travelling as deep as 550 metres underground. It takes 10 minutes from Bullocks Flat to Perisher and seven minutes to Blue Cow.
Travel between Perisher and Blue Cow is free with any valid mountain pass. Skitube runs 24 hours a day; seven days a week and at 20 minute intervals during peak times from June long weekend to October long weekend.
A great way to avoid busy peak season and snowy days.
Bullocks Flat is 20 kilometres from Jindabyne on the Alpine Way and is below the snow line, which makes Skitube a safe alternative to driving on snow covered roads.
Alpine Way
Bullocks Flat, NSW, 2627
Located 7.9K from Charlotte Pass
Thredbo Bobsled
The Thredbo Bobsled is guaranteed to bring a smile to your face. With 700 metres of luge style track, the bobsled twists and turns its way down the mountain whilst you control the speed with the brake on your cart.
The Thredbo Bobsled is great fun for little and big kids alike.
Friday Drive
Thredbo, NSW, 2625
Located 8.2K from Charlotte Pass
Charlotte Pass: Events
Cross Country Ski Week
*** Latest event details are yet to be confirmed ***
Cross Country Ski Week is a week for all XC enthusiasts whether you're a beginner or a seasoned racer. Be part of a week long celebration of this great activity. Plenty for all whether you are into testing yourself via a race, improving your skiing or simply having fun in the snow.
Between 14 to 16 events in all, over a nine day period. Mystery Coffee Tours, Laser Biathlon, Ski Orienteering, social events and other fun events organised.
XC Ski Week is a great opportunity to improve your skills in a fun, supportive and unique environment while learning more about Cross Country.
Get a full run down on all the details on the web site.
Event Dates
2016
      6th Aug
      7th Aug
      8th Aug
      9th Aug
      10th Aug
      11th Aug
      12th Aug
      13th Aug
      14th Aug
Perisher Cross Country Ski Centre
Perisher Valley, NSW, 2624
Located 7.2K from Charlotte Pass
Peak Festival Perisher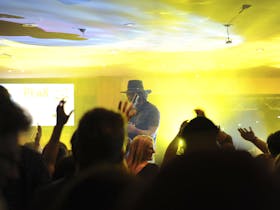 The Peak Festival is back in 2016! The festival will celebrate the opening weekend of the 2016 snow season at Perisher Valley. Over four days, the Peak Festival will feature concerts over several venues in the unique environment of the Perisher snowfields!
Weekend festival pass and accommodation packages offer great value, especially when combined with a Perisher Lift pass, at prices only available to Festival goers. See details at the Peak Festival website.
Peak Festival begins on Friday evening and continues at pace over Saturday and Sunday, finishing with a not-to-be-missed finale concert on Monday afternoon.
Event Dates
2016
      10th Jun
      10th Jun
      10th Jun
      11th Jun
      12th Jun
      13th Jun
Smiggin Holes,
Guthega
Perisher Valley, NSW, 2624
Located 7.3K from Charlotte Pass
Fly Fishing Season Opens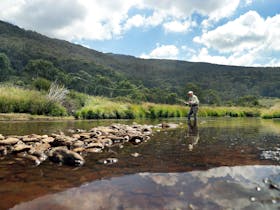 Discover the lure of fly fishing in the Snowy Mountains by casting a line in some of the most pristine and beautiful waterways. Those in search of the ultimate catch can explore the snow fed rivers, lakes and streams in and around Thredbo including the majestic lakes in Jindabyne and Eucumbene along with the sparkling Thredbo River.
The options are endless for fly fishing in the Snowies, you can head out with rod in hand and find your own secret spot or team up with a local guide who can share their knowledge of best places to fish, choosing the appropriate fly and generally demystifying the sport.
With the crisp fresh waters stocked with brook, brown and rainbow trout and Atlantic salmon and breathtaking scenery to match, you are sure to be hooked on fly fishing in the Snowy Mountains.
Event Dates
2015
      6th Oct
      7th Oct
      8th Oct
      9th Oct
      10th Oct
      11th Oct
      12th Oct
      13th Oct
      14th Oct
      15th Oct
      16th Oct
      17th Oct
      18th Oct
      19th Oct
      20th Oct
      21st Oct
      22nd Oct
      23rd Oct
      24th Oct
      25th Oct
      26th Oct
      27th Oct
      28th Oct
      29th Oct
      30th Oct
      31st Oct
      1st Nov
      2nd Nov
      3rd Nov
      4th Nov
      5th Nov
      6th Nov
      7th Nov
      8th Nov
      9th Nov
      10th Nov
      11th Nov
      12th Nov
      13th Nov
      14th Nov
      15th Nov
      16th Nov
      17th Nov
      18th Nov
      19th Nov
      20th Nov
      21st Nov
      22nd Nov
      23rd Nov
      24th Nov
      25th Nov
      26th Nov
      27th Nov
      28th Nov
      29th Nov
      30th Nov
      1st Dec
      2nd Dec
      3rd Dec
      4th Dec
      5th Dec
      6th Dec
      7th Dec
      8th Dec
      9th Dec
      10th Dec
      11th Dec
      12th Dec
      13th Dec
      14th Dec
      15th Dec
      16th Dec
      17th Dec
      18th Dec
      19th Dec
      20th Dec
      21st Dec
      22nd Dec
      23rd Dec
      24th Dec
      25th Dec
      26th Dec
      27th Dec
      28th Dec
      29th Dec
      30th Dec
      31st Dec
2016
      1st Jan
      2nd Jan
      3rd Jan
      4th Jan
      5th Jan
      6th Jan
      7th Jan
      8th Jan
      9th Jan
      10th Jan
      11th Jan
      12th Jan
      13th Jan
      14th Jan
      15th Jan
      16th Jan
      17th Jan
      18th Jan
      19th Jan
      20th Jan
      21st Jan
      22nd Jan
      23rd Jan
      24th Jan
      25th Jan
      26th Jan
      27th Jan
      28th Jan
      29th Jan
      30th Jan
      31st Jan
      1st Feb
      2nd Feb
      3rd Feb
      4th Feb
      5th Feb
      6th Feb
      7th Feb
      8th Feb
      9th Feb
      10th Feb
      11th Feb
      12th Feb
      13th Feb
      14th Feb
      15th Feb
      16th Feb
      17th Feb
      18th Feb
      19th Feb
      20th Feb
      21st Feb
      22nd Feb
      23rd Feb
      24th Feb
      25th Feb
      26th Feb
      27th Feb
      28th Feb
      29th Feb
      1st Mar
      2nd Mar
      3rd Mar
      4th Mar
      5th Mar
      6th Mar
      7th Mar
      8th Mar
      9th Mar
      10th Mar
      11th Mar
      12th Mar
      13th Mar
      14th Mar
      15th Mar
      16th Mar
      17th Mar
      18th Mar
      19th Mar
      20th Mar
      21st Mar
      22nd Mar
      23rd Mar
      24th Mar
      25th Mar
      26th Mar
      27th Mar
      28th Mar
      29th Mar
      30th Mar
      31st Mar
      1st Apr
      2nd Apr
      3rd Apr
      4th Apr
      5th Apr
      6th Apr
      7th Apr
      8th Apr
      9th Apr
      10th Apr
      11th Apr
      12th Apr
      13th Apr
      14th Apr
      15th Apr
      16th Apr
      17th Apr
      18th Apr
      19th Apr
      20th Apr
      21st Apr
      22nd Apr
      23rd Apr
      24th Apr
      25th Apr
      26th Apr
      27th Apr
      28th Apr
      29th Apr
      30th Apr
      1st May
      2nd May
      3rd May
      4th May
      5th May
      6th May
      7th May
      8th May
      9th May
      10th May
      11th May
      12th May
      13th May
      14th May
      15th May
      16th May
      17th May
      18th May
      19th May
      20th May
      21st May
      22nd May
      23rd May
      24th May
      25th May
      26th May
      27th May
      28th May
      29th May
      30th May
      31st May
      1st Jun
      2nd Jun
      3rd Jun
      4th Jun
      5th Jun
      6th Jun
      7th Jun
      8th Jun
      9th Jun
      10th Jun
Thredbo Resort,
Friday Drive
Thredbo, NSW, 2625
Located 8.2K from Charlotte Pass
Charlotte Pass Map
Charlotte Pass Map - Legend

Multiple Hotels

Hotel
Click on the map markers for more information. Hover over the map to zoom in & out or see satellite & terrain views.