Old Guildford Accommodation, Hotels, Tours & Information
Old Guildford
We do not currently have any general information about Old Guildford. To find out more about the area try the following locations:

Old Guildford: Where To Go / Sightseeing
Chipmunks Playland and Cafe Villawood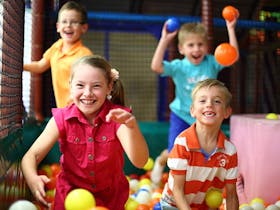 Visit Chipmunks Playland and Cafe for unlimited play for children aged zero to 11 years old.
Explore their adventure styled playground equipment that features Canon Ball Blasters, an Inflatable "mega" slide, a Ball Pit and under five's playground.
With a full service cafe serving tasty food and coffee, they are also fully air-conditioned and delivery quality sun safe play in a family focused environment
Adult entry is always free. For more information on our admission prices for children, please visit the web site.
Coming to play at Chipmunks Villawood? Don't forget your socks.
850 Woodville Road ,
(next to Bunnings)
Villawood, NSW, 2163
Located 1.5K from Old Guildford
Australian Golf Heritage Society Museum
The Australian Golf Heritage Society (AGHS) aims to encourage the collection, recording and preservation of information and objects connected with the history of golf in Australia; verify the authenticity of items associated with that history; inform golfers, golf clubs, and the community in general of this information, and display these physical items in a manner which tells their story; and to promote hickory events as a celebration of the origins of the game.
Its flagship in achieving these aims is the AGHS Museum, a collection of artefacts and information tracing the development of the game in Australia.
Their current major exhibition is 'Golf and War', a collection of artefacts and stories acknowledging the contributions made by individual Australian golfers, Australian golf clubs, and Australian golf equipment manufacturers in times of conflict.
The complementary exhibition celebrates the life and achievements of 1960 Centenary Open winner, the 'Gentleman of Golf', Kel Nagle.
Level 1 - 4 Parramatta Road
Granville, NSW, 2142
Located 4.7K from Old Guildford
Old Guildford: Events
Cherry Blossom Festival
*** Latest event details are yet to be confirmed ***
The Auburn Botanic Gardens will again be hosting the annual Cherry Blossom Festival on the weekends of 22-23 and 29-30 August. The Japanese Sakura (Cherry Blossoms) bloom for a brief two week period and are expected to attract over 20,000 people.
Highlights of the festival include the Japanese themed demonstrations such as Ikebana (flower arranging), Kendo (Martial Arts) and various musical performances. The Peacock Gallery activities include an art exhibition, origami workshops as well as food and drink stalls.
The festival also brings the unique Japanese fashion subculture of Cosplay. This performance art sees participants dress up and play out character representations from various Japanese and American pop culture phenomena. This year festival involves a Cosplay and Kimono photo competition with prizes from Madman.
Event Dates
2015
      22nd Aug
      23rd Aug
      24th Aug
      25th Aug
      26th Aug
      27th Aug
      28th Aug
      29th Aug
      30th Aug
2016
      22nd Aug
      23rd Aug
      24th Aug
      25th Aug
      26th Aug
      27th Aug
      28th Aug
      29th Aug
      30th Aug
Chiswick Road
Auburn, NSW, 2144
Located 2.8K from Old Guildford
Autumn Colours Festival
*** Latest event details are yet to be confirmed ***
Time to make room in your diary for one of the premier events held in autumn in Western Sydney. The Autumn Colours Festival showcases the beauty of the Auburn Botanic Gardens while providing great entertainment and fun for families.
This year there is much fun to be had at this festival for all the family with a Dorothy the Dinosaur show, meet and greet appearances, interactive wildlife shows and train rides around the gardens. Plenty of food and entertainment, and the famous fauna reserve for people to enjoy.
Entry is free for Auburn City residents and all children, and only AUD5 for other visitors. There is a free shuttle bus from the Auburn Train Station (South Parade) to the Gardens on the day.
The event will run from 11am to 3pm.
Event Dates
2016
      29th May
Corner of Chiswick and Chisholm Roads
Auburn, NSW, 2144
Located 2.8K from Old Guildford
Culinary Carnivale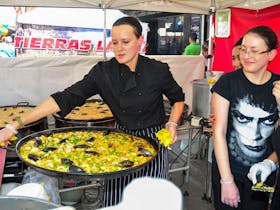 *** Latest event details are yet to be confirmed ***
Hola! Western Sydney's pre-eminent food festival event, Culinary Carnivale, will again seduce record crowds with a mouth-watering menu showcasing cuisines from Spain and Latin America.
Culinary Carnivale marks its fifth birthday in 2015 and, to celebrate, western Sydney's ultimate foodie's street party will be an occasion to remember.
A mouth-watering menu showcasing authentic cuisines from Spain and Latin America will be accompanied by dancers, singers, amusement rides, a jumping castle and the headline act, 2013 The X Factor contestant Jayden Rodrigues.
Make a date to live La Vida Buena (the good life) - ol?!
Coordinator: Helen Pijaca
Event Dates
2015
      24th Oct
2016
      24th Oct
Spencer Street
Fairfield, NSW, 2165
Located 3.0K from Old Guildford
Sydney Waitangi Festival
The annual Sydney Waitangi Festival commemorates the signing of the Treaty of Waitangi (New Zealand) by Maori chiefs and representatives of the British crown on 6 February 1840.
Come long for a great family focused event featuring a full day of outstanding live acts. Bring along a picnic, or enjoy kai from the wide range of stalls on site. In between acts, wander through the art and craft stalls or enjoy acts on stage. Keep the kids entertained with rides and a range of other great activities! This event is sure to be a great day for everyone that joins them.
This gold coin entry festival is brought to you by Nga Uri o Rahiri. The Waitangi Festival runs from 9am to 5pm.
Event Dates
2016
      6th Feb
Holroyd Gardens Park,
Corner Walpole Street and Pitt Street
Merrylands, NSW, 2160
Located 4.2K from Old Guildford
Indian Fashion Markets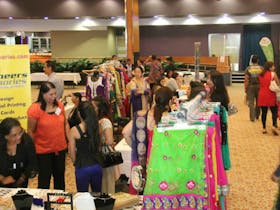 The Indian Fashion Markets is a one stop shop place where you can find a number of Indian Fashion Sellers in the one place for all your Indian necessities.
You will be provided with endless variety and a range of clothing like saree's and kameez's, jewellery, shoes, accessories, handbags and other fashion items.
Instead of driving around from one suburb to another within Sydney trying to look for the perfect outfit for your next occasion, why not just come to the Indian Fashion Markets at the one place, every month. You will get the chance to meet a number of sellers at the one place and shop at ease without having to running around.
Best of all it is free to shop at the markets, there is no entry fee.
Event Dates
2016
      6th Feb
      12th Mar
      2nd Apr
      7th May
      4th Jun
      9th Jul
      6th Aug
      3rd Sep
      8th Oct
      5th Nov
      3rd Dec
Parklands Function Centre -,
Cumberland Room,
Smithfield Rd
Smithfield, NSW, 2164
Located 4.8K from Old Guildford
Auburn Festival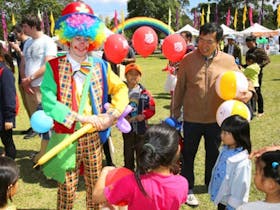 *** Latest event details are yet to be confirmed ***
The Auburn Festival is a celebration of the rich, vibrant and diverse cultures of the local and surrounding region and the event's music and dance performances, activities, food and markets stalls aim to represent and showcase those cultures and our wonderful community.
The Auburn Festival is Auburn City Council's signature event occurring in September each year at Wyatt Park, Lidcombe. This amazing festival is a celebration of the rich, vibrant and diverse culture of the local and surrounding region.
Wyatt Park is a short walk from Auburn and Lidcombe Railway Stations, and Council also runs a free shuttle bus service, running approximately every 30 minutes and stopping at Auburn Civic Carpark on the corner Susan Street and Queen Street, Auburn Train Station on South Parade, Lidcombe Multi-storey Carpark on Tooheys Lane, and Lidcombe Train Station at the corner of Church Street and John Street.
Event Dates
2015
      19th Sep
2016
      19th Sep
Wyatt Park,
Church Street
Lidcombe, NSW, 2141
Located 4.9K from Old Guildford
Hidden - A Rookwood Sculpture Walk
*** Latest event details are yet to be confirmed ***
Now in its seventh year, Hidden was developed to demonstrate to the community that there is more to Rookwood than just funerals and memorials. Stepping outside conventional exhibition contexts, Hidden reflects the rich social and historical value that Rookwood contributes to the cultural landscape.
The Hidden artists are invited to create works that meditate on life and death, love and loss, memory and mortality. Nestled in amongst gardens and graves, the exhibition is a unique intersection of art, history and imagination. Visitors are invited to share the experience, exploring the exhibition and participating in the public program.
For more information or to RSVP for the opening and closing events, please contact the organisers on the email or phone number provided.
Event Dates
2016
      13th Sep
      14th Sep
      15th Sep
      16th Sep
      17th Sep
      18th Sep
      19th Sep
      20th Sep
      21st Sep
      22nd Sep
      23rd Sep
      24th Sep
      25th Sep
      26th Sep
      27th Sep
      28th Sep
      29th Sep
      30th Sep
      1st Oct
      2nd Oct
      3rd Oct
      4th Oct
      5th Oct
      6th Oct
      7th Oct
      8th Oct
      9th Oct
      10th Oct
      11th Oct
Rookwood Cemetery,
Hawthorne Avenue
Rookwood, NSW, 2141
Located 4.9K from Old Guildford
Ultimate Sprintcar Championship - The USC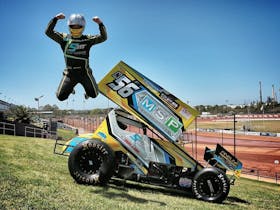 This summer, the speedway game changes as Australia's best Ultimate Sprintcar drivers battle it out at Sydney's iconic Valvoline Raceway. Who will be crowned the first ever Ultimate Sprintcar Champion?
Drivers from all over the country will be competing, along with some of America's best racers making the trip down under to contest several USC rounds.
Best of all, the excitement doesn't end there.
Throughout the season, you'll also enjoy other action-packed categories like Speedcars, Late Models, Legend Cars and more. Plus, more than often, you'll be treated to Fireworks, Demolition Derbies and one monster of a Monster Truck show. A night with the family at Valvoline Raceway, with upgraded facilities, a giant video screen and non-stop slide-by-slide fun, really does run rings around your average Saturday night.
Event Dates
2015
      3rd Oct
      4th Oct
      5th Oct
      6th Oct
      7th Oct
      8th Oct
      9th Oct
      10th Oct
      11th Oct
      12th Oct
      13th Oct
      14th Oct
      15th Oct
      16th Oct
      17th Oct
      18th Oct
      19th Oct
      20th Oct
      21st Oct
      22nd Oct
      23rd Oct
      24th Oct
      25th Oct
      26th Oct
      27th Oct
      28th Oct
      29th Oct
      30th Oct
      31st Oct
      1st Nov
      2nd Nov
      3rd Nov
      4th Nov
      5th Nov
      6th Nov
      7th Nov
      8th Nov
      9th Nov
      10th Nov
      11th Nov
      12th Nov
      13th Nov
      14th Nov
      15th Nov
      16th Nov
      17th Nov
      18th Nov
      19th Nov
      20th Nov
      21st Nov
      22nd Nov
      23rd Nov
      24th Nov
      25th Nov
      26th Nov
      27th Nov
      28th Nov
      29th Nov
      30th Nov
      1st Dec
      2nd Dec
      3rd Dec
      4th Dec
      5th Dec
      6th Dec
      7th Dec
      8th Dec
      9th Dec
      10th Dec
      11th Dec
      12th Dec
      13th Dec
      14th Dec
      15th Dec
      16th Dec
      17th Dec
      18th Dec
      19th Dec
      20th Dec
      21st Dec
      22nd Dec
      23rd Dec
      24th Dec
      25th Dec
      26th Dec
      27th Dec
      28th Dec
      29th Dec
      30th Dec
      31st Dec
2016
      1st Jan
      2nd Jan
      3rd Jan
      4th Jan
      5th Jan
      6th Jan
      7th Jan
      8th Jan
      9th Jan
      10th Jan
      11th Jan
      12th Jan
      13th Jan
      14th Jan
      15th Jan
      16th Jan
      17th Jan
      18th Jan
      19th Jan
      20th Jan
      21st Jan
      22nd Jan
      23rd Jan
      24th Jan
      25th Jan
      26th Jan
      27th Jan
      28th Jan
      29th Jan
      30th Jan
      31st Jan
      1st Feb
      2nd Feb
      3rd Feb
      4th Feb
      5th Feb
      6th Feb
      7th Feb
      8th Feb
      9th Feb
      10th Feb
      11th Feb
      12th Feb
      13th Feb
      14th Feb
      15th Feb
      16th Feb
      17th Feb
      18th Feb
      19th Feb
      20th Feb
      21st Feb
      22nd Feb
      23rd Feb
      24th Feb
      25th Feb
      26th Feb
      27th Feb
      28th Feb
      29th Feb
      1st Mar
      2nd Mar
      3rd Mar
      4th Mar
      5th Mar
      6th Mar
      7th Mar
      8th Mar
      9th Mar
      10th Mar
      11th Mar
      12th Mar
      13th Mar
      14th Mar
      15th Mar
      16th Mar
      17th Mar
      18th Mar
      19th Mar
      20th Mar
      21st Mar
      22nd Mar
      23rd Mar
      24th Mar
      25th Mar
      26th Mar
      27th Mar
      28th Mar
      29th Mar
      30th Mar
      31st Mar
      1st Apr
      2nd Apr
      3rd Apr
      4th Apr
      5th Apr
      6th Apr
      7th Apr
      8th Apr
      9th Apr
      10th Apr
      11th Apr
      12th Apr
      13th Apr
      14th Apr
      15th Apr
      16th Apr
      17th Apr
      18th Apr
      19th Apr
      20th Apr
      21st Apr
      22nd Apr
      23rd Apr
      24th Apr
      25th Apr
      26th Apr
      27th Apr
      28th Apr
      29th Apr
      30th Apr
      1st May
      2nd May
      3rd May
      4th May
      5th May
      6th May
      7th May
21 Wentworth Street
Granville, NSW, 2142
Located 5.0K from Old Guildford
Old Guildford Map
Old Guildford Map - Legend

Multiple Hotels

Hotel
Click on the map markers for more information. Hover over the map to zoom in & out or see satellite & terrain views.