Howlong Accommodation, Hotels, Tours & Information
Howlong
Howlong lies on the border between New South Wales and Victoria on the Murray River. Popular for its fishing and water sports, there are also excellent wineries in nearby Rutherglen and north east Victoria.

The town has many sporting facilities including a football oval, tennis courts, pony club, cricket club, skate bowl, swimming pool and barbecue and picnic areas. Accommodation includes caravan parks, hotels and bed and breakfasts.
Howlong: Where To Go / Sightseeing
Howlong Historic Trail
The Howlong Historic Trail consists of 28 locations and is a 13.3 kilometre circuit.
The history of Howlong dates back to 1836 when Major Thomas Mitchell established his camp on the southern bank of the river. Crossing to the northern side he observed gig wheel tracks where white settlers had ventured before. The town was surveyed in its present formation in 1856 with ten streets from east to west and ten streets from north to south, bounded by the Black Swan anabranch of the Murray River.
A detail map and information can be collected from the Howlong Community Resource Centre or from the Corowa Visitor Information Centre.
Howlong Community Resource Centre,
59 Hawkins Street
Howlong, NSW, 2643
Located 0.0K from Howlong
Black Dragon Gardens Wulong Yuan
Beautiful Chinese garden in Howlong open for visitors.
Wander through this unique garden called Wulong Yuan which means Black Dragon Garden in Mandarin. This garden was built with the distinctive scholar gardens of Suzhou as our inspiration.
They have tried to capture the design philosophy and main elements that make these gardens unique.
Using inspiration from famous artists, writers and poets the Suzhou gardens were the way in which the owners could enjoy a symbolic natural world in their own private space.
111 Clarke St
Howlong, NSW, 2643
Located 0.8K from Howlong
Howlong Country Golf Club
The Howlong Country Golf Club is open seven days a week and features a 25 room motel and exceptional dining facilities.
This superb 18-hole golf course appeals to all golfers. It's a challenge and you will relish a friendly round with your peers. The course is always in immaculate condition and is regarded as one of the best all-weather courses in the district.
The Club House is open seven days per week, and features a Sportsbar, TAB, Club Keno, a bistro and dining room.
The Happy Lotus Chinese restaurant is located in the Club and is open Tuesday to Sunday. A Seafood and Chinese Smorgasbord is offered on Wednesday and Saturdays evenings. Bookings are essential.
The club also offers an excellent bowls complex, tennis court, a swimming pool and a golf shop to provide all the golfers' needs.
Golf Club Drive
Howlong, NSW, 2643
Located 0.9K from Howlong
The Wicked Virgin and Calico Town Wines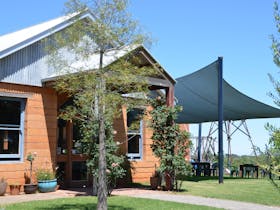 The Wicked Virgin and Calico Town Wines are located at Rutherglen, just two kilometres from the Rutherglen Post Office.
Take the opportunity to visit and taste Extra Virgin Olive Oils, Olives, Tapenades and Calico Town Wines.
Their Cellar Door is ideally situated to relax with grand coffee and homemade cakes or enjoy a delicious, leisurely lunch outdoors on warmer days, or inside with the pot belly stove to keep you snug.
Olives and grapes are grown and processed on the property. Grapes are harvested by hand toward the end of summer; a pleasant and very sociable experience for all.
Wine making happens right here which is an exciting and busy time. The olive picking season starts in late April and runs through the early part of winter.
Table olives are hand picked to keep the fruit undamaged. Olives for Extra Virgin Olive Oil are picked processed within an hour.
They now have a converted Still House which offers premium accommodation in the form of a two storey villa, ideal for a romantic getaway. Two adults, luxury accommodation, great view from the balcony. Seems like a recipe for indulgence!!
165 Hopetoun/Carlyle Road
Rutherglen, VIC, 3685
Located 16.8K from Howlong
Rutherglen to Wahgunyah 9km - Murray to Mountains Rail Trail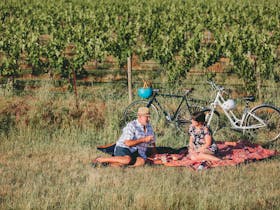 In a wine region blessed with abundant sunshine, and long languid summers a ride along the Murray to Mountains Rail Trail from Rutherglen to the banks of the mighty Murray River in Wahgunyah is a charm. The shortest of all the rail trails, and possibly the flattest. Sip some of Australias oldest wines and trundle past some of the oldest vines over a leisurely nine kilometre ride.
Set out early in Summer to avoid the heat or save this little leg for Winter when the crisp sunny blue skies, so well known in the North East, make it a perfect full day activity before cocooning back in your cottage with a local red. This short, flat leg of the Murray to Mountains is also ideal for the little ones keen to hit the trail. Remember to pack the togs in Summer for a refreshing dip, when you reach the Murray River in Wahgunyah.
Hamilton St,
Lorimer
Rutherglen, VIC, 3685
Located 17.0K from Howlong
Howlong: Events
FABBA!
While FABBA are dedicated to replicating the ABBA sound, they have also added the theatrics, fun and modern style to the songs as seen in the musical/movie "Mamma Mia". The FABBA show has an entire wardrobe designed to capture the complete look of ABBA - from the 70s to now.
Every FABBA show is tailored to suit each individual event and function from costumes and scripting through to the song list. FABBA promises to deliver a show that is highly energetic, visually captivating, musically brilliant, audience engaging and always..... totally entertaining.
Event Dates
2016
      22nd Oct
Howlong Country Golf Club,
Golf Club Drive
Howlong, NSW, 2643
Located 0.9K from Howlong
Top of the Murray: Murray Masters Tournament
The Corowa Golf Club, Howlong Country Golf Club and Thurgoona Country Club Resort on the mighty Murray River have joined forces to host one of the biggest Amateur events in the Country.
Your ticket includes three great days of golf, all meals and accommodation. There are shuttle bus transfers from your accommodation to the courses each day.
Event Dates
2016
      2nd Dec
      3rd Dec
      4th Dec
186 Golf Club Drive,
Howlong Golf Resort
Howlong, NSW, 2643
Located 1.4K from Howlong
Pedal to Produce - Jones Winery and Vineyard
Jones Winery and Vineyard is on the route for Rutherglen's Pedal to Produce.
The winery also has a restaurant that serves French-inspired meals on Thursday to Sunday.
Why don't you drop in for lunch and try a refreshing Apero Crush. Our elegant, award winning wines are also available for tasting.
Event Dates
2016
      2nd Oct
      3rd Oct
      6th Oct
      7th Oct
      8th Oct
      9th Oct
      10th Oct
      13th Oct
      14th Oct
      15th Oct
      16th Oct
      17th Oct
      20th Oct
      21st Oct
      22nd Oct
      23rd Oct
      24th Oct
      27th Oct
      28th Oct
      29th Oct
      30th Oct
      31st Oct
      3rd Nov
      4th Nov
      5th Nov
      6th Nov
      7th Nov
      10th Nov
      11th Nov
      12th Nov
      13th Nov
      14th Nov
      17th Nov
      18th Nov
      19th Nov
      20th Nov
      21st Nov
      24th Nov
      25th Nov
      26th Nov
      27th Nov
      28th Nov
      1st Dec
      2nd Dec
      3rd Dec
      4th Dec
      5th Dec
      8th Dec
      9th Dec
      10th Dec
      11th Dec
      12th Dec
      15th Dec
      16th Dec
      17th Dec
      18th Dec
      19th Dec
      22nd Dec
      23rd Dec
      24th Dec
      25th Dec
      26th Dec
      29th Dec
      30th Dec
      31st Dec
2017
      1st Jan
      2nd Jan
      5th Jan
      6th Jan
      7th Jan
      8th Jan
      9th Jan
      12th Jan
      13th Jan
      14th Jan
      15th Jan
      16th Jan
      19th Jan
      20th Jan
      21st Jan
      22nd Jan
      23rd Jan
      26th Jan
      27th Jan
      28th Jan
      29th Jan
      30th Jan
      2nd Feb
      3rd Feb
      4th Feb
      5th Feb
      6th Feb
      9th Feb
      10th Feb
      11th Feb
      12th Feb
      13th Feb
      16th Feb
      17th Feb
      18th Feb
      19th Feb
      20th Feb
      23rd Feb
      24th Feb
      25th Feb
      26th Feb
      27th Feb
      2nd Mar
      3rd Mar
      4th Mar
      5th Mar
      6th Mar
      9th Mar
      10th Mar
      11th Mar
      12th Mar
      13th Mar
      16th Mar
      17th Mar
      18th Mar
      19th Mar
      20th Mar
      23rd Mar
      24th Mar
      25th Mar
      26th Mar
      27th Mar
      30th Mar
      31st Mar
      1st Apr
      2nd Apr
      3rd Apr
      6th Apr
      7th Apr
      8th Apr
      9th Apr
      10th Apr
      13th Apr
      14th Apr
      15th Apr
      16th Apr
      17th Apr
      20th Apr
      21st Apr
      22nd Apr
      23rd Apr
      24th Apr
      27th Apr
      28th Apr
      29th Apr
      30th Apr
      1st May
      4th May
      5th May
      6th May
      7th May
      8th May
      11th May
      12th May
      13th May
      14th May
      15th May
      18th May
      19th May
      20th May
      21st May
      22nd May
      25th May
      26th May
      27th May
      28th May
      29th May
      1st Jun
      2nd Jun
      3rd Jun
      4th Jun
      5th Jun
      8th Jun
      9th Jun
      10th Jun
      11th Jun
      12th Jun
      15th Jun
      16th Jun
      17th Jun
      18th Jun
      19th Jun
      22nd Jun
      23rd Jun
      24th Jun
      25th Jun
      26th Jun
      29th Jun
      30th Jun
      1st Jul
      2nd Jul
      3rd Jul
      6th Jul
      7th Jul
      8th Jul
      9th Jul
      10th Jul
      13th Jul
      14th Jul
      15th Jul
      16th Jul
      17th Jul
      20th Jul
      21st Jul
      22nd Jul
      23rd Jul
      24th Jul
      27th Jul
      28th Jul
      29th Jul
      30th Jul
      31st Jul
      3rd Aug
      4th Aug
      5th Aug
      6th Aug
      7th Aug
      10th Aug
      11th Aug
      12th Aug
      13th Aug
      14th Aug
      17th Aug
      18th Aug
      19th Aug
      20th Aug
      21st Aug
      24th Aug
      25th Aug
      26th Aug
      27th Aug
      28th Aug
      31st Aug
      1st Sep
      2nd Sep
      3rd Sep
      4th Sep
      7th Sep
      8th Sep
      9th Sep
      10th Sep
      11th Sep
      14th Sep
      15th Sep
      16th Sep
      17th Sep
      18th Sep
      21st Sep
      22nd Sep
      23rd Sep
      24th Sep
      25th Sep
61 Jones Road,
Rutherglen, VIC, 3685
Located 16.2K from Howlong
Food. Wine. Taste
Food, Wine and Taste: Winemakers always want their wines to be the shining star in any food and wine match, so go back to basics to see how food can change the flavour profile of a wine. Expect to be amazed.
Presented by winemaker, Mandy Jones.
Event Dates
2016
      31st Oct
61 Jones Road
Rutherglen, VIC, 3685
Located 16.3K from Howlong
Rutherglen Farmers Market
The Rutherglen Farmers Market brings together all that is seasonal, regional and beautiful about produce in North-East Victoria. Held on the second Sunday of every month the market attracts more than twenty-five stall holders offering everything from artisan breads, to seasonal fruits and vegetables, specialty meats, oils, jams, preserves and so much more.
Some tips for attending the Rutherglen Farmers' Market:
Visitors are encouraged to bring their own bag, basket or esky and to minimise waste.
Bring a sense of adventure. A farmer's market is the ideal place to try something that might not normally be on the shopping list!
Ask a question. Take the opportunity to talk to the person who grew or produced the product. You might even pick up some great recipe ideas!
Shop seasonally. The market changes with the seasons. Relish the opportunity to buy fresh produce in season.
Support the Lions Club. The Rutherglen Lions Club have been fueling up visitors with magnificent egg and bacon rolls from the very first market. Be sure to try one when you next visit.
Event Dates
2016
      9th Oct
      13th Nov
      11th Dec
2017
      8th Jan
      12th Feb
      12th Mar
      9th Apr
      14th May
      11th Jun
Douglas Street
Rutherglen, VIC, 3685
Located 17.0K from Howlong
Howlong Map
Howlong Map - Legend

Multiple Hotels

Hotel
Click on the map markers for more information. Hover over the map to zoom in & out or see satellite & terrain views.