Carseldine Accommodation, Hotels, Tours & Information
Carseldine
Established in 1950 on the northern fringes of Brisbane, Aspley Memorial is now a bushland oasis in the heart of Carseldine suburbia, about 13km north-east of the CBD.

The suburb is home to the North Brisbane College of Advanced Education and within a short driving distance of the Boondall Wetlands Park on Moreton Bay and the bay beaches of Sandgate, Brighton and Nudgee.

The long Cabbage Tree Creek flows through the centre of Carseldine before making its entrance into Moreton Bay near Shornecliff.

Long the mecca of Brisbane petrol-heads, the Lakeside Raceway borders Kurwongbah. Phillip Vaughan Park in the suburb"s south offers children"s sports facilities and a playground, BBQs, shelters and toilets.
Carseldine: Where To Go / Sightseeing
Kidspace
The kids will have a wonderful time at Kidspace in Chermside. There's an undercover bike play area as well as an imaginative playground, fairy tower and rocket control tower. Plus, there's a half court basketball area, a skating, BMX bike and rollerblading area, a cricket net or pitch and a rebound wall. A great facility for the family!
Murphy Road
Chermside, QLD, 4032
Located 4.0K from Carseldine
Samford Conservation Park and Bunyaville Conservation Park
Samford Conservation Park and Bunyaville Conservation Park protect a community of spotted gums found only in the Brisbane region. Dry rainforest and freshwater ponds along seasonally flowing creeks also feature. Enjoy the Bunyaville track. Have a barbecue at the wheelchair-accessible picnic area. Ride your horse or bicycle. Dogs on leash are allowed, except where signs prohibit them. Education Queensland operates an environmental education centre in Bunyaville Conservation Park, with informative programs for schools and the public (bookings are required).
Samford Forest Reserve and Bunyaville Forest Reserve
Samford, QLD, 4520
Located 4.7K from Carseldine
Sandgate War Memorial Park
Sandgate's war memorial resembles Lutyens' Cenotaph in Whitehall, the site of Remembrance Sunday ceremonies in London since 1919. Governor Sir Matthew Nathan unveiled Sandgate's 91 tonne granite and concrete memorial on 24 February 1924.
Of the 330, mostly young, Sandgate men who went to war, 51 died. Australia-wide, about one in five of the 300,000 volunteer soldiers died in WWI.
War memorials were a matter of local pride, indicating a district's patriotism and wealth.
Sandgate Mayor WH Bowser not only presided over the memorial's organising committee which commissioned prominent Queensland architect George Gray Prentice to design the ?850 monument, but also donated much of the granite from his Samford quarry.
Charles Lowther, of the masonry firm Lowther and Sons that built the cenotaph within a small island of parkland, was a returned soldier: he'd served in the Light Horse in Palestine during WWI.
The memorial bears a verse- They died, and yet in memory shall they live, That we may know the worth of sacrifice, Know that their death is freedom's cause, Stands as a beacon light to point the way, To paths of peace.
Names of Sandgate residents killed in WWII, Malaya, Korea and Vietnam have been added.
8 Seymour Street
Sandgate, QLD, 4017
Located 6.2K from Carseldine
Boondall Wetlands Reserve
Boondall Wetlands lies on the edge of Moreton Bay between Nudgee Beach, Boondall and Shorncliffe and includes more than 1,000 hectares of tidal flats, mangroves, saltmarshes, melaleuca wetlands, grasslands, open forests and woodlands.
The Indigenous Australians have lived at Boondall Wetlands for a long time and continue to have links with this land. The Nurri Millen art totems in the wetlands celebrate this culture.
Boondall Wetlands has a diversity of wildlife. Mammals that live there include flying foxes, bats, possums and squirrel gliders. There are also a variety of frogs, reptiles and butterflies to be found within the reserve. An amazing variety of birdlife can also be found throughout the diverse vegetation types including mistletoe birds, tawny frogmouths, eastern curlews, kingfishers, rainbow bee-eaters, grass owls and wrens. At low tide, shorebirds feed on the mudflats. Cormorants, darters, egrets, ibis and herons can be seen year round.
The Boondall Wetlands Environment Centre offers a range of displays and activities on the environmental and cultural heritage of the reserve for park visitors and organised groups.
A track map brochure for Boondall Wetlands Reserve can be obtained from the Brisbane City Council Contact Centre.
Paperbark Drive,
via Bicentennial Road
Boondall, QLD, 4034
Located 6.3K from Carseldine
Kalinga Park Memorial
Victoria's Great Ocean Road may be Australia's best known WWI repatriation project but Brisbane families enjoy another year-round: Kalinga Park's unofficial 'Diggers Drive'.
In May 1924, Governor Sir Matthew Nathan opened a 1,200 metre tree-lined roadway from war memorial gates in Park Avenue, following the curve of Kedron Brook, to Sandgate Road.
The road was built and trees planted by 83 unemployed soldiers. After WWI, Australia was awash with grief for its 60,000 dead fighters. Many more returned nursing injuries and needing re-employment. While the Commonwealth Department of Repatriation placed returning soldiers in jobs, progress was slow: community groups like Kalinga Unemployed and Distressed Soldiers Committee formed to provide relief and work. Diggers Drive was its project, commencing in 1922.
Kalinga Park had opened in 1910. In October 1920, memorial gates at the Park Avenue entrance were erected as an everlasting memory of the patriotic services of men who enlisted from Kalinga District. The gates were a venture between the local Ladies Patriotic Club, Kalinga Progress Association and Toombul Shire Council. For a time, the park was even called ANZAC Memorial Park.
Now a popular outdoor play space, it served as a large army staging camp during WWII.
100 Bertha Street
Wooloowin, QLD, 4030
Located 7.9K from Carseldine
Osprey House Environment Centre
Osprey House Environment Centre is nestled on the banks of the Pine River amidst the branching arms of the mangroves. It melds as a part of this sensitive wetland area with its natural timber design, sweeping verandas and meandering boardwalks inviting everyone to explore almost secret locations and learn about the local fauna and flora.
Cast your eyes across the river and wetlands from the viewing platforms and enjoy the ambience of the natural environment. So much wildlife inhabits this area that the you are spoiled for choice, whether it is birds on high, sleepy koalas in the gum trees, crabs in the mudflats or a dolphin playing in the river channel, each day offers unique surprises.
The centre includes a theatre, an interpretive centre with information about our natural environment and how we can all make a difference, 400 metres of boardwalks and a barbecue and picnic area.
Osprey House is situated close to where Ospreys regularly roost. These fish eating hawks may be seen at almost any time in daylight hours, soaring over the river, diving into the water to catch fish, or carrying fish back to their nest and feeding site atop a 21 metre raptor pole.
975 Dohles Rocks Road
Griffin, QLD, 4503
Located 8.1K from Carseldine
Carseldine: Events
Netball Quad Series: Australian Diamonds versus England Roses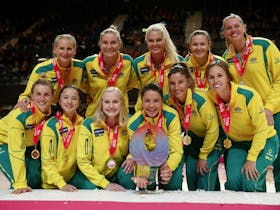 The Netball Quad Series, contested by Australia, New Zealand, England and South Africa, comes to Brisbane in August, with a double header to delight netball fans!
Watch some of the world's best netballers when the Australian Diamonds versus England Roses, and the New Zealand Silver Ferns versus South Africa Proteas in one big event at the Brisbane Entertainment Centre.
Can the Australian Diamonds defend their Netball Quad Series title? You won't want your chance to witness this fiercely-contested Series live!
Event Dates
2017
      26th Aug
Melaleuca Drive
Boondall, QLD, 4034
Located 5.6K from Carseldine
Last Cowboy Standing
Professional Bull Riders Australia presents the Last Cowboy Standing competition.
Experience a once in a lifetime event as the Professional Bull Riders (PBR) deliver one huge night of the toughest sport on dirt.
World Class athletes matched against the most extreme bucking bulls in the nation in this unique competition format not yet seen in Australia.
Choreographed with pyrotechnics, lasers, concert sound system, mega screen replays and multiple camera angles that will take you behind the scenes and inside the bucking chutes as riders prepare for the ride of their life, delivering you the ultimate live event bull riding experience inside the Brisbane Entertainment Centre.
Event Dates
2017
      15th Jul
Melaleuca Drive
Boondall, QLD, 4034
Located 5.7K from Carseldine
Jan Power's Farmers Markets Mitchelton
Almost 30 years ago an idea was born that was to change Brisbane. Foodie, commentator and city doyenne Jan Power decided to forge the first Farmers Markets, putting pay to her passion for fresh produce, and her commitment supporting farmers and their livelihoods.
The first Jan Powers Farmers Markets came to colourful and loud life at the Brisbane Powerhouse site; and today, almost a full generation later, Brisbane is a city indelibly inked with love for Farmers Markets.
Jan singularly pushed City regulations again and again to sow the seed of Farmers Markets, and educate Brisbane of the provenance of their food. Now, there is a Jan Powers Farmers Markets every single Saturday somewhere in Brisbane, a market on Sundays in Mitchelton, and a weekly City Markets in Reddacliff Place that attracts some 5,000 city workers and residents!
Event Dates
2017
      2nd Jul
Blackwood Street,
PO Box 208
Mitchelton, QLD, 4053
Located 8.0K from Carseldine
Carseldine: Travel Tips
Pine Rivers Visitor Information Centre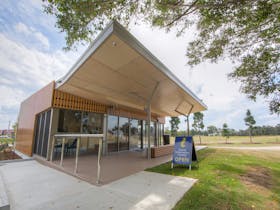 The Pine Rivers Visitor Information Centre is located in Pine Rivers Park, Strathpine.
This accredited visitor information centre offers a one stop shop for travel information including maps, brochures, and itineraries. Staffed by skilled and knowledgeable locals, the Pine Rivers Visitor Information Centre can provide advice on the things to see, things to do and where to eat. Discuss with the friendly staff your travel plans or make a booking.
Special day trip itineraries for self drive or walking tours available free of charge. Call in and see their friendly volunteers for all the local information
Pine Rivers Park
Strathpine, QLD, 4500
Located 3.9K from Carseldine
Carseldine Map
Carseldine Map - Legend

Multiple Hotels

Hotel
Click on the map markers for more information. Hover over the map to zoom in & out or see satellite & terrain views.