Atherton Tablelands Accommodation, Hotels, Tours & Information
Atherton Tablelands
Within a stone's throw, 13.7 kilometres from its biggest neighbour, Atherton, along the tree-shaded Kennedy Highway, Tolga presents a quaint little town with good examples of early Queensland architecture. These include the Tolga butcher shop and newsagency building.

A centre strip in the main street features a towering fig tree and heritage and timber display consisting of seven carved poles, much like totem poles. These showcase, in creative carving, aspects of the Tableland's rich heritage including Aboriginal culture, animals, plants and threats to the rainforest habitat. With its range of accommodation from caravan parks to a five-star retreat, Tolga is a great town to use as a base to explore the numerous attractions of the Atherton Tableland.

Atherton Tablelands: Where To Go / Sightseeing
Historic Village Herberton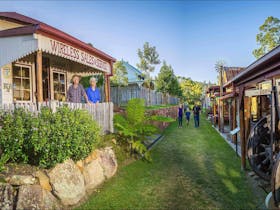 A visit to the Historic Village Herberton is like stepping back in time. Showcasing Australia's rich and diverse history this outdoor pioneer museum is testament to an era that is long gone. Open year round to visitors, the Village collects, preserves and displays fascinating historical exhibits from across Australia. The history of this museum is also closely tied with the township of Herberton and features many priceless antiques as well as buildings that have come from the town's ancestors.
The Village currently has over 50 original buildings that date from Herberton's foundation years. Walking through the Village, visitors are given a sense of being in a real township complete with chemist, bottle collection, school, bank, grocer's store, frock salon, toy shop, mechanic, jail and more. You can spend an entire day absorbing it all so plan on relaxing and taking your time. In addition, the museum also offers a great gift shop at the Bakerville Tearooms for all your souvenir needs including toys and arts and crafts. The Tearooms also serves delicious homemade pies, scones, sandwiches and more.
6 Broadway,
Herberton,
Atherton Tablelands
Herberton, QLD, 4872
Located 1.9K from Atherton Tablelands
Herberton War Memorial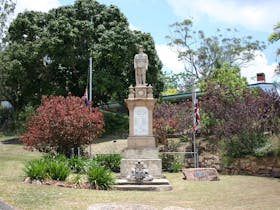 Herberton's war memorial, a popular 'Digger' soldier statue-stands out, and not just because of its soldier's posture: erect, head high. This monument specifically acknowledges an Aboriginal serviceman among its honoured.
The painted stone memorial, unveiled in the early 1920s, is a tribute to 199 local men who enlisted in WWI. Australians were proud of their army of volunteers: many monuments accordingly record all names, providing a rich insight into the community's support of the war.
The plinth on which the khaki uniformed soldier stands also identifies 28 war dead: 21 killed and seven died on service, including a man designated as Aboriginal.
Monumental masons AL Petrie and Sons of Brisbane created this memorial, part of their own virtual army of soldier statues embodying the ANZAC traits of loyalty, courage, youth, innocence and masculinity.
A path leads to the memorial, now set in established gardens. A captured gun or 'war trophy' is located at the front of the monument.
Myers Street
Herberton, QLD, 4872
Located 2.4K from Atherton Tablelands
Specimen Hill Lookout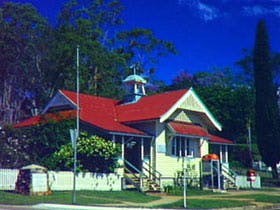 The Specimen Hill Lookout walk takes you along a gravel bush track that leads you out along a shoulder of Specimen Hill. The track ends at a tunnel driven into the Hillside with other mines visible below. Some good views of Herberton can be had through the trees but undoubtedly the best ones can be obtained from the top of the Specimen Hill. Be aware that although it is an easy walk, the track can be steep in some parts. Allow around 1.5 hours for the 1.5 kilometres track.
Herberton Township
Herberton, QLD, 4872
Located 2.8K from Atherton Tablelands
Bat Hospital Visitor Centre, The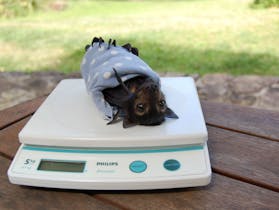 Enjoy an intriguing insight into the world of bats. The Bat Hospital Visitor Centre has Advanced Ecotourism accreditation and offers a unique 'up close and personal' wildlife experience just outside Atherton. You will meet some small insectivorous microbats, seen in the wild at nearby Undara and Paronella Park; and the larger fruit and nectar eating megabats like flying foxes. The Visitor Centre experience includes a short video about the work of the hospital, and world-class interpretive signage.
Personalised tours operate daily 3-6pm throughout the year, but bookings are essential. The flying foxes live in a six metre high cage and only come down to eye-level at feeding time in the afternoon.
Situated on five acres of landscaped gardens, and nestled in a wet sclerophyll/rainforest valley, a visit to the Bat Hospital can also offer a great birding experience. Visit Hastie's Swamp, a fabulous migratory bird wetland just down the road. The Bat Hospital attracts visitors, volunteers and students from around the world, is actively engaged in research and conservation, and has featured in many television documentaries. The Director has won numerous awards for community conservation and education.
134 Carrington Road
Atherton, QLD, 4883
Located 10.0K from Atherton Tablelands
Mount Hypipamee National Park
This park features a diatreme (a volcanic pipe or vent) thought to have been created by a massive gas explosion. The gaping hole is 70 metres wide with steep granite sides that plunge 58 metres to the lake below. The lake itself is 82 metres deep! The park protects unique high-altitude rainforest and is part of the Wet Tropics World Heritage Area.
Have a picnic in the rainforest clearing then walk 400 metres to the viewing deck over the diatreme. Return along the 1.2 kilometre Dinner Falls track. Look for golden bowerbirds, spotted catbirds and riflebirds. Set out with spotlights at night to look for green, lemuroid and Herbert River ringtail possums, and long-nosed bandicoots.
Kennedy Highway
Atherton, QLD, 4883
Located 11.0K from Atherton Tablelands
Wongabel State Forest
This state forest protects a remnant of an endangered type of forest, known as mabi forest. Here, in 1903, red cedar seedlings were planted in the forest to replace mature trees which had been logged. Commercial plantations of hoop, kauri and Caribbean pine now grow beside native forest.
Two walking tracks, catering for the visually impaired, wind through this area. Enjoy a 750 metre return walk through the forest or take the longer 2.5 kilometre route. Both tracks have been designed with consideration for walkers who are vision impaired. Braille booklets and audio headsets are available from the visitor centre in Atherton. Both tracks are also wheelchair accessible, but assistance may be required for the longer walk. Signs tell of the history of the area, as well as forestry practices and local ecology. Look for Lumholtz's tree-kangaroos and possums while spotlighting at night.
Kennedy Highway
Atherton, QLD, 4883
Located 11.4K from Atherton Tablelands
Hasties Swamp National Park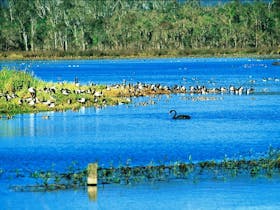 A birdwatcher's delight, this park is a large seasonal wetland renowned for its diverse range of resident and migratory birds. At least 220 bird species have been recorded, mainly in the wetland and open woodland. The park's wetland environment varies with the season. Open water, reeds, muddy edges and sedge land vary with the cycle of wet and dry seasons. Open eucalypt forest surrounding the swamp contrasts with the lush rainforests found elsewhere on the Atherton Tableland.
Enjoy watching the birds from a two-storey bird hide which has wheelchair access and is large enough to cater for a school group. Observe the birds from the comfort of the hide, using the signs as a guide to species identification. Best birdwatching time is during the dry season (April to October) when the swamp dries out and the area becomes an important refuge for waterbirds.
Atherton-Herberton Road
Atherton, QLD, 4883
Located 11.6K from Atherton Tablelands
Atherton Chinatown Site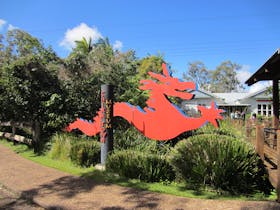 The land surrounding the Hou Wang Mai was the site of an 1880's Chinese settlement. By 1897 there were over 180 Chinese living in the village known as Cedar Town, with a short main street lined with small timber and iron shops and houses. The Hou Wang Mai was built in 1903. By 1909, the commercial premises included corn merchants, food and goods stores, a herbalist, two gambling dens and an entertainment place that employed musicians. There was also a Tong society meeting hall.
After World War One when Chinese land leases were turned over to returned soldiers, most Chinese left the district. European speculators owned the site. However, local maize farmer and Hong Kong born Mow Jue Sue purchased the property in 1925 and it remained in his family until 1967 when it was transferred to John and Violet Fong On.
The National Trust of Queensland received funding in 1975 to carry out research on the site and the Fong On family arranged to transfer the Hou Wang Mai property to the Trust. The Atherton Shire Council assumed ownership of the Chinatown site in 1991. Council relocated the old Atherton Post Office nearby for use as a Chinese Museum.
Herberton Road
Atherton, QLD, 4883
Located 12.6K from Atherton Tablelands
Atherton Tablelands: Events
Tastes of the Tablelands
The Tastes of the Tablelands is a showcase of all of the best things that their diverse region has to offer. From locally produced fruit, vegetables, cheese, chocolates, ice cream, wines and coffee to soaps and scented candles and musical talent, it's a day to tease and tantalise all of your senses. As well as entertainment on the main stage, they have the Chef's competition featuring the best chefs and apprentices from across the Far North, a fashion parade for the ladies and a large children's entertainment area.
Event Dates
2017
      15th Oct
Herberton Road
Atherton, QLD, 4883
Located 12.6K from Atherton Tablelands
Atherton Tablelands: Travel Tips
Herberton Mining Museum and Visitor Information Centre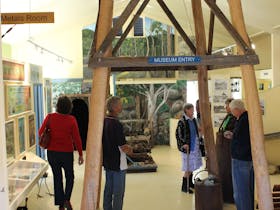 The Herberton Mining and Visitor Information Centre is located on Jack's Road in Herberton.
This accredited visitor information centre offers a one stop shop for travel information including maps, brochures, and itineraries. Staffed by skilled and knowledgeable locals, the Herberton Mining and Visitor Information Centre can provide advice on the things to see, things to do and where to eat. Discuss with the friendly staff your travel plans.
1 Jack's Road
Herberton, QLD, 4887
Located 2.2K from Atherton Tablelands
Atherton Tablelands Map
Atherton Tablelands Map - Legend

Multiple Hotels

Hotel
Click on the map markers for more information. Hover over the map to zoom in & out or see satellite & terrain views.