Cairns Accommodation, Hotels, Tours & Information
Cairns
The tourist capital of Tropical North Queensland, Cairns is a laid-back tropical city whose population of 140,000 is complimented by the many visitors who flock from all corners of the globe. Set on Trinity Inlet, which was named by Captain James Cook on Trinity Sunday, 1770, the city is a must-see for many Australian and international visitors.

The reason is simple. Cairns has so much at its doorstep: the blue waters of the Coral Sea; the riches of the Great Barrier Reef; the flora of the tropical rainforests; the famous train which climbs up a mountainside to Kuranda; the cool inland tablelands and a wealth of offshore islands.

For your Great Barrier Reef experience, a huge fleet of boats of all sizes can transport you to the reef or if you"re short of time, try the quick sea trip to Green Island National Park. Either way, you"ll have plenty of time to snorkel, scuba dive or just potter about in a glass-bottomed boat.

Another must-do activity is the trip to the rainforest village of Kuranda. Most visitors choose to take the Skyrail in one direction and the Scenic Railway in the other. The 110-year-old rail line zigzags through the spectacular rainforest, past and over rivers and waterfalls of the Baron Gorge, while the Skyrail's gondolas offer unparalleled views from over the forest canopy. The Skyrail makes several stops where passengers can alight to take the boardwalk trails through the rainforest. Kuranda"s high-spots include the Butterfly Sanctuary where you can wander among superbly-coloured insects, Birdworld with its host of native and exotic birds and the delightful Kuranda Markets.

For sportfishing, the waters off Cairns and Innisfail are famous for the largest black marlin in the world. Some of the world"s most enthusiastic big game fishermen have come to test their mettle in these waters.

But a Cairns holiday doesn't necessarily mean non-stop tours and rushing about. Take the time to appreciate this entrancing tropical city and take a tip from the oldtimers on the marina verandah bar: relax and enjoy.

Things to do in and around Cairns include:


Great Barrier Reef - Head out to the reef and dive, snorkel or peer through a glass-bottomed boat at the countless varieties of tropical fish.
Kuranda - Take the Scenic Rail or the Skyrail to the rainforest village - visit the Butterfly Sanctuary or Birdworld as well as the markets.
Tjapukai Aboriginal Cultural Park - for dance, theatre and cultural performances.
Daintree Rainforest - a unique and ancient rainforest with walks, scenic lookouts, campsites, picnic spots and swimming holes.
Atherton Tablelands - cool mountain retreat, with waterfalls, lakes and the unique Curtain Fig Tree.
Hartley"s Creek Crocodile Farm - for a close-up look at these remarkable prehistoric creatures.
Australian Tropical Zoo - Wild World - for native animals and so much more.
Flecker Botanical Gardens - 38 hectares of tropical flora.
Centenary Lakes - adjoins the Botanic Gardens - boardwalk through mangroves and tropical rainforest.
Adventure activities - white water rafting, hot air ballooning, sea kayaking, 4wd adventures, bungy jumping, parasailing - whatever you want to do to get an adrenalin rush, you"re sure to be able to do it in Cairns!
Find out more about Tropical North Queensland.
Looking for the best attractions? Head to our Top Spots for all the very best things to see and do in the Tropical North.
Cairns: Where To Go / Sightseeing
99 Grafton Street Cairns
Ninety-nine Grafton Street is one of the last remaining structures directly associated with the former Cairns Chinatown. Curiously it is currently occupied by a Greek caf?, indicating the multicultural nature of Queensland society.
One of the early landholders here was Andrew Leon owner of the Hap Wah sugar plantation which he sold in 1886, (purchasing land in Cairns). The Chinese precinct had humble beginnings and was not an homogenous community. It included residents from different cultural districts in China. Chinatown included boarding houses, gaming houses, opium dens and merchant stores. Andrew Leon built four shops on this property in 1892, leasing to merchants Lee Yan Kee.
Lee Yan brought his wife from China in 1895 and in 1896 Mrs Lee Yan gave birth to a son. He was the first Chinese Australian child born in Cairns. At the same time, the Lit Sung Goong Temple was built adjacent to number 99. This shop at 99 Grafton Street had numerous owners including cane farmer Frank Lee Chin, and intermittently operated as a brothel from 1903 until 1932. Chinese shopkeepers and female tenants remained there until the end of World War Two. The adjacent temple was demolished in 1964.
99 Grafton Street
Cairns, QLD, 4870
Located 0.2K from Cairns
Reef Teach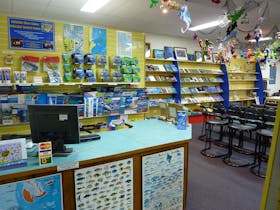 Reef Teach is a unique Marine Education Centre in Cairns, Queensland Australia. Reef Teach showcases the Great Barrier Reef though a multimedia slide show presentation by a qualified Marine Biologist. The Reef Teach show runs from Tuesday to Saturday evenings. Private shows are also available. The show is an incredibly entertaining and inspirational evening where you can discover more about the marine life and how it all functions. You will learn all about the corals and fish species and how to identify them, draw your attention to the smaller things on the reef such as Nudibranchs, the importance of cleaning stations and some conservation issues facing the reef.
There are many different specimens to look at and touch as well as a wide variety of marine books. This presentation is a fun interactive way to learn more about the Reef and it will enhance your reef trip experience as you will have a much better idea of what you will be seeing and most likely see things that you may have ordinarily missed. Reef Teach's motto is "with learning comes appreciation".
85 Lake Street,
Second floor Mainstreet Arcade
Cairns, QLD, 4870
Located 0.3K from Cairns
Kuranda Scenic Railway
The original Kuranda Scenic Railway is a spectacular journey comprising unsurpassed views of dense rainforest, steep ravines and picturesque waterfalls. This famous railway winds its way on a journey of approximately one hour and 45 minutes from Cairns to Kuranda, the village in the rainforest.
The Cairns-Kuranda Railway was constructed between 1882 and 1891 and even today is considered an engineering feat of tremendous magnitude. Hundreds of men were employed to build the 15 hand-made tunnels and 37 bridges that stand as a monument to the pioneers of tropical North Queensland who lost their lives while working on the railway.
Gold Class offers passengers a touch of luxury. Club-style seating, appetisers, refreshments and an exclusive gift pack combine to create an unforgettable experience. Discover the warm ambience of the historical decor in Gold Class, with cedar interior, individual lounge seating and historical photographs.
Kuranda Scenic Railway is also proud to partner with the attractions of Kuranda to form unique day tours such as the Classic Experience tour combining the railway with Skyrail Rainforest Cableway. Rainforestation features in their Rainforest Experience tour, Tjapukai in their Dreamtime Experience tour and Koala Gardens, Birdworld and the Butterfly Sanctuary in their Wildlife Experience tour.
Bunda Street,
Cairns Railway Station
Cairns, QLD, 4870
Located 0.4K from Cairns
Cairns ZOOM and Wildlife Dome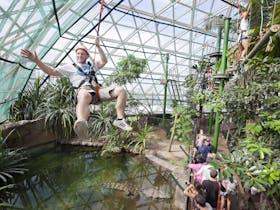 The Cairns ZOOM and Wildlife Dome is the world's first Challenge Ropes Course in a wildlife immersion exhibit, It consists of 65 elements of crossings and ziplines.
Mid-ZOOM - At an easier level of difficulty, suitable for beginners and/or young people. Must be over 120 centimetres tall and less than 120 kilograms.
Hi-ZOOM - At a greater level of difficulty, consisting of more complex crossings and ziplines for the more adventurous, featuring three ziplines - one of which you dangle over Goliath the croc!
Must be over 140 centimetres tall and less than 120 kilograms.
Power Jump - This enthralling component is a freefall adventure, where you jump off a 13 metre high tower to make a rapid descent, with a fan device ensuring a gentle and smooth landing. Must be over 120 centimetres tall, over 20 kilograms and less then 120 kilograms.
Dome-Climb - Walk along internal walkways with a birds-eye view of inside the Dome, and then an external platform with spectacular views of the city and surrounding land and seascapes. Must be over 120 centimetres tall and less than 120 kilograms.
35-41 Wharf Street,
Reef Hotel Casino
Cairns, QLD, 4870
Located 0.5K from Cairns
Cairns Regional Gallery
Cairns Regional Gallery is Far North Queensland's only visual art museum.
Housed in a refurbished heritage building in central Cairns, the gallery incorporates four individual exhibition spaces inside the building, showcasing an average of 30 exhibitions per year, and featuring the work of National and International artists, with a strong focus on local and indigenous works of art.
The Gallery is also accompanied by a stylish gift shop and cafe. The Gallery Shop has a wide range of functional, artistic, local and designer gifts at a variety of prices, the Gallery Shop can make finding that perfect gift an enjoyable journey.
Exhibitions change every four to eight weeks ensuring there will be something new to see every time you visit, with displays ranging from paintings, to sculpture, installations, photography and prints. A stimulating program of workshops, lectures and special events are held regularly to compliment these exhibitions.
Cairns Regional Gallery is a limited liability and non-profit organisation, and is controlled and funded entity of Cairns City Council.
It is the dynamic combination of the region's cultural diversity, tourism and the distance from Australia's capital cities that sets Cairns, and the Cairns Regional Gallery, apart from other regional arts centres.
40 Abbott Street
Cairns, QLD, 4870
Located 0.5K from Cairns
Centre of Contemporary Arts Cairns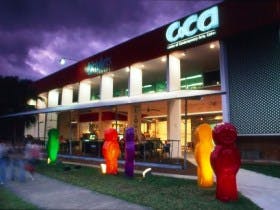 Arts Cairns is Arts Queensland's direct representation in the north of the state, and was born from the amalgamation of the former Cairns Regional Office (CRO) and the Centre of Contemporary Arts Cairns.
The Centre of Contemporary Arts Cairns at 96 Abbott Street is a significant piece of Queensland Government regional arts infrastructure consisting of The Theatre, a 241 seat black box theatre, The Space, a large open plan rehearsal and performance venue, two A Class galleries, meeting and workshop facilities , plus our cafe and theatre bar number 96.
The Centre of Contemporary Arts Cairns is also home to resident AQ funded companies JUTE Theatre Company and KickArts Contemporary Arts, as well as partnering with End Credits Film Club to provide the ongoing contemporary cinema program, Unseen Cinema.
Based at the Centre of Contemporary Arts Cairns, the Arts Cairns team are responsible for Arts Queensland's program delivery and infrastructure management in Cairns and Far north Queensland.
96 Abbott Street
Cairns, QLD, 4870
Located 0.8K from Cairns
Cairns: Events
Inkfest
Inkfest is a multi-event festival of arts in the print media held tropical Cairns. The biennial event is organised by Inkmasters Cairns Inc a not-for-profit arts organisation established in 2011. Inkmasters aims to raise the profile of printmaking as an art form and promote Cairns as a centre of prinkmaking excellence.
The festival culminates in selected prints from regional, national and international artists being displayed in the Inkmasters Print Exhibition at the Tanks Arts Centre. Other activities attached to Inkfest include artists-in-residence, artist talks, workshops, The BIG Print Event and a number of community engagement events. Inkfest 2016 will be the third festival held by Inkmasters and will prove to be the biggest and best to date.
Event Dates
2016
      1st Aug
      2nd Aug
      3rd Aug
      4th Aug
      5th Aug
      6th Aug
      7th Aug
      8th Aug
      9th Aug
      10th Aug
      11th Aug
      12th Aug
      13th Aug
      14th Aug
      15th Aug
      16th Aug
      17th Aug
      18th Aug
      19th Aug
      20th Aug
      21st Aug
      22nd Aug
      23rd Aug
      24th Aug
      25th Aug
      26th Aug
      27th Aug
      28th Aug
      29th Aug
      30th Aug
      31st Aug
      1st Sep
      2nd Sep
      3rd Sep
      4th Sep
124 Grafton Street
Cairns, QLD, 4870
Located 0.5K from Cairns
Cairns Ukulele Festival
Cairns is the place to be for ukulele lovers and music lovers alike the last weekend of August. The Cairns Ukulele Festival is a multi-day festival that brings people from all over the globe and from all walks of life and ages together to enjoy and make music in the tropics. There are concerts, workshops, tours, all featuring the ukulele and the tropical lifestyle associated with the instrument. The festival comprises free and ticketed events with a world-class international line-up. Musical styles range from pop to rock to folk to jazz and blues - yes, all played on the ukulele. Always original, refreshing and eclectic, and known for its friendly, inclusive atmosphere, the Cairns Ukulele Festival is not to be missed!
Event Dates
2016
      25th Aug
      26th Aug
      27th Aug
      28th Aug
Fogarty Park,
The Esplanade
Cairns, QLD, 4870
Located 0.6K from Cairns
Crocodile Trophy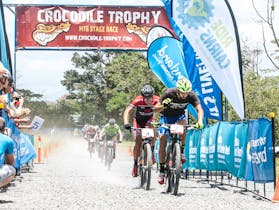 The Crocodile Trophy. Australia's and the world's most iconic MTB Stage race since 1994.
The Crocodile Trophy (UCI S1) is the oldest Mountain Bike (MTB) stage race in the world and has its home in the heart of one of the most beautiful holiday destinations on earth: Tropical North Queensland in Australia.
The race stages offer the biggest variety of mountain bike trails - eight days from the jungle in Cairns to the Atherton Tableland with bush singletracks into the unique Australian Outback. Finish on the breath-takingly beautiful Four Mile Beach in Port Douglas.
Ride with cyclists from all over the world - you can camp on cattle stations and in the historic mining villages and even a coffee plantation or there are hotel and motel accommodation packages to choose from! The event is fully catered and supported by race mechanics and medical staff.
Visit the event web site for more details.
Event Dates
2016
      22nd Oct
      23rd Oct
      24th Oct
      25th Oct
      26th Oct
      27th Oct
      28th Oct
      29th Oct
The Esplanade,
12 Satellite Street
Cairns, QLD, 4780
Located 0.6K from Cairns
Cairns: Eating Out
Vivo Bar and Grill (07) 4059-0944
45 Williams Esplanade, Palm Cove
Great menu and wine list as you dine overlooking the Coral Sea
Cairns: Travel Tips
Cairns and Tropical North Visitor Information Centre
The Cairns and Tropical North Visitor Information Centre is located on 51 The Esplanade in Cairns.
This accredited visitor information centre offers a one stop shop for travel information including maps, brochures, and itineraries. Staffed by skilled and knowledgeable locals, the Cairns and Tropical North Visitor Information Centre can provide advice on the things to see, things to do and where to eat. Discuss with the friendly staff your travel plans or make a booking.
51 The Esplanade
Cairns, QLD, 4870
Located 0.5K from Cairns
Cairns Map
Cairns Map - Legend

Multiple Hotels

Hotel
Click on the map markers for more information. Hover over the map to zoom in & out or see satellite & terrain views.