Millaa Millaa Accommodation, Hotels, Tours & Information
Millaa Millaa
Millaa Millaa is an Aboriginal word meaning plenty of water or waterfall and this is as true as ever as some of the most beautiful waterfalls are within a few minutes drive of the town. The main one of course is Millaa Millaa but further along Tourist Drive number nine stop in and photograph Zillie Falls and Ellinjaa Falls to name a few.

In the main street is a lovely park with a larger than life statue of Christie Palmerston and one of his Aboriginal guides. The Palmerston Highway is named after this famous explorer.

Coffee shops and the local hotel provide convivial hospitality for visitors and the historical museum is open most mornings from 10.00am to midday.

The main industries of the Millaa Millaa area are dairying and tourism and most of the rainforest is now World Heritage-listed so enjoy your stay.
Millaa Millaa: Where To Go / Sightseeing
Millaa Millaa Falls
Millaa Millaa Falls are magnificent waterfalls surrounded by lush rainforest located on the Waterfalls Circuit, along with Zillie and Ellinjaa Falls. The falls cascade perfectly to a pristine waterhole below where you can enjoy a refreshing swim in the cool water.
There's also a lovely grassy picnic area for you to relax. Millaa Millaa Falls are one of the most photographed in all of Australia, so make sure you bring your camera. And if you're lucky, you might even catch a glimpse of a platypus!
Theresa Creek Road
Millaa Millaa, QLD, 4886
Located 2.0K from Millaa Millaa
Zillie Falls
Zillie Falls are spectacular falls located on the Waterfalls Circuit with Millaa Millaa and Ellinjaa Falls. There is a lovely viewing platform at the base of the falls where you can enjoy a view of the cascading water and rapids. It's a wonderful place to enjoy a picnic lunch or simply relax and enjoy the beautiful surroundings. A colony of Flying Foxes are often spotted near the car park, so keep your eyes out!
Theresa Creek Road
Millaa Millaa, QLD, 4886
Located 5.1K from Millaa Millaa
Souita Falls
Souita Falls are near to Millaa Millaa on Middlebrook Road off the Old Palmerston Highway which once was the road connecting Millaa Millaa and Ravenshoe - the highest town in Queensland, now a scenic route (not suitable for caravans) between the two towns.
The falls run all year but are best seen after the wet season..
Middlebrook Road
Millaa Millaa, QLD, 4886
Located 6.1K from Millaa Millaa
Ellinjaa Falls
Ellinjaa Falls are picturesque falls that are part of the Waterfalls Circuit along with Millaa Millaa and Zilzie Falls. Enjoy the sound of the water rushing over a series of lava columns as you have a picnic lunch. There's a 200 metre walkway to the base of the falls where turtles and platypus are often spotted. The falls are a great spot for swimming. There's also a little ledge hidden behind the falls that you can sit on and take in the scenery.
Theresa Creek Road
Millaa Millaa, QLD, 4886
Located 6.3K from Millaa Millaa
Pepina Falls
Pepina Falls are best viewed in the time just after the "Green Season". The "Green Season" sometimes known as the wet season runs from January to the end of April most years.
Located in a little seen area off the Old Palmerston Highway (the scenic route between Millaa Millaa and Ravenshoe) on Maalan Road they certainly provide a photographic opportunity.
Maalan Road
Millaa Millaa, QLD, 4886
Located 9.3K from Millaa Millaa
Palmerston, Wooroonooran National Park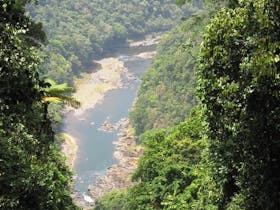 Palmerston, within Wooroonooran National Park, is one of the most accessible parts of a large park in the heart of the Wet Tropics World Heritage Area. The area is renowned for lush rainforest, scenic views, steep gorges and cascading waterfalls. Towering buttressed trees and small rainforest cycads are prominent features. It is a place of very high biodiversity, due to the high rainfall and fertile soils derived from basalt rocks. The Palmerston Highway traverses the park and several day-use areas and camping areas along the road allow access into the park.
Stop at Crawfords lookout for the breath-taking views down to the North Johnstone River gorge or climb down the steep winding North Johnstone Lookout track for a closer look. Camp at the secluded Henrietta Creek camping area and go platypus-spotting in the nearby creek at dusk. Take the circuit track to Nandroya and Silver falls or walk to Tchupala and Wallicher falls through lush rainforest. Relax by the creek at Gooligan's picnic area. Visit the Mamu Rainforest Canopy Walkway for a different perspective into this rugged rainforest-clad park.

Palmerston Highway
Innisfail, QLD, 4860
Located 16.1K from Millaa Millaa
Mount Hypipamee National Park
This park features a diatreme (a volcanic pipe or vent) thought to have been created by a massive gas explosion. The gaping hole is 70 metres wide with steep granite sides that plunge 58 metres to the lake below. The lake itself is 82 metres deep! The park protects unique high-altitude rainforest and is part of the Wet Tropics World Heritage Area.
Have a picnic in the rainforest clearing then walk 400 metres to the viewing deck over the diatreme. Return along the 1.2 kilometre Dinner Falls track. Look for golden bowerbirds, spotted catbirds and riflebirds. Set out with spotlights at night to look for green, lemuroid and Herbert River ringtail possums, and long-nosed bandicoots.
Kennedy Highway
Atherton, QLD, 4883
Located 16.3K from Millaa Millaa
Evelyn Scrub War Memorial
On a back road through grazing country in far north Queensland, a neatly preserved memorial reminds passers-by of both of heroes and a township from the past. The Evelyn Scrub War Memorial is all that remains of a once bustling farming and timber getting community.
The obelisk topped by a sphere lists the names and fates of 41 men, or 90 per cent of the community's young male population. Nationally, one in five, or 60,000 Australians, died. Evelyn Scrub's plaque notes that one of its dead was of Aboriginal descent.
The loss of manpower to war of such a sizeable proportion of the district's population was the beginning of Evelyn Scrub's descent. Of those who survived, few returned to farm. Drought, a cyclone, another drought and then the Great Depression wiped out the township.
Timber cattle yards provide a backdrop to the memorial on private property on Jonsson Road, off the Tumoulin to Ravenshoe Road in the southern Atherton Tablelands.
A second plaque, dedicated to the pioneers of Evelyn Scrub was added to the memorial in 1983.
A dawn service on ANZAC Day is still held annually at the memorial in commemoration of those who served.
Jonsson Road
Evelyn, QLD, 4888
Located 16.9K from Millaa Millaa
Nganyaji Interpretive Centre
Opened in 2002 the Nganyaji Interpretive Centre is about the lives of the local indigenous people, the Jirrbal.
The Jirrbal constructed bush material shelters in the rain forest and as there was permanent food and water did not go "walkabout" as did the inland aboriginals.
Elder Maisie Barlow was very involved with the creation of the Centre and she has quotes from her book exhibited in her honour.
Entry is free.
Nganyaji Interpretive Centre,
24 Moore St
Ravenshoe, QLD, 4888
Located 17.1K from Millaa Millaa
Millaa Millaa: Travel Tips
Ravenshoe Visitor Centre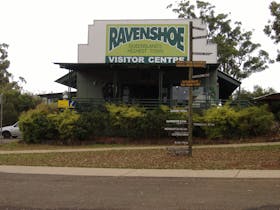 The Ravenshoe Visitor Centre is located at 24 Moore Street in Ravenshoe, Queensland's highest town.
This accredited visitor information centre offers a one stop shop for travel information including maps, brochures, and itineraries. Staffed by volunteer skilled and knowledgeable locals, the Ravenshoe Visitor Centre can provide advice on the things to see, things to do, where to stay and where to eat. Discuss with the friendly staff your travel plans or make a booking.

24 Moore Street
Ravenshoe, QLD, 4888
Located 17.1K from Millaa Millaa
Millaa Millaa Map
Millaa Millaa Map - Legend

Multiple Hotels

Hotel
Click on the map markers for more information. Hover over the map to zoom in & out or see satellite & terrain views.