Mission Beach Accommodation, Hotels, Tours & Information
Mission Beach
Mission Beach is a relaxed, yet vibrant beachfront town with over 14 kilometres of magnificent golden sandy beaches. Here two World Heritage areas, The Great Barrier Reef and Wet Tropics Rainforest, come together to form a tropical paradise. In many places, the rainforest literally fringes stretches of pristine golden beach, giving the destination reputation as an ideal natural holiday choice. Less than 5 kilometres offshore, Dunk Island and Bedarra Island make up an aquatic playground that is renowned along the east coast of Queensland. The Great Barrier Reef is only 38 kilometres away making Mission Beach the closest mainland access to the Reef, just an hour or so by boat. This means more time experiencing the wonders of Queensland's Great Barrier Reef when you stay at Mission Beach. There are four villages that are collectively known as Mission Beach: South Mission Beach, Wongaling Beach, North Mission Beach and Bingil Bay. Fourteen kilometres of palm-fringed beach connect these four small townships, from Kennedy Bay in the south, to Garners Beach in the north, a favourite spot for naturalists. The Edmund Kennedy walking track at the southern end of the beach is part beach, mangrove and rainforest. Several creeks empty their waters at Mission Beach and locals can often be found fishing for barramundi and mangrove jacks. Good fishing is also to be had at Clump Point jetty and the rock wall at Clump Point boat ramp. And for absolute seclusion, try Brooks Beach or Garners Beach at the northern end. It's quite likely that you'll catch a glimpse of the endangered Southern Cassowary in the rainforest around Mission Beach. At Mission Beach, you will find a tranquil and very friendly tropical holiday township ideally suited to those who desire a true break from everyday life.
Mission Beach: Where To Go / Sightseeing
Beaver Reef Dive Site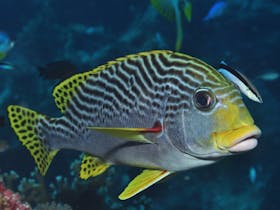 Beaver Reef is one of the most popular dive sites off Mission Beach with coral gardens, bommies and sloping coral walls in depths to 22 metres. Off the southern side of the reef is a site called Shark Alley. Cruising the sloping coral wall at this site are a constant parade of pelagic fish and reef sharks. It is common to see several whitetip and blacktip reef sharks on a dive at Shark Alley. The most popular dive site off the northern side of Beaver Reef is Beaver Cay. Just off this small coral cay are wonderful coral gardens in depths from 12 metres to 22 metres. While the usual array of tropical reef fish can be seen, divers should also keep an eye out for turtles, stingrays and reef sharks.
Mission Beach, QLD, 4852
Located 0.2K from Mission Beach
Licuala State Forest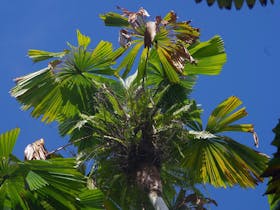 Licuala State Forest boasts several enjoyable walking tracks. Enjoy the native wildlife of the area as you walk around the forestand the Ulysses butterfly, cassowaries and green tree frogs. Be sure to look upwards to enjoy the sunlight shining through the beautiful palm leavesand it's truly remarkable! The Licuala Fan Palm is native to the area and has the majority of the fan palm trees in all of Australia.
Children are catered for in the forestand they can even follow cassowary footprints to a nest full of eggs on the children's walk! Licuala State Forest is a beautiful place to appreciate the beauty of nature.
Porter Promenade
Mission Beach, QLD, 4852
Located 0.3K from Mission Beach
Clump Mountain National Park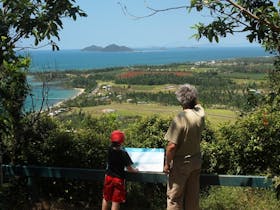 This park, on the scenic coast just north of Mission Beach, contains some of the few remaining patches of undisturbed tropical lowland rainforest in North Queensland. These rainforest remnants are important habitat for the endangered southern cassowary. Bicton Hill is the main feature of the park. The summit of Bicton Hill was historically used as a lookout by Aboriginal people and later as a ship lookout by the area's first permanent European residents.
Challenge yourself on the four kilometre Bicton Hill circuit walking track and be rewarded with spectacular mainland and island views, and a chance to see rare rainforest plants and the elusive cassowary. Stay on the track at all times and take care around cliffs, steep slopes and at the lookout.
4.6 kilometres north of Mission Beach,
Bingil Bay Road
Mission Beach, QLD, 4852
Located 3.2K from Mission Beach
Djiru National Park
This park protects some of the last remaining lowland rainforest in the wet tropics, including a rare patch of licuala fan palm forest and is one of the few places you're likely to see an unusual and endangered bird, the southern cassowary. The park is within the Wet Tropics World Heritage Area.
Enjoy a barbecue at Lacey Creek day-use area and learn about cassowaries at the information shelter. Nearby, signs in the cassowary arboretum identify the trees that cassowaries feed on. Stroll along the short circuit walk through the forest and past a viewing platform overlooking the creek. Take a picnic to Licuala day-use area and follow the children's cassowary walk. Amble along the longer circuit walk that leads you under the bright green, patterned canopy of licuala fan palms. Keep a lookout for cassowaries and always 'Be Cass-o-wary!'
Tully-Mission Beach Road,
8 kilometres east of Mission Beach
Mission Beach, QLD, 4852
Located 6.4K from Mission Beach
Mission Beach: Events
Mission Beach Markets
The Mission Beach Markets are local community markets run by Rotary Mission Beach. The Mission Beach Markets are held in the shady Day Park beside the beach on Porter Promenade, Mission Beach. They run from 7am until 12noon, and are held on the first and third Sunday of each month all year round.
There are 75 stall sites and stall-holders sell a wide range of goods - fruit and veg, takeaway food, plants, clothing, jewellery, books, second hand items, and lots of different craft items, plus more.
Event Dates
2017
      5th Nov
      19th Nov
      3rd Dec
      17th Dec
2018
      7th Jan
      21st Jan
      4th Feb
      18th Feb
      4th Mar
      18th Mar
Porter Promenade,
Day Park
Mission Beach, QLD, 4852
Located 0.3K from Mission Beach
Mission Beach Community Cassowary Festival
The Mission Beach Community Cassowary Festival is a celebration of nature, focusing on the cassowary and the community. It will be held in conjunction with the Rotary Sunday village market and continue throughout the afternoon. A beachside marquee and stage will host guest speakers, live music, performances, competitions and more. Being held at the beginning of the tourist season, the event is expected to attract a big audience, including celebrities, politicians and national media. Please see their website, facebook page and the attached flyer for more details on the event.
Groups or individuals working with the natural environment, particularly wildlife, are invited to set up a display under a large shared covered area or you may bring your own marquee. It will be a great chance to share knowledge and promote your organisation and the conservation work you do.
There is no fee to participate. Display holders may offer items for sale on condition they promote ecologically sustainable wildlife tourism and/or wildlife protection and, preferably, items are made or produced by the display holder.
Event Dates
2018
      9th Jun
      10th Jun
Porter Promenade
Mission Beach, QLD, 4852
Located 0.3K from Mission Beach
Mission Beach Aquatic Festival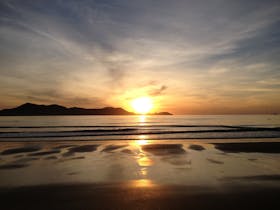 Mission Beach is brimming with natural landscapes from rainforests to reefs, mountains to beaches and wetlands to islands. A celebration of this destination to all travellers that will enhance what they have to offer. Showcase activities including skydiving, white water rafting, tinny races, family events, markets, rainforest walks, local entertainment and much more.
Event Dates
2017
      4th Nov
Porter Promenade
Mission Beach, QLD, 4852
Located 0.3K from Mission Beach
Mission Beach Monster Market
The Mission Beach Monster market is a local community market run by Rotary Mission Beach. Traditionally this market starts on Easter Sunday and then on the last Sunday of each month up to and including November.
The Market runs from 7am until 12.30pm and is located at Marcs Park, Cassowary Drive, Mission Beach. With over 120 stall sites at this market there is a fantastic range of goods on display.
Stall-holders come from a wide area around the area including Townsville and Cairns and the Tablelands, selling a great variety of products, including farm produce, lots of different foods, fruits and vegies, crafts of all description, clothing, jewellery, plants, kick-knacks, second hand goods and more - something for everyone.
Event Dates
2017
      29th Oct
      26th Nov
Cassowary Drive,
MARCS Park
Mission Beach, QLD, 4852
Located 6.7K from Mission Beach
Ona Mission Multisport Adventure, Mission Beach and Dunk Island
Ona Mission Multisport Adventure weekend - paddle, run, paddle, bike, run - Mission Beach and Dunk Island, Tropical North Queensland. Set amongst two World Heritage areas - the event course is sensational! Highlights include a paddle to Dunk Island, a rainforest run to the Dunk Island lookout, a mountain bike stage along spectacular Mission Beach and through World Heritage rainforests, with a beach run to the finish.
Ona Mission Multisport Adventure is a favourite event of many locals thanks to the unique combination of a well organised event, beautiful location and the tropical beachside hospitality. Established over the years there are two course options: Short: 4 kilometre paddle, 6 kilometre run, 4 kilometre paddle, 23 kilometre ride, 4 kilometre run. Long: 8 kilometre paddle, 11 kilometre run, 4 kilometre paddle, 27 kilometre ride, 10 kilometre run. Participate as an individual or as a team of three.
Event Dates
2018
      16th Sep
Kennedy Esplanade
Mission Beach, QLD, 4852
Located 7.4K from Mission Beach
Mission Beach: Travel Tips
Mission Beach Visitor Information Centre
The Mission Beach Visitor Information Centre is located on the beachfront 200 metres north of the Mission Beach village. The only accredited visitor centre in Mission Beach; they have friendly and helpful staff and volunteers with a wealth of local knowledge and advice to assist you to fully enjoy all the benefits of holidaying in our beautiful region.
When you arrive they highly recommend that you call in and pick up a local Mission Beach Map and have a volunteer assist you to get your bearings. They have a range of generic brochures providing information on campsites, swimming holes, restaurants and caf?s, self drive guides, fishing, walking tracks, national parks and safety in the tropics. They also provide brochures for local and regional accommodation and activities. You can also download brochures from their website.
The Visitor Centre offers a wide range of souvenirs and informative displays regarding the environment and wildlife in and around Mission Beach. They are lucky to have two World Heritage listed sites on their doorstep - the Wet Tropics Rainforest and the Great Barrier Reef. They have suggested itineraries and brochures to assist you to plan your holiday and not miss out on anything
53 Porter Promenade
Mission Beach, QLD, 4852
Located 0.3K from Mission Beach
Mission Beach Map
Mission Beach Map - Legend

Multiple Hotels

Hotel
Click on the map markers for more information. Hover over the map to zoom in & out or see satellite & terrain views.