Malanda Accommodation, Hotels, Tours & Information
Malanda
Nestled high in the Atherton Tablelands of Tropical North Queensland and surrounded by lush rainforest, the picturesque village of Malanda seems an unlikely place to find a dairy. But find one you will. In fact you'll find dozens around this small community known as the dairy capital of northern Australia.

Located 10 minutes from the town of Atherton and just under an hour from Cairns, there are many reasons to include Malanda on your holiday itinerary.

Right on the edge of town are the Malanda Falls where you may be lucky enough to spy a platypus, tree-kangaroo, birds, butterflies or dancing Brolga in the surrounding forest. Enjoy a picnic on the bank or go for a refreshing dip in this crocodile-free section of the Johnson River.

In town, be sure to follow the Malanda Art Trail, a series of painstakingly crafted mosaics that takes followers on a journey through the rich history of the area. Pay attention to the intricate detail in the designs and see if you can find the blue butterfly hidden in each mosaic!

Pay a visit to the Dairy Centre and learn more about the industry that put Malanda on the map. Take a stroll through the quaint country town past its many historic buildings, including a huge hotel complete with grand staircase and ballroom. It's said to be the largest wooden structure in Queensland.

Just 10 minutes from Malanda you'll find the Mt Hypipamee National Park, home of the beautiful rainforest-shrouded Dinner Falls and a huge water-filled crater created many thousands of years ago by a volcanic explosion.

Accommodation in Malanda includes motels, hotels, lodges, guesthouses, bed-and-breakfasts and camping.
Malanda: Where To Go / Sightseeing
Malanda Falls Conservation Park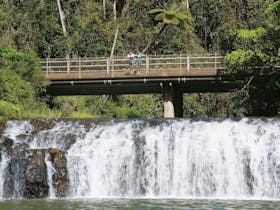 Surrounded by dense rainforest, the North Johnstone River tumbles over basalt rock that was formed by an ancient lava flow at Malanda Falls. The much-photographed picturesque falls flow into an artificial swimming pool in this popular park near Malanda.
Have a picnic and take a dip in the pool. Follow the easy one kilometre Tulip Oak walk beside the river and through the rainforest. Learn about the Ngadjon-Jii culture from interpretive signs as you walk along the track. Watch for platypus from the viewing platforms. Keep an eye out for secretive tree-kangaroos, sometimes seen here.
Malanda-Atherton Road
Malanda, QLD, 4885
Located 0.8K from Malanda
Curtain Fig National Park
This park protects a small area of an endangered type of forest, called mabi forest, the local Aborignal (Ngadjon) word for the Lumholtz's tree-kangaroo. The large fig tree found in this park is unique because the extensive aerial roots, that drop 15 metres to the forest floor, have formed a 'curtain'. Starting from a seed dropped high in the canopy, this strangler fig grew vertical roots, which gradually became thicker and interwoven. Over hundreds of years these roots have strangled the host causing it to fall into a neighbouring tree-a stage unique to the development of this fig. Vertical fig roots then formed a curtain-like appearance and the host trees rotted away, leaving the freestanding fig tree. The tree is thought to be nearly 50 metres tall, with a trunk circumference of 39 metres, and is estimated to be over 500 years old.
Explore the elevated boardwalk that encircles the curtain fig, protecting the roots while allowing for uninterrupted views from all angles. Return at night to spotlight for the elusive Lumholtz's tree-kangaroo and other nocturnal animals.
Fig Tree Road
Yungaburra, QLD, 4884
Located 7.8K from Malanda
Curtain Fig Tree
The Curtain Fig National Park contains the renowned Curtain Fig Tree, an enormous strangler fig tree. Located a short drive out of Yungaburra, a small town in the Atherton Tableland, the giant tree has several aerial roots hanging down from its branches that look like curtains. It's over 500 years old and definitely worth a look! There's a short boardwalk around the base of the tree that is wheelchair accessible.
Atherton-Yungaburra Road
Yungaburra, QLD, 4884
Located 7.8K from Malanda
Lake Eacham, Crater Lakes National Park
A clear, blue lake surrounded by cool rainforest, Lake Eacham offers swimming, birdwatching, canoeing, picnic areas and shady walking tracks, making it a popular recreation area with locals and visitors alike. Lake Eacham, Crater Lakes National Park is in the Wet Tropics World Heritage Area. Like Lake Barrine, Lake Eacham is a maar (a crater lake formed by volcanic explosions) surrounded by rainforest.
Take a refreshing dip then lounge on the grassy area near the viewing decks which offer uninterrupted views of the lake. Walk the 3 kilometre lake circuit track and look for musky-rat kangaroos, small marsupials which are active during the day, turtles and fish at the lake's edge and a variety of birds in the rainforest. Explore the fun 1.4 kilometre return Children's walk and learn about local wildlife. Paddle a kayak or canoe on the clear smooth waters of the lake. Ride your bike through the park on Lakes Drive, a winding sealed bitumen access road.
Lake Eacham Road,
via Gillies Highway,
6 kilometres south-east of Yungaburra
Lake Eacham, QLD, 4872
Located 8.6K from Malanda
Wongabel State Forest
This state forest protects a remnant of an endangered type of forest, known as mabi forest. Here, in 1903, red cedar seedlings were planted in the forest to replace mature trees which had been logged. Commercial plantations of hoop, kauri and Caribbean pine now grow beside native forest.
Two walking tracks, catering for the visually impaired, wind through this area. Enjoy a 750 metre return walk through the forest or take the longer 2.5 kilometre route. Both tracks have been designed with consideration for walkers who are vision impaired. Braille booklets and audio headsets are available from the visitor centre in Atherton. Both tracks are also wheelchair accessible, but assistance may be required for the longer walk. Signs tell of the history of the area, as well as forestry practices and local ecology. Look for Lumholtz's tree-kangaroos and possums while spotlighting at night.
Kennedy Highway
Atherton, QLD, 4883
Located 11.2K from Malanda
Lake Barrine, Crater Lakes National Park
This popular park features a deep crater lake surrounded by cool lush rainforest. Lake Barrine, part of Crater Lakes National Park, is a maar: a crater lake formed by volcanic explosions. In several places, large bull kauri pines, a species that once dominated the tableland forests, emerge through the rainforest canopy.
Take the short stroll along the boardwalk to view the two giant bull kauris. Stretch your legs on the longer five kilometre walking track around the lake, pausing to admire the lake views. Look for rainforest animals, such as the colourful but cryptic Boyd's forest dragon, along the way. Take your canoe onto the lake and look for fish, turtles and waterbirds around the shallow reedy lake edges. Enjoy afternoon tea in the privately-operated teahouse. Lake cruises operate from the teahouse.
Gillies Highway
Yungaburra, QLD, 4884
Located 12.2K from Malanda
Malanda: Events
Crane Week
Every year, large flocks of stately grey birds gather on the Atherton Tablelands for the winter. Cranes are the subject of myth and legend around the world, they are immortalised in art and photography and are woven into the fabric of ancient cultures. They leap and dance, they bugle and call and they enrich lives. It's crane season on the Tablelands!
If you live on the Tablelands, it's not hard to spot the cranes, feeding in farmers' paddocks during the day, and flying in v formation every evening across the winter sunset to their favourite roosting sites.
Crane Week is a celebration of these ancient mythical birds. Join them for Tablelands Crane Week: watch, learn and photograph, spread an appreciation of cranes and you will help to ensure a safe future for them in the beautiful region of Australia they call home.
Event Dates
2017
      22nd Sep
      23rd Sep
      24th Sep
      25th Sep
132 Atherton - Malanda Road
Malanda, QLD, 4885
Located 0.9K from Malanda
Yungaburra Triathlon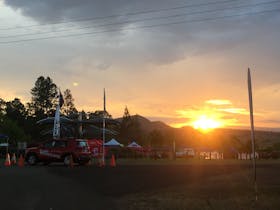 Drawing over 500 competitors and 2500 spectators in 2014, 2015 and 2016 the annual event is delivered by Tablelands Regional Council with the assistance of an organising committee made up of local business and community representatives. Sponsorship and registration fees cover the cost of the event, with 10 per cent of registration fees donated to organisations that support returned service members.
Saturday 21 April 3pm start:
Kids Aquathon (7 to 9): 500 metre run | 100 metre swim | 500 metre run. Kids Aquathon (10 to 13): 1 kilometre run | 200 metre swim | 1 kilometre run. Enticer Distance: 400 metre swim | 10 kilometre bike | 2.5 kilometre run. Corporate Event: 400 metre swim | 10 kilometre bike | 2.5 kilometre run.
Sunday 22 April 7am start:
Olympic: 1.5 kilometre swim | 40 kilometre bike | 10 kilometre run.
Sprint: 750 metre swim | 20 kilometre bike | 5 kilometre run.
Please consider participating in the event, volunteering or supporting the athletes at the Tinaburra foreshore or along the cycle or run courses. For further information or to register for the event please visit their webpage, like Yungaburra Triathlon on Facebook or contact the Event Coordinator.
Event Dates
2018
      21st Apr
Tinaburra Drive
Yungaburra, QLD, 4884
Located 10.7K from Malanda
Malanda: Travel Tips
Malanda Falls Visitor Centre
The rebuilt Malanda Falls Visitor Centre, and its award winning modern building reflects the area's geological formations, and the connection to country, as seen through the eyes of the local Ndgaonji tribe.
The Malanda Falls Visitor Centre is an accredited Tourism Queensland Visitor Information Centre within the Tablelands Regional Council area of Tropical North Queensland. In the midst of the renowned Crater Lakes and Waterfalls region, the Centre offers the full range of free visitor services and assistance from local volunteers.
The Centre is also an environmental education centre, with interpretive interactive displays on the cultural and natural history of the unique Tablelands volcanic region and its wildlife.
Indigenous cultural information is complemented by the Rainforest Dreaming guided walks through the adjacent Malanda Falls Conservation Park with Ngadjon man Drew Morta. Drew is the first indigenous accredited Wet Tropics Tour Guide, in the World Heritage listed Wet Tropics Region. Guided walks on Friday, Saturday and Sunday mornings, need to be booked in advance and offer visitors the opportunity to see the rare Lumholtz's Tree-kangaroo, as well as discover traditional ways of the local indigenous people.
Malanda Falls is Heritage listed and offers safe family swimming and picnic areas.
132 Atherton - Malanda Road
Malanda, QLD, 4885
Located 1.8K from Malanda
Yungaburra Visitor Information Centre
This Information Centre is situated right in the centre of Yungaburra directly opposite the iconic Lake Eacham Hotel. The modern Information Centre is open seven days a week, eight hours a day, and the friendly staff are ready and willing to assist you to enjoy your visit. They want you to leave better informed about their wonderful area, ready to enjoy a world class experience that you are sure to want to return to.
2 Kehoe Place
Yungaburra, QLD, 4884
Located 9.4K from Malanda
Malanda Map
Malanda Map - Legend

Multiple Hotels

Hotel
Click on the map markers for more information. Hover over the map to zoom in & out or see satellite & terrain views.