Tolga Accommodation, Hotels, Tours & Information
Tolga
Tolga is within approximately eight kilometres from Atherton, travelling through the rainforest canopied Kennedy Highway. Tolga presents a quaint little town with good examples of early Queensland architecture.

A centre strip in the main street features a towering fig tree and heritage and timber display consisting of seven carved poles, much like totem poles. These showcase in creative carving, aspects of the Atherton Tableland's rich heritage including Aboriginal culture, animals plants and threats to the rainforest habitat.

With its range of accommodation from caravan parks, motels to five star retreat, and displays of art work by local people it is an interesting little township.

Close by is Rocky Creek Memorial Park, which is dedicated to the thousands of soldiers who were stationed in this area during World War Two. With its many plaques on display, it is a popular stop-over for many.
Tolga: Where To Go / Sightseeing
Atherton War Memorial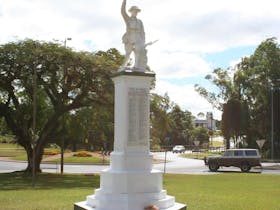 A jubilant soldier, clenched right fist in the air, seemingly cheering in triumph, creates an unusual sight at Atherton's War Memorial. Tinaroo Shire chairman Mr Grau unveiled the memorial on 1 May 1924 following combined fundraising by local women and Atherton RSL. Leftover funds were used to expand Atherton's hospital.
The soldier statue, believed to have been designed and executed by the region's then leading monumental firm Melrose and Fenwick, bears other unique features: a gas mask and a tin hat, instead of a slouch hat; rocks support the digger's leg instead of a tree stump. Originally the digger carried a rifle with a fixed bayonet in his left hand, which was blown off in a severe storm in 1934.
The names of the 67 men from the district who died in WWI are listed on a plate at the front of the monument; another 35 names, representing locals who died in WWII, appear on the rear.
This monument was moved from the town's main intersection and sits within a park, opposite Atherton's RSL building.
Kennedy Highway,
Corner of Cook Street
Atherton, QLD, 4883
Located 4.4K from Tolga
The Crystal Caves
Put all expectations aside, this is not your average museum!
Ren? Boissevain found his life's passion when he found his first Agate right here in North Queensland in 1963. Since then, he has been travelling all over the world in search of the most spectacular crystals, minerals and fossils.
To display his collection Ren? built a fantasy cave in the Main Street of Atherton which extends to 250 square metres of tunnels and grottos. The hero of the show is the largest Amethyst geode in the world, standing at a staggering three and a half metres tall; this is one of more than 600 individual pieces on display in The Crystal Caves.
The dedication and imagination of one man to build a fantasy cave to house his massive collection is only surpassed by the quality and size of the crystals and fossils.
This virtual cave gives the feeling of discovering the crystals yourself. Carefully positioned and delicately lit, you are free to discover in your own time and, unlike most conventional museums, encouraged to touch and photograph.
Science meets Mother Nature in this fun and educational journey into the mysterious world of crystals.
69 Main Street
Atherton, QLD, 4883
Located 4.7K from Tolga
Hallorans Hill Conservation Park
This park, in the middle of the township of Atherton, protects eucalypt forest and a remnant of the endangered mabi forest on an extinct volcanic cone. The cone is part of the legacy of the Atherton Tableland's fiery geological past.
Enjoy the 1.4 kilometres walk to the top of Hallorans Hill or drive through the residential area of Atherton to the car park at the top of the hill. Enjoy the expansive views from the summit that showcase the tableland's mosaic of different land uses and geological formations. A council park adjoins the conservation park and provides barbecues, toilets, tables, play equipment, walking track and interpretive signs.
Dalziel Avenue
Atherton, QLD, 4883
Located 4.9K from Tolga
Hallorans Hill
Hallorans Hill Lookout is an ideal spot for a barbecue or picnic, watching the sunset or just enjoying the view of the surrounding areas, farmland and rolling hills. The best way to enjoy this is to start from the Environmental Park on Louise Street, follow the walking track right to the top of the hill. Best times are early morning or late afternoon when you can watch the sun set. Walking track takes approximately two hours return.
Centenary Drive
Atherton, QLD, 4883
Located 5.2K from Tolga
Mt Hypipamee Crater and Dinner Falls
The Hypipamee crater is referred to as a volcanic pipe. The pipe was opened upward through surface rocks by gas produced from molten rock below and as a result of tremendous pressure, the vent exploded sending volcanic bombs far across the landscape. It has a diameter of 61 metres at the water level which is 58 metres below the platform. Even 85 metres below the water surface, the pipe hasn't lost any of its dimensions. Approximately 10 minute on concrete path to the Crater and the choice of taking the 'natural' path along to see the different levels of Dinner Falls. Free spotlighting nights are regularly held here as there is an abundance of wildlife throughout the park.
Kennedy Highway
Atherton, QLD, 4883
Located 5.9K from Tolga
Hou Wang Chinese Temple and Museum
Atherton Chinatown is the Award-winning site of the unique Hou Wang Temple and interpretive museum. Located just over a scenic hours drive south west of Cairns, the National Trust of Queensland property ensures visitors of a fascinating insight into part of North Queensland's history and heritage. The site was chosen by the Chinese settlers during the 1800s. The temple is the only one of its type remaining and the only temple dedicated to Hou Wang outside of China still existing. It has an ornate interior with original wood carvings that can be seen during the guided tour of the property.
Allow time to browse through the interpretive museum with its interactive displays and 'world-first' artefact scanner. The giftshop has a good array of Feng-Shui symbols and souvenirs.
86 Herberton Road
Atherton, QLD, 4883
Located 6.1K from Tolga
Atherton Chinatown Site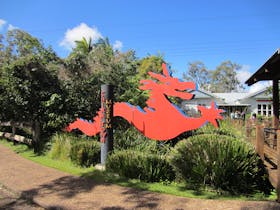 The land surrounding the Hou Wang Mai was the site of an 1880's Chinese settlement. By 1897 there were over 180 Chinese living in the village known as Cedar Town, with a short main street lined with small timber and iron shops and houses. The Hou Wang Mai was built in 1903. By 1909, the commercial premises included corn merchants, food and goods stores, a herbalist, two gambling dens and an entertainment place that employed musicians. There was also a Tong society meeting hall.
After World War One when Chinese land leases were turned over to returned soldiers, most Chinese left the district. European speculators owned the site. However, local maize farmer and Hong Kong born Mow Jue Sue purchased the property in 1925 and it remained in his family until 1967 when it was transferred to John and Violet Fong On.
The National Trust of Queensland received funding in 1975 to carry out research on the site and the Fong On family arranged to transfer the Hou Wang Mai property to the Trust. The Atherton Shire Council assumed ownership of the Chinatown site in 1991. Council relocated the old Atherton Post Office nearby for use as a Chinese Museum.
Herberton Road
Atherton, QLD, 4883
Located 6.2K from Tolga
Lake Tinaroo
Lake Tinaroo is a very popular spot for swimmers, skiers, walkers, fishing (permit required), red clawing, ideal for picnics with barbecues available and has five camping areas located around the back of the dam in the Danbulla State Forest.
Tinaroo has developed into one of the shire's most popular tourist locations. It is one tourist spot that has so much to offer everyone. Enthusiasts in sailing, skiing, swimming, fishing, red clawing, bird watching, walking, are all attracted to this town. If you're looking to do something less active, take a relaxing stroll along the jetty to see the dam spillway or just relax at one of the many picnic spots in the area. You certainly won't be disappointed.
Tinaroo Falls Road
Lake Tinaroo, QLD, 4872
Located 6.2K from Tolga
Kairi Maize Silos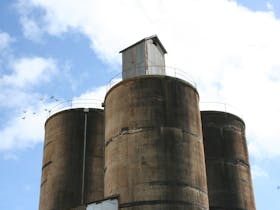 This cluster of concrete silos is the last reminder of the once vast maize industry initiated by the Chinese on the Atherton Tableland in the late nineteenth-century.
Maize was used for stock feed for the mining communities here and west to Irvinebank and in 1903 the area produced a third of Queensland's maize. The Kairi State Farm was established in 1912 to experiment in growing different strains of maize. Chinese farmers were displaced following the establishment of the post World War Two soldier settlement. However, the soldier settlement scheme was not entirely successful and the wet and humid climate led to fungal and bacterial conditions when farmers stored grain in their barns.
The Atherton Tableland Maize Board was formed in the early-1920s, and silos were built to improve storage and marketability. The silos were built by British engineer C. P. Kinninmonth using a revolutionary method known as slip-form concreting. Silos were also built at Tolga and Atherton. They were equipped with elevators, cleaning plant and driers manufactured by Sydney firm, Henry Simon Ltd. The silos were opened in November 1924. By 1936 a new management company, Athamaize, formed and the silos remained in use until the company's closure in 2002.
22 Godfrey Road
Kairi, QLD, 4872
Located 6.6K from Tolga
Tolga: Travel Tips
Atherton Visitor Information Centre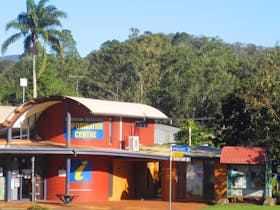 An essential element of any holiday on the Atherton Tablelands is a visit to their accredited Visitor Information Centres.
At the Atherton Visitor Information Centre you will be welcomed by their friendly staff and volunteers who will offer you expert local advice and free information on exploring the region. To make your visit more enjoyable they can assist with bookings for a wide range of accommodation and attractions. The Atherton Visitor Information Centre is also a National Park Booking Agent so all your Queensland National Park camping queries and bookings can be facilitated there.
During their peak season (May to September) they offer a free Food Tasting Safari showcasing the local Tableland produce, on the third Thursday of each month, beginning at 10am.
For the bikers who would like to visit they have a new bike rack just outside the door.
Free wi-fi is available as well as a charging station for mobile phones and electronic equipment.
The shop offers a huge range of locally made gifts and souvenirs.
Corner of Main Street and Silo Road
Atherton, QLD, 4883
Located 5.0K from Tolga
Tolga Map
Tolga Map - Legend

Multiple Hotels

Hotel
Click on the map markers for more information. Hover over the map to zoom in & out or see satellite & terrain views.