Burrum Heads Accommodation, Hotels, Tours & Information
Places nearby Burrum Heads
Burrum Heads
Located approximately 30 minutes outside of Hervey Bay, this seaside village is a destination in its own right for many visitors. Burrum Heads experiences a major influx in visitors each year as they return to enjoy the peace and tranquillity of this area. Explore rivers and creeks by boat or canoe or take advantage of the clear warm water and great fishing! There is a wealth of rental house accommodation available through the local real estates as well as caravan parks and camping sites on the beachfront.
Burrum Heads
Burrum Heads: Where To Go / Sightseeing
Burrum Coast National Park
Burrum Coast National Park is a showcase of protected coastal lowland vegetation types: paperbark swamps (with cabbage palms - especially in the Woodgate section), wallum heaths and mangroves. The Kinkuna section features a narrow picturesque beach, low coastal dunes, tea-coloured waterways and flat sandy plains. Explore the Woodgate section on a wheelchair-accessible boardwalk across a melaleuca swamp or along walking tracks to viewing and fishing platforms, and a bird hide. Canoe across the river, go birdwatching your try your luck at fishing. Enjoy camping at Burrum Point or behind the dunes at Kinkuna (both four wheel drive access only). In late winter and spring, delight in the wallum heath natural wildflower show.
Burrum Coast National Park
Bundaberg, QLD, 4670
Located 10.4K from Burrum Heads
Woodgate Beach Park and Playground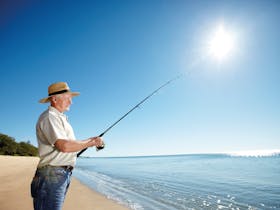 Woodgate Beach boasts 16 kilometres of white sandy beaches surrounded by 20,000 hectares of National Park. The Woodgate Beach Park and Playground is located on the waterfront offering stunning views of the coastline. Woodgate Beach is situated 38 kilometres of the Bruce Highway along Goodwood and Woodgate Roads (all bitumen).
You will find prolific numbers of birds including emus, brolgas and jabiru together with kangaroos, wallabies, echidnas, possums and reptiles which all inhabit the National Park and surrounding areas.
Woodgate offers a quiet place to relax, unwind and enjoy a natural experience.
Second Avenue
Woodgate, QLD, 4660
Located 11.0K from Burrum Heads
Woodgate Beach Library
Woodgate Beach Library offer various items for loan to members including books, DVDs, CDs, magazines, and eDownloads. Visitors are able to join the LIbrary as temporary members by paying a refundable security deposit. This allows visitors to borrow items while you are holidaying in our region.
Free WIFI and computer use is available for members and visitors. Bookings and restrictions do apply. Chargebars are available in the branch to enable devices to be charged during your visit.
Woodgate Beach Community Centre,
1 Kangaroo Court
Woodgate, QLD, 4660
Located 11.1K from Burrum Heads
Howard War Memorial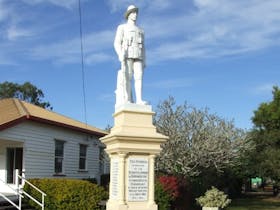 Wide Bay's rural town Howard is home to an intriguingly different looking soldier statue.
The Howard War Memorial, unveiled by local war hero and politician Colonel CDW Rankin on 18 December 1921, was imported from Italy, as was the soldier statue in nearby Bundaberg. Soldier statues were more popular in Queensland than in southern states. They were seen to personify the ANZAC traits of loyalty, innocence, courage, youth and masculinity.
However Howard's life-size soldier is clearly not an Australian: he wears a full Italian-Alpino uniform and trappings, including badges, and bears the rank of a sergeant.
The soldier stands on a pedestal, produced by Maryborough monumental mason John T Satchwill. The pedestal bears the names of 37 local soldiers who died in WWI.
The Howard and Burrum district memorial committee, assisted by ladies of the Red Cross, had raised ?300 for their WWI tribute.
Memorial plates have been added honouring two soldiers who died in WWII and one who died in the Korean conflict.
William Street
Howard, QLD, 4659
Located 15.7K from Burrum Heads
Burrum and District Mining Museum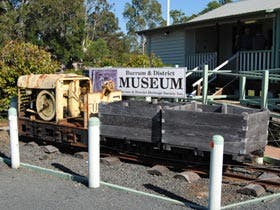 The Burrum District Museum at Howard reflects the area's past history as a major coal mining centre dating back to 1864, when the first seam of coal was discovered on the banks of the Burrum River.
It also features displays of local history from Howard and Torbanlea, early farming, war memorabilia and cottage crafts.
Burrum Street
Howard, QLD, 4659
Located 15.9K from Burrum Heads
Arkarra Lagoons and Tea Gardens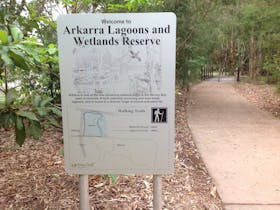 Arkarra is an aboriginal word meaning "place of many ducks" and was so named by the local Aboriginal tribe of the Fraser Coast Region. Arkarra's melaleuca wetlands, covering a substantial part of the original 200 acre freehold property, were first identified as "swamp" in 1880. Owned by Hervey Bay pioneer Lars Jacobsen, the property was sold and became a sugar cane, pineapple and small crops with some dairy and beef cattle. During the 1960s with Hervey Bay growing, sand was extracted and sold and used in the laying of waster mains and sewer pipes. Over several years a considerable amount of sand was extracted and huge lagoons dotted with islands were subsequently formed as the excavation holes filled with water.
A levee bank was built to prevent surrounding areas draining the lagoons of its precious water, the tracks were raised and today it is a great place to picnic and visit. There are numerous signed tracks and is home to over 170 species of birds, goannas, echidnas, wallabies, and in the water ducks, turtles, eels and fish species survive.
28 Panorama Road
Dundowran, QLD, 4655
Located 17.9K from Burrum Heads
Birdwatching on the Fraser Coast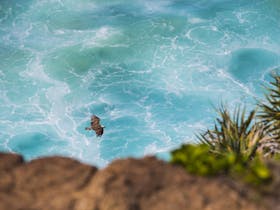 The Fraser Coast offers a great range of birdwatching opportunities with over 250 species identified.
Every year thousands of migratory shorebirds visit Hervey Bay and the Great Sandy Strait from destinations as far away as Japan, Alaska and Siberia. The sand and mudflats are important feeding grounds for nearly 20 different species of long distance flyers.
The range of habitats within close proximity of Hervey Bay will ensure that even the keenest birdwatcher will be amazed at the variety of bird life in the area.
Their waterways are home to many species, from the striking black and white jabiru, and the graceful silver-grey brolga, to the distinctive brahminy kite with its deep chestnut wings and white head, neck and breast of the amazing comb-crested jacana that seemingly walks on water thanks to its incredibly long toes.
The undergrowth below trees can be protection for so many of those little jewels of nature that live on insects, small fruit and grass-seeds, and are always an enjoyment to observe.
Those who visit Hervey Bay are indeed fortunate to experience such diverse habitats suitable for a range of different bird species.
262 Urraween Road
Hervey Bay, QLD, 4655
Located 23.4K from Burrum Heads
M and K Model Railways
Lights, Sound and Action will guarantee to delight the young and young-at-heart at M and K Model Railways. You follow the travels of model trains past cities of replica German buildings, through to the 'Dom' in Hamburg, a fairground wonderland of carnival rides, dodgem cars, revolving tea cups, ice skaters and much more.
Cable cars, waterfalls and windmills are but a few of the attractions to delight the visitor. Church bells, fire engines, sawmill in operation, a cuckoo bird calling, are just some of the sounds that add to the realism.
A truly unique experience full of surprises - visitors are encouraged to find the escaped mountain goats, the lady hanging out her washing, men surrounded by wolves, a vehicle accident complete with police and ambulance, a cow trying to get out of the paddock and even a cat on the roof.
Train rides, free refreshments, children's parties.
Welcome Aboard! Bring your camera!
Please note: Train rides when weather permits.
50 Old Maryborough Road
Hervey Bay, QLD, 4655
Located 23.8K from Burrum Heads
Burrum Heads: Events
Torbanlea Picnic Races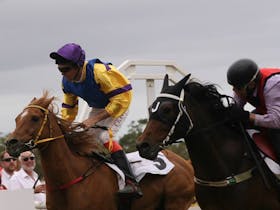 At the Torbanlea Picnic Races there will be thoroughbred and quarterhorse races, VIP marques with catered food, drinks and live entertainment. Food and licensed bar all day. Children's entertainment and activities. Transport with Wide Bay Transit. Call them to ask about the Torbanlea Races Day Tour.
Event Dates
2017
      21st Oct
Torbanlea Pialba Road,
LOT 32
Torbanlea, QLD, 4662
Located 17.2K from Burrum Heads
Burrum Heads: Travel Tips
Hervey Bay Visitor Information Centre
The Hervey Bay Visitor Information Centre is located on the corner of Hervey Road and Urraween Road in Hervey Bay.
This accredited visitor information centre offers a one stop shop for travel information including maps, brochures, and itineraries. Staffed by skilled and knowledgeable locals, the Hervey Bay Visitor Information Centre can provide advice on the things to see, things to do and where to eat. Discuss with the friendly staff your travel plans or make a booking.
227 Maryborough - Hervey Bay Road,
Corner of Urraween Road
Hervey Bay, QLD, 4655
Located 23.6K from Burrum Heads
Burrum Heads Map
Burrum Heads Map - Legend

Multiple Hotels

Hotel
Click on the map markers for more information. Hover over the map to zoom in & out or see satellite & terrain views.