Maryborough Accommodation, Hotels, Tours & Information
Maryborough
A town steeped in history, Maryborough boasts a relaxed atmosphere and is nestled upon the Mary River. With beautifully preserved colonial streets, visitors have the chance to soak up some of Queensland's richest history and heritage architecture. Once one of Australia's largest ports, and now voted one of Queensland's "Must Do" experiences, the original wharf district is now home to vintage restaurants, pubs, museums and art galleries.

Maryborough is also the birthplace of Pamela Lyndon Travers, the creator of Mary Poppins. Jump into the magical world of Mary Poppins and visit the heritage-listed building where she was born, explore the streets on which she grew up and enjoy the striking public art that explores the themes of her novels.

A must when visiting Maryborough is a visit to it's famous weekly markets. Every Thursday the city centre transforms into a bustling outdoor market with a great variety of art, craft and fresh produce.

End the week with Sunday in the Park - a lazy Sunday morning of fun, food, brass bands, steam ride trains and river cruises!
Maryborough: Where To Go / Sightseeing
Maryborough City Heart Markets
Every Thursday, Maryborough's city centre undergoes an amazing transformation into a colourful outdoor heritage bazaar.
Wander around over 120 stalls with an amazing array of farm fresh produce and unique wares. Original hand-made craft, homemade treats, artwork, jewellery, clothes, accessories, natural beauty products and gorgeous cut flowers.
Meet a cast of characters in historical dress, including the Town Crier, and hear the firing of the historic time cannon at 1pm. Soak up the atmosphere of music and entertainers.
Enjoy hot food stalls, relax at an inner city caf? or find wonderful condiments and gourmet pantry items to take home.
Make a day of it in the city and join a guided Heritage Walk Tour from outside the City Hall at 9am or ride on a replica steam engine through nearby Queens Park.
The atmosphere is vibrant, with plenty to see and do. Looking forward to seeing you there!
Corner of Lennox and Kent Street
Maryborough, QLD, 4650
Located 0.0K from Maryborough
Maryborough Town Hall Green
For many decades Maryborough Town Hall Green has been a place for residents and visitors to meet and is a popular vantage point to sit and watch the passing parade. It was here at the site of the first Maryborough court house, police station and gaol, that in 1877, gallows and a hangman were brought from Brisbane and two felons were publicly hung.
There are four large etchings adjacent to the Commonwealth Bank titled "Five O'clock Whistle" which represent aspects of Maryborough's history. Hundreds of workers from the various factories of lower Kent Street, Walkers Limited, the Sugar Factory, Hynes Timber Mill and the Shipyards would cycle home at 5pm, often four and five abreast up Kent Street. At the Adelaide Street intersection, the police would sometimes stop traffic so they could ride through.
Five characters from the Mary Poppins books are etched on the brick plinths on the green closer to Kent Street and five more are in the footpath at the foot of the ramp. These may be reproduced by placing a sheet of paper on each and rubbing with a pencil.
388-396 Kent Street
Maryborough, QLD, 4650
Located 0.1K from Maryborough
Maryborough City Hall
Designed by Brisbane architects Hall and Dods in American colonial style, Maryborough City Hall was erected in 1908 to replace the original timber Town Hall which stood on the opposite side of Kent Street. The exterior was built with locally made Meredith bricks and red cedar was used extensively throughout the interior. In 1935 the clock tower, curtain tower and stage were added.
The auditorium features a semi-circular barrel-vault ceiling. Elaborate classical detail adorns the stage, columns and the proscenium and features Maryborough's city emblem - the Crimson Bottlebrush. The Hall was restored and refurbished in early 1990.
Call in to the Visitor Information Centre at City Hall, enjoy a free daily guided heritage walking tour or see the firing of the time cannon each Thursday on the City Hall Green.
388 Kent Street
Maryborough, QLD, 4650
Located 0.1K from Maryborough
School of Arts
This School of Arts building was constructed in the classic revival style in 1887 and contained a library, museum, reading room, technical college and a billiard room. It replaced the first School of Arts built in 1861.
In 1958, it housed the first Ringrose Library in Queensland where books were available to external students of the University of Queensland. The library features a timber mezzanine gallery and is now home to the Maryborough and Wide Bay Burnett Historical Society. The keystone above the doorway features Minerva the goddess of wisdom.
The classically inspired symmetrical facade of this two story masonry building has a commanding street presence in Maryborough.
429 Kent Street
Maryborough, QLD, 4650
Located 0.1K from Maryborough
Former Stuparts Building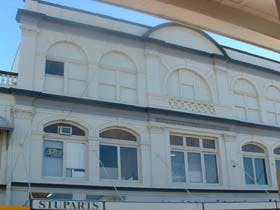 Featured on Maryborough's Walk and Drive Tour - Mr Stupart purchased his first business in Maryborough in 1871, unfortunately he lost it all in the 1876 fire. He soon rebuilt the two-storey Criterion building, Former Stuparts Building, facing Kent Street (est 1871 on facade). Then the two-storey block on the Bazaar Street corner was completed in 1883 which he called The Drapery Palace.
The business expanded along Bazaar Street in 1914 and a third storey was added to this extension in 1920. This historical building was also home to the firm of David Jones which traded in Maryborough from 1977 until 1981.
200 Bazaar Street
Maryborough, QLD, 4650
Located 0.2K from Maryborough
Bauer and Wiles Memorial Fountain
Australia's only outbreak of the pneumonic plague was in Maryborough in 1905. This fountain, situated to the Lennox Street side of City Hall, is a memorial to the two Nurses Cecilia Bauer and Rose Wiles who courageously volunteered to nurse victims of the plague. Whilst looking after their patients both nurses fell ill and died from the deadly disease.
Lennox Street
Maryborough, QLD, 4650
Located 0.2K from Maryborough
Band Rotunda and Fairy Fountain
Miss Janet Melville bequeathed the Fairy Fountain and Band Rotunda in memory of her brother Andrew who was Mayor of Maryborough in 1863. The entire structure was imported from Scotland in 1890 after the Hon. A.H. Wilson MLA saw it at the Glasgow Exhibition and acquired it as a suitable memorial.
In 1905, the fountain was moved from under the ornate roof of the rotunda to its present site to allow the use of the rotunda as a performance area.
Last Sunday of the Month activities in the park feature live brass bands performing in the rotunda and miniature steam trains.
Lennox Street
Maryborough, QLD, 4650
Located 0.2K from Maryborough
Queens Park In Maryborough
Queens Park was established in 1860 and many of its beautiful huge trees were planted before 1900.
Features of the Park are the fernery, waterfall and lily pond, lace-trimmed band rotunda built in 1890 and listed by the National Trust and the 13 centimetre Gauge Model Railway built by the Model Engineers and Live Steamers Association.
On the last Sunday each month the Association meet in Queens Park to relive the steam age in the chug of engines, the glow of brass and coal fires and the cheery sound of the whistle. Also to be heard and seen are Maryborough's Brass Bands playing in the rotunda.
The Park is a cool retreat with a waterfall, flowers, shrubs and trees, it is situated within an easy stroll of the City Hall and overlooks the Mary River.
Sussex Street
Maryborough, QLD, 4650
Located 0.2K from Maryborough
Maryborough: Events
Free Guided Maryborough Heritage Walk Tour
Take a guided walking tour of the city with one of their local guides. Dressed in period costume, their guides will help you discover Maryborough's colourful past and take you back to a time when Maryborough was a thriving port, and the place where about 22,000 new settlers took their first steps on Australian soil.
Free tours depart City Hall Monday to Saturday at 9am. The tour is weather dependent.
Event Dates
2017
      22nd Aug
      23rd Aug
      24th Aug
      25th Aug
      26th Aug
      28th Aug
      29th Aug
      30th Aug
      31st Aug
      1st Sep
      2nd Sep
      4th Sep
      5th Sep
      6th Sep
      7th Sep
      8th Sep
      9th Sep
      11th Sep
      12th Sep
      13th Sep
      14th Sep
      15th Sep
      16th Sep
      18th Sep
      19th Sep
      20th Sep
      21st Sep
      22nd Sep
      23rd Sep
      25th Sep
      26th Sep
      27th Sep
      28th Sep
      29th Sep
      30th Sep
      3rd Oct
      4th Oct
      5th Oct
      6th Oct
      7th Oct
      9th Oct
      10th Oct
      11th Oct
      12th Oct
      13th Oct
      14th Oct
      16th Oct
      17th Oct
      18th Oct
      19th Oct
      20th Oct
      21st Oct
      23rd Oct
      24th Oct
      25th Oct
      26th Oct
      27th Oct
      28th Oct
      30th Oct
      31st Oct
      1st Nov
      2nd Nov
      3rd Nov
      4th Nov
      6th Nov
      7th Nov
      8th Nov
      9th Nov
      10th Nov
      11th Nov
      13th Nov
      14th Nov
      15th Nov
      16th Nov
      17th Nov
      18th Nov
      20th Nov
      21st Nov
      22nd Nov
      23rd Nov
      24th Nov
      25th Nov
      27th Nov
      28th Nov
      29th Nov
      30th Nov
      1st Dec
      2nd Dec
      4th Dec
      5th Dec
      6th Dec
      7th Dec
      8th Dec
      9th Dec
      11th Dec
      12th Dec
      13th Dec
      14th Dec
      15th Dec
      16th Dec
      18th Dec
      19th Dec
      20th Dec
      21st Dec
      22nd Dec
      23rd Dec
      27th Dec
      28th Dec
      29th Dec
      30th Dec
2018
      2nd Jan
      3rd Jan
      4th Jan
      5th Jan
      6th Jan
      8th Jan
      9th Jan
      10th Jan
      11th Jan
      12th Jan
      13th Jan
      15th Jan
      16th Jan
      17th Jan
      18th Jan
      19th Jan
      20th Jan
      22nd Jan
      23rd Jan
      24th Jan
      25th Jan
      27th Jan
      29th Jan
      30th Jan
      31st Jan
      1st Feb
      2nd Feb
      3rd Feb
      5th Feb
      6th Feb
      7th Feb
      8th Feb
      9th Feb
      10th Feb
      12th Feb
      13th Feb
      14th Feb
      15th Feb
      16th Feb
      17th Feb
      19th Feb
      20th Feb
      21st Feb
      22nd Feb
      23rd Feb
      24th Feb
      26th Feb
      27th Feb
      28th Feb
      1st Mar
      2nd Mar
      3rd Mar
      5th Mar
      6th Mar
      7th Mar
      8th Mar
      9th Mar
      10th Mar
      12th Mar
      13th Mar
      14th Mar
      15th Mar
      16th Mar
      17th Mar
      19th Mar
      20th Mar
      21st Mar
      22nd Mar
      23rd Mar
      24th Mar
      26th Mar
      27th Mar
      28th Mar
      29th Mar
      30th Mar
      31st Mar
      2nd Apr
      3rd Apr
      4th Apr
      5th Apr
      6th Apr
      7th Apr
      9th Apr
      10th Apr
      11th Apr
      12th Apr
      13th Apr
      14th Apr
      16th Apr
      17th Apr
      18th Apr
      19th Apr
      20th Apr
      21st Apr
      23rd Apr
      24th Apr
      26th Apr
      27th Apr
      28th Apr
      30th Apr
      1st May
      2nd May
      3rd May
      4th May
      5th May
      7th May
      8th May
      9th May
      10th May
      11th May
      12th May
      14th May
      15th May
      16th May
      17th May
      18th May
      19th May
      21st May
      22nd May
      23rd May
      24th May
      25th May
      26th May
      28th May
      29th May
      30th May
      31st May
      1st Jun
      2nd Jun
      4th Jun
      5th Jun
Kent Street,
City Hall
Maryborough, QLD, 4650
Located 0.3K from Maryborough
Maryborough: Travel Tips
Maryborough Fraser Island Visitor Information Centre
The Maryborough Fraser Island Visitor Information Centre is located at City Hall on Kent Street in Maryborough.
This accredited visitor information centre offers a one stop shop for travel information including maps, brochures, and itineraries. Staffed by skilled and knowledgeable locals, the Maryborough Fraser Island Visitor Information Centre can provide advice on the things to see, things to do and where to eat. Discuss with the friendly staff your travel plans or make a booking
388 Kent Street,
City Hall
Maryborough, QLD, 4650
Located 0.1K from Maryborough
Maryborough Map
Maryborough Map - Legend

Multiple Hotels

Hotel
Click on the map markers for more information. Hover over the map to zoom in & out or see satellite & terrain views.