Eungella Accommodation, Hotels, Tours & Information
Eungella
The tiny township of Eungella is approached along a winding mountain road with spectacular views over the coastal plains around Mackay. As the road climbs, you will notice the air becomes fresher, cooler and damper, because this is rainforest country. In the local Aboriginal language, Eungella means &dbquo;land where cloud lies over the mountain&dbquo; and the prevailing conditions have allowed the striking rainforest to flourish. Fortunately it is now protected by Eungella National Park.

In the rainforest there are numerous walking trails. The observant walker may catch a glimpse of some of the rare fauna which is found only in locally, such as the Eungella Gastric Brooding Frog or the Eungella Honeyeater. There are many other creatures in the rainforest including sugar gliders, possums and at Broken River, the elusive platypus.

Photo courtesy of Queensland Tourism.

Things to do


Wild life spotting - there are 22 kms of bushwalking tracks providing opportunities to see wild residents of sub topical rainforest including the Mackay tulip oak and Eungella spiny cray
Mackay Highlands Great Walk - that links Eungella with Homevale National Park. There are varying degrees of difficulty and the entire track for 50 km long and takes 4 -6 days to complete through rainforest, gorges, steep escarpments, farming communities and platypus viewing areas.
Visitor Information Centre - The Mill, 320 Nebo Rd, Mackay.
Eungella: Where To Go / Sightseeing
Platypus Viewing at Broken River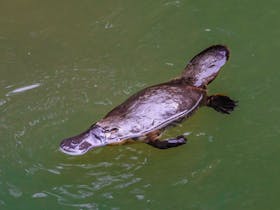 Eungella National Park, approximately a one hour drive west of Mackay, is home to one of the most reliable spots in Australia to spot the elusive platypus - in the wild!
From the viewing decks at Broken River, spot this shy creature in it's natural habitat, as well as turtles and other wildlife in this beautiful National Park. The best times to see this special monotreme are at dawn or dusk.
The Broken River bridge also provides an excellent vantage point to see platypus swimming in the river below. Platypus are quite shy, so remain as still and as quiet as possible to increase your chances of seeing one. Keep an eye out for air bubbles, as the platypus feeds from the bottom, but surfaces to chew its food and breathe.
There are 22 kilometres of walking trails in Eungella, as well as accommodation, restaurants and cafes. Try to spot a platypus if you can!
Eungella Dam Road
Eungella, QLD, 4757
Located 4.2K from Eungella
Broken River
Located within the cool tranquillity of Eungella National Park, Broken River is touted as one of the best locations in the world to see a rare marsupial in the wild, a platypus.
A little over a one hour drive from Mackay, travel through the picturesque Pioneer Valley and climb the mountain range to Eungella township. Take the Eungella Dam road to Broken River.
Broken River is an excellent place to enjoy bush walks within Australia's largest stretch of continuous sub-tropical rainforest.
The platypus viewing deck is near Broken River's picnic grounds, where amenities such as public toilets, picnic tables and barbecues can be found. Camping permits and information about Broken River is available from the nearby Ranger's Station.
Platypus viewing is best done in the late afternoon or early morning. Look for air bubbles and ripples in the water to watch the platypus quickly surface. Stay still and quiet to improve your chances of seeing one.
When visiting a rainforest environment it is wise to carry insect repellent to protect from mosquitoes. Never attempt a river crossing when flooded and exercise caution during the wet season between November and April, as creek levels can rise quickly.
Eungella Dam Road
Eungella, QLD, 4757
Located 4.2K from Eungella
Crediton State Forest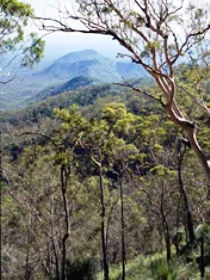 In Crediton State Forest, dry eucalypt forests contrast with lush pockets of rainforest and dramatic views. Tall, ancient rose gums continue to survive and discover scattered relics from gold mining in the 1800s or take a scenic drive along Cockies Creek Road. Camping is permitted at Crediton Hall, Denham Range, or enjoy bush camping on grassy flats at The Diggings. Camping permits are required prior to arrival and can be obtained by calling or book online.
Ensure you observe all safety signs and have detailed maps of the area to ensure the safety of yourself and all company. Experienced walkers can grab a backpack and journey through the changing landscape of the 56 kilometre Mackay Highlands Great Walk (three to five days - April to September usually offering the best weather).
Eungella Dam Road
Dalrymple Heights, QLD, 4757
Located 5.8K from Eungella
Eungella National Park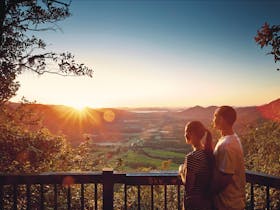 Enriched by dense sub-tropical rainforest with peaks shrouded in mist, a trip to Eungella National Park is both an exciting adventure and an escape to tranquillity.
Eungella is one of Queensland's most ecologically diverse parks, with species from tropical and sub-tropical groups protected within its boundaries.
Walk the tracks that lead to spectacular views down the Pioneer Valley. Stop for a picnic at Broken River and then wander along the banks watching the platypus in the gently-flowing water.
Explore the far reaches of the park along the 56 kilometre Mackay Highlands Great Walk.
Eungella Dam Road
Eungella, QLD, 4757
Located 5.9K from Eungella
Eungella Dam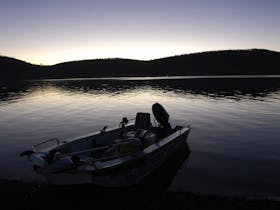 Eungella Dam is a scenic lake fringed by rainforest, the ideal spot for boating and skiing with peaceful natural surrounds. Camping is by self-registration on-site. No motorbikes allowed. Fishing permits are required and can be obtained from local tackle shops and Mackay Tourism.
From the township of Eungella, take the Eungella Dam Road past Broken River. The last portion of the drive is unsealed, where the landscape turns from rainforest into high country farms. Beware of wandering stock as cows roam free along this road.
The dam is stocked with Sooty Grunter, Saratoga, Sleepy Cod and Barramundi and is renowned for producing oversized Sooty Grunter. There are no boating restrictions for the dam and small boats can be launched from the boat ramp.
Camping is permitted in the area with facilities available such as cold showers, toilets, barbecues and picnic tables. A second block of public toilets and more picnic tables can be found across the other side of the water, near the dam itself.
Access is by normal vehicle, some dirt road.
Self-registration station located at camping area toilet block, AUD5 per night.
Dogs on leashes allowed.
Eungella Dam Road
Eungella, QLD, 4757
Located 9.4K from Eungella
Finch Hatton Gorge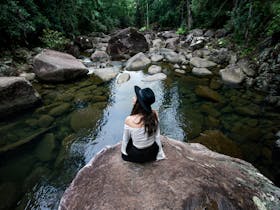 A wonderful landscape of waterfalls, lush flora and volcanic boulder formations make Finch Hatton Gorge a must-see attraction.
There are many walking tracks which weave through sub-tropical rainforest. One of the most popular trails starts at the Finch Hatton picnic area and takes you on a 1.6 kilometre journey to the beautiful Araluen waterfall.
The granite boulders and surrounding vegetation make this an ideal place to take in the scenery. Take a refreshing dip in one of the nearby rock pools, a cooling haven favoured by locals in summer.
Continue 1.4 kilometres to reach the Wheel of Fire Cascades, another beautiful waterfall with a large rock pool at its base, popular for swimming. This second part of the walk is more challenging, with uphill segments and stairs to climb, but the views are well worth it.
Keep an eye out among the rainforest for rare and unusual flora and fauna, such as the rare gastric brooding frog, the orange-sided skink, Mackay tulip oak, Eungella spiny cray and Eungella honeyeater.
Adventure opportunities are plentiful, with the opportunity to scuba dive in the rainforest waters with platypus, or to zip-line through the tree-top canopy.
Accommodation and dining options are available.
Finch Hatton Gorge Road
Finch Hatton, QLD, 4756
Located 11.9K from Eungella
Finch Hatton War Memorial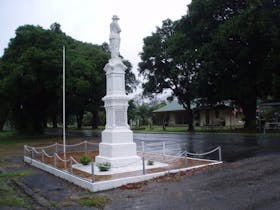 The Pioneer Valley sugar towns of Finch Hatton and Netherdale joined forces for their WWI memorial - the popular Queensland choice, a soldier or 'Digger' statue.
It was erected on 19 November 1921, paid for through public subscription at a cost of ?200, and honours the lives of 16 local men who did not return.
North Queensland monumental masons Melrose and Fenwick produced the sandstone memorial, the life-sized soldier, head bowed, a tree trunk supporting his feet. Not often seen in other states, Queenslanders liked the Digger statue, seeing it as personifying the enduring qualities of their 'boys': youth, loyalty, innocence, courage and masculinity.
It's thought that the Finch Hatton war memorial was never officially unveiled.
The names of seven locals who died in WWII have been added.
Anzac Parade
Finch Hatton, QLD, 4756
Located 14.6K from Eungella
Mia Mia State Forest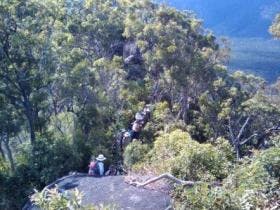 Nestled in the foothills of the Clarke Range, 20 kilometres from Pinnacle west of Mackay, the Mia Mia State Forest is mostly open eucalypt forest. Bush camping and swimming is available at Captain Crossings on Teemburra Creek.
Vehicular access is by four wheel drive only. Remember that roads may be closed during wet weather or high fire danger.
Clarke Range,
Eungella National Park
Eungella, QLD, 4757
Located 24.2K from Eungella
Eungella: Events
Church Cafe Pinnacle Dinner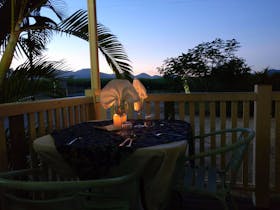 Are you looking for the perfect excuse to catch up with friends while enjoying great food? Leave your car behind, enjoy some drinks and be treated to the creations of Davide, direct from Vercelli in northern Italy. Davide uses simple ingredients yet creates Italian culinary magic! Enjoy a set three course dinner starting with antipasto and breads, followed by lasagna, cannelloni and salad. If that wasn't enough, enjoy a delectable dessert just to top off your ultimate Italian dining experience. Two dates to choose from Saturday 11 November and Friday 17 November 2017.
Event Dates
2017
      11th Nov
4343 Mackay Eungella Road
Pinnacle, QLD, 4741
Located 22.7K from Eungella
Eungella Map
Eungella Map - Legend

Multiple Hotels

Hotel
Click on the map markers for more information. Hover over the map to zoom in & out or see satellite & terrain views.