Blackall Accommodation, Hotels, Tours & Information
Blackall
Blackall is located on the Matilda Highway and is name after Sir Samuel Blackall, the second Governor of Queensland. The town was discovered in 1846 by explorer Major Thomas Mitchell. Rest, relax and revive at Blackall's Aquatic Centre and home to the artesian spa and swimming pool. Famous for many reasons, blade shearer Jack Howe put Blackall on the map in 1892 at ムAlice Downs' when he set a world record by shearing 321 sheep in seven hours and 40 minutes. It actually took another 58 years before anyone could match this feat and that was by machine shears. Blackall was also the first town to start drilling an artesian bore back in 1885. It is also the home of the Black Stump which was used for surveying purposes and permanently marks the original Astro Station established in 1887. Anything west of this point is said to be ムbeyond the black stump'.
Blackall: Where To Go / Sightseeing
Major Mitchell Memorial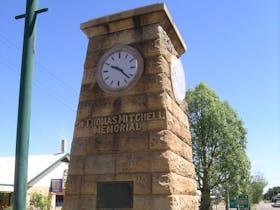 The Major Mitchell Memorial, located in Shamrock Street, was unveiled on September 19, 1946.
Thomas Mitchell was the first European to explore the area in 1846, which then led to the area being opened up for settlement.
Keeping a watch over Blackall main street, the magnificent memorial clock is dedicated to Major Mitchell, his off-sider Graham Douglas and their Aboriginal interpreter Youranigh.
Shamrock Street
Blackall, QLD, 4472
Located 0.1K from Blackall
Jack Howe Sculpture and Gallery
Australia's most famous shearer, Jack Howe, shore a record of 321 sheep in seven hours and 40 minutes in 1892 at Alice Downs Station, Blackall. He also set a record of 237 sheep shorn with electric shears which was not broken for 58 years. A memorial statue is located outside the Universal Garden Centre in Shamrock Street. Inside is a gallery, with a historic display, relating to the legendary shearer Jack Howe and local town history which can be seen for a small charge.
Shamrock Street
Blackall, QLD, 4472
Located 0.2K from Blackall
Black Stump
Anything west of Blackall is considered 'beyond the Black Stump", in reference to the early surveying of the western regions.
Nestled on Thistle Street behind the Blackall State School is a petrified wood memorial stump erected in 1988 to commemorate of the bi-centennial of Australia. The site represents the observation used when surveying was done to gain a more accurate basis for maps of Queensland, back in 1888. The surveyors used the stump for the placement of their transit to gain latitude and longitude observations. As time passed any country to the west of Blackall was considered to be 'beyond the Black Stump'.
While in town, visit Navena Homestead at Ram Park to see the original transit that was placed on the Black Stump.
Thistle Street
Blackall, QLD, 4472
Located 0.5K from Blackall
Ram Park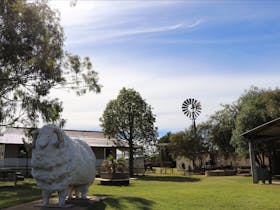 Under the watchful eye of the big ram, Ram Park is a collection of old buildings filled with displays and stories that bring Blackall's colourful history to life, preserving it for future generations.
Visitors can wander through the station homestead and gain a feel of a life gone by or visit the Yalleroi school house to take in a lesson or two. Strolling through the grounds visitors can visualise how the pioneers tried to tame the outback using an array of machinery. Top off the day by joining Stewie, a former stockman for a tour of the park complete with demonstrations of bush craft and his stockmanship skills.
Ram Park is also home to the Blackall Visitor Information Centre, located inside the restored Blackall railway station. Travellers can pull into the station, have a cuppa, a chat with the friendly staff and discover what present day Blackall can offer those who visit the town on the 'banks of the Barcoo'.
145a Shamrock Street
Blackall, QLD, 4472
Located 0.6K from Blackall
Mr and Mrs Behan Sulky Display
Local character, Arthur Behan made his first sulky in Wagga when he was only 14 years old. His collection of handcrafted buggies and wagons are on display in his garden, giving Blackall a special charm that can't be seen anywhere else.
Most afternoons, you will encounter the Behan's trotting around the town in a horse drawn buggy chatting with visitors and locals alike.
Clematis Street
Blackall, QLD, 4472
Located 0.9K from Blackall
Five Mile
The Five Mile Waterhole is a great little waterhole which is quiet and shady location with plenty of room for keen fishermen.
The Five Mile Fishing Hole is not far from Blackall on the Landsborough Highway heading north. Turn left at the "Riverview"/"Garden" sign. Follow the road along then take track down between the two houses. There is all vehicle access to this fishing hole.
Only a short eight kilometre drive from town, the Five Mile Fishing Hole boasts clear water where fishing enthusiast can use bait or lures to capture their quarry. Spacious and shady, a great place to relax while throwing in a line.
Landsborough Highway
Blackall, QLD, 4472
Located 1.6K from Blackall
Blackall Woolscour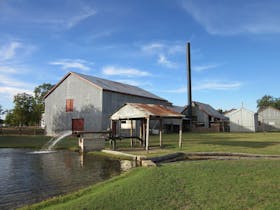 Discover history in action at the Blackall Woolscour, the last remaining steam operated wool washing plant in Australia. A living museum with a direct link to Australia's pioneering era. Operating from 1908 until it closed in 1978, the scour played a large part in the lives of many Blackall families.
In 2002 the community restored the complex as a cultural tourism facility; the complex consists of the wool washing and drying tanks, a 20 stand shearing shed, large sheep yards, shearer's quarters, cook house, toilet and shower blocks. The community has created a unique heritage experience for visitors to the Woolscour that is informative and educational. Volunteers provide a friendly atmosphere of welcome that ensures the Woolscour is one of the best authentic experiences in the region, acknowledged as one of the best industrial heritage sites in Australia.
The machinery is operational every day and is run on steam from May to the end of August. Guided tours operate on the hour, every hour, starting at 9.00 a.m. and the last tour departing at 4.00 p.m.
Evora Road
Blackall, QLD, 4472
Located 4.0K from Blackall
Blackall Cemetery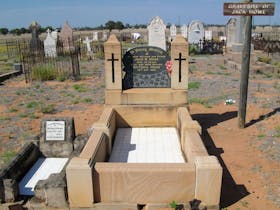 Graves in the Blackall Cemetery date back to the late 1800s.
In the cemetery are the grave sites of legendary shearer Jack Howe, Roy Dunne and Annie (Granny) Harlow.
Jack Howe set two shearing records in 1892, his record for blade shears of 321 sheep shorn in 7 hours 40 minutes has never been broken.
Roy set a record when astride his goat Nugget when they leaped over a 3 foot 6 inch jump.
Annie (Granny) Harlow was Blackall's midwife for many years and is a registered Unsung Hero at the Australian Stockman's Hall of Fame and Outback Heritage Centre in Longreach.
Blackall Cemetery is a peaceful place to visit and discover more of Blackall's pioneering history.
Evora Road
Blackall, QLD, 4472
Located 18.7K from Blackall
Blackall Saleyards
Built around the mid 1970s the Blackall saleyards were established as a structure to sell local cattle and have been in operation for many years. Today the facility is the major selling centre in western Queensland and source cattle from northern and far western regions.
Over 120,000 cattle pass through the yards each year. Cattle sales are held each Thursday and are an incredible sight to see! with over 100 people attending. Visitors can experience the action of a live sale from the purpose built viewing deck constructed in 2017.
Evora Road
Blackall, QLD, 4472
Located 18.7K from Blackall
Langlo - Adavale Road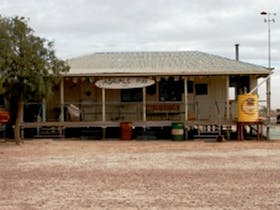 Take a side trip off the Matilda Way along the Langlo-Adavale Road for a bit of off-road adventure, it's a great way to see more of Queensland's Outback as you travel between Tambo and Blackall.
The drive presents great views of beautiful outback landscapes. You will see native wildlife and livestock as you pass through a number of stations. Take care as the track is not fenced and the livestock roam freely.
The Langlo - Adavale Road is approximately 200 kilometres and will take approximately one day to complete. You will need a four wheel drive to complete this track and it can become impassable in the wet, so make sure you check road conditions at the Blackall Visitor Information Centre before leaving.
Blackall Adavale Road
Blackall, QLD, 4472
Located 21.6K from Blackall
Blackall Map
Blackall Map - Legend

Multiple Hotels

Hotel
Click on the map markers for more information. Hover over the map to zoom in & out or see satellite & terrain views.