Blackall Accommodation, Hotels, Tours & Information
Blackall
Blackall is located on the Matilda Highway and is name after Sir Samuel Blackall, the second Governor of Queensland. The town was discovered in 1846 by explorer Major Thomas Mitchell. Rest, relax and revive at Blackall's Aquatic Centre and home to the artesian spa and swimming pool. Famous for many reasons, blade shearer Jack Howe put Blackall on the map in 1892 at ムAlice Downs' when he set a world record by shearing 321 sheep in seven hours and 40 minutes. It actually took another 58 years before anyone could match this feat and that was by machine shears. Blackall was also the first town to start drilling an artesian bore back in 1885. It is also the home of the Black Stump which was used for surveying purposes and permanently marks the original Astro Station established in 1887. Anything west of this point is said to be ムbeyond the black stump'.
Blackall: Where To Go / Sightseeing
Major Mitchell Memorial
The Major Mitchell Memorial, which is located in Shamrock Street, was unveiled on the 19th September 1946. Thomas Mitchell was the first European to explore the area in 1846, which then led to the area being opened up for settlement. The clock is dedicated to Major Mitchell, Graham Douglas and their aboriginal interpreter Youranigh.
Shamrock Street
Blackall, QLD, 4472
Located 0.1K from Blackall
Jack Howe Sculpture and Gallery
Jack Howe, Australia's most famous shearer, shore a record of 321 sheep in 7 hours and 40 minutes in 1892. He also set a record of 237 sheep shorn with electric shears which was not broken for 58 years. A memorial statue is located outside the Universal Garden Centre in Shamrock Street. Inside is a gallery, with a historic display, relating to the legendary shearer Jack Howe and local town history which can be seen for a small charge.
Shamrock Street
Blackall, QLD, 4472
Located 0.2K from Blackall
Blackall War Memorial and Memorial Seat
The bravery of shearers, jackaroos and 'townies' who voluntarily signed up to be a part of WWI is remembered within Blackall's A and M Lehman Park.
Returned soldier and former mayor James Minnis unveiled a sandstone obelisk, fashioned by AL Petrie, on ANZAC Day 1927. It carries the names of 37 locals who died in the conflict.
There's also a stone seat, dedicated in 1928 by the Queensland Country Women's Association Blackall branch members in 'grateful memory'.
And there's a sculpture honouring the town's own Military Cross and Victoria Cross recipient, Edgar Thomas Towner. The grazier's son was 25 when he enlisted. He served at Gallipoli, Egypt and in Europe. The VC, the highest of honours in the British Empire, was awarded for his actions during an attack on Mont St. Quentin, a key German stronghold, on the Western Front in 1918.
Towner continued his life on the land in central Queensland, with a short time serving in WWII. He died in 1972 and is buried at the Longreach Cemetery.
Matilda Highway near Hart Lane
Blackall, QLD, 4472
Located 0.3K from Blackall
Black Stump
Anything west of here "is beyond the Black Stump". Located behind the Blackall State Schools in Thistle Street is the Black Stump memorial. This site represents the observation used to establish a principal meridional circuit traverse around the town in 1888. This surveying was done to gain a more accurate basis for maps of Queensland. The surveyors used the stump for the placement of their transit to gain latitude and longitude observations. The use of a stump rather than a set of legs gave more stability for the transit. As time passed any country to the west of Blackall was considered to be 'beyond the Black Stump'. Visit Navena Homestead at Ram Park to see the original transit that was placed on the Black Stump for the surveying purposes between Monday to Friday 9am - 5pm.
Thistle Street
Blackall, QLD, 4472
Located 0.5K from Blackall
Ram Park
Ram Park is a museum complex designed to inspire residents of Blackall and visitors to the region to reflect on the present and imagine the future, through active engagement with the past. The aim of Ram Park is to bring Blackall history to life and preserve it for future generations.
At Ram Park visitors will be able to wander through buildings steeped in local history and view items from a world long past. Strolling through the grounds visitors will be able to visualise how the pioneers of the land tried to tame the outback.
Ram Park is also home to the Blackall Visitor Information Centre and travellers will be able to find out not only local history, but what present day Blackall can also offer those who visit the town on the 'banks of the Barcoo'.
145a Shamrock Street
Blackall, QLD, 4472
Located 0.6K from Blackall
Mr and Mrs Behan Sulky Display
Mr Behan made his first sulky when he was about 14 years old in Wagga. His buggy and wagon display are on show in his garden, and gives Blackall a special charm that wouldn't been seen anywhere else. Most afternoons, you will encounter the Behan's trotting around in a horse and buggy saying hello to visitors and locals alike.
Clematis Street
Blackall, QLD, 4472
Located 0.9K from Blackall
Five Mile
The Five Mile Waterhole is a great little waterhole which is quiet and shady location with plenty of room for keen fishermen. The Five Mile Fishing Hole is not far from Blackall on the Landsborough Highway heading north. Turn left at the "Riverview"/"Garden" sign. Follow the road along then take track down between the two houses. There is all vehicle access to this fishing hole.
Landsborough Highway
Blackall, QLD, 4472
Located 1.6K from Blackall
Blackall Woolscour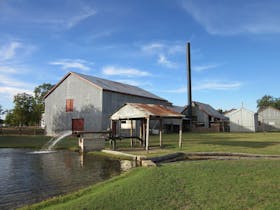 The Blackall Woolscour is the last remaining steam operated wool washing plant in Australia. This complex is a living museum with a direct link to Australia's pioneering era. Building of the Woolscour started in 1906 and the Woolscour commenced operation in 1908 and operated until 1978. The complex consists of a the wool washing and drying tanks, 20 stand shearing shed, large sheep yards, shearer's quarters, cook house, toilet and shower blocks. In 2002 the Blackall Woolscour once again started using steam to run the steam engine and the machinery. Guided tours of this complex operate hourly everyday enabling the visitor to see the machinery operating as it used to and marvel at the magnificent skills of our pioneering forefathers.
The machinery is operational every day but only runs on steam from May to the end of August. Tours operate on the hour, every hour, with the first tour at 9.00 a.m. and the last tour departing at 4.00 p.m.
Evora Road
Blackall, QLD, 4472
Located 4.0K from Blackall
Blackall: Events
Blackall Heartland Festival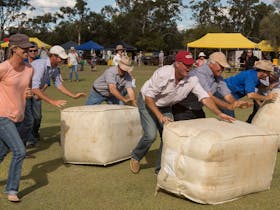 G'Day! The Blackall Heartland Festival is a celebration in Blackall, the home of the Black Stump, Jackie Howe and the centre for Arts and Culture in the Central West. Showcasing its sheep and wool heritage as well as a street parade, its regional produce, with a Barbecue Cook Off, Photography, and fun workshops there is something for everyone. 2017 sees the return of Caulfield Cup country racing followed by Jackie Howe celebrations at the iconic Woolscour.
Come and be dazzled by art, music, regionally produced beef and lamb, singers, heritage tours and activities over a three day weekend in a unique outback setting. You will be bowled over by the friendly town of Blackall, so grab your hat and come and join them for some outback hospitality. With flights direct to Blackall from Brisbane there's no excuse not to get to Blackall during festival time.
Don't forget to grab a mate and sign up for the Blades and Blisters Challenge. Some great prize money and a whole lot of fun. Tickets to some events book out early so get your ticket online at through the website.
Event Dates
2017
      20th Oct
      21st Oct
      22nd Oct
Evora Road,
Blackall Woolscour
Blackall, QLD, 4472
Located 3.9K from Blackall
Blackall: Travel Tips
Blackall Visitor Information Centre
The Blackall Visitor Information Centre is located on Shamrock Street in Blackall.
This accredited visitor information centre offers a one stop shop for travel information including maps, brochures and itineraries. Staffed by skilled and knowledgeable locals, the Blackall Visitor Information Centre can provide advice on the things to see, things to do and where to eat. Discuss with the friendly staff your travel plans or make a booking.
145a Shamrock Street,
Ram Park
Blackall, QLD, 4472
Located 0.7K from Blackall
Blackall Map
Blackall Map - Legend

Multiple Hotels

Hotel
Click on the map markers for more information. Hover over the map to zoom in & out or see satellite & terrain views.