Goomburra Accommodation, Hotels, Tours & Information
Goomburra
Goomburra is an area of unspoilt natural beauty, just 30 minutes' drive north of Warwick or 90 minutes' drive south east of Toowoomba.

The surrounding mountains, valleys and creeks make Goomburra a 'must see' for any nature lover keen to get off the beaten track. Goomburra is popular with campers and bushwalkers and offers plenty of space to pitch a tent and explore.

There are several walks gazetted in the Goomburra section Main Range National Park, each providing a different perspective on this unique part of the country. The walk to Araucaria Falls takes you through subtropical rainforest and past rock pools and towering hoop pines. The half hour hike to Sylvesters Lookout is well worth the effort with spectacular views across the Brisbane Valley your reward. The park also provides a haven for rare and endangered species of frog as well as platypus, koalas, brush-tailed phascogale.

There are several accommodation options available at Goomburra from privately operated campsites and cabin-style bungalows to camping in the National Park. Campsites have toilets, tap water and barbecues however campers are advised to boil all water before drinking. Campers must also bring their own firewood.
Goomburra: Where To Go / Sightseeing
Glengallan Homestead and Heritage Centre
After more than 70 years of decline and dereliction, Glengallan emerges from the ruins of the 1867 sandstone mansion as a unique heritage experience. Walk through time and re-live the Glengallan story from squattocracy to farmer settlement. An innovative interpretation allows Glengallan to evolve with time as old photographs and documents shed more light on life in what was once described as "the finest house in the colony".
Many facets provide food for thought and further study. Glengallan is ideal for family reunions, workshops, seminars, markets and rallies; available for wedding and professional photography.
The heritage centre cafe, Eliza's, serves colonial fare with modern flair. Midweek group tours and functions by arrangement.
A wide range of locally made souvenirs are available including Aloomba lavender products, Hidden Creek wines and Glengallan's own commemoratives wines: Gentleman Jack, Eliza D, King Billy and Ghost Gate port.
Glengallan hosts markets in the gardens on the first Sunday of March, June, September and December.
18515 New England Highway
Warwick, QLD, 4370
Located 9.0K from Goomburra
Boer War Memorial and Park, Allora
A pretty park of some historical significance, the first of three soldier statues erected in Queensland after the Boer War (1899-1902) is found in Allora's War Memorial Park in Warwick Street.
Colonel (later Sir) Harry Chauvel unveiled the soldier statue in 1904, honouring the four local men who died, and 35 others who served in the southern African conflict. The slightly smaller than life-size soldier statue, by sculptor William P Macintosh, is unusual in its details: the soldier's mouth is open and he stands alone, without the traditional tree stump for support.
Subsequent additions commemorate those who fought and died in World War I and World War II.
General JC Robertson unveiled Allora's WWI memorial - a sandstone and marble obelisk, small field guns carved into the pedestal - in November, 1921.
A second sandstone and marble obelisk, simpler in design, stands at the park's rear, serving as a WWII memorial.
Warwick Street
Allora, QLD, 4362
Located 13.2K from Goomburra
Darling Downs Zoo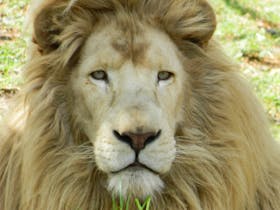 The Darling Downs Zoo is situated in a beautiful rural setting on the eastern Downs - midway between Toowoomba and Warwick - just over two hour's drive from the Brisbane Central Business District.
This Zoo is being developed so that you travel the animal world with a walk through the geographical areas of Australia, South-east Asia, Africa and South America.
Already the Zoo features the only pride of African Lions in Queensland, Baboons, Monkeys, Marmosets, African Serval, endangered Sumatran Tiger, tropical birds, Kangaroos and White Wallabies, Deer, Crocodiles and Alligator, Boa Constrictors and Tortoises, unusual South American animals like Brazilian Tapir and Capybara and much, much more. The Zoo is also home to the only White Lions in Queensland and the largest herd of Zebras and Giant Tortoises in this State!
The zoo is open to the public from 9am six days a week. It is closed on Tuesdays - except for the Queensland state school holidays when it is open every day. It is also closed on Christmas Day.
Picnic facilities are available, there is a kiosk and gift shop with EFTPOS and free parking for all vehicles including coaches and caravans. The entire zoo is wheelchair accessible.
21 Baines Road
Pilton, QLD, 4361
Located 19.1K from Goomburra
Southern Downs Steam Railway, Warwick
All aboard the Southern Downs Steam Railway! This Mainline Tourist Heritage Railway and rail museum was established in Warwick in 1995. SDSR has restored a Heritage C17 Steam Locomotive to operational condition. C17, is a steam locomotive with 8 driving wheels and a 17" cylinder, originally built between 1920 and 1953.
SDSR operates steam train tours from Warwick to Stanthorpe, Toowoomba and Inglewood at select times during the year - see the website for details.
You'll find the Warwick Railway Precinct on the corner of Hamilton Street and Fitzroy Street where the old Warwick Locomotive Depot used to be, (closed in 1970). This site was chosen as the original train 'turntable' was still in place.
A not for profit organisation, most of the restoration work has been completed by 'work for the dole' participants. They have restored and re-built the locomotive sheds, workshops, water tower, repairs to the turntable, relaying of railway lines and erecting fencing. Now that the work is completed, volunteers have put up their hands to continue the restoration of the old railway carriages.
An extensive collection of railway memorabilia will also delight train buffs.
Hamilton Street,
Corner of Fitzroy Street
Warwick, QLD, 4370
Located 20.7K from Goomburra
Warwick War Memorial and Gates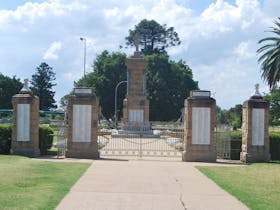 A Celtic cross tops the impressive 10.7 metre high sandstone and granite monument serving as a grave for 122 Warwick men who died in WWI.
Governor Sir Matthew Nathan unveiled the memorial 5 December 1923, before a crowd of 3,000.
Sir Matthew expressed pleasure at the involvement of a returned soldier, Roy Campbell, in the memorial's design although he may have collaborated with his father Hugh.
The memorial, which cost ?1445, was crafted by Ipswich mason Frank Williams.
Its classic elegance incorporates Corinthian columns of polish granite and a sandstone shaft with carved wreath and the words 'The Honoured Dead'. Names are recorded on marble plates.
Memorial gates, also designed by the Campbells and installed a year later, pay tribute to the 377 Warwick district men who served and returned.
The Warwick war memorial is found in the south-east corner of Leslie Park, named after a pioneering family of the district.
Fitzroy Street
Warwick, QLD, 4370
Located 20.8K from Goomburra
Warwick Railway Memorial Honour Board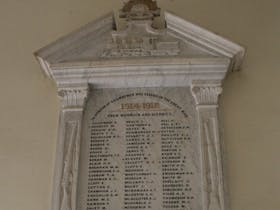 A solid marble honour board at Warwick Railway Station notes the contribution of 101 local railway workers who enlisted in WWI - seven of them dying in the conflict. They were among more than 3,000 Queensland railway workers who enlisted. Some went on to help run railways in France during WWI.
The Commissioner of Railways JW Davidson unveiled the honour board, featuring a relief of a train, on 13 February 1922.
Warwick Railway Station, a large complex with a range of buildings and structures, became the area's main station in 1885, following the extension of the railway to the New South Wales' border from Stanthorpe.
The station became the backdrop of a national incident in November 1917 when Prime Minister WM (Billy) Hughes, standing on the platform spruiking conscription, was egged. That action also led to the appointment of a Commonwealth Police Officer at major Queensland towns.
Lyons Street
Warwick, QLD, 4370
Located 20.9K from Goomburra
Warwick Art Gallery
The Warwick Art Gallery is at the forefront of cultural activities in the Southern Downs Regional Shire. Especially committed to community activities, the Gallery aims to identify, promote and celebrate the community's artistic and cultural identity and support community-based festivals, exchanges and events.
In addition, the Gallery program brings to Warwick travelling exhibitions set to inspire and educate. The Gallery has two unique spaces, the traditional main gallery and the foyer space with outstanding visitor exposure and a garden view.
Check for details on current exhibitions and events at the gallery.
49 Albion Street
Warwick, QLD, 4370
Located 21.5K from Goomburra
Warwick Historical Society Museum
The Warwick Historical Society Museum is a collection of buildings which features furniture and household items representing more than 130 years of family life in the Warwick district. Most notable is the sandstone cottage which was built circa 1870, and is listed by the National Trust.
Collections of photographs, historical and personal items, farming equipment, vehicles and machinery are displayed in several buildings relocated on the site. The Warwick and District Historical Society is also happy to provide your coach group with a guided history tour of Warwick, one of the local historians can hop on your coach and highlight the historical points of interest.
Grounds available for hire for weddings or wedding photographs (fees apply).
79-83 Dragon Street
Warwick, QLD, 4370
Located 21.8K from Goomburra
Goomburra: Events
Jumpers and Jazz in July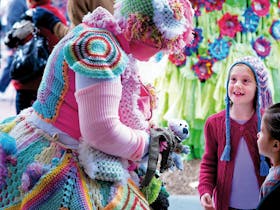 Warwick's Jumpers and Jazz in July is a celebration of yarn bombing and tree jumpers. live jazz, tastes of country cuisine nad a program of over one hundred events spanning 10 days. Known as Queensland's quirkiest festival, the event has been stages annually since 2004. The program incorporates 120 "jumpered" trees, jazz performances in more than 30 venues, exhibitions, hands on workshops, wining and dining. One of the few places in Queensland to experience a cold winter, Warwick is located on the Southern Downs of Southern Queensland Country.
Event Dates
2017
      20th Jul
      21st Jul
      22nd Jul
      23rd Jul
      24th Jul
      25th Jul
      26th Jul
      27th Jul
      28th Jul
      29th Jul
      30th Jul
49 Albion Street
Warwick, QLD, 4370
Located 21.0K from Goomburra
Goomburra: Travel Tips
Warwick Visitor Information Centre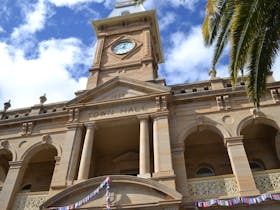 The Warwick Visitor Information Centre is located at Town Hall, 72 Palmerin Street, Warwick.
This accredited visitor information centre offers a one stop shop for travel information including maps, brochures, and itineraries. Staffed by skilled and knowledgeable locals, the Warwick Visitor Information Centre can provide advice on the things to see, things to do and where to eat. Discuss with the friendly staff your travel plans or make a booking.
72 Palmerin Street,
Town Hall
Warwick, QLD, 4370
Located 21.0K from Goomburra
Goomburra Map
Goomburra Map - Legend

Multiple Hotels

Hotel
Click on the map markers for more information. Hover over the map to zoom in & out or see satellite & terrain views.