Tannymorel Accommodation, Hotels, Tours & Information
Tannymorel
Just west of the Great Dividing Range, not far from the New South Wales border about 28km east of Warwick and 180km south-west of Brisbane, lies the village of Tannymorel. Beautiful mountain scenery surrounds this tiny town, and the local waterfalls are many and spectacular - especially Dagg's, Brown's and those in the nearby Queen Mary National Park. The Queen Mary Park, which can be accessed through Killarney just to the south-east of Tannymorel, is renowned for its waterfalls. The most spectacular, 40m drop down a sheer rock face is provided by Queen Mary Falls. The park is well-equipped with barbecue and other picnic facilities and you can meet the local wild birds at feeding time at the Queen Mary camping ground kiosk. Close to Warwick in the Darling Downs, Tannymorel lies in some of the richest country in Queensland, famous nationwide for its fine wool, bacon, and dairy products, especially. The area is dotted with well-know horse and cattle studs, too. This is a truly lush, productive, and picturesque part of Queensland.
Tannymorel: Where To Go / Sightseeing
Condamine Gorge '14 River Crossing'
Accessible by four-wheel-drive vehicles only, the Condamine Gorge's '14 River Crossings' track is appropriately named after the 14 river crossings you have to make exploring this beautiful part of the Gorge.
During normal conditions the crossings of the Condamine River are relatively shallow. However, during wet weather the river will rise rapidly making it impassable. It is advisable to check conditions with the Warwick Visitor Information Centre or Bureau of Meteorology prior to visiting.
The Condamine Gorge is home to a number of endangered species, please respect this precious environment. Note that private properties either side of the track may not be fenced, so please keep to the road and creek area and observe the 'no trespassing' signs.
To commence the track from Boonah, start opposite the Police Station, travel out from Boonah along Rathdowny Road and turn right at Carney's Creek Road. Travel out approximately 12 kilometres to cross Teviot Brook floodway and then turn right to The Head. The low road is Condamine Gorge. This track is only accessible when the weather is dry, take the high road when river is flowing.
From Killarney, turn left into Condamine Gorge just after the abattoir.
Condamine Gorge Road
Killarney, QLD, 4373
Located 6.9K from Tannymorel
Morgan Park, Warwick
Morgan Park is a major sport and recreation facility and houses a range of sport clubs and organisations, as well as a reserve which is home to a wide range of bird species.
Morgan Park is known as the home of horse power and hosts equine events nearly every weekend including horse trials (equestrian), polocrosse, and equine driving. The Park also home to Morgan Park Raceway which stages dirt bike, drag racing and circuit racing events.
The Morgan Park Resource Reserve is a birdwatchers paradise where you'll see more than 20 species of birds including quails, ducks, raptors, needletails, kingfishers, fairy-wrens, honeyeaters and parrots.
An events calendar and a list of spotted bird species is available from Warwick Visitor Information Centre, 49 Albion Street, Warwick.
Old Stanthorpe Road
Warwick, QLD, 4370
Located 19.6K from Tannymorel
Southern Downs Steam Railway, Warwick
All aboard the Southern Downs Steam Railway! This Mainline Tourist Heritage Railway and rail museum was established in Warwick in 1995. SDSR has restored a Heritage C17 Steam Locomotive to operational condition. C17, is a steam locomotive with 8 driving wheels and a 17" cylinder, originally built between 1920 and 1953.
SDSR operates steam train tours from Warwick to Stanthorpe, Toowoomba and Inglewood at select times during the year - see the website for details.
You'll find the Warwick Railway Precinct on the corner of Hamilton Street and Fitzroy Street where the old Warwick Locomotive Depot used to be, (closed in 1970). This site was chosen as the original train 'turntable' was still in place.
A not for profit organisation, most of the restoration work has been completed by 'work for the dole' participants. They have restored and re-built the locomotive sheds, workshops, water tower, repairs to the turntable, relaying of railway lines and erecting fencing. Now that the work is completed, volunteers have put up their hands to continue the restoration of the old railway carriages.
An extensive collection of railway memorabilia will also delight train buffs.
Hamilton Street,
Corner of Fitzroy Street
Warwick, QLD, 4370
Located 21.5K from Tannymorel
Warwick Railway Memorial Honour Board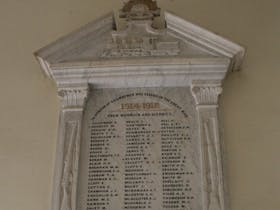 A solid marble honour board at Warwick Railway Station notes the contribution of 101 local railway workers who enlisted in WWI - seven of them dying in the conflict. They were among more than 3,000 Queensland railway workers who enlisted. Some went on to help run railways in France during WWI.
The Commissioner of Railways JW Davidson unveiled the honour board, featuring a relief of a train, on 13 February 1922.
Warwick Railway Station, a large complex with a range of buildings and structures, became the area's main station in 1885, following the extension of the railway to the New South Wales' border from Stanthorpe.
The station became the backdrop of a national incident in November 1917 when Prime Minister WM (Billy) Hughes, standing on the platform spruiking conscription, was egged. That action also led to the appointment of a Commonwealth Police Officer at major Queensland towns.
Lyons Street
Warwick, QLD, 4370
Located 21.6K from Tannymorel
Warwick Art Gallery
The Warwick Art Gallery is at the forefront of cultural activities in the Southern Downs Regional Shire. Especially committed to community activities, the Gallery aims to identify, promote and celebrate the community's artistic and cultural identity and support community-based festivals, exchanges and events.
In addition, the Gallery program brings to Warwick travelling exhibitions set to inspire and educate. The Gallery has two unique spaces, the traditional main gallery and the foyer space with outstanding visitor exposure and a garden view.
Check for details on current exhibitions and events at the gallery.
49 Albion Street
Warwick, QLD, 4370
Located 22.1K from Tannymorel
Abbey of the Roses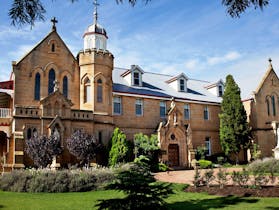 Heritage Listed 1891 ex convent for the Sisters of Mercy. This sandstone Victorian/Gothic building is a fantastic testament to the people who assisted in planning and building her.
Original stain glass from the Royal Bavarian Institute in Munich - who also made glass for the Vatican.
Statue designed by the same person as the Statue of Liberty.
Same architect as Breakfast Creek Hotel in Brisbane.
This is now a private home hosting weddings and private functions, Bed and Breakfast accommodation, self guided tours, High Tea lunch, and groups available by prior arrangement on selected dates.

8 Locke Street,
8 Locke Street
Warwick, QLD, 4370
Located 22.6K from Tannymorel
Tannymorel: Events
Deborah Kelly - No Human Being is Illegal (in all our glory)
Created for the 19th Biennale of Sydney (2014), No Human Being is Illegal (in all our glory) comprises 20 life-sized photographic portraits realised through ongoing discussion, exchange and art-making between the artist, the subjects and public participants.
The collaboration centres upon the nude photographic portraits of individuals who were intricately involved in the process. The raw and unornamented portraits developed over time as workshop participants added layers of archival and contemporary imagery specific to the subjects' interests, attributes and visions, conveyed to the ensemble (through written, online or personal communications) by the portrait subjects themselves.
Deborah Kelly is a founding member of the boat-people artist collective, which made public works considering race, nations, borders and history.
Event Dates
2017
      2nd Mar
      3rd Mar
      4th Mar
      5th Mar
      6th Mar
      7th Mar
      8th Mar
      9th Mar
      10th Mar
      11th Mar
      12th Mar
      13th Mar
      14th Mar
      15th Mar
      16th Mar
      17th Mar
      18th Mar
      19th Mar
      20th Mar
      21st Mar
      22nd Mar
      23rd Mar
      24th Mar
      25th Mar
      26th Mar
      27th Mar
      28th Mar
      29th Mar
      30th Mar
      31st Mar
      1st Apr
      2nd Apr
      3rd Apr
      4th Apr
      5th Apr
      6th Apr
      7th Apr
      8th Apr
      9th Apr
      10th Apr
      11th Apr
      12th Apr
      13th Apr
      14th Apr
      15th Apr
      16th Apr
      17th Apr
      18th Apr
      19th Apr
      20th Apr
      21st Apr
      22nd Apr
      23rd Apr
49 Albion Street
Warwick, QLD, 4370
Located 22.2K from Tannymorel
Jumpers and Jazz in July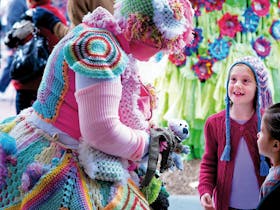 Warwick's Jumpers and Jazz in July is a celebration of yarn bombing and tree jumpers. live jazz, tastes of country cuisine nad a program of over one hundred events spanning 10 days. Known as Queensland's quirkiest festival, the event has been stages annually since 2004. The program incorporates 120 "jumpered" trees, jazz performances in more than 30 venues, exhibitions, hands on workshops, wining and dining. One of the few places in Queensland to experience a cold winter, Warwick is located on the Southern Downs of Southern Queensland Country.
Event Dates
2017
      20th Jul
      21st Jul
      22nd Jul
      23rd Jul
      24th Jul
      25th Jul
      26th Jul
      27th Jul
      28th Jul
      29th Jul
      30th Jul
49 Albion Street
Warwick, QLD, 4370
Located 22.2K from Tannymorel
Abbey of the Roses - Christmas in July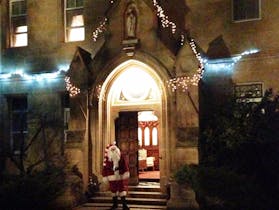 Christmas In July dinners at the Abbey Country House Manor, have become a popular annual event in Warwick. They are held every Saturday night and include a three course set dinner, four hour beverage package, Christmas trivia, secret Santa and it nearly always snows at the famous Christmas in July Dinners.
Accommodation is limited so book early. Warwick Jumpers in Jazz festival is the last two weekends and there is a two night minimum stay these nights.
Event Dates
2017
      1st Jul
      8th Jul
      15th Jul
      22nd Jul
      29th Jul
8 Locke Street
Warwick, QLD, 4370
Located 22.6K from Tannymorel
Tannymorel: Travel Tips
Warwick Visitor Information Centre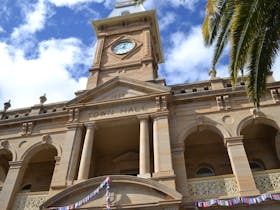 The Warwick Visitor Information Centre is located at Town Hall, 72 Palmerin Street, Warwick.
This accredited visitor information centre offers a one stop shop for travel information including maps, brochures, and itineraries. Staffed by skilled and knowledgeable locals, the Warwick Visitor Information Centre can provide advice on the things to see, things to do and where to eat. Discuss with the friendly staff your travel plans or make a booking.
72 Palmerin Street,
Town Hall
Warwick, QLD, 4370
Located 22.4K from Tannymorel
Tannymorel Map
Tannymorel Map - Legend

Multiple Hotels

Hotel
Click on the map markers for more information. Hover over the map to zoom in & out or see satellite & terrain views.