Mons Accommodation, Hotels, Tours & Information
Mons
If you didn't know what the fuss was about, you would think Mon Repos is just another beautiful beach in the Bundaberg region, but nestled in the dunes this beach marks a very special, ancient ritual for the oceans most wise mariners.

Mon Repos means "My Rest" but there is no nodding off on the job for the mamma turtles when they come to lay their precious clutches of eggs between November to January.

It will take your breath away seeing a mamma turtle make her way back to her own birthplace, working hard in the dunes to lay her eggs, or between January to March watching a clutch of baby turtles emerge from the sand and take their first dip into the big blue yonder.

Mon Repos is the perfect picnic, sailing or swimming spot, you can also access the Mon Repos walking track easily from the beach. If its turtle season just be aware beach hours are 6am to 6pm with ranger guided tours by night.

It's a secluded and gorgeous beach to be visited year round and if you are a bit of a history buff then Mon Repos is where famous aviator Bert Hinkler undertook some of his first historic glider flights.
The distinctive black volcanic rock wall known as the Kanaka wall is a testament to the hard work of Melanesians from the South Pacific Islands who were indentured to work in the Queensland canefields from 1879 to 1904.

Mon Repos is the perfect place to play park ranger and retrace turtle tracks from the night before and remember just how important these birthplaces are for returning turtles many years after.

Mons: Where To Go / Sightseeing
Mon Repos Turtle Centre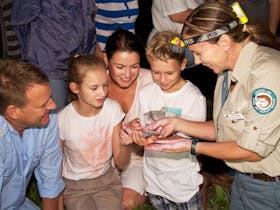 At the Mon Repos Turtle Centre near Bundaberg, witness an ancient life cycle of the animal kingdom as majestic sea turtles make their journey from sea to shore to lay their eggs. Then delight at the sight of their young, hatching months later, and making their perilous journey to the sea.
Mon Repos Conservation Park supports the largest concentration of nesting marine turtles on the eastern Australian mainland. At the Mon Repos Turtle Centre you can learn all about these extraordinary animals and the conservation and research programs that are protecting them, and even have a turtle encounter like very few others in the world.
Every year, from November to March, you can join Queensland Parks and Wildlife Service rangers at the Mon Repos Turtle Centre on a guided tour to watch nesting (November to January) and hatching (January to March) marine turtles. Mon Repos Turtle Encounters offer a unique opportunity for you to catch a glimpse of a turtle's world-at least for one night! Don't miss your chance to be part of this special experience.
'Connect with Nature' activities such as ranger-guided walks and turtle talks are also offered during some school holidays at the Mon Repos Turtle Centre.
141 Mon Repos Road,
via Bundaberg-Bargara Road
Bundaberg, QLD, 4670
Located 0.2K from Mons
Mon Repos Conservation Park
Mon Repos Conservation Park, a quiet coastal oasis near Bundaberg, is special!
The beach supports the largest concentration of nesting marine turtles on the eastern Australian mainland and has the most significant loggerhead turtle nesting population in the South Pacific region. Their nesting and hatching success here at Mon Repos is critical for their survival.
At this globally-significant site you can learn about these extraordinary animals - a visit to Mon Repos Turtle Centre offers a turtle encounter like very few others in the world. Mon Repos also features Woongarra rainforest scrub, the site of Bert Hinkler's first glider flights, a tidal lagoon, rock pools and an historic basalt stone wall built by South Sea Islanders, who were brought to Queensland from the 1880s to work in the sugar industry. Explore the park on walking tracks and cycling tracks or, if you prefer a slower pace, take a wander along the beach to look at tidal rock pools.
Entry to Mon Repos Conservation Park is free. Fees apply for night access to the Mon Repos Turtle Centre and Mon Repos Turtle Encounters during turtle season (November to March). See Mon Repos Turtle Centre listing for admission and booking details.
141 Mon Repos Road,
via Bundaberg-Bargara Road
Bundaberg, QLD, 4670
Located 0.3K from Mons
Mon Repos Beach
Mon Repos is home to Australia's largest concentration of nesting sea turtles. Mon Repos caters for everyone from young families to the grey nomads. You will find historical, environmental and leisure activities at Mon Repos.
From mid October to the end of April (during Turtle Season) , public access to the beach is restricted from 6pm to 6am.
Mon Repos is well known in aviation history as the location of Bert Hinkler's first hangar trial flights in 1912.
Known as one of Queensland's longest beaches, and the most undeveloped, you will find basalt rocks bordering the beach and a rocky outcrop midway up the beach. A gorgeous location to capture the sunrises of the region.
Mon Repos Road
Mon Repos, QLD, 4670
Located 0.3K from Mons
Bargara Beach
Bargara Beach is located 15 kilometres east of Bundaberg and offers a climate similar to Hawaii, beautiful beaches and friendly locals. Bargara Beach is located immediately east of the Bundaberg town centre and is backed by a beachfront road, with good beach access and parking.
This family friendly beach offers winding board walks, kids playgrounds, eateries, cafes. Dogs are welcome on Bargara Beach (except for Kellys Beach). During the summer months, you will see turtles come to shore to nest. In the mornings, over summer, you will see the turtle tracks leading back to the ocean - an amazing sight to see.
Esplanade
Bargara, QLD, 4670
Located 2.5K from Mons
Bargara Turtle Park and Playground
Enjoy the views of Bargara Beach while the kids play on the turtle playground. The large turtle forms the different play areas - perfect for a game of hide and seek. Grab a coffee or takeaway food from one of the nearby establishments. With plenty of seating and tables, this is the perfect place for a beachside picnic.
Bargara Esplanade
Bargara, QLD, 4670
Located 2.5K from Mons
Burkitts Reef Dive Site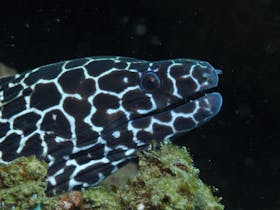 Located in front of the town of Bargara, near Bundaberg, Burkitts Reef is a popular shore diving site that always provides a few surprises. The reef fringes the headland and varies in depth from two to eight metres and is covered in lovely hard corals. Nudibranchs are a feature of this reef, and divers will see hundreds of them, but also common are moray eels, wobbegongs, stingrays, crayfish and olive sea snakes. Typical reef fish include angelfish, butterflyfish, scorpionfish, wrasse and lionfish, but Burkitts Reef is also visited by pelagic fish so don't be surprised to see trevally, barracuda and even queenfish.

Burkitts Reef
Bargara, QLD, 4670
Located 2.9K from Mons
Oaks Beach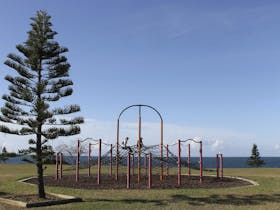 Only 18 kilometres north east of Bundaberg you will find Oaks Beach - a small beach good for snorkelling, fishing, rock walking or swimming. There is also a 200 metre stretch of beach perfect for surfing.
The best places for fishing are off the rocks or groyne at Oaks Beach which are the best places to reach the deep water.
The best playground to check out in Burnett Heads is the South Head Parklands where you will find playground equipment for all ages, skate park, wide spaces to kick a ball around and barbecue and picnic facilities.
Unfortunately dogs are not allowed on Oaks Beach.
Oaks Beach is patrolled by Lifesavers seven days a week from 8am to 5pm.
Sea Esplanade,
Oaks Beach
Burnett Heads, QLD, 4670
Located 4.2K from Mons
Amandine Lavender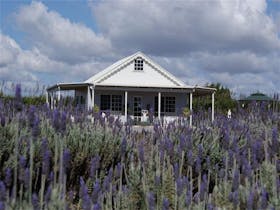 Amandine Lavender is a gift shop and farm located in Bundaberg, Queensland. Amandine Lavender was established in 2008, as a way to diversify and introduce an alternative industry to an existing sugarcane farm at Bargara, near Bundaberg. Amandine Lavender offers a range of lavender products to calm and relax, and fragrance your home. The quaint gift shop, framed with flowers of lavender, provides a truly unique lavender experience. Self guided propagation activities are available for visitors to participate in.
288 Seaview Road
Bargara, QLD, 4670
Located 5.0K from Mons
Hummock Lookout
Situated off the road to Bargara is the low-lying volcanic remnant known as "The Hummock" which, although only 96 metres above sea-level, offers visitors good views over the whole area. The ocean is visible to the east while, to the west, the sugar fields can be seen encircling the city with the smoke stacks of the Bundaberg Distillery and Mill on the horizon. Watch the moon rise over the ocean as the sun sets over the land.
The Hummock holds an important place in local indigenous history. The Taribelang Aboriginal people were the first humans to inhabit this area. Their 'burning mountain' is the 'Sloping Hummock" of today. There is a large Aboriginal art mural at the site which depicts the violent story of Paddys Island at the time of European settlement. Paddy's Island can still be seen from the Hummock lookout today.
Hummock Road
Qunaba, QLD, 4670
Located 5.1K from Mons
Mons: Events
Mon Repos Turtle Season
The Mon Repos Conservation Park, within the Southern Great Barrier Reef, supports the largest concentration of nesting marine turtles on the Eastern Australian mainland and has the most significant Loggerhead turtle nesting population in the South Pacific.
Visitors can witness nesting and hatching turtles over the summer months on Mon Repos beach, however turtles are easily disturbed if proper turtle watching guidelines are not followed.
The Mon Repos Turtle experience operates nightly during the Turtle Season. You have the opportunity to see nesting turtles from November through to January and hatchlings January through to March. It is an amazing sight to see the turtles venture up the beach to find a safe spot to dig a nest and lay their eggs. And then, if you are lucky, to come back six to eight weeks later to see the baby hatchlings take their first swim in the ocean. Don't miss out, book now!
Bookings close promptly at 4pm daily! Book your Mon Repos Nightly Turtle Encounter as soon as possible, to avoid your preferred date not being available.
Event Dates
2017
      1st Nov
      2nd Nov
      3rd Nov
      4th Nov
      5th Nov
      6th Nov
      7th Nov
      8th Nov
      9th Nov
      10th Nov
      11th Nov
      12th Nov
      13th Nov
      14th Nov
      15th Nov
      16th Nov
      17th Nov
      18th Nov
      19th Nov
      20th Nov
      21st Nov
      22nd Nov
      23rd Nov
      24th Nov
      25th Nov
      26th Nov
      27th Nov
      28th Nov
      29th Nov
      30th Nov
      1st Dec
      2nd Dec
      3rd Dec
      4th Dec
      5th Dec
      6th Dec
      7th Dec
      8th Dec
      9th Dec
      10th Dec
      11th Dec
      12th Dec
      13th Dec
      14th Dec
      15th Dec
      16th Dec
      17th Dec
      18th Dec
      19th Dec
      20th Dec
      21st Dec
      22nd Dec
      23rd Dec
      24th Dec
      25th Dec
      26th Dec
      27th Dec
      28th Dec
      29th Dec
      30th Dec
      31st Dec
2018
      1st Jan
      2nd Jan
      3rd Jan
      4th Jan
      5th Jan
      6th Jan
      7th Jan
      8th Jan
      9th Jan
      10th Jan
      11th Jan
      12th Jan
      13th Jan
      14th Jan
      15th Jan
      16th Jan
      17th Jan
      18th Jan
      19th Jan
      20th Jan
      21st Jan
      22nd Jan
      23rd Jan
      24th Jan
      25th Jan
      26th Jan
      27th Jan
      28th Jan
      29th Jan
      30th Jan
      31st Jan
      1st Feb
      2nd Feb
      3rd Feb
      4th Feb
      5th Feb
      6th Feb
      7th Feb
      8th Feb
      9th Feb
      10th Feb
      11th Feb
      12th Feb
      13th Feb
      14th Feb
      15th Feb
      16th Feb
      17th Feb
      18th Feb
      19th Feb
      20th Feb
      21st Feb
      22nd Feb
      23rd Feb
      24th Feb
      25th Feb
      26th Feb
      27th Feb
      28th Feb
      1st Mar
      2nd Mar
      3rd Mar
      4th Mar
      5th Mar
      6th Mar
      7th Mar
      8th Mar
      9th Mar
      10th Mar
      11th Mar
      12th Mar
      13th Mar
      14th Mar
      15th Mar
      16th Mar
      17th Mar
      18th Mar
      19th Mar
      20th Mar
      21st Mar
      22nd Mar
      23rd Mar
      24th Mar
      25th Mar
      26th Mar
      27th Mar
      28th Mar
      29th Mar
      30th Mar
      31st Mar
141 Mon Repos Road
Bargara, QLD, 4670
Located 0.4K from Mons
Mons Map
Mons Map - Legend

Multiple Hotels

Hotel
Click on the map markers for more information. Hover over the map to zoom in & out or see satellite & terrain views.