Ballard Accommodation, Hotels, Tours & Information
Ballard
We do not currently have any general information about Ballard. To find out more about the area try the following locations:

Ballard: Where To Go / Sightseeing
Spring Bluff Railway Station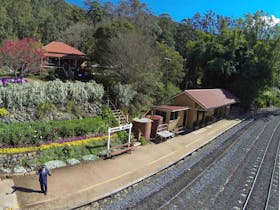 Spring Bluff Railway Station is a heritage listed site located on the main railway line between Ipswich and Toowoomba. Its significance stems from 150 years of railway history and the attraction of its landscaped gardens. In 1914 Queensland Railways launched a garden competition to encourage railway staff to beautify the stations and grow vegetables. The gardens are now beautifully maintained and have won awards in the Carnival of Flowers competition over many years.
The grounds are open for visitors all year round to enjoy a picnic or barbecue or perhaps a visit to the Spring Bluff Cafe for coffee and treats.
Spring Bluff Railway Station has been the venue for many weddings over the years and the quaint country-feel to the Station lends itself to being one of the most romantic outdoor wedding venues in the Region. It's a beautiful spot for wedding photos too!
Whatever the reason for visiting Spring Bluff Railway Station - picnic, coffee at the cafe, family outing, wedding, or just relaxing in the peaceful surrounds - they'll guarantee you'll want to come back for the Spring Bluff experience.
McCormack Drive
Spring Bluff, QLD, 4352
Located 2.7K from Ballard
Highfields Pioneer Village
You'll marvel at the large collections of 40,000 shells, antique radios and the vintage machinery, alongside the Blacksmith Shop and intriguing Boot Repair Shop, all at the Highfields Pioneer Historical Village.
You'll find everything in working order, including the 1912 Marshall Portable Steam Engine which is used to drive the vintage machinery on special days such as the Easter Vintage Festival. The 1928 Dennis Fire Engine on display is one of the original Toowoomba Fire Trucks. The 1925 Model 'T' Ford Truck was restored in the restoration workshop at the Village in 1993, and is one of many vintage vehicles on display. The B.J. Palmer Boot Repair Shop is a real piece of local history and is a reminder of time when life was much simpler.
Billy Tea and Damper served with butter and Golden Syrup is available everyday from 10am to 4pm.
Run entirely by volunteers, dedicated to preserving the history of the Darling Downs for future generations!
73 Wirraglen Road
Highfields, QLD, 4352
Located 5.4K from Ballard
Ballard: Events
Easter Vintage Festival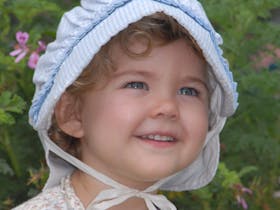 Highfields Pioneer Village is celebrating its twentieth Annual Easter Vintage Festival. The theme of the festival is 'Keeping Time'. Come and experience rural life in the Australian Pioneer days! Milk a cow, learn to crack a whip or be a blacksmith.
Enjoy billy tea and damper made in authentic camp ovens. Don't miss the spectacular Grand Parade and baby animals in the nursery. There will be live music and great food. You might even encounter the infamous bush ranger Ned Kelly! Whether you love history, you're a vintage machinery buff or you are just looking for great entertainment you will have a wonderful time at the Easter Vintage Festival. It is an affordable, entertaining weekend for all ages. Past visitors have come for a day and returned for all three!
Event Dates
2017
      15th Apr
      16th Apr
      17th Apr
73 Wirraglen Road,
Highfields Pioneer Village
Highfields, QLD, 4352
Located 5.4K from Ballard
Murphys Creek Markets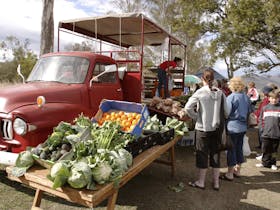 Take home some fresh local produce and home-made treats from one of their local country markets. You'll also find collectables, arts and crafts, books and lots of other goodies.
Murphys Creek Markets are held on the third Saturday of every month on Murphy's Creek Road (adjacent to Murphy's Creek Tavern) from 7am to 12.30pm.
Event Dates
2017
      18th Mar
      15th Apr
      20th May
      17th Jun
Murphys Creek Road
Murphys Creek, QLD, 4352
Located 6.8K from Ballard
Airbrush Art Workshop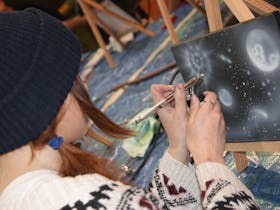 Learn a painting technique with very modern applications in this one day workshop at Cobb+Co Museum.
You will learn the basics of airbrushing including the proper use of tools and a range of different techniques. You will create a night scene canvas and a black and white subject portrait.
Tutor Wayne Ogden is an accomplished Toowoomba-based airbrush artist who has completed numerous commissions, including portraits, murals and engine covers.
Cost of the workshop includes expert tuition, all materials, morning tea, lunch and afternoon tea.
Event Dates
2017
      8th Apr
      9th Apr
27 Lindsay Street
Toowoomba, QLD, 4350
Located 7.3K from Ballard
Have A Go! Festival
Discover a range of traditional and modern trades, skills and crafts, meet the artisans who practise them and as the name suggests, have a go for yourself!
Your general Festival ticket includes Step Up + Have A Go activities, Artisan trade demonstrations, access to the Kids Have A Go Area, talks from Queensland Museum Network experts.
Enhance your Have A Go! Festival experience with a Mini Workshop (extra charges apply).
Spend time with an expert artisan, learn a new skill and make something unique to take home. Blacksmithing, Copperfoiling, Musical Instruments, Felting, Glass Beads, Wood Turning, Millinery, Jewellery Making, Leatherplaiting, Pressed Metal.
Strictly limited places, bookings essential.
Make a night of it!
Can't make it during the day? Experience the Have A Go! Festival from twilight with activities extended until 9pm. Enjoy a glass of wine and explore the Museum and artisan trades at night. Meet the artisans, lean about their skills and discover how beer, wine and mead are made in their special Meet the Maker sessions.
Event Dates
2017
      25th Feb
27 Lindsay Street
Toowoomba, QLD, 4350
Located 7.3K from Ballard
Blacksmithing Teen Workshop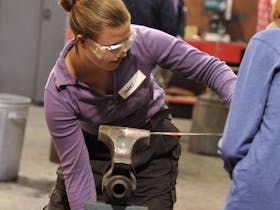 Send your teenager on a creative experience they will never forget. Give them the opportunity to create something beautiful with their own hands from raw materials at one of Cobb+Co Museum's Teen Workshops.
Blacksmithing Teen Workshops are three hours longs and designed especially for 13-17 year olds. Under the guidance of tutor Terry Drennan, former Australian champion blacksmith and farrier, each participant will make an item themselves to take home. Previous workshops have made a hook, marshmallow fork, or twisted metal wrist cuff.
Class sizes are small, so bookings are essential.
Event Dates
2017
      5th Apr
27 Lindsay Street
Toowoomba, QLD, 4350
Located 7.3K from Ballard
Millinery Workshop One Day (Fascinator)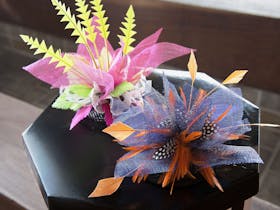 Learn how to create fun and feathery free-form fascinators in this one-day millinery workshop at Cobb+Co Museum.
Be guided through the steps to making a free-form fascinator, and become familiar with millinery materials and simple techniques along the way. Then make yourself a second fascinator, applying your new skills and own creative flair.
Tutor Johanna Guerin is a well respected milliner with an eye for detail and high quality of workmanship that has resulted in her work being worn across the world and at all major Australian Horse Racing Events, as well as the Dubai World Cup and Royal Ascot events.
Cost includes tuition, all materials, morning tea, lunch and afternoon tea. Bookings essential.
Event Dates
2017
      4th Mar
27 Lindsay Street
Toowoomba, QLD, 4350
Located 7.3K from Ballard
Blacksmithing Beginners Workshop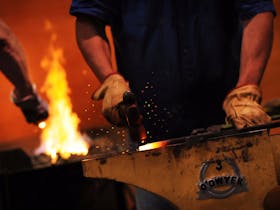 Learn the basics of blacksmithing and create your own set of blacksmithing tools, including a coal chisel, hot cutter, round punch, oval punch, centre punch and tongs. As well as your tools, you will take away the basic skills of blacksmithing including operating a forge and using the tools and anvil.
Tutor Terry Drennan began training as a blacksmith and farrier in Melbourne when he was 21 years old. He has won the Australian champion in blacksmithing and farriery on many occasions and has been teaching blacksmithing courses at Cobb+Co Museum for over 15 years.
After completing this workshop, you are eligible to participate in the Blacksmithing Advanced Workshop where you will make a set of fire side or barbecue tools. Then you can participate in the Project workshops which include knife making and decorative pieces.
Event Dates
2017
      8th Apr
      9th Apr
27 Lindsay Street
Toowoomba, QLD, 4350
Located 7.3K from Ballard
In Search of Ancient Queensland
The story of ancient Queensland is written in the rocks and landscapes that form our modern environment and in an outstanding, but incomplete, fossil record that offers tantalising glimpses of the past.
This striking photographic exhibition is taken from the new Queensland Museum Publication In Search of Ancient Queensland.
Event Dates
2017
      25th Feb
      26th Feb
      27th Feb
      28th Feb
      1st Mar
      2nd Mar
      3rd Mar
      4th Mar
      5th Mar
      6th Mar
      7th Mar
      8th Mar
      9th Mar
      10th Mar
      11th Mar
      12th Mar
      13th Mar
      14th Mar
      15th Mar
      16th Mar
      17th Mar
      18th Mar
      19th Mar
      20th Mar
      21st Mar
      22nd Mar
      23rd Mar
      24th Mar
      25th Mar
      26th Mar
      27th Mar
      28th Mar
      29th Mar
      30th Mar
      31st Mar
      1st Apr
      2nd Apr
      3rd Apr
      4th Apr
      5th Apr
      6th Apr
      7th Apr
      8th Apr
      9th Apr
      10th Apr
      11th Apr
      12th Apr
      13th Apr
      14th Apr
      15th Apr
      16th Apr
      17th Apr
      18th Apr
      19th Apr
      20th Apr
      21st Apr
      22nd Apr
      23rd Apr
      24th Apr
      25th Apr
      26th Apr
      27th Apr
      28th Apr
      29th Apr
      30th Apr
      1st May
      2nd May
      3rd May
      4th May
      5th May
      6th May
      7th May
      8th May
      9th May
      10th May
      11th May
      12th May
      13th May
      14th May
      15th May
      16th May
      17th May
      18th May
      19th May
      20th May
      21st May
      22nd May
      23rd May
      24th May
      25th May
      26th May
      27th May
      28th May
      29th May
      30th May
      31st May
      1st Jun
      2nd Jun
      3rd Jun
      4th Jun
      5th Jun
      6th Jun
      7th Jun
      8th Jun
      9th Jun
      10th Jun
      11th Jun
      12th Jun
      13th Jun
      14th Jun
      15th Jun
      16th Jun
      17th Jun
      18th Jun
      19th Jun
      20th Jun
      21st Jun
      22nd Jun
      23rd Jun
      24th Jun
      25th Jun
      26th Jun
      27th Jun
      28th Jun
      29th Jun
      30th Jun
      1st Jul
      2nd Jul
      3rd Jul
      4th Jul
      5th Jul
      6th Jul
      7th Jul
      8th Jul
      9th Jul
      10th Jul
      11th Jul
      12th Jul
      13th Jul
      14th Jul
      15th Jul
      16th Jul
      17th Jul
      18th Jul
      19th Jul
      20th Jul
      21st Jul
      22nd Jul
      23rd Jul
      24th Jul
      25th Jul
      26th Jul
      27th Jul
      28th Jul
      29th Jul
      30th Jul
      31st Jul
      1st Aug
      2nd Aug
      3rd Aug
      4th Aug
      5th Aug
      6th Aug
      7th Aug
      8th Aug
      9th Aug
      10th Aug
      11th Aug
      12th Aug
      13th Aug
      14th Aug
      15th Aug
      16th Aug
      17th Aug
      18th Aug
      19th Aug
      20th Aug
      21st Aug
      22nd Aug
      23rd Aug
      24th Aug
      25th Aug
      26th Aug
      27th Aug
      28th Aug
      29th Aug
      30th Aug
      31st Aug
      1st Sep
      2nd Sep
      3rd Sep
      4th Sep
      5th Sep
      6th Sep
      7th Sep
      8th Sep
      9th Sep
      10th Sep
      11th Sep
      12th Sep
      13th Sep
      14th Sep
      15th Sep
      16th Sep
      17th Sep
      18th Sep
      19th Sep
      20th Sep
      21st Sep
      22nd Sep
      23rd Sep
      24th Sep
      25th Sep
      26th Sep
      27th Sep
      28th Sep
      29th Sep
      30th Sep
      1st Oct
      2nd Oct
      3rd Oct
      4th Oct
      5th Oct
      6th Oct
      7th Oct
      8th Oct
      9th Oct
      10th Oct
      11th Oct
      12th Oct
      13th Oct
      14th Oct
      15th Oct
      16th Oct
      17th Oct
      18th Oct
      19th Oct
      20th Oct
      21st Oct
      22nd Oct
      23rd Oct
      24th Oct
      25th Oct
      26th Oct
      27th Oct
      28th Oct
      29th Oct
      30th Oct
      31st Oct
      1st Nov
      2nd Nov
      3rd Nov
      4th Nov
      5th Nov
      6th Nov
      7th Nov
      8th Nov
      9th Nov
      10th Nov
      11th Nov
      12th Nov
      13th Nov
      14th Nov
      15th Nov
      16th Nov
      17th Nov
      18th Nov
      19th Nov
      20th Nov
      21st Nov
      22nd Nov
      23rd Nov
      24th Nov
      25th Nov
      26th Nov
      27th Nov
      28th Nov
      29th Nov
      30th Nov
      1st Dec
      2nd Dec
      3rd Dec
      4th Dec
      5th Dec
      6th Dec
      7th Dec
      8th Dec
      9th Dec
      10th Dec
      11th Dec
      12th Dec
      13th Dec
      14th Dec
      15th Dec
      16th Dec
      17th Dec
      18th Dec
      19th Dec
      20th Dec
      21st Dec
      22nd Dec
      23rd Dec
      24th Dec
      25th Dec
      26th Dec
      27th Dec
      28th Dec
      29th Dec
      30th Dec
      31st Dec
27 Lindsay Street
East Toowoomba, QLD, 4350
Located 7.4K from Ballard
Ballard Map
Ballard Map - Legend

Multiple Hotels

Hotel
Click on the map markers for more information. Hover over the map to zoom in & out or see satellite & terrain views.