Spring Bluff Accommodation, Hotels, Tours & Information
Spring Bluff
Spring Bluff is a beautiful valley tucked in the ranges north of Toowoomba and best known for its picturesque railway station.

Spring Bluff Railway Station is a favourite day trip for visitors and locals alike. Its gardens are magnificent during Spring and Summer and steam train rides and a brass band concert held at the station are features of September during Toowoomba's Carnival of Flowers. The Railway Station features a cute cafe in the station master's cottage or take your own picnic.

It's worth visiting Spring Bluff any time of year, just for the interesting drive down the range off the New England Highway through to Murphy's Creek. The road meanders through lush bushland, following the path of the creek.
Spring Bluff: Where To Go / Sightseeing
Spring Bluff Railway Station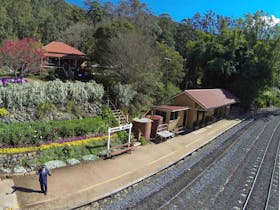 Spring Bluff Railway Station is a heritage listed site located on the main railway line between Ipswich and Toowoomba. Its significance stems from 150 years of railway history and the attraction of its landscaped gardens. In 1914 Queensland Railways launched a garden competition to encourage railway staff to beautify the stations and grow vegetables. The gardens are now beautifully maintained and have won awards in the Carnival of Flowers competition over many years.
The grounds are open for visitors all year round to enjoy a picnic or barbecue or perhaps a visit to the Spring Bluff Cafe for coffee and treats.
Spring Bluff Railway Station has been the venue for many weddings over the years and the quaint country-feel to the Station lends itself to being one of the most romantic outdoor wedding venues in the Region. It's a beautiful spot for wedding photos too!
Whatever the reason for visiting Spring Bluff Railway Station - picnic, coffee at the cafe, family outing, wedding, or just relaxing in the peaceful surrounds - they'll guarantee you'll want to come back for the Spring Bluff experience.
McCormack Drive
Spring Bluff, QLD, 4352
Located 0.1K from Spring Bluff
Highfields Pioneer Village
You'll marvel at the large collections of 40,000 shells, antique radios and the vintage machinery, alongside the Blacksmith Shop and intriguing Boot Repair Shop, all at the Highfields Pioneer Historical Village.
You'll find everything in working order, including the 1912 Marshall Portable Steam Engine which is used to drive the vintage machinery on special days such as the Easter Vintage Festival. The 1928 Dennis Fire Engine on display is one of the original Toowoomba Fire Trucks. The 1925 Model 'T' Ford Truck was restored in the restoration workshop at the Village in 1993, and is one of many vintage vehicles on display. The B.J. Palmer Boot Repair Shop is a real piece of local history and is a reminder of time when life was much simpler.
Billy Tea and Damper served with butter and Golden Syrup is available everyday from 10am to 4pm.
Run entirely by volunteers, dedicated to preserving the history of the Darling Downs for future generations!
73 Wirraglen Road
Highfields, QLD, 4352
Located 3.2K from Spring Bluff
Cobb+Co Museum
Cobb+Co Museum is part of the Queensland Museum and is home to the National Carriage Collection which features nearly 50 horse-drawn vehicles and galleries showcasing the natural and cultural history of Toowoomba and the Darling Downs.
But that's just a part of what's on offer at this interactive Museum, there's plenty more to see, hear and touch! You can follow the clues, meet intriguing characters and play the interactive games in the new National Carriage Collection Gallery, play in The Coach Stop and the Cobb's Coffee Shop Play Pit, touch a range of natural history objects and specimens from and cuddly animal furs to delicate snake skins and spiky echidna spines, participate in the free daily Have A Go sessions or join in the hands-on fun at the annual Have A Go Festival and get the behind the scenes story and join a daily guided tour.
Why not sign up for a creative workshop? At Cobb+Co Museum you can craft items that you will be proud to show off and even give as gifts. Workshops range from blacksmithing and silversmithing to leadlighting and millinery. There are also unique handmade gifts for sale in the Museum Shop.
27 Lindsay Street
Toowoomba, QLD, 4350
Located 10.3K from Spring Bluff
Toowoomba Railway Station, Memorial Honour Board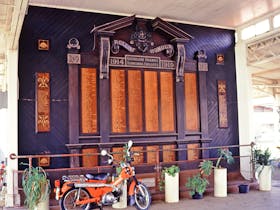 Stroll to the northern end of the platform at heritage-listed Toowoomba Railway Station and you'll find a record that leaves no doubt about the impact WWI had on the locality's population.
The Roll of Honour, 1914-1919, Queensland Railways Toowoomba Employees is a magnificently carved silky oak honour board with an impressive listing of 560 names in gold lettering on cedar panels.
Railways Commissioner Charles Evans, a former Toowoomba railwayman himself, unveiled the tribute on 14 April 1918.
Prime Minister Billy Hughes had stood on the platform in October 1916, urging enlistments.
The honour board was artfully crafted at the North Ipswich railway workshops, now the Workshops Rail Museum. Detailing includes columns crowned with decorative motifs of the Queensland Railways emblem, scrolls and shells, and the Australian Coat of Arms.
Toowoomba Railway Station, which opened in the 1870s, was still a bustling centre for trade and travellers. Today, the Westlander passes through, between Brisbane and Charleville twice a week.
Russell Street
Toowoomba, QLD, 4350
Located 10.7K from Spring Bluff
Newtown Park State Rose Garden
The State Rose Garden in Newtown Park has more than 1,500 roses planted, with many more to be planted over coming years.
This rosarium is being continually upgraded as a living memorial to the people of this city and the district in general.
This has been one of the most successful community projects in Toowoomba, with residents and volunteers contributing donations or in-kind support.
The major planting of roses in the garden was selected from the floribunda, hybrid tea, David Austin and climbing varieties. Of special interest are the Titian and Carabella roses, which were bred in Toowoomba and are just two of the Reithmuller Roses.
The historic Newtown Park is bounded by Holberton, Taylor, Tor and Pottinger Streets. Of special interest to historians is the Entrance Pavilion off Holberton Street where the history of the park and its people since 1912, and the history of roses, is displayed on brass plaques.
The Friends of the State Rose Garden in Newtown Park has contributed to construction and development of the garden. The Friends volunteer from 50 to 70 hours per week, depending on the season, for maintenance of the roses.
Taylor Street,
Corner of Holberton, Tor and Pottinger Streets
Toowoomba, QLD, 4350
Located 10.7K from Spring Bluff
Transport and Main Roads Heritage Centre
The only road building museum in Australia, the Transport and Main Roads Heritage Centre offers an exclusive perspective of the history of road building in Queensland.
Travel the winding road throughout this unique museum. The exhibits offer plenty of information about road planning, construction and maintenance for you to explore. Cartoon characters and interactive children's trail help teach kids about what has gone into making the 'black stuff' and if you love machinery, then you'll get a kick out of the fully maintained vehicles and road building equipment on display.
Located opposite Toowoomba's airport terminal, the museum showcases the hard work and pioneering spirit which has helped shape Queensland. Learn how the state's road network has been developed, from the conditions under which road workers laboured, to the modern plant and equipment you see on roads today.
Book now and ask for a guided tour through the museum and this distinctive piece of Queensland's history.
You'll be surprised at what you discover.
2-22 Mutze Street
Toowoomba, QLD, 4350
Located 10.8K from Spring Bluff
Spring Bluff: Events
Big Band at Spring Bluff
Featuring the sounds of the Jim Miller Big Band, this event brings hundreds of people to Spring Bluff Railway Station. Enjoy the magnificent gardens, spectacular views with food and drink available from the onsite caf?.
Event Dates
2016
      18th Sep
Spring Bluff Railway Station
Spring Bluff, QLD, 4352
Located 0.8K from Spring Bluff
Downlands Art Exhibition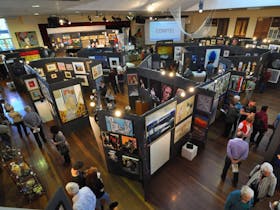 The premium visual art event on Toowoomba's social calendar, the Downlands Art Exhibition brings together a curated selection of art from at least eight galleries together with the best offerings of regional artists.
Now in their 30th year, the beautiful grounds of Downlands College become a living, breathing art gallery, with the Graham Centre being redesigned to suit the collection each year.
Patrons travel from far and wide to experience the best and most accessible collection of artworks in the region.
With around 1,000 catalogued items and with prices from AUD25 to AUD25 000, there truly is something for everyone.
Event Dates
2016
      10th Sep
      11th Sep
72 Ruthven Street
Harlaxton, QLD, 4350
Located 8.2K from Spring Bluff
A Room for Wild Animals
See 20 taxidermy specimens from the Queensland Museum collection.
Most of us are familiar with Australian mammals such as koalas and kangaroos, but have little appreciation for the sheer size and form of many overseas land mammals.
In a first for Toowoomba, A Room for Wild Animals showcases 20 taxidermy specimens from the Queensland Museum collection including big cats, bears and deer.
The specimens featured represent some of the most impressive mammals on the planet providing a rare opportunity to experience them up close. These large and (in some cases) controversial mammals are not just valuable collection items. The exhibits featured in this display are part of a larger collection some of which were seized as Proceeds of Crime and donated to Queensland Museum on behalf of the Commonwealth of Australia.
Today they speak on behalf of their living relatives across the globe and help us to learn an important conservation lesson.
Event Dates
2016
      31st May
      1st Jun
      2nd Jun
      3rd Jun
      4th Jun
      5th Jun
      6th Jun
      7th Jun
      8th Jun
      9th Jun
      10th Jun
      11th Jun
      12th Jun
      13th Jun
      14th Jun
      15th Jun
      16th Jun
      17th Jun
      18th Jun
      19th Jun
      20th Jun
      21st Jun
      22nd Jun
      23rd Jun
      24th Jun
      25th Jun
      26th Jun
      27th Jun
      28th Jun
      29th Jun
      30th Jun
      1st Jul
      2nd Jul
      3rd Jul
      4th Jul
      5th Jul
      6th Jul
      7th Jul
      8th Jul
      9th Jul
      10th Jul
      11th Jul
      12th Jul
      13th Jul
      14th Jul
      15th Jul
      16th Jul
      17th Jul
      18th Jul
      19th Jul
      20th Jul
      21st Jul
      22nd Jul
      23rd Jul
      24th Jul
      25th Jul
      26th Jul
      27th Jul
      28th Jul
      29th Jul
      30th Jul
      31st Jul
      1st Aug
      2nd Aug
      3rd Aug
      4th Aug
      5th Aug
      6th Aug
      7th Aug
      8th Aug
      9th Aug
      10th Aug
      11th Aug
      12th Aug
      13th Aug
      14th Aug
      15th Aug
      16th Aug
      17th Aug
      18th Aug
      19th Aug
      20th Aug
      21st Aug
      22nd Aug
      23rd Aug
      24th Aug
      25th Aug
      26th Aug
      27th Aug
      28th Aug
      29th Aug
      30th Aug
      31st Aug
      1st Sep
      2nd Sep
      3rd Sep
      4th Sep
      5th Sep
      6th Sep
      7th Sep
      8th Sep
      9th Sep
      10th Sep
      11th Sep
      12th Sep
      13th Sep
      14th Sep
      15th Sep
      16th Sep
      17th Sep
      18th Sep
      19th Sep
      20th Sep
      21st Sep
      22nd Sep
      23rd Sep
      24th Sep
      25th Sep
      26th Sep
      27th Sep
      28th Sep
      29th Sep
      30th Sep
      1st Oct
      2nd Oct
      3rd Oct
      4th Oct
      5th Oct
      6th Oct
      7th Oct
      8th Oct
      9th Oct
      10th Oct
      11th Oct
      12th Oct
      13th Oct
      14th Oct
      15th Oct
      16th Oct
      17th Oct
      18th Oct
      19th Oct
      20th Oct
      21st Oct
      22nd Oct
      23rd Oct
      24th Oct
      25th Oct
      26th Oct
      27th Oct
      28th Oct
      29th Oct
      30th Oct
      31st Oct
      1st Nov
      2nd Nov
      3rd Nov
      4th Nov
      5th Nov
      6th Nov
      7th Nov
      8th Nov
      9th Nov
      10th Nov
      11th Nov
      12th Nov
      13th Nov
      14th Nov
      15th Nov
      16th Nov
      17th Nov
      18th Nov
      19th Nov
      20th Nov
      21st Nov
      22nd Nov
      23rd Nov
      24th Nov
      25th Nov
      26th Nov
      27th Nov
      28th Nov
      29th Nov
      30th Nov
      1st Dec
Lindsay Street,
27,
27 Lindsay Street
East Toowoomba, QLD, 4350
Located 10.8K from Spring Bluff
Transport and Main Roads Heritage Centre Open Day
Coinciding with the David Hack Classic Meet, the Transport and Main Roads Heritage Centre on Mutze Street, Toowoomba is holding a special open day from 8am until 3pm.
Children are invited to join the fun with the cartoon characters along the children's trail as well as test themselves against mum or dad on the brake-testing unit.
The centre's location is ideal for watching the collectable vehicles as they arrive and leave the meet as well as watching the war-birds take off.
Check out the Transport and Main Roads Heritage Centre - it's sure to be a great day out for the family.
Event Dates
2017
      30th Apr
2-22 Mutze Street
Toowoomba, QLD, 4350
Located 10.9K from Spring Bluff
Spring Bluff Map
Spring Bluff Map - Legend

Multiple Hotels

Hotel
Click on the map markers for more information. Hover over the map to zoom in & out or see satellite & terrain views.