Coonawarra Accommodation, Hotels, Tours & Information
Coonawarra
Just out of Penola, on the Riddoch Highway, is the Coonawarra wine region. Coonawarra's famous terra rossa soil boasts over 20 cellar doors and wineries, all set among beautifully maintained landscapes. Indulge the senses by experiencing the unique range of award winning red and white wines. Complimented by the delicious local produce and fine foods served at the cafes, hotels and restaurants throughout Penola and Coonawarra. Cellar dooring is a relaxing way to soak in the area' history, culture and traditions each containing its own captivating stories, stunning architecture, and irresistible flavours. Take a chauffeured tour or designate a driver and sample the cellar doors throughout Coonawarra. Some cellar doors offer a food service option, which allows you to match fine wines with the district's excellent produce. Penola and Coonawarra also host many well-known festivals and events. The Arts Festival, Cabernet Celebrations, Vignerons Cup, Petanque Tournament and the Cellar Dwellers are getting bigger and better each year.
Coonawarra: Where To Go / Sightseeing
The Coonawarra Park
The Coonawarra Centenary Sculpture in the town's park commemorates the beginnings of the fruit colony. One section of the park is known as the sculpture park because in 1991 a sculpture made from red gum and limestone called the Terra Rossa Tree Wall was unveiled along with three bronze busts.
The first bust is of John Riddoch the founder of Coonawarra. The second bust is of David Wynn the revitalizer of Coonawarra and the third is of Bill Redman the sustainer of Coonawarra.
On the wall of the public toilets a map of the wineries has been placed along with the history of Coonawarra and a map of the original fruit blocks.
Memorial Drive
Coonawarra, SA, 5263
Located 0.8K from Coonawarra
Father Woods Park
The Father Woods Park is located 21 kilometres north of Penola, and is home to a series of seven sculptures depicting the life of Father Julian Tenison Woods and Saint Mary of the Cross Mackillop.
Seven tree stumps stand in the middle of the park across the road from the Father Woods tree, which mark where the parish priest used to conduct mass.
Riddoch Highway
Coonawarra, SA, 5263
Located 5.8K from Coonawarra
Patrick of Coonawarra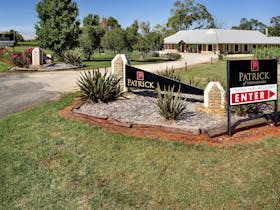 Patrick of Coonawarra was established by celebrated winemaker Patrick Tocaciu. It remains family owned with Patrick's eldest son Luke taking over the family business and continuing to produce highly regarded wines from the famed Terra Rossa soils of the Coonawarra.
The Patrick of Coonawarra range is focused on premium, single variety wines from our estate grown vineyards. Our flagship wines include the impressive 'Grande Reserve' Cabernet Sauvignon, 'Home Block' Cabernet Sauvignon and Aged Riesling.
The Estate range currently comprises the varieties: Cabernet Sauvignon, Shiraz, Merlot, Pinot Noir, Chardonnay and Riesling. Patrick of Coonawarra has an exceptional reputation for producing Riesling, securing several trophies, gold medals and outstanding reviews in recent years.
Our Mother of Pearl range was developed and inspired by our association with the land and the sea. With a growing reputation for both quality and value the range is comprised of a Sparkling Chardonnay Pinot, Sauvignon Blanc, Shiraz and Cabernet Merlot.
Patrick of Coonawarra has branched out with the creation of Applelation Cider. This apple cider is handcrafted using 100 per cent fresh crushed Australian Apples and Champagne yeast.
Riddoch Highway and Ravenswood Lane
Coonawarra, SA, 5263
Located 7.0K from Coonawarra
Adam Lindsay Gordon Bronze Bust
Located in Church Street Penola, the Adam Lindsay Gordon bust is a bronze replica of the marble bust of Adam Lindsay Gordon in Poets Corner in Westminster Abbey, London.
The bust honours the Australian poet and Penola the place he called home for 14 years.
Adam Lindsay Gordon was author of the poetry collections Sea Spray and Smoke Drift (1867) and Bush Ballads and Galloping Rhymes (1870). He is the only Australian poet to be honoured with a bust in the Poet's Corner of Westminster Abbey.
Church Street
Penola, SA, 5277
Located 9.3K from Coonawarra
Penola Skatepark
The Penola Skatepark is a popular and well-designed site where young people gather to show off their skating and bike skills.
Popular with visitors to the town and the locals alike, the Penola Skatepark offers a range of different facilities which will keep the keen skateboarder or bike rider amused for hours.
So bring along your kids - and don't forget the helmets - and watch them enjoy some wheel fun!
27 Arthur Street
Penola, SA, 5277
Located 9.5K from Coonawarra
Walk with History at Penola
This self guided walk or drive is a great way to explore the town and the marvels of Penola.
Penola is widely recognised as an historic town and many of its buildings are listed on the South Australian State Heritage Register and identified by the National Trust. This walk includes such attraction as Petticoat Lane, with original cottages dating back to the 1850s, a lavender and herb farm, churches, galleries and much more.
The Walk with History brochure and more information about the walk is available from the Penola Coonawarra Visitor Information Centre, 27 Arthur Street, Penola.
27 Arthur Street
Penola, SA, 5277
Located 9.5K from Coonawarra
Coonawarra: Events
Coonawarra Cabernet Celebrations
Coonawarra Cabernet Celebrations is one of South Australia's best regional wine based events, with over 35 events designed to showcase and celebrate the Coonawarra wine region's beautiful signature red wine: Cabernet Sauvignon.
In a departure from previous year's, 2016 will launch the spring-time celebrations across the month of October, with the first, third and fifth weekend featuring themed events. We're confident there will be something to: tickle the fancy of families; delight wine connoisseurs; and, entertain those looking for an event combining cool music with regional produce and our sublime wines.
On offer will be: special tasting experiences; a masterclass; vineyard tours; degustation dinners; breakfasts and brunches; family-friendly events and much, much more.
The 2016 program will be released in early August and available on our website.
For travel and accommodation details visit our website contact the Penola Coonawarra Visitor Information Centre on +61 8 8737 2855 or 1300 045 373.
Event Dates
2016
      1st Oct
      2nd Oct
      3rd Oct
      4th Oct
      5th Oct
      6th Oct
      7th Oct
      8th Oct
      9th Oct
      10th Oct
      11th Oct
      12th Oct
      13th Oct
      14th Oct
      15th Oct
      16th Oct
      17th Oct
      18th Oct
      19th Oct
      20th Oct
      21st Oct
      22nd Oct
      23rd Oct
      24th Oct
      25th Oct
      26th Oct
      27th Oct
      28th Oct
      29th Oct
      30th Oct
      31st Oct
69 Church Street
Coonawarra, SA, 5263
Located 0.1K from Coonawarra
Coonawarra Cellar Dwellers
Coonawarra Cellar Dwellers showcases beautiful back vintage, special release and aged wines from a wide range of participating Coonawarra wineries during the month of July.
Visit Coonawarra during Cellar Dwellers to taste for yourself why our wines are renowned the world over for their outstanding quality, flavour and cellaring abilities.
You can choose from over 30 events this year, including exclusive wine tastings, special degustation dinner events, and a winery tour. All aim to showcase the breadth of beautiful wines, our emerging food credentials, and the warmth and hospitality that is so ... Coonawarra.
A copy of the 2016 program will help you plan your visit this year: whether it's for the day, a weekend or even longer, we're confident that you'll enjoy Coonawarra at its sublime, relaxed self. For you, we want the experience to be one of pure pleasure when you visit Coonawarra.
For further information and travel assistance call or email us, or visit the website.
Event Dates
2016
      26th Jul
      27th Jul
      28th Jul
      29th Jul
      30th Jul
      31st Jul
69 Church Street
Coonawarra, SA, 5263
Located 1.3K from Coonawarra
Coonawarra Vignerons Cup
Summer is the time for South Australia's 'best country race meeting'.
Get your hats ready for the Coonawarra Vignerons Cup! With over 3,000 visitors each year, come and experience a fun-filled day with fabulous local food, fine wine, fashion and friends.
The Penola Racecourse is the stunning backdrop for the running of the 35th Annual Coonawarra Vignerons Cup. The Coonawarra Vignerons Association plays host to 700 guests in its marquee with Coonawarra wine, wonderful cuisine and plenty of good cheer.
Indulge in some track side hospitality and experience a great day out in one of South Australia's most iconic wine regions.
Event Dates
2017
      12th Jan
Old Racecourse Road,
Racecourse Road
Penola, SA, 5277
Located 7.0K from Coonawarra
Coonawarra: Travel Tips
Penola Coonawarra Visitor Information Centre
The Penola Coonawarra Visitor Information Centre is located in the John Riddoch Centre, a former Mechanics Institute and Public Library built in 1869. It is a multi-function centre, incorporating the John Shaw Neilson Acquisitive Art Prize Gallery, Local History Display and Collection, lots of local knowledge and history, making it a great place to start your visit.
It is a primary focus for historical information and resources in the Penola and Coonawarra District. We can enhance your experience and help you enjoy all the attractions of Penola and Coonawarra, making your visit memorable.
Penola is the oldest town in the Limestone Coast. It is rich in tradition and full of hidden treasures worth exploring. So, to help you enjoy the area to the fullest, a visit to the Penola Coonawarra Visitor Information Centre is a must!!
27 Arthur Street
Penola, SA, 5277
Located 9.5K from Coonawarra
Coonawarra Map
Coonawarra Map - Legend

Multiple Hotels

Hotel
Click on the map markers for more information. Hover over the map to zoom in & out or see satellite & terrain views.