Wrattonbully Accommodation, Hotels, Tours & Information
Wrattonbully
If you like good wine, you'll love Wrattonbully. It's on the Limestone Coast between Padthaway and Coonawarra.

Wrattonbully is a young wine region with a long history.

Fruit growers planted the first vines in 1885 and started selling grapes to Glen Ewin Jams. By the 1920s, there were five acres of vines. In the 1960s, winemakers planted the first wine grapes. By the 1990s, there were over 20 hectares. The region then expanded, as growers went on a planting spree. The region is now home to 2,600 hectares of vineyards, 50 grape growers and 20 wine producers.

The time is ripe to visit Wrattonbully.
Wrattonbully: Where To Go / Sightseeing
Yulgilbar Wood Gallery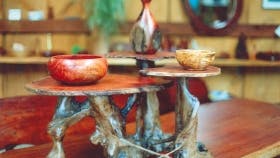 Yulgilbar Wood Gallery is situated 10 minutes south of the township of Naracoorte, in South Australia's south-eastern region. The south-east is known for its limestone caves, superb wetlands, birdlife and world class wineries. David and Sandra Williamson set up their gallery in 1990, directly opposite the exit road from the famous World Heritage listed Naracoorte Caves (listed for the rich fossil deposits).
Gallery prices are reasonable for a range of bowls and vases in a wide variety of local timbers. Bar tops, mantelpieces with natural edges, can be ordered and made to specific sizes. Price is dependent on size - these pieces are only available in red gum. The gallery houses a range of utilitarian ware in the form of solid and well finished red gum cutting boards of varying sizes. Works created are as individual as the piece of timber from which they are derived, and no two creations are identical. Variations of items are possible, depending on the size of available timber.
A range of furniture- dining and coffee tables, bookshelves, wine racks and beds can be made to order, specific to customers requirements.
Joanna Road
Naracoorte, SA, 5271
Located 13.3K from Wrattonbully
Limestone Coast Horseriding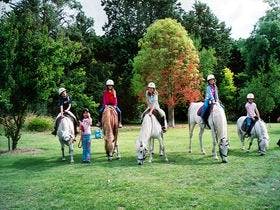 Limestone Coast Horseriding operates at 'Kerami', a farming property located midway between Coonawarra and Naracoorte, close to the World Heritage Naracoorte Caves, in the heart of the Wrattonbully wine district in South Australia. This boutique-riding centre offers lessons and pony rides in a picturesque rural setting.
Led rides and lessons are held in the park-like surrounds of the mature three-acre garden and exercise yards.
Lessons are conducted one on one or in small groups. There are horses and ponies to suit all ages and levels of experience. With an emphasis on individual tuition, attention to detail and safety, clients can enjoy a truly rewarding horse riding experience.
Exclusive trail rides through native bushland and forest are also available: One hour, picnic and cave trail rides.
Kerami, Riddoch Highway
Struan, SA, 5271
Located 14.4K from Wrattonbully
The Coonawarra Park
The Coonawarra Centenary Sculpture in the town's park commemorates the beginnings of the fruit colony. One section of the park is known as the sculpture park because in 1991 a sculpture made from red gum and limestone called the Terra Rossa Tree Wall was unveiled along with three bronze busts.
The first bust is of John Riddoch the founder of Coonawarra. The second bust is of David Wynn the revitalizer of Coonawarra and the third is of Bill Redman the sustainer of Coonawarra.
On the wall of the public toilets a map of the wineries has been placed along with the history of Coonawarra and a map of the original fruit blocks.
Memorial Drive
Coonawarra, SA, 5263
Located 17.0K from Wrattonbully
Naracoorte Caves National Park
A trip to the Limestone Coast wouldn't be complete without a visit to the Naracoorte Caves. Recognised as one of the world's most important fossil sites, the caves offer experiences for all ages.
For more than 500,000 years giant animals roamed the Naracoorte area. Falling into well hidden pitfall caves, their fossilised skeletons were left behind, giving scientists a rare glimpse of long extinct animal life.
Giant marsupials such as the wombat-like Diprotodon, Thylacoleo the marsupial lion and giant kangaroos lived in the area. These animals, along with others, have been recreated into life-sized models at the renowned Wonambi Fossil Centre.
The park's tourist caves boast a glorious display of stalagmites and stalactites. A variety of tours are on offer, showcasing amazing fossil and limestone formations. Adventure caving, allowing you to crawl, slide and squeeze through tight tunnels and chambers, is also available. The is also an on-site cafe and camp sites available.
Please refer to our website for all costs and tour times.
Hynam Caves Road
Naracoorte, SA, 5271
Located 20.0K from Wrattonbully
Father Woods Park
The Father Woods Park is located 21 kilometres north of Penola, and is home to a series of seven sculptures depicting the life of Father Julian Tenison Woods and Saint Mary of the Cross Mackillop.
Seven tree stumps stand in the middle of the park across the road from the Father Woods tree, which mark where the parish priest used to conduct mass.
Riddoch Highway
Coonawarra, SA, 5263
Located 21.0K from Wrattonbully
Patrick of Coonawarra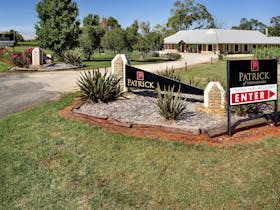 Patrick of Coonawarra was established by celebrated winemaker Patrick Tocaciu. It remains family owned with Patrick's eldest son Luke taking over the family business and continuing to produce highly regarded wines from the famed Terra Rossa soils of the Coonawarra.
The Patrick of Coonawarra range is focused on premium, single variety wines from our estate grown vineyards. Our flagship wines include the impressive 'Grande Reserve' Cabernet Sauvignon, 'Home Block' Cabernet Sauvignon and Aged Riesling.
The Estate range currently comprises the varieties: Cabernet Sauvignon, Shiraz, Merlot, Pinot Noir, Chardonnay and Riesling. Patrick of Coonawarra has an exceptional reputation for producing Riesling, securing several trophies, gold medals and outstanding reviews in recent years.
Our Mother of Pearl range was developed and inspired by our association with the land and the sea. With a growing reputation for both quality and value the range is comprised of a Sparkling Chardonnay Pinot, Sauvignon Blanc, Shiraz and Cabernet Merlot.
Patrick of Coonawarra has branched out with the creation of Applelation Cider. This apple cider is handcrafted using 100 per cent fresh crushed Australian Apples and Champagne yeast.
Riddoch Highway and Ravenswood Lane
Coonawarra, SA, 5263
Located 22.6K from Wrattonbully
Bool Lagoon Game Reserve and Hacks Lagoon Conservation Park
Bool Lagoon Game Reserve, one of the largest and most diverse freshwater systems in South Australia. The reserve is home to wetland wildlife. It provides essential drought refuge for many rare and endangered bird species. Get into the bird hides for great photo opportunities.
You can do self guided walks on many of the boardwalks, a drive to Big Hill or to Little Bool Lagoon. There are picnic spots scattered around the area and basic facilities for camping near the shores of Hacks Lagoon.
Camping fees apply per vehicle, per night. Maximum of eight vehicle occupants. Fees for hikers and cyclists, check the website for details. Pay for park entry and book your campsite online before you go.
Bool Lagoon Road,,
24 kilometres south of Naracoorte
Naracoorte, SA, 5271
Located 22.7K from Wrattonbully
Wrattonbully: Activities
It's no surprise that many of the top names in the Australian wine industry scrambled to get a piece of Wrattonbully. It has all the elements of a successful wine region. The soil is an extension of the Coonawarra's renowned terra rossa, the red soil found on limestone. Its altitude makes for long growing seasons and there is plenty of good quality, underground water.

Try local Orlando wines at the Russet Ridge Winery and cellar door. Food platters are available. Admire the view and enjoy a tasting.

Wrattonbully specialises in four main wine varieties.

Cabernet Sauvignon dominates the region. It makes up almost half of the grapes planted in Wrattonbully. The wine is soft and red berry fruited.

Shiraz is the second most popular. The region's long growing season brings these grapes to their ideal ripeness.

Merlot is another. These grapes produce soft, rich and fruit flavoured wines.

The region also produces great Chardonnay, even though it's mainly a red grape area. It typically tastes of apricots and grapefruit.
Wrattonbully: Events
Coonawarra Cabernet Celebrations
Coonawarra Cabernet Celebrations is one of South Australia's best regional wine based events, with over 60 unique events ( and 218 individual sub-events) designed to showcase and celebrate the Coonawarra wine region's beautiful signature red wine: Cabernet Sauvignon.
In a departure from previous year's, 2016 will launch the spring-time celebrations across the month of October, with every week/weekend featuring themed events. We're confident there will be something to: tickle the fancy of families; delight wine connoisseurs; and, entertain those looking for an event combining cool music with regional produce and our sublime wines.
On offer will be: special tasting experiences; a masterclass; vineyard tours; degustation dinners; breakfasts and brunches; family-friendly events and much, much more.
The 2016 program will be released in early August and available on our website.
For travel and accommodation details visit our website contact the Penola Coonawarra Visitor Information Centre on +61 8 8737 2855 or 1300 045 373.
Event Dates
2016
      27th Oct
      28th Oct
      29th Oct
      30th Oct
      31st Oct
Coonawarra, SA, 5263
Located 16.5K from Wrattonbully
Coonawarra Vignerons Cup
Summer is the time for South Australia's 'best country race meeting'.
Get your hats ready for the Coonawarra Vignerons Cup! With over 3,000 visitors each year, come and experience a fun-filled day with fabulous local food, fine wine, fashion and friends.
The Penola Racecourse is the stunning backdrop for the running of the 35th Annual Coonawarra Vignerons Cup. The Coonawarra Vignerons Association plays host to 700 guests in its marquee with Coonawarra wine, wonderful cuisine and plenty of good cheer.
Indulge in some track side hospitality and experience a great day out in one of South Australia's most iconic wine regions.
Event Dates
2017
      12th Jan
Old Racecourse Road
Penola, SA, 5277
Located 22.1K from Wrattonbully
Penola Show
Come to the Penola Show where there will be lots of family entertainment.
Highlights include Dave Russell motorcycle stuntmen, a fashion parade, a family circus performance, highland dancing and the Wheel of Steel.
See traditional country show displays including the CFS display, a special heifer show and all breeds cattle show, SE light Horsemen, yard dogs, sheaf tossing, horses in action and the Stockhorse Challenge.
The children will love the sideshows, animal nursery, children's entertainment and indoor exhibits and fireworks.
Event Dates
2016
      28th Oct
      29th Oct
Cameron Street
Penola, SA, 5277
Located 24.7K from Wrattonbully
Wrattonbully: Eating Out
There's plenty of great food. Stop in Naracoorte for something to eat.

Try a meal and some local wine at the Highlander Restaurant. Enjoy country service and quality coffee at Maddies Café. Let the kids loose in the play area at Settlers Café.
Wrattonbully Map
Wrattonbully Map - Legend

Multiple Hotels

Hotel
Click on the map markers for more information. Hover over the map to zoom in & out or see satellite & terrain views.