Bruny Island Accommodation, Hotels, Tours & Information
Bruny Island
Wild seascapes, towering dolerite seacliffs and sweeping surf beaches, wonderful coastal walks, birdlife and wildflowers, tall forests and an historic lighthouse are all features of Bruny Island off the southeast corner of Tasmania. It is about the size of Singapore but has a population of around 500 people. Access is a 20-minute crossing by vehicular ferry from Kettering, 35 minutes' drive south of Hobart. It appears to be two separate islands but it is joined by the Neck (the isthmus connecting North and South Bruny Island). Adventure Bay, South Bruny, is where Capt William Bligh came ashore for water and provisions before heading off for his ill-fated mutiny in the South Pacific. Walks include the coastal track to Penguin Island and Fluted Cape, from Adventure Bay; beach walks on Cloudy Bay; or the full-day circuit of the Labillardiere Peninsula. A narrow gravel road links Lunawanna and Adventure Bay, giving wide, stunning south-westerly views. As you walk look out for Bennetts wallabies, pademelons, echidna and wombats. From November to April each year the short-tailed shearwaters arrive to mate and breed along the shore before heading out on their heroic journey to the northern hemisphere. The lighthouse at Cape Bruny was built between 1836 and 1838 with convict labour. The Bruny Island Ferry Service runs seven days a week and you can check the timetable at (03) 6273 6725.
Bruny Island: Where To Go / Sightseeing
Forestvale Design Centre - Boat Building and Art School
We have developed a number of courses that may present the hands on challenge and interest that you have been looking for.
We have recruited Tasmanian and International artists and crafts people to run programs including traditional North American cedar strip and canvas canoe building, kayak building, wood skills for beginners, oil painting, the basics of house construction, sculpture carving and many more to be confirmed. The courses suit all levels of experience with class sizes that are small and intimate allowing all students the opportunity for personalised attention. There is much to learn from the experienced staff in a safe, relaxed environment.
We have a 220m? gallery, a full wood working shop, naturally lit spaces for painting and a large shed for the boat building and wood working activities.
We are situated on 300 acres of beautiful covenanted forest and grazing land. Our property has an abundance of wildlife and is a bird watchers paradise. We also have a resident white wallaby and deer are seen occasionally passing through.
We serve fresh and delicious home cooked meals from local produce, our vegetable gardens and blueberry and fruit tree orchard.
Come see us and for a remote, unique experience.

79 Dillons Road,
Alonnah
Bruny Island, TAS, 7150
Located 4.0K from Bruny Island
Bruny Island Neck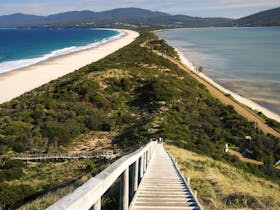 Bruny Island Neck is an isthmus of land connecting north and south Bruny Island in southern Tasmania and offers stunning 360 degree views. Just 40 kilometres from Hobart, Bruny is Tasmania's fourth largest island.
The Neck is an important habitat for Bruny Island's native wildlife. Boardwalks and viewing platforms let you observe short-tailed shearwaters and little penguins (also known as fairy penguins).
You'll see these remarkable birds returning to their burrows in the sand dunes at dusk - little penguins making their way up the beach in tight groups and the shearwaters gliding in from the sea. The best viewing period is during the warmer months of September to February.
There's also a campground just 20 metres from the beach with car parking, picnic facilities and toilets.
Access to the island is by passenger-vehicle ferry from Kettering.
B66
Bruny Island, TAS, 7150
Located 7.2K from Bruny Island
Bruny Island Berry Farm
Bruny Island Berry Farm is located on breathtaking Bruny Island south of Hobart. Enjoy delicious berries, either freshly picked or pick your own. Escape, relax and enjoy the picturesque landscape and stunning beachfront location. Savour our yummy berry ice creams as you wander along the tranquil creek banks or browse in our shop for assorted berry jams, sweets and berry-themed gifts.
Bring your lunch and enjoy a picnic or barbecue amidst the native bush and learn about the farm's history and diverse wildlife. There's something for everyone - we just know you'll love it as much as we do!
We are open late October to April each year from 1000 until 1700. During the peak harvest period, mid December until the end of January we are open seven days. At all other times we are open a minimum of Friday to Sunday and on other days subject to the availability of fruit.
We look forward to seeing you!
526 Adventure Bay Road
Bruny Island, TAS, 7150
Located 7.5K from Bruny Island
Bligh Museum of Pacific Exploration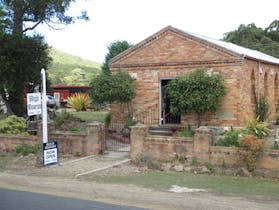 The Bligh Museum is a privately-run history museum at Adventure Bay, Bruny Island. Bruny Island lies off the south coast of Tasmania and is accessed by a 15-minute car ferry from Kettering, a 40-minute drive south of Hobart (34 km).
Built from thousands of convict-made bricks, the Bligh Museum of Pacific Exploration features a specialised collection relating to exploration in the South Pacific. A display of maps, documents, paintings and other artefacts offers a historical record of visits to Adventure Bay by explorers Captain William Bligh, Captain James Cook, Tobias Furneaux, Matthew Flinders and Admiral Joseph-Antoine Bruny D'Entrecasteaux. Notable works by Tobin, Webber and Hodges are also included in the collection. The Museum's foundation stone was laid on 9th September 1955 - the 200th anniversary of Captain William Bligh's birth.
876 Main Road,
Adventure Bay
Bruny Island, TAS, 7150
Located 11.0K from Bruny Island
Hartshorn Distillery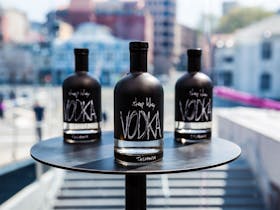 The world's first Sheep Whey Distillery. Hartshorn Distillery is a new Tasmanian micro distillery making boutique batches of Vodka and Gin from our own sheep whey. We are the first in the world to create this unique product. We are proud to be the smallest distillery in Australia making small ten-bottle batches using a 50 litre glass column still. Each bottle and label is hand painted by head distiller Ryan, so you can display it proudly amongst your collection. Ryan and his family run Grandvewe Cheeses in Birchs Bay, located deep in Tasmania's south.
When making cheese, the whey is often discarded and put to little use. Ryan has spent the last two years discovering how to turn the complex sugars held within the whey protein and convert them into a basic sugars to then ferment into alcohol and eventually distil. The resulting distillate has a delicately sweet bouquet and extremely smooth finish, thanks to the dairy influence and complex filtering methods.
59 Devlyns Rd
Birchs Bay, TAS, 7162
Located 12.2K from Bruny Island
Grandvewe Sheep Cheesery
Grandvewe Sheep Farm Cheesery sits in the lush Huon Valley south of Peppermint Bay.
Discover Tasmania's only Sheep Milk Cheesery, where you can meet the sheep, taste up to 15 different cheeses and enjoy a wine while viewing the whole process of cheese making and maturing. From September to March you can see sheep milking demonstrations daily from 4.30pm. Children are welcome to feed and pat the lambs throughout summer. While visiting, why not check out the caf? restaurant, where you can enjoy various seasonal dishes and platters - incorporating our famous cheeses and farm grown smallgoods - on the deck overlooking the spectacular D'Entrecasteaux Channel.
The Cheesery also offers wonderful homemade gourmet delights to take home and enjoy with your cheese.
59 Devlyns Road
Birchs Bay, TAS, 7162
Located 12.2K from Bruny Island
Woodbridge Hill Handweaving Studio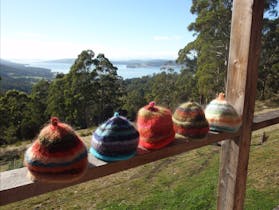 The Woodbridge Hill Handweaving Studio is a textile studio in southern Tasmania. With spectacular views of the D'Entrecasteaux Channel as a backdrop, this small intense textile space lets you experience a weaver's work at the loom.
You may enjoy the colourful display of hand woven, hand dyed and knitted goods made from natural fibres such as alpaca, wool, cotton, silk, mohair and even dog hair. There are luxurious scarves,shawls, throws, vests, shoulder bags, beanies, berets, cushions, rugs and tapestries.
The studio is open most mornings from 0930 to 1300 or by appointment. It is closed on Saturdays.
The Handweaving Studio is just up from the famous Peppermint Bay Restaurant- follow the Highway sign. If you follow the road to the top you will find "Woodbridge Hill Hideaway" and a bit further you will come to the Harzview Wine Centre.
Woodbridge, a coastal town, is a 40-minute drive south of Hobart (43 km).
269 Woodbridge Hill Road,
House and Garden
Woodbridge, TAS, 7162
Located 14.1K from Bruny Island
Hartzview Vineyard Heritage Pickers Hut Village
The Hartzview Vineyard Heritage listed Pickers Hut Village is at Gardners Bay, in Tasmania's South.Take a stroll into history as you enjoy a self-guided discovery walk of the seven different restored small fruit pickers huts that families lived in during the picking season and established in the 1920s. During World War Two, some huts were home to Italian prisoners of war, who replaced agricultural workers serving overseas.
You can also visit the cellar door which is open every day and taste from the estate Reserve Pinot Noir, Chardonnays and the large range of preservative free fruit Ports, Liqueurs (Blackcurrant, Blackberry, Cherry, Blueberry, Raspberry, Tasmanian Cassis) and Mead.
The Vineyard Cafe is also open every day from 1000 to 1700 and serves all day lunches specialising in vineyard and cheese platters. Treat yourself to a delicious Hartzview dessert made especially with one of their fruit Ports or Liqueurs.
At the end of the day, unwind and stay a while to experience true luxury in Hartzview Vineyard's self-contained spa homestead, relaxing in front of the log fire with a platter and glass of Hartzview Pinot Noir.
Gardner's Bay is a 45-minute drive (46 km) south of Hobart.
70 Dillons Road
Gardners Bay, TAS, 7112
Located 16.0K from Bruny Island
Tasmanian House of Whisky, Bruny Island
The Tasmanian House of Whisky, Bruny Island offers a spectacular representation of the Tasmanian Single Malt Whisky Industry, a true Whisky experience, with the most extensive known range of purely Tasmanian Single Malts and home to 'Trappers Hut' 15 year old, Limited Single Cask Release.
For those who love whisky and may not have the time to visit all of Tasmania's distillery's and independent bottlers, we represent all of these amazing award winning single malts in one place. Enjoy with knowledgeable staff who have passion for whisky.
The Tasmanian House of Whisky specialising in Whisky tastings; every whisky is on tasting including Limited Releases, Special Editions and rare Tasmanian Single Malts, Whisky Flights; tempting the taste buds with four of the finest, and Whisky and fine food matching; pairing Tasmania's outstanding single malts with Bruny Island and Tasmanian gourmet foods. The venue offers an intimate environment with an open fire, stunning water views, gourmet platters and a boutique provedore.
360 Lennon Road
Bruny Island, TAS, 7150
Located 16.0K from Bruny Island
Bruny Island: Events
Bruny Island Bird Festival
The Bruny Island Bird Festival provides a fantastic array of nature-based experiences for birdos, budding birdos and nature lovers alike.
People come to Tassie's best tourist destination - Bruny Island - to celebrate the wonder and diversity of our birdlife in vibrant, intact habitats. Bruny Island is a recognised Important Bird Area, home to all twelve endemic Tasmanian birds and the last toehold for 40 spotted pardalotes and Swift Parrots.
Already gaining a reputation, are building the Festival into the premier event and location on the Australian birding calendar.
We are thrilled that our special guest this year is Michael Leunig - national living treasure, cartoonist, poet and devout nature lover.
Event Dates
2016
      14th Oct
      15th Oct
      16th Oct
      17th Oct
730 Adventure Bay Road
Adventure Bay, TAS, 7150
Located 10.0K from Bruny Island
Bruny Island Map
Bruny Island Map - Legend

Multiple Hotels

Hotel
Click on the map markers for more information. Hover over the map to zoom in & out or see satellite & terrain views.