Deloraine Accommodation, Hotels, Tours & Information
Deloraine
Deloraine, at the foot of the Great Western Tiers in Tasmania's central north, is classified by the National Trust, and you'll see why the moment you enter. The bridge, Bonney's Inn and the Baptist Tabernacle are just a few of the historic features that give this riverside village its charm. Deloraine's resident population of just about 2,000 swells by 30,000 around November each year when Australia's biggest working craft fair comes to town. With more than 200 exhibitors, four days seem hardly enough time to take it all in. Indulge in some of Tasmania's finest food and wine, try your hand at candle wicking, watch as kites and kaleidoscopes are crafted before your eyes and talk to the creators of fine silkscreen paintings, woodcarvings, lead lights, and hand-blown glassware. If you can't make it during fair time, you'll find a wide selection of fine arts and crafts year-round at the many local galleries. In an easy day-trip from Deloraine you can tour the limestone caves of Mole Creek Karst National Park with its limestone caves, visit Liffey Falls, watch Tasmanian devils being fed at Trowunna Wildlife Park and still have time for a delicious meal of berries with everything at the Christmas Hills Raspberry Farm. Also nearby is Stephens Honey, where you can taste Tasmania's distinctive leatherwood honey, and Ashgrove Cheese Factory selling both traditional cheeses such as Lancashire and contemporary flavours including pepperberry and wasabi. Just north of Deloraine, past Elizabeth Town, stop in at Christmas Hills Raspberry Farm for all this raspberry picked on site and then drop in at Ashgrove Cheeses. Deloraine was explored in 1823 by Captain Rolland and was named after a character in a poem by Sir Walter Scott. Tasmania's first rail link was laid between Launceston and Deloraine. Deloraine's average maximum temperature in January is 21.5 degrees Celsius (70.5 degrees Fahrenheit), while in June it's 11 degrees Celsius (52 degrees Fahrenheit). To get to Deloraine, take Highway 1 from Devonport or the B54 from Launceston. It's a 30 minute drive from either direction.
Deloraine: Where To Go / Sightseeing
Bismarck Metal Craft
Bismarck Metal Craft is a maker of quality fine steel products in Deloraine, Northern Tasmania. It is a Tasmanian producer of knives, swords, cutlery, armour and other products.
Bismarck Metal Craft operate a gallery displaying the handcrafted pieces, open to the public. Bismarck Metal Craft is an Australian registered craft business, in operation since 1988, owned and operated by Ken Bradford. The aim of the business is to produce fine quality edge ware using modern steel. Each piece is crafted to an exceptional standard and all blades are heat treated professionally.
Wander through the gallery and if you choose to purchase, a certificate of origin will be presented. This confirms that it is a collector's piece as well as a user piece, guaranteeing the quality. Bismarck Metal Craft does not produce pieces that are illegal or restricted in any state of Australia. The Gallery contains both previous works and works that are for sale. While you are in the area, wander the quaint township of Deloraine, marvel at the Great Western Tiers mountain range or even take a day trip to majestic Cradle Mountain.
Deloraine is approximately a 40-minute drive (53 km) west from Launceston.
6 Grigg Street
Deloraine, TAS, 7304
Located 0.5K from Deloraine
Westbury Silhouette Trail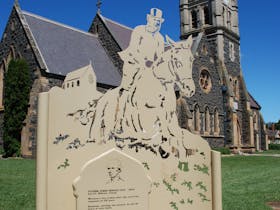 Eight exquisite artworks depicting treasured characters of the Westbury community. The characters celebrated are examples of the many inspirational lives that have built the community. Quirky, skilful, stylish, bold and compassionate - they reveal strands of humanity that bind communities and from which all good things grow. Westbury's story is deeply embedded in British colonialism and Irish culture; formed by the dedication of early Irish clergy and the toil of convict, soldier and free settler alike.
98 Emu Bay Road
Deloraine, TAS, 7304
Located 0.5K from Deloraine
Sculpture Trail - Great Western Tiers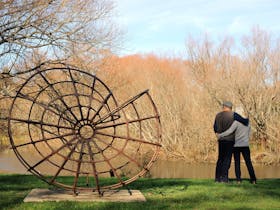 The Great Western Tiers Sculpture Trail is a series of sculptures in and around Deloraine, Northern Tasmania. Deloraine is a 30-minute drive west of Launceston (48 km) and a 40-minute drive south-east of Devonport (51 km).
The Great Western Tiers form the northern face of Tasmania's Central Plateau, rising up to 1,420 metres above sea level. The innovative Great Western Tiers Sculpture Trail emerged in Deloraine in 2002 as a celebration of the region's natural beauty and cultural diversity. You can follow the Sculpture Trail through the streets of Deloraine and along the banks of the Meander River to sites including Marakoopa Cave, King Solomons Cave, Alum Cliffs, Devils Gullet and Mole Creek. You'll see dozens of diverse creations by gifted Tasmanian artists, each combining with the landscape to make a profound and moving statement about the essence of this beautiful region. A map of the Great Western Tiers Sculpture Trail is available at the Great Western Tiers Visitor Centre in Deloraine.
Deloraine is a key regional art and craft centre in Tasmania and each November hosts the Tasmanian Craft Fair - a four-day event which draws artisans, crafts people and visual artists from throughout Australia and internationally.
98 Emu Bay Road
Deloraine, TAS, 7304
Located 0.5K from Deloraine
Yarns Artwork in Silk
This large-scale textile treasure has been created in four panels, each measuring three-and-a-half metres by four metres. Crafted by more than 300 local artists, it took 10,000 hours and 200 metres of hand-dyed silk to complete. The artists have employed a number of techniques including embroidery, cross stitch, weaving, patchwork and quilting to create Yarns. Yarns Artwork in Silk tells the story of the local area - exploring its history, landscape and culture. The display includes an audiovisual presentation which expands on the work.
Deloraine and the surrounding district is one of Tasmania's most significant regional centres for art and crafts. Visit today and be amazed and inspired!
98 Emu Bay Road
Deloraine, TAS, 7304
Located 0.5K from Deloraine
Deloraine and District Folk Museum
The Deloraine and District Folk Museum was opened as the Family and Commercial Inn in 1864. Today it reflects the life of the country publican and his family. Housed in the extensive garden is a Pioneer Walk where you can view reproduction and reclaimed heritage buildings showcasing the lives, tools and farming equipment of early settlers. A new exhibition about chair maker, Jimmy Possum, is now open. Who was Jimmy Possum? Come along and learn about this Deloraine mystery.
The museum is located at the Great Western Tiers Visitor Centre, 98-100 Emu Bay Road, Deloraine.
98 Emu Bay Road
Deloraine, TAS, 7304
Located 0.5K from Deloraine
Deloraine Golf Course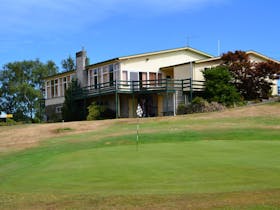 Deloraine Golf Course is a nine-hole course located in Tasmania's north-west historic town of Deloraine.
The 18-tee course features a challenging par three over a strategically placed dam. Lined with trees, the course has stunning views of Quamby Bluff and the Great Western Tiers mountain range. The Deloraine Golf Course is open to the public seven days a week. There is a clubhouse with fully-stocked bar and kitchen.
Test your skills on the two par fives and the longer par fours which challenge even the best of golfers. Enjoy the afternoon in peaceful surrounds and head into the clubhouse for a quiet drink after your round. While you are in Deloraine, visit nearby wineries or take a day trip to Cradle Mountain and walk in the wilderness. You may also like to explore the Limestone caves at Mole Creek.
Deloraine is approximately a 45-minute drive west from Launceston (53 km).
1263 Osmaston Road
Deloraine, TAS, 7304
Located 3.8K from Deloraine
Honey Farm - The
Discover the tastes, flavours and textures of honey at The Honey Farm in Chudleigh, Tasmania. Nestled under the Great Western Tiers mountain range, the vibrant cartoon bees adorning the building are difficult to miss.
Inside you will be taken on a journey of discovery into the amazing world of the honeybee. There are over 50 different honeys to taste, from single origin honeys, such as Tasmanian Leatherwood, to indulgent gourmet delights like the rich Honey Chocolate Paste.
After tasting the honeys, explore the secrets of the hive with audio-visual and interactive displays. A feature is the glass beehive. Watch the bees busily producing honey, try to spot the queen bee and maybe even watch a newly born bee hatching from its cell- all from behind the safety of glass.
Not only does The Honey Farm have the widest range of honey available in Tasmania, but also a unique range of honeybee related giftware, skincare products for both therapeutic and cosmetic use, and health-boosting Apitherapy products such as Propolis, Royal Jelly, Bee Pollen and Manuka Honey. Tastings and entry to The Honey Farm are free.
The village of Chudleigh is just under a one-hour drive west of Launceston (64 km).
39 Sorell Street
Chudleigh, TAS, 7304
Located 14.9K from Deloraine
Deloraine: Events
Tasmanian Craft Fair 2017
The Tasmanian Craft Fair is the largest working display of arts and crafts in Australia with more than 200 artists and artisans and 20,000 annual visitors.
Every year since 1981, TCF visitors have been treated to fine art displays, craft stalls, gourmet food, entertainment and children's fun activities as well as working craft displays.
The TCF is held in the picturesque northern Tasmanian town of Deloraine and runs for 4 days over the first weekend in November.
Event Dates
2017
      3rd Nov
      4th Nov
      5th Nov
      6th Nov
Alveston Drive
Deloraine, TAS, 7304
Located 0.7K from Deloraine
Deloraine Show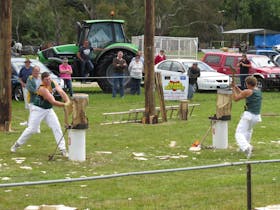 Horses, Poultry, Wood Chopping, Home Industries, Cattle, Sheep Judging and Side Show Alley
Come one, come all to the Deloraine Show and celebrate Tasmania's primary industries and enjoy the breeder competitions, industry displays, side-show rides and show bags.
The Deloraine Agricultural Show will include showing horses and poultry, wood chopping and home industries, cattle and sheep judging and of course the side shows.
Side-show-ally rides will keep the "bigger kids" entertained. There will be a huge range of show bags full of chocolates, sweets, toys and novelties.
You will be able to experience the traditional Show food favourites like fairy floss and dagwood dogs.
Event Dates
2017
      25th Nov
Highland Lakes Road
Deloraine, TAS, 7304
Located 1.1K from Deloraine
Deloraine: Travel Tips
Great Western Tiers Visitor Centre
Let the Great Western Tiers Visitor Centre help you discover the magic of the Meander Valley. Talk to a local and learn about the wonderful things to see and do in the Great Western Tiers. Open seven days a week from 0900 to 1700, and 0800 to 1800 in summer, we are well placed to assist you with all your travelling needs. Not sure where to go? The Centre can prepare a free itinerary for you and help with all your tour and accommodation bookings. Whatever your interest - walks, heritage, gourmet food, wildlife, arts and crafts, we know all the best places! Come and explore the history and mystery of the Great Western Tiers.
98 Emu Bay Road
Deloraine, TAS, 7304
Located 0.5K from Deloraine
Deloraine Map
Deloraine Map - Legend

Multiple Hotels

Hotel
Click on the map markers for more information. Hover over the map to zoom in & out or see satellite & terrain views.