Greens Beach Accommodation, Hotels, Tours & Information
Greens Beach
Approximately 60 kilometres (37 miles) north-west of Launceston and at the mouth of the Tamar River lies Greens Beach, a take-off point for Narawntapu National Park. Narawntapu National Park has three access points at Bakers Beach, Badger Head and Greens Beach. The latter has to be the best reward for least effort; from the carpark it is an easy 270 metre (295 yard) walk to the West Head lookout for spectacular clifftop views along Badger Head beach and beyond westward as far as Table Cape and the Dial Ranges behind Ulverstone. Discover nearby Kelso Beach and enjoy a great spot for fishing. You can access Garden Island on Clarence Point, now a barren lookout point at the mouth of the Tamar River. It was excavated and backfilled towards the shore to improve the shipping channel in the river. There are plenty of oysters and good fishing here and it is also a scenic lookout.
Greens Beach: Where To Go / Sightseeing
Greens Beach Golf Course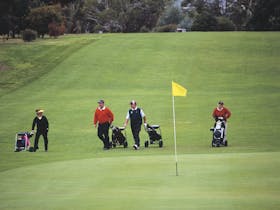 Greens Beach Golf Course is a nine-hole course situated on the coast, in Tasmania's north-east.
Situated by the sea on Bass Strait, this course (par 72) features undulating, heavily tree-lined fairways with many strategically placed bunkers. This popular course is maintained in excellent condition all year round. Social groups, visitors and new members are welcome. Clubhouse bar and barbecue facilities are available seven days a week.
Greens Beach is a take-off point for Narawntapu National Park. If you are staying in the area, be sure to explore the impressive national park and beaches of the northeast region.
Greens Beach is approximately 70 km north-west of Launceston and at the mouth of the Tamar River.
1764 Greens Beach Road
Greens Beach, TAS, 7270
Located 0.4K from Greens Beach
Low Head Foghorn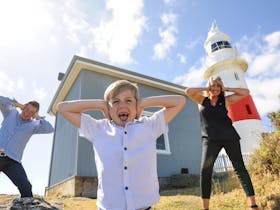 Each Sunday at noon, come and hear "the magnificent roar of a thousand elephants" echo through the Low Head area and beyond.
The Low Head Foghorn, at the mouth of the Tamar River, is a unique piece of Tasmania's maritime history.
The Foghorn was installed in 1929 and decommissioned in 1973. It was restored in early 2000 by a group of volunteers. It is the only operational G-type diaphone in the world. The building also houses a very rare Gardner model 2 DCR kerosene engine.
Under ideal conditions the Foghorn can be heard approximately 30 km out to sea.
Hearing protection is recommended.
Enjoy the beautiful sea views from the headland and feel free to have a chat with the volunteers in attendance every Sunday at noon. At other times, use the QR codes on the signage to experience this unique attraction.
The associated Lighthouse was built in 1888, replacing the original 1833 convict-built structure. With an elevation of 43 m, it dominates the headland.
Nearby, is the Low Head Pilot Station, commencing in 1805, it continues to provide pilotage for visiting ships.
You can visit the Maritime Museum and a have a light meal at the Coxswain's Cafe.

Light House Precinct
Low Head, TAS, 7253
Located 5.4K from Greens Beach
Low Head Pilot Station Maritime Museum
On the picturesque Low Head Peninsula at the mouth of the Tamar River is Australia's oldest pilot station, dating from 1806. It is a delightful collection of cottages in a beautiful setting. The Museum occupies the 1835 convict-built Pilots' Row, the oldest and largest building on the site. It tells stories of shipping on the Tamar River, and has an extensive display of relics from the days of sail and steam.
The museum is a delight for families, having something of interest for people of all ages. Children are encouraged to handle the ship's helm, operate the engine room telegraphs, sound the fog horn, ring the ship's bell and send messages in Morse Code. There is a collection of small craft in the boatshed (open on request) and other exhibits around the grounds.
Continue to the headland, past the old cable station to Australia's third oldest light station, with its grand lighthouse. Here is the only operating G-type fog horn in the Southern Hemisphere. It sounds at noon each Sunday.
Low Head is less than an hour from Launceston along the East Tamar Highway and only five kilometres from George Town which has museums, good accommodation and shopping facilities.
399 Low Head Road
Low Head, TAS, 7253
Located 5.4K from Greens Beach
Tamar Valley Art Shack
Tamar Valley Art Shack is a working art studio and gallery at Clarence Point, a short drive from Launceston. The gallery is a member of the Tamar Valley Art Trail and is set in the Tamar Valley Wine Route.
The gallery rests on the edge of the Tamar River in a unique waterfront setting.
The Art Shack's surrounds are a continuing source of inspiration for the owner/artist Dan Villiers. Light and water form continuing themes throughout his work. You can talk with Dan about how he selects his subjects, see how he prepares his work, and discuss other aspects of art technique.
Dan paints in pastel, acrylic, pencil, and encaustic (beeswax and resin).
At the Art Shack you will also find art, ceramics and craft by other Tasmanian artisans.
This is not a formal gallery in a hushed environment. Echoing its origins as a family beach house, you will find large airy rooms flooded with sunshine. Step outside into a naturally landscaped seaside garden. Relax in and around the gallery, and share in the simplicity and pleasure of art and life at the waterside.
Clarence Point is a 52-minute drive (57km) north-west of Launceston.
147B Bevic Road
Clarence Point, TAS, 7270
Located 6.0K from Greens Beach
kanamaluka Trail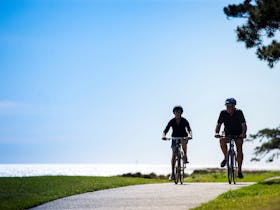 To know Tasmania, is to know its coastline, and this has never been so accessible since the opening of the kanamaluka Trail. Running 6kms from George Town to Low Head, the trail takes in some of the most beautiful and interesting sights of the Tamar Valley - Lagoon Beach, Windmill Point and York Cove. Along its route are museums, historic buildings, nature reserves and the shopping precinct. Continuing to attract tourists and locals, the kanamaluka Trail is enjoyed for walking and cycling and gentle recreational exercise.
Contact the Visitor Information Centre if you wish to hire a bike and ride from George Towns York cove to Low Head's Light House.... what other way would you experience it.
Esplanade North
George Town, TAS, 7253
Located 6.5K from Greens Beach
Bass and Flinders Centre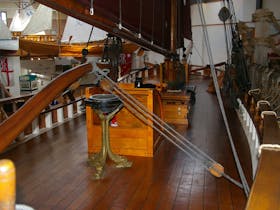 The Bass and Flinders Centre is centrally located in George Town on Tasmania's Tamar River. In 1798, the explorers Bass and Flinders were dispatched to 'Van Diemen's Land' to ascertain if Tasmania was an island or not. They sailed with a crew of eight in Her Majesty's Colonial Sloop Norfolk right into the Tamar River and anchored off what is now George Town.
In 1998, Bern Cuthbertson in the replica Norfolk, re-enacted the Bass and Flinders journey. Like Bass and Flinders, Bern established a relationship with George Town and asked if she could be berthed on the banks of the Tamar at George Town.
Bern and his team of volunteers in Hobart constructed the replica Norfolk. The hull is Huon Pine and the mast and deck are made out of Celery Top Pine. Not a screw or a nail was used - trunnels or treenails hold the vessel together.
The Bass and Flinders Centre is now the home of the replica sloop 'Norfolk', together with the 'Elizabeth', a replica of the whale boat rowed by James Kelly around Tasmania; the ex-naval cutter 'Kenneth Dickenson'; two old racing 'fours'; a banana boat surfboard and the gentle 'Melanie' and many more.
8 Elizabeth Street
George Town, TAS, 7253
Located 7.0K from Greens Beach
Watch House - The
The Watch House at George Town in Northern Tasmania is the historic old gaol site and features a range of display's conveying the regions rich history.
The present building was built in 1843 and was reopened in 2004 as part of George Town's Bicentenary of European settlement. Features include a wonderful model village which allows visitors to imagine what early nineteenth century life was like in George Town, the acclaimed 'Departures and Arrivals' display describing the Female Factories and links to the convict experience, and a primitive cell where visitors can enter to get an idea of the tough life of prisoners awaiting trial. The Community History Room contains a wealth of local information for historians and those researching their ancestry.
The Watch House also houses changing displays featuring the best in Tasmanian arts and crafts.
Whether you are a local, former resident or first-time visitor to George Town, you are sure to find something of interest at The Watch House.
Corner of Sorell Street and Macquarie Street
George Town, TAS, 7253
Located 7.2K from Greens Beach
Greens Beach: Events
George Town Garden Club Open Gardens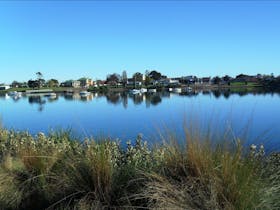 George Town is renowned for it's beautiful gardens, innovative trails and it's history.
Our Open Gardens event allows you to wander through gardens being showcased, whilst enjoying the ambience of the area.
Situated on the picturesque Tamar River, there are river, ocean and country landscapes to be explored.

Event Dates
2017
      29th Oct
George Town, TAS, 7253
Located 7.0K from Greens Beach
2017 Spirit of Tasmania Cycling Tour - Stage 1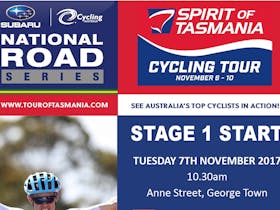 Council is proud to partner with GTR Events to host Stage 1 of the Spirit of Tasmania Cycling Tour.
Being held on Tuesday 7th November 2017, the event will see Australia's top cyclists and our up and coming cycling stars of the future commence their 2017 Cycling Tour.
Pre event activities will be held from 9.45am, with racing to commence at 10.30am.
Event Dates
2017
      7th Nov
18 Anne Street
George Town, TAS, 7253
Located 7.0K from Greens Beach
Greens Beach: Travel Tips
George Town Visitor Centre
The George Town Visitor Information Centre helps over 10,000 people a year with their bookings and travel arrangements. The staff are all local experts, experienced in what Provincial Tamar has to offer and knowledgeable on all the area's attractions, tours and places to stay.
If you have your holiday planned and just need to make your bookings, or are still in the early stages of planning and simply want some top tips on making the most of your time in Tasmania, then get in touch with Shirley and the team at the Information Centre!
Open seven days a week, 0900 to 1600 during Daylight Savings Time and 0900 to 1500 through the winter.
George Town is a 35-minute drive from Launceston on the A8 East Tamar Highway.
92 - 96 Main Road
George Town, TAS, 7253
Located 7.6K from Greens Beach
Greens Beach Map
Greens Beach Map - Legend

Multiple Hotels

Hotel
Click on the map markers for more information. Hover over the map to zoom in & out or see satellite & terrain views.