Latrobe Accommodation, Hotels, Tours & Information
Latrobe
Follow the twists and turns of the Mersey River and you will soon reach Latrobe, the former port of the north-west coast. Once the bustling town of its time, it is now a much smaller neighbour to Devonport. Latrobe's population of 2,700 does not include its platypus inhabitants. The town is known as the platypus capital of the world, and you may be lucky enough to spot one of the flat-billed creatures in the Warrawee Reserve. Latrobe comes to life with various festivals throughout the year, including the Chocolate Winterfest held at the House of Anvers Chocolate, Frogmore Fair, and Henley on the Mersey, held annually on Australia Day and featuring a family favourite and the ferret race. Latrobe's impressive list of achievements includes having the country's oldest continuously playing brass band and richest wheel race, and being the birthplace of competitive wood chopping. The Australian Axeman's Hall of Fame, on Bells Parade, is a tribute to this chopping heritage. Bells Parade is also the site of the former port and is now a favourite picnic spot for locals and visitors. It is particularly beautiful in autumn when the deciduous trees shed their leaves. The town has 76 heritage-listed buildings, which can be explored on an historic walk down Gilbert Street. The former Wyndarra Lodge on the Bass Highway has been converted into a café and chocolate factory. Chocoholics beware, the House of Anvers has a tasting centre choc-full of sweet delicacies. Latrobe was settled in 1826 by Edward Carr, and grew quickly because it was the first accessible crossing point of the Mersey River. The town was once the third largest in Tasmania, but declined when a railway was built between Launceston and Devonport. The weather in Latrobe is similar to Devonport's, averaging 21.5 degrees Celsius (70.5 degree Fahrenheit) in January and 13 degrees Celsius (55.5 degrees Fahrenheit) in June. Latrobe is 11 kilometres (seven miles) south of Devonport, on the eastern bank of the Mersey River.
Latrobe: Where To Go / Sightseeing
Monclair of Latrobe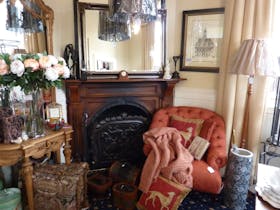 Monclairs of Latrobe for collectors of beautiful things.
Housed in an 1870's renovated bank building, Mike and Kerrie Thompson have created a unique shopping experience. With a genuine love for antiques and fine decor, you will find this store brimming with ideas for your home and gifts, or that special someone in your life.
You will be warmly welcomed by Monclairs friendly and helpful staff, and invited to browse the multi themed rooms. You will find a country influence, a little touch of Paris, fine antique furniture, as well as a touch of art deco. All teamed with new and old decorator pieces for those finishing touches to your home.
Be illuminated by the wonderful array of lamps, lamp shades, light fittings and chandeliers in store and reflect on the stunning selection of mirrors available. Feel the warmth of Australian made Mohair throws and blankets and slip into some luxurious linen for your bedroom. You will be able to set the finest table in town with stunning table linen, crockery and cutlery and make a toast in beautiful hand crafted Italian glasses.
Latrobe is a ten-minute drive (11 km) south of Devonport.

78 Gilbert Street
Latrobe, TAS, 7307
Located 0.1K from Latrobe
Dooleys Hill Forest Walk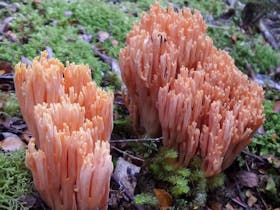 A series of short walking trails through native forest on the edge of Latrobe township. Dooleys Hill is an ideal place for birdwatching. Birds common to the area include the boobook, bronzewing, kookaburra, fairy wren and firetail. You may also see the rare white goshawk. The trails are short and easy and the paths well formed. Walks require between 15 minutes and 1 hour 10 minutes to complete.
Gilbert Street
Latrobe, TAS, 7307
Located 0.3K from Latrobe
Latrobe Market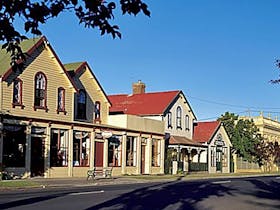 The Latrobe Market is a community street market in North West Tasmania. Latrobe is a 15-minute drive south-east of Devonport (15 km) and a short drive from the Spirit of Tasmania terminal and Devonport airport.
The Latrobe Market takes place each Sunday from 0700 until 1500. You can browse stalls filled with antiques, crafts and collectables and original artwork by local artisans. Stock up at tables laden with organic fruit and vegetables, fresh herbs and fragrant flowers. Sample fresh Tasmanian produce and home made preserves and mingle with the locals in a great community atmosphere.
You can take a self-guided walk around Latrobe to see some of the town's many historic buildings. Browse through the many galleries and craft shops, take a platypus-spotting tour and make sure you call in to the House of Anvers chocolate factory to sample mouth watering truffles and fudges.

Opposite Council Chambers,
Gilbert Street
Latrobe, TAS, 7307
Located 0.4K from Latrobe
Tasmanian Makers Market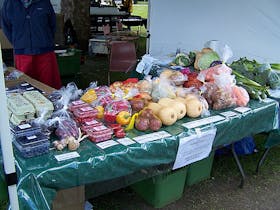 Tasmanian Makers Market is held every Sunday at the Australian Axeman's Hall Of Fame, Latrobe.
The market runs from 0900 to 1500 and offers local and Tasmanian art, crafts, jewellery, soaps, hand spun wool and home-made cakes. You will also find local produce including honey, organic fruit and vegetables, pickles, chutney, relish, jellies and jam.
Latrobe is a ten-minute drive from Devonport.
Bells Parade
Latrobe, TAS, 7307
Located 0.9K from Latrobe
Australian Axeman's Hall of Fame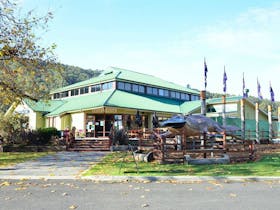 The Australian Axeman's Hall of Fame is a tourist and function centre in Latrobe, Tasmania.
Tasmania's first national Hall of Fame portrays the history, exploits and achievements of Australian's internationally renowned sporting wood choppers. It provides a magnificent insight into the realms of Australia's world champion axemen. Marvel at the unbelievable collection of trophies, treasures and memorabilia. The Hall of Fame includes Splinters caf?, indoor wood chopping arena, gift shop, visitor information service and function centre.
There is a large selection of angler's maps available free of charge. Fishing licences available for purchase.
The Australian Axeman's Hall of Fame can be used for special events including weddings, art exhibitions, meetings and music performances.
It is only a ten-minute drive from the Spirit of Tasmania ferry terminal and Devonport airport.
Bells Parade
Latrobe, TAS, 7307
Located 0.9K from Latrobe
Latrobe: Events
ANZAC Day Citizens Commemorative Service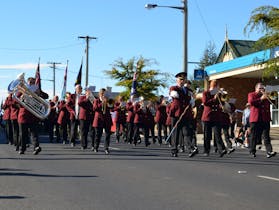 Every year, residents and visitors alike standing side by side around the Latrobe Cenotaph are drawn to the roadside as the National award winning Latrobe Federal Band lead the march or returned veterans and community groups to the site.
The atmosphere is electric as honour is paid to those that have contributed to their country in a variety of ways.
Come and join this important commemoration on Australia's calendar.
Event Dates
2017
      25th Apr
115 Gilbert Street
Latrobe, TAS, 7307
Located 0.1K from Latrobe
Chocolate Winterfest, Latrobe
Chocolate Winterfest is Latrobe's wickedly delicious festival celebrating all things chocolate.
It is no coincidence that the Latin name for cocoa, from which chocolate is made, translates as "food of the gods". Some cultures even valued chocolate more than gold, and who could blame them. Just the mere mention of chocolate turns heads and that's what Chocolate Winterfest, Latrobe will do to you.
Chocolate Winterfest, Latrobe will indulge, inform, astound, amuse but above all celebrate chocolate as you escape from the bleakness of winter. Be indulged by events individually or successively as you immerse in this chocolate experience.
Don't deny one of life's pleasures - join us at Latrobe on the central northern coast of Tasmania for this unique celebration.
Event Dates
2017
      13th Aug
Latrobe, TAS, 7307
Located 0.4K from Latrobe
Tasmanian Makers Market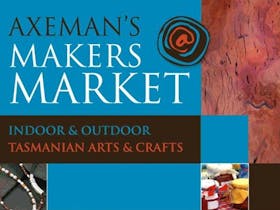 Come along to the Tasmanian Makers Market featuring local and Tasmanian handmade candles, glass art, hand spun wool, paintings, sculptures, handmade jewellery, handmade soaps, quilting, homemade cakes, and woodturning. Also for sale will be local produce including honey, meat, fruit and vegetables, jams and much more. Come for breakfast and stay for lunch.
For stall enquires contact Peter on 0419871131 or Frank on 0417732934.
Event Dates
2016
      2nd Oct
      9th Oct
      16th Oct
      23rd Oct
      30th Oct
      6th Nov
      13th Nov
      20th Nov
      27th Nov
      4th Dec
      11th Dec
      18th Dec
      25th Dec
2017
      1st Jan
      8th Jan
      15th Jan
      22nd Jan
      29th Jan
      5th Feb
      12th Feb
      19th Feb
      26th Feb
      5th Mar
      12th Mar
      19th Mar
      26th Mar
      2nd Apr
      9th Apr
      16th Apr
Bells Parade
Latrobe, TAS, 7307
Located 0.9K from Latrobe
Henley-on-Mersey
Celebrate Australia's proud heritage and pioneering spirit as well as our unique quirkiness at Henley on the Mersey.
Try your hand at archery, whip cracking, sheaf tossing, egg throwing, scarecrow competition and the hurdy-gurdy.
A major feature of our program are the annual ferret races; this involves the ferrets being placed in one end of a long pipe that traverses up and down and around hay bales, with the first ferret to fully emerge from the pipe at the other end being the winner.
There are quite some anxious moments when the ferret starts to emerge, the crowd roars with delight and the ferret promptly retreats back into the pipe. There are also the delightful ferret fashion parade and ferret 'chocolate wheel' in which visitors and participants can win great prizes.
Event Dates
2017
      26th Jan
Bells Parade
Latrobe, TAS, 7307
Located 0.9K from Latrobe
Latrobe: Travel Tips
Latrobe Visitor Information Centre
Latrobe Visitor Information Centre in Tasmania's northwest specialises in information on Latrobe and Port Sorell. Visit the centre for all your travel needs - bookings, advice, ideas, the 'must see and do's' or just have a chat.
Enjoy the relaxed setting in the historic streetscape of Latrobe while you receive great personal service by the friendly staff and knowledgeable volunteers seven days a week.
Bells Parade
Latrobe, TAS, 7307
Located 0.8K from Latrobe
Latrobe Map
Latrobe Map - Legend

Multiple Hotels

Hotel
Click on the map markers for more information. Hover over the map to zoom in & out or see satellite & terrain views.