Whale Shark Cruise - Swimmer
Ningaloo Whaleshark Swim

- Exmouth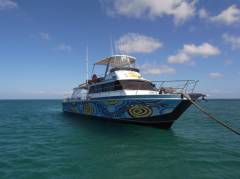 Whale Shark Adventure
Departure Days:
01APR-31 AUG: Daily except 05-25APR, 03-05JUN, 28JUN-18JUL, 01-06AUG.
SEP- MAR: Not operating.
Departure Point:
Tantabiddi Boat Ramp.
Pickup:
Exmouth accommodation.
Dropoff:
Exmouth accommodation.
Meals:
- Lunch.
- Morning and afternoon tea.
Not Included:
- Scuba diving.
- Underwater camera hire.
- Try Scuba dives.
- Scooter tours.
- License fees (AUD18.00 per passenger subject to change)
Inclusions:
- Hotel pick up and drop off.
- All instruction and briefings through the day (reef safety, marine ecology, history of the area etc).
- Exclusive use of spotter plane to find whale sharks.
- Snorkelling equipment.
- Snorkel on the Ningaloo reef with the possibility to see turtles, mantra rays and an array of fish, coral and other marine life.
- Opportunity to snorkel with the whalesharks.

What To Bring:
- Swimwear.
- Towel.
- Sunglasses.
- Hat.
- Sunscreen.
- Sunsmart clothing.
- Camera.
- Credit card or cash for purchases.
- Seasickness medication.
Itinerary:
Valid for 01APR17-31MAR19:
A Ningaloo Whalesharks coach will pick you up from your hotel for the transfer to Tantabiddi port, the departure point of your cruise. At 8:00am board your vessel to commence a full day Whale Shark cruise. Head out into the Ningaloo Reef in search of whale sharks, with the aid of an exclusive spotter plane. First enjoy snorkelling through the amazing corals of the Ningaloo Reef, then once the whale sharks are spotted, you will have the opportunity to swim with these gentle giants. All snorkelling gear is included. Head into the inner reef and enjoy lunch onboard. In the afternoon, enjoy a last snorkel on the coral gardens of the Ningaloo Reef. On the cruise back to Tantabiddi, look out for dolphins, turtles and dugongs. Cruise concludes at approximately 4.00pm, at which time hotel drop offs will commence.

Child Policy:
Valid for 01APR17-31MAR19:
Whale Shark Cruise: Observer
Infant: 0-1 year inclusive - not catered for.
Infant: 2-5 years inclusive - free of charge.
Child: 6-16 years inclusive - adult rates apply.

Whale Shark Cruise: Swimmer
Infant: 0-5 year inclusive - not catered for.
Child: 6-16 years inclusive - child rates apply.

Important Information: