Full Day 4WD Arnhemland Tour ex Jabiru
Lords Kakadu and Arnhemland Safaris - Jabiru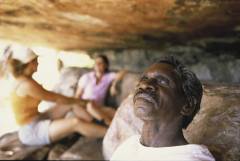 Lords Safaris
Departure Days:
Monday to Saturday from 01 May to 31 October except Public holidays.
Departure Point:
Jabiru accommodation.
Pickup:
Jabiru accommodation.
Dropoff:
Jabiru accommodation.
Inclusions:
- Aboriginal guide whilst in Arnhem Land.
- Injalak Hill.
- Gunbalanya.
- Injalak Arts and Craft Centre.

What to bring:
- Good walking shoes or boots.
- Large water bottle.
- Hat, sunglass and sunscreen.
- Insect repellent.
- Camera gear.
- Binoculars.
Itinerary:
Valid for 01APR15-31MAR17:
A Lords Kakadu and Arnhemland Safaris vehicle will pick you up from your hotel to commence a Full Day 4WD Arnehmland Tour. Today visit Aboriginal Lands (Arnhem Land). Access to this area is restricted to a select group of tour operators. Visitors to Arnhem Land are able to experience a fascinating mixture of traditional and living culture. It is an area that is perhaps the one area in Australia where indigenous culture is still dominant, despite a long history of interaction with other cultures.
Arnhem Land today has weathered all the storms and it has managed to stay as a last frontier and homeland of around 20,000 people. While in Arnhem Land, a traditional Aboriginal guide will show excellent examples of rock art on Injalak Hill (Long Tom Dreaming). This area has some of the best rock art examples in Western Arnhem Land and some say Australia. The view from the top of the hill is simply breathtaking, looking out across the floodplains and around the escarpment. When we farewell our Aboriginal guide back at the award-winning Injalak Art and Craft Centre, there is an opportunity to browse or purchase goods from this non-profit Aboriginal organisation. There is also the opportunity to watch the traditional Aboriginal people painting and to see the women weaving pandanus baskets. This afternoon we are privileged to have access into the valley, with its stunning scenery of billabongs, birds, escarpment this is truly a place where you can escape and experience this unique untouched haven of the Northern Territory.

Child Policy:
Valid for 01APR16-31MAR17:
Child: 0-4 years - not catered for.
Child: 5-14 years - child rates apply.

Important Information:
Does Not Operate:
- Tour does not operate Sundays and does not operate from 01 April to 30 April and from 01 November to 31 March.

Fitness:
- This tour involves walking over uneven surfaces and sandy rocks. Extreme caution should be taken and a level of agility is required to enjoy and make the most of this tour. Suitable for active people.
Does Not Operate:
- Tour does not operate on Public Holidays: 02MAY, 13JUN, 22JUL, 01AUG.