The Bridge Climb - Express Day Climb
BridgeClimb

- Sydney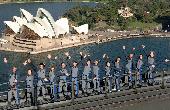 | | | |
| --- | --- | --- |
| Cost: | | A$596 (2 Passengers) |
Duration:
2 hours and 15 minutes.
Departure Days:
Daily excluding 30DEC, 31DEC.
Note: Christmas Day climbs are only available from 4:00pm onwards.
Departure Time:
Climbs depart approximately between 9:00am - 10:00am, 1:00pm - 2:00pm, 4:00pm - 5:00pm, 5:00pm - 6:00pm. (depending on time of year and demand, details to be reconfirmed at the time of booking).
Departure Point:
3 Cumberland Street, The Rocks.
| | | |
| --- | --- | --- |
| Cost: | | A$596 (2 Passengers) |
Inclusions:
- Climb to the top of the Sydney Harbour Bridge.
- Complimentary group photograph.
- Commemorative climber certificate.
Itinerary:
BridgeClimb has introduced the Express Climb. This Climb is ideal for people who have limited time available to experience the Sydney Harbour Bridge. The Express Climb will ideally suit visitors on a short stay in Sydney and corporate groups. BridgeClimb has streamlined operations to allow Climbers to enjoy BridgeClimb's signature experience over a shorter period of time. The Express Climb is customised to depart as the first Climb of each day and is 2 hours 15 minutes in duration and limited to 12 Climbers per Climb group.

Child Policy:
Valid for 01APR16-31MAR19:
Child: 0-7 years inclusive - not permitted to climb.
Child: 8-15 years inclusive - child rates apply.
- One paying adult climber (accompanying adult) must accompany every 3 climbers between the age of 8 to 15 years inclusive.
- Form to be completed by a parent or a guardian for children aged between 8-15 years old.

Important Information:
Valid for 01APR16-31MAR19:
Climb Time:
- Climb time varies depending on time of travel. Please reconfirm departure time at time of booking.
- Climbers must report to Climber Relations 15 minutes prior to scheduled climb time.

Child Information:
- Children must be accompanied by an adult climber at all times, a minimum of 3 children per adult.

To complete the climb you will need:
- Reasonable levels of fitness and strength.
- Full body control and hand-eye-foot co-ordination.
- Ability to climb independently (unsupported by walking aids).

Why? Because the climb experience includes:
- Climbing high ladders and catwalks.
- Prolonged stair climbing.
- Uneven surfaces and narrow passageways.
- Exposure to all weather conditions.

The following may impact your ability to climb safely:
- All heart conditions (including high blood pressure).
- All respiratory conditions.
- Back, limb, or joint injuries.
- Missing limbs or part thereof inclusive of prosthetics.
- Vertigo, dizziness or loss of balance.
- Visual impairment (except wearing prescription glasses or contact lenses).
- Learning conditons.

You cannot take part in the climb if you:
- Are under 1.2 metres in height.
- Have a blood-alcohol reading of 0.05% or higher.
- Have broken bones.
- Have undergone surgery in the last 6 months or are experiencing ongoing symptoms.
- Have experienced a fit or seizure in the past 6 months and do not hold a driver's license for this reason.

If you take essential medication:
- At Bridge Climb's discretion, essential medication may be taken on the Climb (eg asthma inhalers or diabetic medication). Please speak with a Team member on the day.

If you are pregnant:
- Pregnant Climbers less than 24 weeks must consult a medical practitioner before climbing and must ask the medical practitioner to sign a BridgeClimb Certificate of Fitness. (The certificate of fitness is available to download from the BridgeClimb website).
- Women over 24 weeks pregnant cannot climb.

What to wear and bring:
- All climbers must wear suitable enclosed rubber soled shoes such as runners, track or hiking shoes. PVC or leather soled shoes are unsuitable.
- Climbers should be ready to wear a Bridgesuit over their existing clothing.
- No loose objects can be taken onto the bridge including but not limited to cameras, mobile phones and video cameras.