Shuttle - Launceston Airport to Launceston CBD - One way
Tasmania's Own Redline - Launceston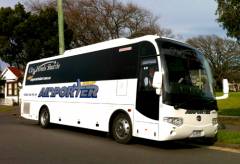 Tasmania's Own Redline
Valid for 01APR17-31MAR18:
Booking Confirmation:
Red Line will confirm their services 120 days prior to travel only.

Baggage Capacity: 2 pieces. Each piece less than 20kgs each
Arrival Information: - Passengers need to make their own way to the "Airporter Bus Stop" which is situated directly out the front of the domestic airport, servicing Qantas and Virgin Blue flights and outside the Qantas Terminal for Jetstar flights. The Drivers are given a daily list of all reservations for incoming and outgoing passengers and make every effort to locate them but that notwithstanding the "Airporter Bus" does not take responsibility if passengers do not make their way out to the Bus or to the designated pick-up point at their designated time
- Bookings for shuttles for the early morning flights (Flight times up until 9am) should be made by 6.00pm the night before, however late bookings can be accepted.

Operation Hours:
The airport shuttle meets every arriving flight.

Additional Information:
- Times are subject to change due to Airline rescheduling. If your flight is rescheduled please phone to confirm pickup time. It is the passengers responsibility to book the correct service.
- Please advise flight details at time of reservation.
~~ 01-Apr-2014 to 31-Mar-2016~~Highway Services Timetable:
- Departs: Devonport
Monday - Thursday: 7:35am / 11:00am.
Friday: 7.35am / 11.00am / 5.45pm.
Saturday: 9:00am / 2:50pm.
Sunday: 9:00am / 5:20pm.

- Arrives: Launceston
Monday - Friday: 9:00am / 12:30pm.
Friday: 9:00am / 12:30pm / 7:35pm.
Saturday: 10:30am / 4:20pm.
Sunday: 10:30am / 6:50pm.

Highway Services Timetable:
- Departs: Launceston
Monday - Thursday: 1.30pm / 5.45pm.
Friday: 1.30pm / 4.30pm* / 5.45pm / 6.45pm.
Saturday: 1.30pm / 5.45pm.
Sunday: 1.30pm / 5.45pm .

- Arrives: Devonport
Monday - Thursday: 3:00pm / 7:10pm.
Friday: 3:00pm / 5.30pm* / 7:10pm / 8.25pm.
Saturday: 3:00pm / 7:10pm.
Sunday: 3:00pm / 7:10pm.

* School days only
** School Holidays only.

Spirit of Tasmania Shipside Services Timetable Devonport to Launceton:
- Departs: Devonport
Monday - Friday: 7:40am.
Saturday - Sunday: 9:05am.

- Arrives: Launceston
Monday - Friday: 9:00am.
Saturday - Sunday: 10:30am.

Highway Services Timetable Hobart to Devonport:
- Departs: Hobart Transit Centre
Monday - Friday: 10:15am / 3:00pm/ 5.00pm.
Saturday: 10:15am / 3:00pm.
Sunday: 10:30am / 3:00pm.

- Arrives: Devonport Transit Centre
Monday - Friday: 3:00pm / 7.10pm / 8.25pm.
Saturday: 3:00pm / 7:10pm.
Sunday: 3:00pm / 7:10pm.

Highway Services Timetable Devonport to Hobart:
- Departs: Devonport Transit Centre
Monday - Thursday: 7.35am/ 11:00am
Friday: 7.35am / 11:00am / 5:45pm.
Saturday: 9:00am / 2:50pm.
Sunday: 9:00am / 5:20pm.

- Arrives: Hobart Transit Centre
Monday - Thursday: 12.30pm / 3:45pm
Friday: 12.30pm / 3:45pm / 9:30pm.
Saturday: 1.30pm / 7.30pm.
Sunday: 1.30pm / 10:00pm.

Highway Services Timetable Launceton to Hobart:
- Departs: Launceston
Monday - Thursday: 10.00am /1.00pm / 5.30pm.
Friday: 10.00am / 1.00pm /3.30pm ** / 5.30pm / 6.45pm .
Saturday: 11.00am / 5.00pm.
Sunday: 11.00am / 3.00pm / 7.30pm .

- Arrives: Hobart
Monday - Thursday: 12:30pm / 3:45pm / 8:00pm.
Friday: 12:30pm / 3:45pm / 5:55pm** / 8:00pm / 9:30pm
Saturday: 1:30pm / 7:30pm.
Sunday: 1:30pm / 5:25pm / 10:00pm.

** Service only operates on School days.

Highway Services Timetable Hobart to Launceton:
- Departs: Hobart Transit Centre
Monday - Thursday: 10:15am / 3:00pm/ 5.30pm.
Friday: 10:15am / 3:00pm / 5:00pm / 5.30pm.
Saturday: 10:15am / 3:00pm.
Sunday: 10:30am / 4:00pm**/ 6.00pm.

- Arrives: Launceston
Monday - Thursday: 1:00pm / 5.30pm /8.00pm.
Friday: 1:00pm / 5.30pm / 8:00pm/ 8.00pm.
Saturday: 1:00pm / 5:30pm.
Sunday: 1:00am / 6:35pm** / 8.30pm

** School days only.
Hobart Airport Timetable:
- Transfers pick up from Hobart CBD accommodation plus Sandy Bay accommodation including Wrest Point Casino, Battery Point, North Hobart and New Town hotels.  Hotel pick ups are not available from West Hobart, South Hobart, the Eastern Shore, or Northern Suburb accommodation.   
- Bookings for shuttles for the early morning flights (Flight times up until 9am) should be made by 6.00pm the night before, however late bookings can be accepted 
- Passengers must be outside hotel/accommodation or at the designated pickup point 10 minutes before scheduled time - Drivers do NOT come to reception for collection.~~~~