Sunshine Coast Airport to Mooloolaba - Standard Sedan
Royale Limousines

- Sunshine Coast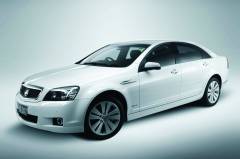 Royale
International Terminal Transfers:
Transfers to and from the International Terminal must be booked if clients are arriving or departing on a Qantas flight numbered 1-399 or 8000 series.

New Years Period:
New Years Eve between 6:00pm to 12:00am
New Years Day between 12:00am to 06:00am
Prices on application and available on request.After Hours Conditions:
- Transfers required between midnight and 5:30am will be charged an additional fee. Please contact your service provider for the applicable surcharge.

Maximum Passengers Per Vehicle: 3.
Baggage Capacity: 2 suitcases and 2 small hand luggage. Excess luggage transportation by taxi at owner's expense.

Additional Information:
Booking Conditions:
- Pick-up and drop-off details including flight numbers must be advised at time of booking.
- Tarago Vans can have a luggage trailer added to carry any excess luggage (must be requested at the time of booking).
- Luggage cannot be carried in the cabin.
- Pick up time is approximate please allow up to 30 minutes for your transfer to arrive.

Transfer locations:
- Pick up and drop off locations must be advised at time of booking.