Townsville to Magnetic Island - Family - Return
Sealink Queensland - Townsville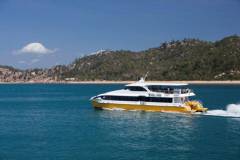 Magnetic Island Transfer
Family:
- Family rate is applicable to 2 adults and up to 3 children only (aged 5-14 years).

Baggage Capacity:
- Luggage is limited to 20kg per person. Excess luggage is payable direct at freight rates.

Departure Information:
- Travel time is approximately 20 minutes.
- Please arrive at Breakwater Terminal, Sir Leslie Theiss Drive least 15 minutes prior to boarding.
- Operates daily except times below may not operate certain days.
- Limited services Christmas Day.
~~ 01-Apr-2016 to 31-Mar-2018~~
Timetable:
Timetable - Subject to change without notice.
Breakwater to Nelly Bay:
5:30am* (Mon-Sat) / 6:30am* / 7:05am / 7:45am / 8:45am / 9:30am / 10:30am / 11:30am / 12:55pm / 2:15pm / 3:45pm / 4:30pm / 5:20pm* (Mon-Fri) / 6:00pm / 7:15pm / 9:00pm / 10:30pm / 11:30pm* (Fri-Sat).
* Denotes not operating on Public Holidays.

Nelly Bay to Breakwater:
6:20am* (Mon-Sat) / 7:10am* (Mon-Sun) / 7:50am / 8:25am / 9:25am / 10:15am / 11:10am / 12:15pm / 1:35pm / 3:00pm / 4:25pm / 5:10pm / 5:55pm* (Mon-Fri) / 6:40pm / 7:45pm / 9:30pm / 11:00pm / 12:00am* (Fri-Sat).
* Denotes not operating on Public Holidays.

Limited Services Christmas Day:
8:30am, 10:30am, 2:30pm, 4:30pm - Breakwater to Nelly Bay.
9:00am, 11:00am, 3:00pm, 5:00pm - Nelly Bay to Breakwater.~~~~