Campbells Creek Accommodation, Hotels, Tours & Information
Campbells Creek
A small goldfield town, Campbells Creek lies on the southern fringe of neighbouring Castlemaine. Gold was discovered in 1851 and within two years 3,000 miners were living in a shantytown stretching along Campbell Creek - a makeshift village served by the obligatory chain of hotels, a brewery, a couple of churches and a chapel school.

Today a virtual suburb of Castlemaine, the village can still boast hotels, stores and churches dating back to the mid-19th century, alongside a modern community centre and a golf course.

A short drive north takes you to historic Castlemaine which was the scene of a major gold strike in 1851. Castlemaine's golden age extended into the 1860s and the town's classic buildings and galleries testify to the vast wealth generated by the local surface fields.

Architectural standout is the Buda historic home built by Hungarian silversmith Ernest Leviny in 1861. The home contains the original furniture and a collection of some of the finest examples of Leviny's exquisite craftwork.

Castlemaine also boasts a monument to ill-fated explorers Burke and Willis. Robert O'Hara Burke, in fact, served as Castlemaine's superintendent of police from 1858 to 1860.
Campbells Creek: Where To Go / Sightseeing
Castlemaine Art Gallery and Historical Museum
The Castlemaine Art Gallery and Historical Museum is renowned for its collection of Australian art and for its unique assembly of historical artefacts relating to the Mount Alexander Goldfields district in Victoria. The Gallery enjoys strong support from artists and art patrons. Association with famous personalities such as Dame Nellie Melba enriches its collection.
Founded in 1913, the Gallery and Museum are committed to specialising in Australian art through various displays of oil paintings, watercolours, prints and drawings. Its art deco building, designed in 1931 by Peter Meldrum, is noted for its elegant design.
The collection is best known for major works from the late 1800's. Traditional landscape paintings are a feature of the holdings, including works by such artists as Louis Buvelot, Frederick McCubbin, Tom Roberts, E. Phillips Fox, Rupert Bunny, Max Meldrum, Margaret Preston, R.W. Sturgess, A.M.E. Bale and John Longstaff. Among the contemporary artists represented in the collection are William Frater, Arnold Shore, Russell Drysdale, Fred Williams, John Brack, Jeffrey Smart, John Dent and Wendy Stavrianos.
Part of the Gallery's policy is to support senior and mid-career artists, primarily through exhibitions and publications.
The collection also includes the largest holding of original artworks and photographs pertaining to the district surrounding Castlemaine. These items fulfil the Gallery and Museum's commitment to collect, conserve and communicate issues of historical relevance to the region. A selection of fine decorative arts including china, glassware and silver are among other attractions on permanent display.
14 Lyttleton Street
Castlemaine, VIC, 3450
Located 3.5K from Campbells Creek
Victorian Goldfields Railway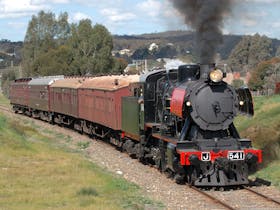 Victorian Goldfields Railway is an authentic steam railway linking the historic gold mining towns of Castlemaine and Maldon in Central Victoria. Enjoy a family day out or treat yourself and travel in the elegant first class carriages.
Family fun - take the kids for a memorable day out. Watch the world go by from your family compartment as the steam train huffs and puffs up the hills.
First Class - for a touch of class step back in time to an era of elegance to the Golden Age of rail travel when the journey was as important as the destination. Ride in Edwardian splendour or art deco style. Ride on the end viewing platform on the parlour car. Sit back and enjoy a drink from the fully equipped bar. It really is a unique rail experience.
Ride with the driver - for a small extra fare travel with the driver in the locomotive cab.
Catch the train for a return trip from Castlemaine or Maldon stations.
Gift certificates are available for all Victorian Goldfields Railway experiences.
Castlemaine is just 90 minutes hours from Melbourne on the Calder Freeway. Or for a wonderful day out, leave the car behind and use your Myki card to catch the V/Line train from Melbourne to Castlemaine where you simply change platforms to catch the steam train.
After a leisurely 45 min train ride you have two hours in Maldon to enjoy lunch at a pub or cafe and then relax on the train (maybe enjoying a drink form the bar in first class) as the Railway takes you back to Castlemaine.
Trains run Sunday, Wednesday and school holiday Saturday. Go to the website for more information about timetables, fares and FAQ's.
Railway Stations,
Kennedy Street Castlemaine,
Hornsby Street Maldon
Castlemaine, VIC, 3450
Located 3.6K from Campbells Creek
Old Castlemaine Gaol
Looming atop the western horizon in Castlemaine sits a symbol of justice for the Goldfields. The Old Castlemaine Gaol was first built in 1861 and has been through many changes during its 130 years of operation.
Many criminals have been held in the cells, including some infamous characters. Come join Old Castlemaine Gaol for a tour to find out about its lengthy history and the secrets that lie behind the walls.
The Governor's Cafe is located in the former governor's house and is open for breakfast and lunch, Thursday to Tuesday (closed Wednesday).
Guided tours of the gaol run Friday, Saturday and Sunday at 11:00am. Private tours available by request.
Please visit the website for more information and for up to date information on events.
36-48 Bowden Street
Castlemaine, VIC, 3450
Located 3.6K from Campbells Creek
Buda Historic Home and Garden
Buda Historic Home and Garden is one of the great heritage assets of the Goldfields region. Buda was built in 1861 and from 1863 was the home of noted silversmith Ernest Leviny and his family.
Complete with the family's art and craft collections, furnishings and domestic effects, the gracious historic home surrounded by one of the most important large nineteenth century suburban gardens surviving in Victoria was home to the remarkably creative Leviny family for a period of 118 years.
Also displayed are works by many prominent Australian artists including Margaret Preston, M J McNally, Ursula Ridley Walker and Lionel Lindsay. The Gift shop on site has a range of Buda exclusive merchandise featuring Leviny designs and other original pieces for visitors to purchase and take home.
With three acres of enchanting gardens to explore, there is much to see and do. The plant nursery offers for sale a wide range of heritage trees, shrubs, roses and ground covers ideally suited to Australian conditions. Or you can purchase some local produce, delightful craft items, and souvenirs from Buda's Gift shop.
The delightful Garden Room function venue, set beautifully amongst the gardens and available for hire, has the capacity to seat up to 65 people and has spectacular views of the Castlemaine township.
View the website for more details and explore other special events that happen throughout the year.
Visitors can be assured of a very warm welcome to Buda Historic Home and Garden at any time of the year.
42 Hunter Street
Castlemaine, VIC, 3450
Located 4.3K from Campbells Creek
Castlemaine Diggings National Heritage Park
From the remains of house sites and puddling machines to the gold mines and gullies that yielded up fortunes, Australia's first national heritage park harbours fascinating tales of a golden past and retains much of its gold-rush character.
Spring wildflowers, scenic drives, bushwalking, cycling, guided tours and gold fossicking are some of the highlights. Nearby Maldon Historic Reserve also protects many interesting relics from the gold era.
Aboriginal Traditional Owners
Parks Victoria acknowledges the Aboriginal Traditional Owners of Victoria - including its parks and reserves. Through their cultural traditions, Aboriginal people maintain their connection to their ancestral lands and waters. Further information is available from Aboriginal Affairs Victoria AAV and Native Title Services Victoria.
Before you go
Conditions can change in parks for many reasons. For the latest information on changes to local conditions, please visit the relevant park page on the Parks Victoria website.
Be bushfire ready in the great outdoors. Refer to the Bushfire Safety section on the Parks Victoria website for tips on how to stay safe.
North Rd
Chewton, VIC, 3451
Located 5.0K from Campbells Creek
Maldon Historic Reserve
Located in and around the township of Maldon, the Maldon Historic Reserve protects many relics from the gold mining era - abandoned shafts and tunnels, mullock heaps, quartz roasting kilns, stone walls, chimneys and machinery - as well as the box and ironbark forests.
Before you go
Conditions can change in parks for many reasons. For the latest information on changes to local conditions, please visit the relevant park page on the Parks Victoria website.
Be bushfire ready in the great outdoors. Refer to the Bushfire Safety section on the Parks Victoria website for tips on how to stay safe.
Bendigo-Maldon Road
Maldon, VIC, 3463
Located 15.2K from Campbells Creek
Mount Alexander Regional Park
Rising 350 metres above the surrounding area, Mount Alexander Regional Park is a prominent landmark offering magnificent views and a natural forest setting for picnics and bushwalking. It also provides important habitat for several rare or threatened species.
Experience panoramic views of the surrounding area from Dog Rocks and Shepherd's Flat. The West Ridge walking track (4km in length) links all the major lookouts and points of interest in the park.
Before you go
Conditions can change in parks for many reasons. For the latest information on changes to local conditions, please visit the relevant park page on the Parks Victoria website.
Be bushfire ready in the great outdoors. Refer to the Bushfire Safety section on the Parks Victoria website for tips on how to stay safe.
Mt Alexander Tourist Rd
Harcourt, VIC, 3453
Located 15.4K from Campbells Creek
Cascade Print Room
Located in the heart of Maldon, Cascade Print Room provide a professional picture framing service. They also sell limited edition etchings and a wide variety of diverse prints from local and Australian artists.
Cascade Print Room offer a free frame quoting service and specialise in archival and exhibition framing.
Cascade carry prints by artists including Jeff Gardner, Kareen Anchen, Bridget Farmer, David Frazer, Robert Maclaurin, Rhyll Plant, Kevin Foley, Anne Smith, Kyoko Imazu, Wendy Stavrianos, Craig Gough, Dean Bowen, Nicky Carey, Michael Leunig, Louise Davidson and others.
27 Main Street
Maldon, VIC, 3463
Located 16.1K from Campbells Creek
Campbells Creek: Events
Race The Train
Beat the train or beat your mates. Race the Train is a mountain bike race against the historic Victorian Goldfields Railway steam train between Castlemaine and Maldon.
Race the Train will start at the Old Castlemaine Gaol overlooking the Castlemaine train station and finish in Maldon 17 kilometres down the line. It will provide competitive cyclists an opportunity to race the train, and each other, with the lure of line honors as well as a cash prize pool for category winners who beat the train in the process.
But if racing is not your thing, you can still get involved by participating in the Ride, a family-friendly, non-competitive, scenic trail ride alongside the broad-gauge train line. Or better still, buy a ticket to travel on the train and watch the action unfold from the comfort of the carriages!
Both the Race and the Ride will travel along the dirt tracks and trails that run alongside or in close proximity to the historic broad gauge train line that connects Castlemaine and Maldon. This is an off-road ride on dirt tracks with only 10 per cent of the course on sealed roads.
Event Dates
2016
      13th Nov
36-48 Bowden Street
Castlemaine, VIC, 3450
Located 3.6K from Campbells Creek
Campbells Creek: Travel Tips
Castlemaine Visitor Information Centre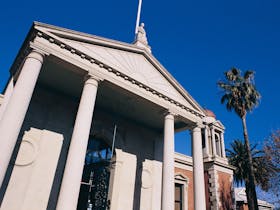 Located in the Castlemaine Market Building, circa 1862, the Castlemaine Visitor Information Centre is a great place to begin your exploration of this diverse region.
The Castlemaine Visitor Information Centre offers all the latest information on attractions, accommodation, tours, services and is open every day of the year except Christmas Day. The friendly staff and volunteers are always more than happy to provide local knowledge, informative brochures and also book accommodation or tours if needed.
Regardless of whether it is your first visit to the region or you are a regular, a visit to the Market Building is well worth your while. The magnificent nave of the building is used for exhibitions throughout the year. Highlights include artisan exhibitions that showcase the latest offerings from our talented local artisans, local community displays and national exhibitions.
The Visitor Centre also showcases the depth of the local talent with a strong emphasis on locally produced merchandise for sale.
A range of modern bikes are available for hire at $30 for a full day or $20 for half the day.
View videos of both the history and contemporary stories of the region on big screen displays.
Explore the area by hiring an MP3 Player from the centre and take a self guided tour. The tours feature local musicians, actors and characters and are great entertainment for all the family. Choose from walking tours around Castlemaine and the Eureka Reef goldfield, or take the driving tour that tells the stories of the gold towns of the area. The tours recount the fascinating history of the area and you are guaranteed to find out something that you didn't know before!
44 Mostyn Street
Castlemaine, VIC, 3450
Located 3.4K from Campbells Creek
Campbells Creek Map
Campbells Creek Map - Legend

Multiple Hotels

Hotel
Click on the map markers for more information. Hover over the map to zoom in & out or see satellite & terrain views.