Tongala Accommodation, Hotels, Tours & Information
Tongala
Home to the Golden Cow and the Nestle milk factory, Tongala is just a short drive from Echuca on the Victorian side of the NSW border. It's fair dinkum dairy country out here, as you might expect, and pretty as a picture. The Golden Cow Dairy Education and Tourism Centre presents a working, hands-on rundown of the dairy and associated agricultural industries. Visitors can watch milking sessions, cuddle young calves and tap into the history of the dairy industry, irrigation development, land care and techniques to combat the scourge of rising salinity in soil levels. Tongala also hosts an annual Tent Town Festival in March when artists and craftsmen gather to show their wares and to discuss the state of their art. At neighbouring Kyabram, there's a fauna park, and it's only 15 minutes or so by car to Echuca and its NSW twin, Moama, which straddle the border. Shepparton is about half an hour's drive away to the east. The Goulburn River is nearby and the 7000ha Barmah State Park lies just beyond Echuca. The park and the adjoining state forest contain the largest stand of red gums in the world. Some of the gums in the Heritage-listed forest are more than 500 years old. Many of the trees top 45metres and have a girth of up to four metres.
Tongala: Events
Isobel Harvie Collection at Kyabram Town Hall
Indulge in the fashion of yesteryear with a display of exquisite Victorian clothing and accessories at the Kyabram Town Hall- Isobel Harvie Collection.
'Forever- Timeless Memories of Bridal Gowns 1880-2015' - 15th February 2016 through to 13 June 2016.
'Forever- Timeless Memories Photographs' - 3rd February 2016 through to 3 March 2016.
Event Dates
2016
      15th Feb
      16th Feb
      17th Feb
      18th Feb
      19th Feb
      20th Feb
      21st Feb
      22nd Feb
      23rd Feb
      24th Feb
      25th Feb
      26th Feb
      27th Feb
      28th Feb
      29th Feb
      1st Mar
      2nd Mar
      3rd Mar
      4th Mar
      5th Mar
      6th Mar
      7th Mar
      8th Mar
      9th Mar
      10th Mar
      11th Mar
      12th Mar
      13th Mar
      14th Mar
      15th Mar
      16th Mar
      17th Mar
      18th Mar
      19th Mar
      20th Mar
      21st Mar
      22nd Mar
      23rd Mar
      24th Mar
      25th Mar
      26th Mar
      27th Mar
      28th Mar
      29th Mar
      30th Mar
      31st Mar
      1st Apr
      2nd Apr
      3rd Apr
      4th Apr
      5th Apr
      6th Apr
      7th Apr
      8th Apr
      9th Apr
      10th Apr
      11th Apr
      12th Apr
      13th Apr
      14th Apr
      15th Apr
      16th Apr
      17th Apr
      18th Apr
      19th Apr
      20th Apr
      21st Apr
      22nd Apr
      23rd Apr
      24th Apr
      25th Apr
      26th Apr
      27th Apr
      28th Apr
      29th Apr
      30th Apr
      1st May
      2nd May
      3rd May
      4th May
      5th May
      6th May
      7th May
      8th May
      9th May
      10th May
      11th May
      12th May
      13th May
      14th May
      15th May
      16th May
      17th May
      18th May
      19th May
      20th May
      21st May
      22nd May
      23rd May
      24th May
      25th May
      26th May
      27th May
      28th May
      29th May
      30th May
      31st May
      1st Jun
      2nd Jun
      3rd Jun
      4th Jun
      5th Jun
      6th Jun
      7th Jun
      8th Jun
      9th Jun
      10th Jun
      11th Jun
      12th Jun
      13th Jun
199-207 Allan Street
Kyabram, VIC, 3620
Located 11.5K from Tongala
Kyabram Bush Market
Held in conjunction with the Kyabram RV and Country Music Corral, Kyabram Bush Market is a great day of shopping, just in time to start your Christmas shopping.
Allen Street (main street of Kyabram) is blocked off to traffic and traders come out into the street with their wares, along with lots of activities for the kids to see and do.
Event Dates
2016
      4th Nov
Allan Street
Kyabram, VIC, 3620
Located 13.8K from Tongala
Kyabram RV Country Music Corral
The 2015 Kyabram RV and Country Music Corral is an exciting time for all country music fans from near and far. The event hosted a swag of fantastic performers from all around with a great line up of shows.
The festival is swarmed with - motorhomers, caravaners, troopies, fifth wheelers, camper trailers, tents and of course the general public.
Information on artists are displayed on the events website once performers are confirmed.
Please see the event Facebook page for more information and to access the flyer.
Event Dates
2016
      4th Nov
      5th Nov
      6th Nov
Allen Street
Kyabram, VIC, 3620
Located 13.8K from Tongala
Billabong Ranch Brumby Run
Billabong Ranch Brumby Run, 12 kilometres and over 25 obstacles. Are you up for the Challenge?
Run, walk or scramble. It doesn't matter how you finish as long as you have a go. Enter your group or team for the chance to win the lucky group prize. Largest group entry also receives a prize.
Bar open all weekend, no BYO alcohol please, with music and drinks around the camp fire Saturday night.
Parking Fee proceeds from parking going to Echuca Hospital Make Your Mark.
Event Dates
2016
      29th Oct
Glanville Road and Tehan Road
Echuca, VIC, 3564
Located 15.9K from Tongala
Girgarre Moosic Muster
The Girgarre Moosic Muster is a family friendly music festival based on a combination of Bluegrass, Irish, Gospel, country and folk music - a little for everybody.
It is a festival where a very strong emphasis is placed on participation whether that be as a performer, a teacher or a learner. Approximately 35 workshops are run covering a huge range of activities which includes lessons in guitar, banjo, double bass, mandolin, ukulele, violin, tin whistle, harmonica as well as workshops on signing and harmony, percussion and music rotation. These workshops are of different levels so that they are inclusive of all, whether it be as a novice or a gifted musician. A designated children's program is ran in conjunction with the Community Cottage.
A total of six concerts cater for all tastes in music - the two Friday evening concerts are open to all to participate. The Saturday evening offer different musical experiences. The outdoor concert is for the bands with big sounds while the indoor concert is a coffee club style of music.
Sunday morning concerts are continued at the Farmers market and at a gospel session inside the hall. Festival ends with a walk up concert on Sunday evening.
Event Dates
2016
      8th Jan
      9th Jan
      10th Jan
2017
      6th Jan
      7th Jan
      8th Jan
9 Morgan Crescent
Girgarre, VIC, 3624
Located 16.8K from Tongala
Girgarre Farmers' Produce Market
With the theme Make it, Bake it, Grow it, on the second Sunday of the month, the Girgarre Farmer's Produce Market is a true country market with a variety of seasonal produce, home made and locally grown products.
Over 90 stalls offer an array of locally hand made crafts and produce, including fresh orange juice, free tea and coffee with cake, Thai and Asian food and ice creams.
Musical entertainment can also be enjoyed early morning till noon.
Event Dates
2016
      14th Feb
      13th Mar
      10th Apr
      8th May
      12th Jun
      10th Jul
      14th Aug
      11th Sep
      9th Oct
      13th Nov
      11th Dec
2017
      8th Jan
      12th Feb
Girgarre-Rushworth Rd and Winter Rd
Girgarre, VIC, 3624
Located 16.9K from Tongala
Echuca-Moama Weddings Expo
The Echuca Moama Wedding expo showcases local suppliers to the wedding industry for the information of couples wanting to plan a wedding in Echuca Moama.
If you are a prospective bride or groom then the Echuca Moama Wedding Expo is an essential part of your wedding planning.
Event Dates
2016
      22nd May
High Street
Echuca, VIC, 3564
Located 21.1K from Tongala
Winter Blues Festival
Forget the winter blues at Echuca Moama's annual Winter Blues Festival, a weekend not to be missed.
The Echuca Moama Winter Blues Festival has become a feature event on the Australian Blues calendar. On the last weekend in July the cream of Australian Blues artists converge of Echuca Moama for a spectacular weekend of music and entertainment in the clubs, hotels, restaurants and streets.
Visitors to this much loved festival can soak up the blues and roots atmosphere from every street corner, restaurants and bars. This year's sixteenth annual festival was the largest to date with over forty blues artists, 145 performances, filling 30-plus venues across Echuca Moama. The fact that the vast majority of the blues and roots music is free is still a major drawcard for the festival.
Visit the website all your official Echuca Moama Winter Blues Festival information.
Event Dates
2016
      29th Jul
      30th Jul
      31st Jul
High Street
Echuca, VIC, 3564
Located 21.6K from Tongala
Circus Royale - Echuca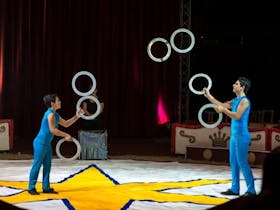 *** Latest event details are yet to be confirmed ***
Damian Syred's all new 2015 Circus Royale is coming to Echuca. Circus and animal spectacular under the mighty big top.
Circus favourites including aerial acts, contortion, clowns, juggling, cows, camels, dancing horses, football playing dogs and The Globe of Death. There will be International and Australian Performers.
Every seat a comfortable chair. Limited VIP and ringside chairs, so get in quick! Hot and cold food on sale inside the mighty big top.
Event Dates
2015
      31st Jul
      1st Aug
      2nd Aug
2016
      31st Jul
      1st Aug
      2nd Aug
Sutton Street
Echuca, VIC, 3564
Located 21.8K from Tongala
Echuca Farmers Market
Echuca Farmers Market is an accredited member of the VFMA and held on the first, third and fifth Saturday of each month.
Walk through the variety of stalls with seasonal fruit and vegetables, preserves, flowers, baked goods and fresh meat and seafood.
Enjoy a coffee and cooked breakfast from the Market Van while you spend a day admiring all the wares on offer.
Event Dates
2016
      16th Jan
      30th Jan
      6th Feb
      20th Feb
      5th Mar
      19th Mar
      2nd Apr
      16th Apr
      30th Apr
      7th May
      21st May
      4th Jun
      18th Jun
      2nd Jul
      16th Jul
      30th Jul
      6th Aug
      20th Aug
      3rd Sep
      17th Sep
      1st Oct
      15th Oct
      29th Oct
      5th Nov
      19th Nov
      3rd Dec
      17th Dec
      31st Dec
2017
      7th Jan
      21st Jan
Hare Street
Echuca, VIC, 3564
Located 22.0K from Tongala
Tongala Map
Tongala Map - Legend

Multiple Hotels

Hotel
Click on the map markers for more information. Hover over the map to zoom in & out or see satellite & terrain views.