Hepburn Springs Accommodation, Hotels, Tours & Information
Hepburn Springs
Life in the historic Victorian village of Hepburn Springs centres on the enriching effects of water, from luxury spas to decadent food and wine and the lush environment.

Hepburn Springs is located amid the largest concentration of mineral springs in Australia, which are full of health-giving minerals. The old-fashioned pumps and pipes in Hepburn Springs Mineral Springs Reserve offer a taste of the different mineral formulations. Experience the benefits at a local spa and wellness centre. The lavishly refurbished Hepburn Bathhouse and Spa, established in 1895, offers hydrotherapy, massage and beauty therapy.

Hepburn Springs was established during Victoria's 1850s gold rush by Swiss Italian migrants. Their legacy can be felt at the cafes and restaurants along Main Road or the local country pubs. Surrounding vineyards and farms are laden with fresh produce and fine wines to take home as the ultimate souvenirs. Seasonal harvest festivals at Lavandula Swiss Italian Farm celebrates the regional heritage and the local bounty.

Look for gifts and art and craft in one of Hepburn Springs' unique shops and small galleries. Take the Historic Village Walk and discover the splendid gold rush architecture of many public buildings.

Walk through Hepburn Regional Park in spring and see colourful wildflowers and the wide range of animals and birds that inhabit the area. Serious hikers can set out along the 16-kilometre Tipperary Track and explore natural wonders such as Sailors Falls, Mount Franklin, the Blowhole and the Hepburn Pool. A round of golf on Hepburn Springs' 18-hole golf course is another great way to spend the day.

Hepburn Springs is just over one hour from Melbourne on the Western Freeway and Midland Highway, and just three kilometres from Daylesford.
Hepburn Springs: Where To Go / Sightseeing
Portal 108
Portal 108 is a unique shopping experience in the heart of Hepburn Springs.
Nestled in a quaint federation style home boasting a 100 year old majestic pin oak tree in the front yard, Portal 108 is a destination not to be missed.
During the winter months, you can shop in the warmth of a crackling open fire and explore the hand picked selection by owners Connie and Kyla.
Portal 108 proudly supports local and independent artists and showcases some of Australia's best known brands of jewellery, women's clothing, footwear, handbags, homewares and accessories.
Connie and Kyla's philosophy is to only stock things they love and are passionate about, making their selection a diverse mix for just about everyone.
Handbags and accessories brands include Nancybird, Bsirius, Boheme, Secrid and Rollie shoes, whilst clothing and jewellery labels represented are Najo, Palas, Eb and Ive, Elm Lifestyle and Brave + True .
Voted on TripAdvisor as the number one Thing To Do in Hepburn Springs, be sure to put this destination on your itinerary when visiting the region.
Portal 108. A lifestyle store. For everyone.
108 Main Road
Hepburn Springs, VIC, 3461
Located 0.2K from Hepburn Springs
Hepburn Springs Village
You'll come for the water and stay for the wine, not to mention the food.
From cosy pubs and cafes, to Epicurean Chef hat delights and fantastic paddock to plate experiences. Let's not forget the walks, pampering, fresh air and peacefulness.
The magic of Hepburn Springs was discovered by Swiss Italian miners back in the 1850's. Their legacy remains evident in beautiful buildings like Villa Parma and the old Macaroni Factory and in the occasional ruin you will discover whilst walking.
Of course, there's the water. Hepburn Springs is blessed with 80 percent of Australia's natural mineral springs. Sample these directly from the source by filling your bottle from one of the springs or discover the water's healing properties when you relax in one of the luxurious boutique day spas or the iconic Hepburn Bathhouse and Spa.
Hepburn Springs is home to artists, musicians, writers, makers, natural healers, quirky shops, galleries, conferencing and accommodation. People who do a lot of things and those of do very little.
Hepburn Springs Village bids you welcome to one of the most perfect places on Earth.
So pack your bags and stay a while.
Main Road
Hepburn Springs, VIC, 3461
Located 0.2K from Hepburn Springs
Shizuka Ryokan and Day Spa Retreat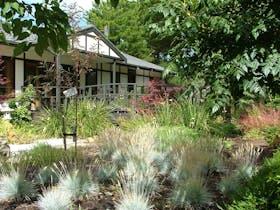 Experience the essence of an authentic Japanese country spa retreat at Shizuka Ryokan japanese country spa retreat. Leave your cares at the door and step inside the world of traditional Japanese hospitality.
Soothe mind, body and spirit with a range of luxurious spa and holistic wellness therapies for day spa visitors and residential guests alike. The indulgent menu includes massage, reflexology, facials, foot treats, body polish and wraps.
Inspired by Japan's ancient ryokan inns, which provided a haven for weary travellers, Shizuka Ryokan offers you a place for renewal of mind, body and spirit.
Also available is traditional accommodation and delicious cuisine. Set amid tranquil bushland in central Victoria's picturesque spa country, Shizuka Ryokan is fully authentic in every detail including its architecture, furnishings and gardens.
Couples, singles and small groups come to relax, indulge, rejuvenate and immerse in the romance and tranquillity. Shizuka Ryokan is also a unique venue for small community and corporate groups to conduct retreats, workshops and meetings.
Located in Hepburn Springs near Daylesford, it's a small piece of Japan that's close to home, just a 75 minute drive from Melbourne.
For Australians, that's much more accessible than the long flight to Kyoto.
7 Lakeside Drive
Hepburn Springs, VIC, 3461
Located 0.3K from Hepburn Springs
Acqua Viva Day Spa
Acqua Viva Day Spa offers indulgent and therapeutic body treatments including mineral spa baths using the local mineral water for which the area is famous, hydrotherapy, massage, facials, mud wraps and sea salt body scrubs.
Packages at Acqua Viva Day Spa include a mineral water spa; 30 minute massage and 30 minute facial for close to two hours. The Just Massage package includes a one hour facial and a 45 minute body massage. The Balneotherapy package involves a Aerospa mineral bath and a 45 minute massage. A Body Revitalising Masque package starts with a natural mud body masque with steam and vichy shower and 45 minute massage.
The Body Renewal package cleanses you body with a sea salt body scrub, a steam and vichy shower and 45 minute massage. the Ultimate Body Replenishment package commences with a body mud masque, sea salt body scrub with steam and Vichy shower and 45 minute massage. A Grande Indulgence package begins with a one hour facial, natural mud body masque, sea salt body scrub, Vichy shower, steam bath, one hour massage and spa lunch (five hours including lunch).
As the All Spirit package is all about relaxing, revitalise and rejoice with their signature package to reconnect body, mind and soul, from head to toe and from outside in.
The Adventure Includes a one hour relaxation massage, one hour facial, sea salt body scrub, silky smooth mud wrap with steam and vichy shower, their signature "foot bliss" and a soak in the local mineral water in a mineral water spa bath.
Single and double guest packages are available, please contact for further details. An upgrade for packages are available, add on a mini facial for just $45 extra. Please contact for further information or to book.
5 Tenth Street
Hepburn Springs, VIC, 3461
Located 0.4K from Hepburn Springs
The Mineral Spa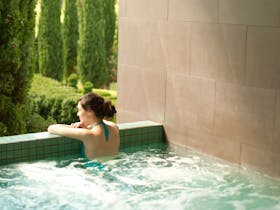 The Mineral Spa at Peppers Mineral Springs Hotel is an idyllic rural restorative haven; one of the largest and most acclaimed rural day spa's in Australia.
Specifically designed as a sanctuary of healing and relaxation, The Mineral Spa connects body and spirit to the earth's natural elements through powerful healing and beauty treatments to re-invigorate and restore. Therapists, each with their own area of expertise and selected for their healing hands and calming spirits, ensure that every guest experiences a beautiful and personal spa experience; with individual consultations and exclusive specialist treatments.
As part of its philosophy for integrating healing through earth's natural elements, The Mineral Spa has harnessed the power of mineral water, unlike any other spa in Australia. The spa's key feature of healing through water is The Retreat; a mineral water therapy zone following in the healing traditions of the famous mineral spa's throughout Europe.
Tucked in a private and peaceful indoor-outdoor corner of the spa, The Retreat comprises two 100 per cent mineral water spa's, a cold plunge pool, steam room, infra-red detox box and the only lavender-infused basalt stone sauna in the Southern Hemisphere. During the winter months, The Retreat turns into a steamy twilight haven with Night Bathing every Friday evening. Water continues as a healing theme that runs throughout the entire spa, with highlights such as the 180 power jet massaging Hydro baths and Australasia's only Soft Pack Flotation Beds. Signature treatments are by the prestigious spa specialist, Pevonia Botanica.
In keeping with the sense of tranquillity, The Mineral Spa is architecturally designed to reflect the environment and landscape, creating an ambience of healing; suffused with natural light shimmering across white stone walls, enhanced by the soothing sound of flowing water, and breathtaking views into the countryside.
124 Main Road
Hepburn Springs, VIC, 3461
Located 0.4K from Hepburn Springs
Daylesford Massage Healing Centre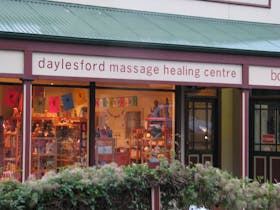 Welcome to Massage Healing Centre, a beautiful, restful, nurturing space created for you to retreat and indulge right in the heart of Daylesford, a place to restore balance naturally to mind, body and soul.
Daylesford Massage Healing Cnetre's fully trained and intuitive healers have many years of experience and will tailor the therapy session just for you. You are able to experience a great choice of professional massage and natural healing modalities including relaxation, deep tissue, remedial, therapeutic, pregnancy, hot stone, and warm bamboo.
They offer reflexology; ear candling and body treatments including wraps, scrubs, foot treatments and facials. Energy healing includes, reiki, spiritual healing, chakra balance, crystal healing and also Tarot and Astrology readings and Past Life Regression.
Yoga is offered in the studio space on selected weekdays. The studio is also available for hire for your own private group or workshop.
A visit to the retail shop provides the opportunity for retail therapy, with everything including crystals and jewellery, books and CDs, oracle and tarot cards, candles and natural skin care products.
Daylesford Massage Healing Centre look forward to supporting you on your journey to restore balance naturally to body, mind and spirit.

11 Howe Street
Daylesford, VIC, 3460
Located 2.8K from Hepburn Springs
Daylesford Day Spa
The Art of Relaxation is Daylesford Day Spa.
In an area renown for its mineral water springs, spa's and health treatments the new Daylesford Day Spa stands out in the crowd. Centrally located in a converted heritage building, Daylesford Day Spa creates a unique philosophy and nature-based experience for their clients. An earthy and harmonious ambience is coupled with a total commitment to providing the perfect environment for relaxation, rejuvenation and wellness.
At times you simply need to be pampered, Daylesford Day Spa have a treatment to suit everyone. Packages for those just wanting to relax, for those who like to be indulgent or if you have all day try the signature package "The art of relaxation" you will leave floating on cloud nine.
Stone treatments are a specialty. Stone therapy is an ancient form of healing which involves the use of hot basalt stones. The stones are placed onto the body, tapping into its energy system, creating a sense of balance and promoting healing. Daylesford Day Spa have stone treatments for pure relaxation, muscle relief and for your mind, body and spirit. Redirect your energy in a positive way rejoice in the stones as they restore your mind, body and spirit.
Have a look at the extensive packages listing, and if your looking for something different ask the staff to put together your perfect Indulgence package. If time is limited just relax with a massage, body treatment or facial.
Daylesford Day Spa uses Jurlique products which are all natural plant based skin and health care products designed to enhance your holistic health and well-being. Herbs and plants are grown in the Adelaide Hills and all products are made in Australia. They are proud to promote Australian made products.
25 Albert Street
Daylesford, VIC, 3460
Located 2.9K from Hepburn Springs
Convent Gallery Daylesford
Australian Tourism Award Winner, the Convent Gallery in Daylesford offers a wide range of experiences. This 19th Century Victorian mansion was built in the 1860's as the private residence for the Gold Commissioner, the building was purchased by the Catholic Church in the 1880's and was a convent and boarding school for nearly 100 years. Left in disrepair, the site was purchased by artist Tina Banitska in 1989.
Uniting history, spirituality, art and culture all under one roof, The Convent houses seven galleries featuring work by over 100 local, national and international artists. Featuring fine art, sculpture, limited edition prints, ceramics, glassware and textiles, the exhibition program, changing every eight weeks, showcases a diverse array of traditional and contemporary artwork.
The Convent retail areas specialise in jewellery, fashion and accessories, produce and unique gifts. The sunlit Mediterranean cafe produces world-class fare in a relaxing and art filled environment.
Leave the hustle and bustle of the city behind and get inspired as you enjoy the tranquillity of Daylesford's natural beauty.
7 Daly Street
Daylesford, VIC, 3460
Located 3.1K from Hepburn Springs
Hepburn Springs: Events
Silver Streak - Food and Wine Train
Taking off from Daylesford Train Station, join the Silver Streak - Food and Wine Train for a magical journey to the secluded hamlet of Bullarto.
The Silver Streak service commences with drinks and nibbles at the Daylesford station from 5:00pm and boarding at 5:30pm.
On the 30 minute trip to Bullarto the catering staff will serve you refreshments and delicious finger food. At Bullarto you have the opportunity to view the progress of the reconstructed old buildings while enjoying further refreshments.
The duo Travelling Concessions will provide delightful music of the era while you relax on the train, returning to Daylesford by 7:00pm.
Enjoy refreshments at the Daylesford Station from 5:15pm. Boarding at 5.30pm with the evening concluding at about 7:00pm.
The event runs on the first Saturday of each month.
Event Dates
2016
      1st Oct
      5th Nov
      3rd Dec
2017
      7th Jan
      4th Feb
      4th Mar
      1st Apr
18 Raglan Street
Daylesford, VIC, 3460
Located 3.3K from Hepburn Springs
Hepburn Springs: Travel Tips
Daylesford Regional Visitor Information Centre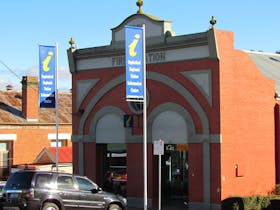 Situated in the heart of the Spa Country the Daylesford Regional Visitor Information Centre is the perfect place to commence your visit to this wonderful region.
Whether you are here for a day or a week, their friendly volunteer staff members will be able to provide you with information on accommodation, attractions, things to see and do, events, eating out, regional information and much more.
Located in the old fire station building, walking into the centre is like walking into another world. The interpretive mineral water display includes an educational and informative video, and a showcase area displaying information on many of the attractions the area has to offer.
Available free to hire from the Daylesford Regional Visitor Information Centre is the TrailRider - All Terrain Wheelchair. This allows those visitors who have limited mobility to access walking tracks and trails that they would not normally be able to access. Contact them to get more information. Bookings essential.

98 Vincent Street,
1
Daylesford, VIC, 3460
Located 3.2K from Hepburn Springs
Hepburn Springs Map
Hepburn Springs Map - Legend

Multiple Hotels

Hotel
Click on the map markers for more information. Hover over the map to zoom in & out or see satellite & terrain views.