South Yarra Accommodation, Hotels, Tours & Information
South Yarra
Strut your stuff along Chapel Street and arm yourself with internationally renowned designer labels from the vast array of fashion boutiques in Toorak and South Yarra before sitting at a chic caf? or bar to see and be seen.

Chapel Street is the backbone of South Yarra and is lined with independent boutiques and local and international chain stores selling all things covetable, from cutting edge fashion to funky homewares and inspiring gifts.

Toorak Road and High Street are well-known shopping strips, with exclusive boutiques and international fashion houses offering understated sophistication and creative window installations. High-end commercial galleries are dotted around, featuring changing exhibitions and works of art to be snapped up.

Hip bars and caf?s are as much about fine food and cocktails as providing great scope for people-watching, a common pastime in this part of town. Fashion devotees, art students, professionals and models are all part of the landscape here.

Drag yourself away from the shops and head north for a walk along the banks of the Yarra or take in the precinct's high society history at the beautiful Como House, where you can wander around the manicured gardens and peek inside the 1850s Victorian-era mansion.

Toorak is six kilometres from the Melbourne CBD. Catch trams 72, 8 or 6 from Swanston Street or take the train from Flinders Street Station to South Yarra station.
South Yarra
South Yarra: Where To Go / Sightseeing
Rush Escape Game
Rush Escape Game provides adrenaline filled live escape game experiences to thrill seekers from all over the world.
Our goal for every player of the game is to feel the rush of escaping - others would refer to this experience as "being in the zone" while researchers call it "flow". At the peak of this state you will feel great and perform at your best, action and awareness merge, time flies and self vanishes. If you have ever been involved in an activity or project where everything else was forgotten, then you will be familiar with this state.
Rush Escape Game deliberately focuses on maximising fun, playing this game feels even more exciting and engaging as you realise that no one escapes alone, this means you will need to work together as a team to overcome all of the challenges. Co-operation, critical thinking, pattern recognition and fast decision making will be required, and before you know it, your primal survival and problem solving instincts will surface to help solve unusual puzzles, uncover clues, keys and codes with the ultimate aim of escaping.
230 Toorak Road,
Unit 4
South Yarra, VIC, 3141
Located 0.5K from South Yarra
Prahran Market
Prahran Market is Australia's oldest continuously running food market, proudly being in operation since 1864.
Prahran Market is proud to be Australia's premier food market that is famous for outstanding food and hard to find specialities.
The market traders take pride in stocking the highest quality of ingredients and source locally wherever possible. They offer the widest choice to their customers including heirloom produce and hard to find specialties, cheeses, small goods, artisan products, certified organic fruit and veg, beef, pork, poultry and game. Not to mention fresh sustainable fish, seafood, shellfish and crustaceans.
The market traders will also give you expert advice on purchases such as where they come from, what is best in season, how much to buy, how to prepare and ways to cook it to perfection.
If you haven't been here for a while, come and visit Prahran Market! You will really enjoy it.
163 Commercial Road
South Yarra, VIC, 3141
Located 0.9K from South Yarra
Como House and Garden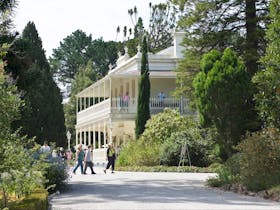 A stone's throw away from Melbourne's shopping mecca and perched high above the Yarra River lies the sanctuary of Como.
Boasting one of Melbourne's finest gardens, an inspiring historic mansion and an impressive collection of antique furniture, the property provides a glimpse into the privileged lifestyle of its former owners, one of Australia's wealthiest pioneer families. Now 160 years old, a visit to Como reveals the life and times of Melbourne aristocracy and offers an insight to the transformation of the city through the Gold Rush, a Depression and two World Wars.
Wander the beautifully manicured gardens and immerse yourself in the history, luxury and inspiration that make Como Melbourne's most glamorous location.
Corner Williams Road and Lechlade Avenue
South Yarra, VIC, 3141
Located 1.2K from South Yarra
Punt Tours Melbourne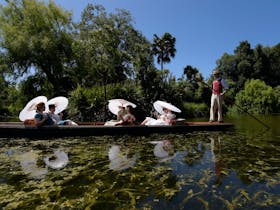 Enjoy a serene cruise with Punt Tours Melbourne around the islands of the picturesque Ornamental Lake in Melbourne's stunning Royal Botanic Gardens. Settle back in an elegant wooden punt to enjoy a unique view of one of the world's finest gardens as your professional punter tells you about its history, environment, wildlife and plants.
Punts depart regularly from the Punt Tours Melbourne landing in front of the Terrace Cafe, inside Gate A of the Royal Botanic Gardens (corner Alexandra Avenue and Anderson Street). Tours take 30 minutes and are suitable for all ages. Reservations are recommended, and can be made through the website.
You can also enjoy a Punt Tour-High Tea Package with Punt Tours Melbourne and the Terrace Cafe, or book a charter cruise for your wedding or function in the Royal Botanic Gardens.
Alexandra Avenue,
Gate A, Royal Botanic Gardens
South Yarra, VIC, 3004
Located 1.3K from South Yarra
Aboriginal Heritage Walk
The Aboriginal Heritage Walk offers a rich and vibrant cultural experience and is one of the most popular tours at Melbourne Gardens. Indigenous guides provide a unique insight into the history of both the Gardens and its traditional owners.
The tour includes a traditional smoking ceremony, a guided walk through important areas of the Gardens, discussion about the traditional uses for food, tools and medicine, and finishes with a refreshing cup of lemon myrtle tea.
The tour guides go out of their way to get participants involved and are happy to answer questions along the way. At the start of the tour the guide selects a few participants to help lead the group.
The Aboriginal Heritage Walk is a favourite with children and adults alike, with many school groups taking part in the tour as a practical way of learning about indigenous heritage.
This casual but informative walk will make you look at plants in a whole new way as you see the land through the eyes of an Aboriginal guide.
Royal Botanic Gardens Victoria,
Birdwood Avenue,
Birdwood Avenue
Melbourne, VIC, 3004
Located 1.3K from South Yarra
Royal Botanic Gardens Victoria - Melbourne Gardens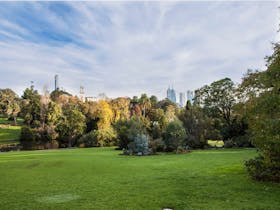 Attracting over 1,800,000 visitors annually, Melbourne Gardens is a treasured part of cultural life and a valuable asset to the heritage rich city. With its stunning vistas, tranquil lakes and diverse plant collections, the Gardens are a place of continual discovery and delight.
Enjoy the Aboriginal Heritage Walk, Garden Discovery Tour, a ride on the Garden Explorer or punting on the tranquil Ornamental Lake, all set against a beautiful backdrop and just moments from the city.
These beautiful Gardens are home to amazing and diverse plant collections such as camellias, rainforest flora, succulents and cacti, roses, Californian species, herbs, perennials, cycads and plants from Southern China. Guilfoyle's Volcano offers visitors a fabulous precinct to explore. The Gardens are also a natural sanctuary for native wildlife.
The Children's Garden has everything that children could want to help them discover the natural world, with plant tunnels that they can crawl through, rocks that they can climb and a bamboo forest in which they can hide.
Visitors can unwind at one of two caf?s, The Terrace or Jardin Tan. Or find botanical-inspired souvenirs and gifts at the shop.
During summer, the lawns come alive with outdoor cinema, theatre performances and exhibitions.
Melbourne Gardens,
Birdwood Avenue
Melbourne, VIC, 3004
Located 1.3K from South Yarra
Herring Island Environmental Sculpture Park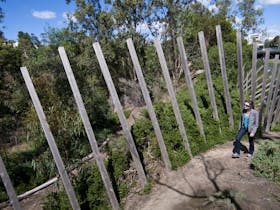 Accessible only by boat, Herring Island, 3.2 hectares in size, is just 3 kilometres from the city, and the only substantial island in the Yarra River. This informal parkland has provided the inspiration for curator Maudie Palmer to develop a concept in which artists are commissioned to create site-specific sculptures.
Internationally renowned British environmental artist Andy Goldsworthy has created two works - a slate Cairn and a Stone House constructed from Dunkeld sandstone. Four Australian artists have also installed works on Herring Island: John Davis - A Hill, a River, Two Rocks and a Presence, Jill Peck - Steerage, Julie Collins - Audience, Robert James - The Ramp and Torres Strait Islander, Ellen Jose - Tanderrum.
Melbourne horticulturist Iain Shears has designed a Native Wild Garden using patterns and species which occur naturally in temperate grasslands in Victoria. The wild garden starts flowering in early spring.
Conditions can change in parks for many reasons. For the latest information on changes to local conditions, please visit the relevant park page on the Parks Victoria website.
Be bushfire ready in the great outdoors. Refer to the Bushfire Safety section on the Parks Victoria website for tips on how to stay safe.
Yarra River
South Yarra, VIC, 3141
Located 1.3K from South Yarra
South Yarra: Events
Hockey - 4 Nations Tournament
The world-beating Australian women's hockey team will take on India, New Zealand and Japan in the tournament from May 30 to June 5. The Tournament will be the Hockeyroos final hit-out in Australia, and a great chance to perfect their game plan ahead of the 2016 Rio Olympic Games.
Level 5, 409 St Kilda Road
Melbourne, VIC, 3000
Located 1.2K from South Yarra
Como Dusk Tours
Immerse yourself in the mansion and its history during an exclusive tour of the mansion, followed by drinks and light refreshments at dusk.
Enjoy views from the balcony and take in the marvelous views from up high.
Event Dates
2017
      6th Jan
      10th Jan
      20th Jan
      24th Jan
Corner Williams Roadand Lechlade Avenue
South Yarra, VIC, 3141
Located 1.3K from South Yarra
Como House and Garden Market
Explore a variety of stalls including handmade jewellery, arts and craft and vintage in the beautiful surrounds of Como House and Garden.
Visit the stalls up the main drive and out the front of our gorgeous 19th century mansion and then enjoy a game of croquet and a walk around our stunning heritage gardens. Bring a picnic and spend the day.
Event Dates
2017
      29th Jan
Corner Williams Road and Lechlade Avenue
South Yarra, VIC, 3141
Located 1.3K from South Yarra
South Yarra Map
South Yarra Map - Legend

Multiple Hotels

Hotel
Click on the map markers for more information. Hover over the map to zoom in & out or see satellite & terrain views.