King Valley Accommodation, Hotels, Tours & Information
King Valley
Live la dolce vita with fine food, wine and accommodation in Milawa and King Valley, one of Australia's oldest gourmet regions and Victoria's breadbasket.

Victoria's High Country has a history of entrepreneurial and exciting winemaking, which is also reflected in the region's commitment to the freshest produce. A tour of intimate, authentic wineries will be sure to include encounters with winemakers and their families and tastings of uncommon Italian varietals like prosecco, nebbiolo, sangiovese and barbera.

Milawa and the King Valley's wineries and farm gates are conveniently close together, perfect for a leisurely cycle between villages. Grab a map from the local Visitor Information Centre, hire a bicycle and fill your basket with local cheeses, nuts, trout, honey, wine and olives.

The Milawa Cheese Factory Caf? is a must for stocking up on homemade cheeses. Sample local mustards, herb vinegars and preserves at Milawa Mustards, and join an olive tasting at the Olive Shop. The well-established Brown Brothers' Epicurean Centre Restaurant is a one-stop shop for the best of the region's produce.

The King Valley is as stunning as it is bounteous, surrounded by stunning alpine vistas, acres of vineyards, plains of wildflowers and historic attractions.

The Queen's Birthday in June becomes a Weekend Fit For A King with a host of wine and food events around the King Valley.

Milawa is 257 kilometres, or just under three hours by car from Melbourne along the Hume Highway.


King Valley: Where To Go / Sightseeing
Murray to Mountains Rail Trail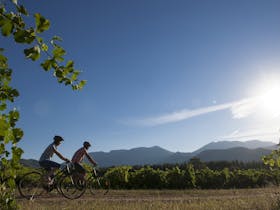 The Murray to Mountains Rail Trail is the perfect way to discover the diverse and ever-changing landscape of North East Victoria - from natural bushland to verdant farmland, delightfully unexpected hidden valleys and some of Australia's most spectacular mountain ranges.
Along the ride (no matter which leg you choose) you'll savour some of Australia's finest gourmet produce, renowned wines, and handcrafted beer. Over 100 kilometres of sealed off road trails provides you with the perfect link between the already popular tourist centres of Wangaratta, Beechworth, Rutherglen, Bright and Myrtleford.
The popular rides along the Murray to Mountains Rail Trail caters to all from the intrepid rider, keen to tackle the bigger rides to the more gentle, short rides perfect for little people who are still finding their rolling legs. Map out your ideal morning, day or even long weekend.
Murray to Mountains Rail Trail,
Lorimer
Victoria's High Country, VIC,
Located 10.8K from King Valley
Wangaratta YMCA Indoor Sports and Aquatic Centre
This modern indoor aquatic facility features a 25 metre temperature controlled pool, a therapeutic program pool and a toddlers pool. There is also a fully equipped, spacious health club consisting of the latest equipment and more than 50 group exercise classes per week. The facility also includes three full sized stadium courts and six squash courts.
The Wangaratta Indoor Sports and Aquatics Centre caters for people of all ages and backgrounds. There are disabled access facilities as well as a fully accredited childcare facility and cafe.
Wangaratta Indoor Sports and Aquatic Centre is proudly managed by YMCA Victoria in partnership with Rural City of Wangaratta.
BP Barr Reserve,
Schilling Drive
Wangaratta, VIC, 3677
Located 12.6K from King Valley
Uniting Church Opportunity Shop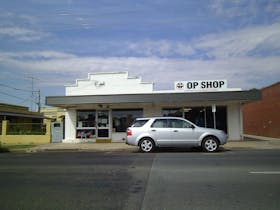 The Uniting Church Opportunity Shop in Wangaratta has a wonderful range of second hand and pre-loved items, ranging from second hand women's clothing, second hand men's clothing, second hand children's clothing, second hand kitchenware, second hand books, second hand shoes and second hand bric-a-brac.
Uniting Church Opportunity Shop gratefully accept clean, good quality second hand items at the store.
39 Vincent Road
Wangaratta, VIC, 3677
Located 13.9K from King Valley
Wangaratta to Milawa via Oxley 15km - Murray to Mountains Rail Trail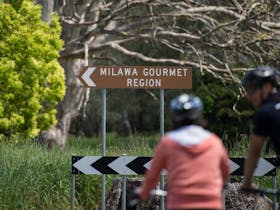 The Murray to Mountains Rail Trail runs right to Milawa from Wangaratta via Oxley. Milawa is a must-stop village on your rail trail adventure and when it comes to an abundance of gourmet riding experiences, it's the perfect place for two-wheeled relaxation.
On the rail trail between Milawa and Wangaratta lies the village of Oxley and the road to the renowned King Valley turns here. It is popular with local bike riders and holiday goers alike, the ride from Milawa to Sam Miranda Winery at Oxley, is a flat and highly accessible ride at under 10 kilometres.
Pop in and out of the many cellar doors, farm gates and gourmet food stores. Stop in at one of the caf?s or restaurants for a leisurely lunch or coffee break. Borrow a bike from Brown Brothers or bike hire is available in Milawa.
Murray to the Mountains Rail Trail,
Lorimer
Wangaratta, VIC, 3677
Located 13.9K from King Valley
R.S.P.C.A Opportunity Shop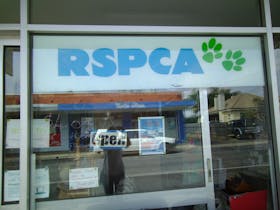 R.S.P.C.A Opportunity Shop have a wonderful range of second hand and pre loved goods, including men's, women's and children's clothing, belts, scarves, kitchenware, books, DVD's, assorted bric a brac and furniture.
R.S.P.C.A Opportunity Shop gratefully accept second hand goods in good condition during normal trading hours. Please phone to organise collection of goods.
5-7 Wills Street
Wangaratta, VIC, 3677
Located 13.9K from King Valley
King Valley: Events
Milawa Gourmet Region Producers Market
Milawa Gourmet Region have a producers market at the beginning of each season. The market showcases the beautiful produce produced in North East Victoria which a chance for the public to meet the producers.
The market also features live music.
It is a great day out for the family, so come down to the next market and see what great produce you can find.
Event Dates
2016
      2nd Oct
Snow Road
Milawa, VIC, 3678
Located 0.7K from King Valley
Wine Blending Experience
Have you ever wondered how a wine blend is created?
Discover some of Brown Brothers' classic wine varietals like shiraz, merlot or cabernet, which have been extracted straight from the wine barrel or tank by their winemakers.
During the Wine Blending Experience you will taste the diverse flavours and experiment with different combinations to create your own unique blend of wine. Then bottle and label your unique creation for a one of a kind souvenir to take home.
Available every Monday to Friday.
Time: 3:30pm
Event Dates
2016
      27th Aug
      28th Aug
      29th Aug
      30th Aug
      31st Aug
      1st Sep
      2nd Sep
      3rd Sep
      4th Sep
      5th Sep
      6th Sep
      7th Sep
      8th Sep
      9th Sep
      10th Sep
      11th Sep
      12th Sep
      13th Sep
      14th Sep
      15th Sep
      16th Sep
      17th Sep
      18th Sep
      19th Sep
      20th Sep
      21st Sep
      22nd Sep
      23rd Sep
      24th Sep
      25th Sep
      26th Sep
      27th Sep
      28th Sep
      29th Sep
      30th Sep
      1st Oct
      2nd Oct
      3rd Oct
      4th Oct
      5th Oct
      6th Oct
      7th Oct
      8th Oct
      9th Oct
      10th Oct
      11th Oct
      12th Oct
      13th Oct
      14th Oct
      15th Oct
      16th Oct
      17th Oct
      18th Oct
      19th Oct
      20th Oct
      21st Oct
      22nd Oct
      23rd Oct
      24th Oct
      25th Oct
      26th Oct
      27th Oct
      28th Oct
      29th Oct
      30th Oct
      31st Oct
      1st Nov
      2nd Nov
      3rd Nov
      4th Nov
      5th Nov
      6th Nov
      7th Nov
      8th Nov
      9th Nov
      10th Nov
      11th Nov
      12th Nov
      13th Nov
      14th Nov
      15th Nov
      16th Nov
      17th Nov
      18th Nov
      19th Nov
      20th Nov
      21st Nov
      22nd Nov
      23rd Nov
      24th Nov
      25th Nov
      26th Nov
      27th Nov
      28th Nov
      29th Nov
      30th Nov
      1st Dec
      2nd Dec
      3rd Dec
      4th Dec
      5th Dec
      6th Dec
      7th Dec
      8th Dec
      9th Dec
      10th Dec
      11th Dec
      12th Dec
      13th Dec
      14th Dec
      15th Dec
      16th Dec
      17th Dec
      18th Dec
      19th Dec
      20th Dec
      21st Dec
      22nd Dec
      23rd Dec
      24th Dec
      25th Dec
      26th Dec
      27th Dec
      28th Dec
      29th Dec
      30th Dec
      31st Dec
2017
      1st Jan
      2nd Jan
      3rd Jan
      4th Jan
      5th Jan
      6th Jan
      7th Jan
      8th Jan
      9th Jan
      10th Jan
      11th Jan
      12th Jan
      13th Jan
      14th Jan
      15th Jan
      16th Jan
      17th Jan
      18th Jan
      19th Jan
      20th Jan
      21st Jan
      22nd Jan
      23rd Jan
      24th Jan
      25th Jan
      26th Jan
      27th Jan
      28th Jan
      29th Jan
      30th Jan
      31st Jan
      1st Feb
      2nd Feb
      3rd Feb
      4th Feb
      5th Feb
      6th Feb
      7th Feb
      8th Feb
      9th Feb
      10th Feb
      11th Feb
      12th Feb
      13th Feb
      14th Feb
      15th Feb
      16th Feb
      17th Feb
      18th Feb
      19th Feb
      20th Feb
      21st Feb
      22nd Feb
      23rd Feb
      24th Feb
      25th Feb
      26th Feb
      27th Feb
      28th Feb
      1st Mar
      2nd Mar
      3rd Mar
      4th Mar
      5th Mar
      6th Mar
      7th Mar
      8th Mar
      9th Mar
      10th Mar
      11th Mar
      12th Mar
      13th Mar
      14th Mar
      15th Mar
      16th Mar
      17th Mar
      18th Mar
      19th Mar
      20th Mar
      21st Mar
      22nd Mar
      23rd Mar
      24th Mar
      25th Mar
      26th Mar
      27th Mar
      28th Mar
      29th Mar
      30th Mar
      31st Mar
      1st Apr
      2nd Apr
      3rd Apr
      4th Apr
      5th Apr
      6th Apr
      7th Apr
      8th Apr
      9th Apr
      10th Apr
      11th Apr
      12th Apr
      13th Apr
      14th Apr
      15th Apr
      16th Apr
      17th Apr
      18th Apr
      19th Apr
      20th Apr
      21st Apr
      22nd Apr
      23rd Apr
      24th Apr
      25th Apr
      26th Apr
      27th Apr
      28th Apr
      29th Apr
      30th Apr
      1st May
      2nd May
      3rd May
      4th May
      5th May
      6th May
      7th May
      8th May
      9th May
      10th May
      11th May
      12th May
      13th May
      14th May
      15th May
      16th May
      17th May
      18th May
      19th May
      20th May
      21st May
      22nd May
      23rd May
      24th May
      25th May
      26th May
      27th May
      28th May
      29th May
      30th May
      31st May
      1st Jun
      2nd Jun
      3rd Jun
      4th Jun
      5th Jun
      6th Jun
      7th Jun
      8th Jun
      9th Jun
      10th Jun
      11th Jun
      12th Jun
      13th Jun
      14th Jun
239 Milawa-Bobinawarrah Road
Milawa, VIC, 3678
Located 0.9K from King Valley
Reel Paddling Film Festival hosted by North East Canoe Club
The North East Canoe Club located in country Victoria is delighted to host the Reel Paddling Film Festival World Tour. The world tour screens in more than 120 cities around the world.
Featuring an action packed set of short films showcasing amazing paddling and beautiful locations. With something for everyone from the most serious adrenalin seeking white water paddling to stunning remote flat water paddling, as well as sea kayaking, kayak fishing, canoeing and much more. Anyone who paddles and loves the water will enjoy a wonderful night of film.
The event will also include an action packed weekend of white water paddling, canoe tours, workshops and trade displays.
All ticket holders are are eligible to a free annual digital subscription to all Rapid Media's Magazines.
Come along on Saturday, 8th of October at the Oxley Hall. The film will be screen at 7.30pm, come earlier from 5.30pm for a swap meet, local wines and food and trade displays.
Event Dates
2016
      8th Oct
1157 Snow Road
Oxley, VIC, 3678
Located 3.3K from King Valley
Oxley Community Garage Sale
Oxley Victoria is located 10 minutes drive from Wangaratta in the Milawa Gourmet Region at the beginning of the King Valley.
The Oxley community garage sale is an exciting event which promises to offer some great bargains and recycled items.
For those interested the stall entry fee of $25 includes a free coffee and hash brown at The Oxley Pantry advertising by social media, with your location marked on the trail map.
Trail maps will be available on the day at the Oxley Pantry.
The Garage sale is from 8am - 1pm on Saturday September 10th with fundraised going to Oxley Primary School. Entry forms available by emailing adlindesign@bigpond.com.au
Event Dates
2016
      10th Sep
Snow Road
Oxley, VIC, 3678
Located 4.5K from King Valley
Sam Miranda Gran Fondo
The fifth annual Sam Miranda King Valley Gran Fondo. Challenge yourself, friends or colleagues over 115 kilometres of challenging terrain in the picturesque King Valley.
In true Gran Fondo style, this ride has full event timing and is a mass participation ride preceding the Sam Miranda road race and stage three of the Sam Miranda tour of the King Valley womens national road series race. The circuit is a mix of quiet country roads, unique climbs including the famed Strade Nero to Whitlands, a great descent into Whitfield and rolling countryside and vineyards.
After your ride, chill out in the event village with food, Sam Miranda Wine, Bridge Road Brewery beers, Genovese Coffee and live music while watching the finish of the afternoon's racing.
1019 Snow Road,
Po Box 230
Oxley, VIC, 3678
Located 4.5K from King Valley
King Valley Map
King Valley Map - Legend

Multiple Hotels

Hotel
Click on the map markers for more information. Hover over the map to zoom in & out or see satellite & terrain views.