Moyhu Accommodation, Hotels, Tours & Information
Moyhu
Moyhu is a lovely community set within the rural City of Wangaratta's beautiful King Valley. The King Valley boasts several outstanding fishing spots, boutique wineries and gourmet food outlets that must be experienced to be truly appreciated. Unravel the past in some of the nearby historic towns where the rush of gold brought new culture and immeasurable growth to the region. Unique history of the region is centred on the connection between Glenrowan and the region's infamous Ned Kelly gang. The gang made its final stand at Glenrowan where the siege ended in the wounding and capture of Kelly and the death of his comrades. Moyhu is a short drive to Wangaratta, home of Australia's very highly rated Wangaratta Festival of Jazz and Blues (Australian Tourism Award Winners 1999), held annually in early November. The dust has scarcely settled on the jazz gig when the town of Whitfield - 23km south of Moyhu - presents the annual King Valley Virgin Wine, Food and Arts Festival which showcases more than 80 local wines, craft and the fine and performing arts.
Moyhu: Where To Go / Sightseeing
Brookfield Maze
Brookfield Maze, Cafe and Garden is located at Myrrhee, North East Victoria, nestled in the foothills of the King Valley gourmet food and wine region, uniquely situated alongside the picturesque Fifteen Mile creek.
A traditional hedge maze with extensive tranquil gardens, Brookfield Maze offers fun for whole family. Solve the puzzle of the maze to find the viewing platform in the centre. Hunt for hidden koalas and add up the number clues.
Play Bocce, giant chess and checkers in the garden, follow the brick labyrinth path to the rock centre or simply stroll around the garden, enjoying each season.
Choose from the extensive lunch menu in the air-conditioned cafe. Lunches are prepared with seasonal local produce, with scrumptious house made cakes and desserts. Brookfield's own barista will make you perfect espresso coffee while you relax and enjoy the garden views.
Brookfield Maze offers a unique setting for weddings and functions. Stay longer at Brookfield Maze
in the Maze House, boutique style self-catering accommodation.
1121 Benalla-Whitfield Road,
Benalla-Whitfield
Myrrhee, VIC, 3732
Located 16.5K from Moyhu
Milawa Cheese Factory and Bakery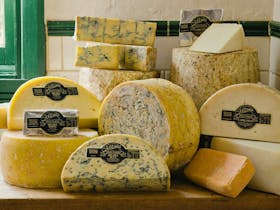 Milawa Cheese Company has been operating on the historic butter factory site in Milawa since 1988 and has developed an internationally award winning range of hand-made cow and goat milk cheeses that have become Australian classics.
The addition of the traditional artisan Factory Bakery perfectly complements the ethos of the business, making the highest quality traditional hand-made foods that take time and immense care to produce.
Visitors to the Milawa Cheese Factory can expect to find the full range of cheese produced on-site available for free tastings, a warm welcome to be had in the Bakery where light meals, cakes and coffee are available through to the restaurant for a wonderful array of menu options highlighting the strengths of the regional produce.
Also on-site is Wood Park Wines Cellar Door, The Muse Gallery of Milawa, The Walnut Tree Collection and Eucalypt Wood Works. The Milawa Cheese Factory is great place to come and while a way a few hours with something for everyone.
For any further information please contact them or view their website.
17 Factory Lane
Milawa, VIC, 3678
Located 16.8K from Moyhu
Wangaratta YMCA Indoor Sports and Aquatic Centre
This modern indoor aquatic facility features a 25 metre temperature controlled pool, a therapeutic program pool and a toddlers pool. There is also a fully equipped, spacious health club consisting of the latest equipment and more than 50 group exercise classes per week. The facility also includes three full sized stadium courts and six squash courts.
The Wangaratta Indoor Sports and Aquatics Centre caters for people of all ages and backgrounds. There are disabled access facilities as well as a fully accredited childcare facility and cafe.
Wangaratta Indoor Sports and Aquatic Centre is proudly managed by YMCA Victoria in partnership with Rural City of Wangaratta.
BP Barr Reserve,
Schilling Drive
Wangaratta, VIC, 3677
Located 23.2K from Moyhu
Moyhu: Events
Moyhu Farmers and Community Market
Celebrating the best of the King Valley's Produce and its vibrant community, the Moyhu Farmers and Community Market is a fantastic event for the locals and visitors alike.
Browse the stalls for espresso coffee, hot farmers breakfast, plants, fresh local fruit and vegetables, handmade preserves and jams, bread, local meat producers, seasonal produce and more.
Event Dates
2016
      16th Jul
Wangaratta-Whitfield Rd
Moyhu, VIC, 3732
Located 0.8K from Moyhu
La Dolce Vita Wine and Food Festival
The King Valley's spring festival, La Dolce Vita, 14 to 15 November, showcases the innovative wine styles the region has become known for, the foods that many of the generation have grown up on and the honest and generous hospitality that the family owned businesses of the King Valley pride themselves on providing.
Visitors will not only be able to sample Sangiovese and Prosecco in its Australian home, they can also journey around the world by tasting a range of intriguing Italian, Spanish, German, Portuguese, Russian and French varieties at the participating wineries. Varieties such as Arneis, Pinot Grigio, Savignan, Verduzzo, Barbera, Nebbiolo and Tempranillo sit alongside more mainstream varieties for a tasting experience like no other.
With an strong Italian influence, the menus at each of the participating wineries allow you to choose from authentic dishes prepared by Nonna's and renowned local chefs including handmade pasta and gnocchi, pizzas, seafood along with mouth-watering Italian desserts, sweets and coffee.
Immerse yourself in the heritage of the King Valley with live music, roving entertainers, special wine tastings and beautiful King Valley views, delivering a relaxed festive atmosphere.
Event Dates
2016
      19th Nov
      20th Nov
From Milawa to Cheshunt
King Valley, VIC, 3678
Located 14.1K from Moyhu
La Dolce Vita
Celebrate 'the sweet life' with the winemaking families of the King Valley at La Dolce Vita. The region is famed for Prosecco, Pinot Grigio, Arneis, Sangiovese and elegant cool climate wine.
Taste new releases and talk with the winemaker at cellar door. Match the wine and generous hospitality with authentic cuisine prepared by Nonna or a renowned local chef.
Enjoy live music, roving entertainers, competitions, kids' activities, masterclasses and more, set against the stunning vistas of Victoria's High Country.
Event Dates
2016
      19th Nov
      20th Nov
4161 Wangaratta-Whitefield Road
King Valley, VIC, 3678
Located 14.1K from Moyhu
Wine Blending Experience
Have you ever wondered how a wine blend is created?
Discover some of Brown Brothers' classic wine varietals like shiraz, merlot or cabernet, which have been extracted straight from the wine barrel or tank by their winemakers.
During the Wine Blending Experience you will taste the diverse flavours and experiment with different combinations to create your own unique blend of wine. Then bottle and label your unique creation for a one of a kind souvenir to take home.
Available every Monday to Friday.
Time: 3:30pm
Event Dates
2016
      4th Jul
      5th Jul
      6th Jul
      7th Jul
      8th Jul
      11th Jul
      12th Jul
      13th Jul
      14th Jul
      15th Jul
      18th Jul
      19th Jul
      20th Jul
      21st Jul
      22nd Jul
      25th Jul
      26th Jul
      27th Jul
      28th Jul
      29th Jul
      1st Aug
      2nd Aug
      3rd Aug
      4th Aug
      5th Aug
      8th Aug
      9th Aug
      10th Aug
      11th Aug
      12th Aug
      15th Aug
      16th Aug
      17th Aug
      18th Aug
      19th Aug
      22nd Aug
      23rd Aug
      24th Aug
      25th Aug
      26th Aug
      29th Aug
      30th Aug
      31st Aug
      1st Sep
      2nd Sep
      5th Sep
      6th Sep
      7th Sep
      8th Sep
      9th Sep
      12th Sep
      13th Sep
      14th Sep
      15th Sep
      16th Sep
      19th Sep
      20th Sep
      21st Sep
      22nd Sep
      23rd Sep
      26th Sep
      27th Sep
      28th Sep
      29th Sep
      30th Sep
      3rd Oct
      4th Oct
      5th Oct
      6th Oct
      7th Oct
      10th Oct
      11th Oct
      12th Oct
      13th Oct
      14th Oct
      17th Oct
      18th Oct
      19th Oct
      20th Oct
      21st Oct
      24th Oct
      25th Oct
      26th Oct
      27th Oct
      28th Oct
      31st Oct
      1st Nov
      2nd Nov
      3rd Nov
      4th Nov
      7th Nov
      8th Nov
      9th Nov
      10th Nov
      11th Nov
      14th Nov
      15th Nov
      16th Nov
      17th Nov
      18th Nov
      21st Nov
      22nd Nov
      23rd Nov
      24th Nov
      25th Nov
      28th Nov
      29th Nov
      30th Nov
      1st Dec
      2nd Dec
      5th Dec
      6th Dec
      7th Dec
      8th Dec
      9th Dec
      12th Dec
      13th Dec
      14th Dec
      15th Dec
      16th Dec
      19th Dec
      20th Dec
      21st Dec
      22nd Dec
      23rd Dec
      26th Dec
      27th Dec
      28th Dec
      29th Dec
      30th Dec
2017
      2nd Jan
      3rd Jan
      4th Jan
      5th Jan
      6th Jan
      9th Jan
      10th Jan
      11th Jan
      12th Jan
      13th Jan
      16th Jan
      17th Jan
      18th Jan
      19th Jan
      20th Jan
      23rd Jan
      24th Jan
      25th Jan
      26th Jan
      27th Jan
      30th Jan
      31st Jan
      1st Feb
      2nd Feb
      3rd Feb
      6th Feb
      7th Feb
      8th Feb
      9th Feb
      10th Feb
      13th Feb
      14th Feb
      15th Feb
      16th Feb
      17th Feb
      20th Feb
      21st Feb
      22nd Feb
      23rd Feb
      24th Feb
      27th Feb
      28th Feb
      1st Mar
      2nd Mar
      3rd Mar
      6th Mar
      7th Mar
      8th Mar
      9th Mar
      10th Mar
      13th Mar
      14th Mar
      15th Mar
      16th Mar
      17th Mar
      20th Mar
      21st Mar
      22nd Mar
      23rd Mar
      24th Mar
      27th Mar
      28th Mar
      29th Mar
      30th Mar
      31st Mar
      3rd Apr
      4th Apr
      5th Apr
      6th Apr
      7th Apr
      10th Apr
      11th Apr
      12th Apr
      13th Apr
      14th Apr
      17th Apr
      18th Apr
      19th Apr
      20th Apr
      21st Apr
      24th Apr
      25th Apr
      26th Apr
      27th Apr
      28th Apr
      1st May
      2nd May
      3rd May
      4th May
      5th May
      8th May
      9th May
      10th May
      11th May
      12th May
      15th May
      16th May
      17th May
      18th May
      19th May
      22nd May
      23rd May
      24th May
      25th May
      26th May
      29th May
      30th May
      31st May
      1st Jun
      2nd Jun
      5th Jun
      6th Jun
      7th Jun
      8th Jun
      9th Jun
      12th Jun
      13th Jun
      14th Jun
239 Milawa-Bobinawarrah Road
Milawa, VIC, 3678
Located 14.3K from Moyhu
Reel Paddling Film Festival hosted by North East Canoe Club
The North East Canoe Club located in country Victoria is delighted to host the Reel Paddling Film Festival World Tour. The world tour screens in more than 120 cities around the world.
Featuring an action packed set of short films showcasing amazing paddling and beautiful locations. With something for everyone from the most serious adrenalin seeking white water paddling to stunning remote flat water paddling, as well as sea kayaking, kayak fishing, canoeing and much more. Anyone who paddles and loves the water will enjoy a wonderful night of film.
The event will also include an action packed weekend of white water paddling, canoe tours, workshops and trade displays.
All ticket holders are are eligible to a free annual digital subscription to all Rapid Media's Magazines.
Come along on Saturday, 8th of October at the Oxley Hall. The film will be screen at 7.30pm, come earlier from 5.30pm for a swap meet, local wines and food and trade displays.
Event Dates
2016
      8th Oct
1157 Snow Road
Oxley, VIC, 3678
Located 14.9K from Moyhu
Sam Miranda Gran Fondo
The fifth annual Sam Miranda King Valley Gran Fondo. Challenge yourself, friends or colleagues over 115 kilometres of challenging terrain in the picturesque King Valley.
In true Gran Fondo style, this ride has full event timing and is a mass participation ride preceding the Sam Miranda road race and stage three of the Sam Miranda tour of the King Valley womens national road series race. The circuit is a mix of quiet country roads, unique climbs including the famed Strade Nero to Whitlands, a great descent into Whitfield and rolling countryside and vineyards.
After your ride, chill out in the event village with food, Sam Miranda Wine, Bridge Road Brewery beers, Genovese Coffee and live music while watching the finish of the afternoon's racing.
Event Dates
2016
      20th Aug
1019 Snow Road,
Po Box 230
Oxley, VIC, 3678
Located 15.0K from Moyhu
Historic Winton
Winton Motor Raceway near Benalla hosts the 41st Historic Winton, conducted by the Austin 7 Club with assistance from Historic Motorcycle Racing Association Victoria.
Get up close to fantastic action at Australia's largest and most popular all-historic meeting and enjoy a weekend of non-stop racing featuring over 400 cars and motorbikes from the 1920s to the 1980s.
Arrive in a classic or special-interest vehicle, park in the Spectator Display Area. 2017 Historic Winton features displays of historic and classic cars, commercial vehicles, motorbikes and more.
Celebrations include anniversaries for Douglas and Excelsior motorbikes, Volvo, Ford Model A, Austin 16, Lancia Aprilia, Vauxhall 10-4, Austin 18, Ford Pilot, Austin Princess, Austin Sheerline, Peugeot 203, Standard Vanguard, Austin A40, Jowett Javelin, Lambretta, Jaguar XK150, Fiat 500 Nuova, Lotus Elite, Lotus Seven, Nissan Skyline, Wolseley 1500, Toyota Corona, Vauxhall Victor, Aston Martin DBS, Chrysler VE Valiant, Fiat 125, Ford Falcon GT, Holden Torana, Simca 1100.
2017 Heritage Display features vintage tractors, steam engines, caravans, speedway cars and bikes, micro cars, cycle cars, veteran and vintage motorcycles.
Photos courtesy Ben Molloy.
Event Dates
2017
      27th May
      28th May
Fox Street Winton
Winton, VIC, 3673
Located 21.7K from Moyhu
Moyhu Map
Moyhu Map - Legend

Multiple Hotels

Hotel
Click on the map markers for more information. Hover over the map to zoom in & out or see satellite & terrain views.