Sawmill Settlement Accommodation, Hotels, Tours & Information
Sawmill Settlement
We do not currently have any general information about Sawmill Settlement. To find out more about the area try the following locations:

Sawmill Settlement: Where To Go / Sightseeing
Howqua Hills Historic Area
This old gold mining area on the Howqua River is set in a beautiful, secluded valley, once busy with gold miners but now popular for picnics, horse riding, bushwalking and four-wheel driving.
Camping along the Howqua River is one of the best ways to enjoy this historic area and offers a great base for bushwalking, fishing and other activities.
Aboriginal Traditional Owners
Parks Victoria acknowledges the Aboriginal Traditional Owners of Victoria - including its parks and reserves. Through their cultural traditions, the Taungurung identify the Howqua Hills Historic Area as their Traditional Country.
Before you go
Conditions can change in parks for many reasons. For the latest information on changes to local conditions, please visit the relevant park page on the Parks Victoria website.
Be bushfire ready in the great outdoors. Refer to the Bushfire Safety section on the Parks Victoria website for tips on how to stay safe.
Howqua Hills Rd
Mansfield, VIC, 3723
Located 6.0K from Sawmill Settlement
Mt Buller and Mt Stirling Alpine Resort
Mt Buller and Mt Stirling Alpine Resort is surrounded by breathtaking scenery. Mount Buller is situated in the heart of Victoria's High Country offering the perfect escape from the hustle and bustle of everyday life. At an easy three-hour drive from Melbourne, Mount Buller is the most accessible major alpine resort in Australia.
Mount Buller offers the largest lifting capacity of any Victorian alpine resort with the ability to move 40,000 skiers per hour. A popular destination for international visitors, Mount Buller is the home to the Olympic Winter Institute of Australia.
Summer at Mount Buller offers a refreshing change of pace, whether you are seeking adventure, indulgence or somewhere to relax. Jump on a mountain bike, meander along one of the numerous walking trails, indulge in a sunset picnic on the summit or be entertained at one of the many summer events and festivals.
At an altitude of 1,804 metres (at the summit), summer temperatures at Mount Buller are on average 10 degrees lower than Melbourne. Enjoy clear and sunny days and a great escape from the city heat.
Mt Buller Road
Mount Buller, VIC, 3723
Located 7.6K from Sawmill Settlement
Mansfield Paintball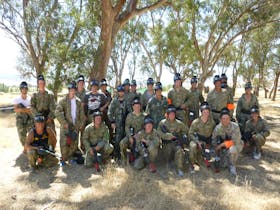 Mansfield Paintball Games has Victoria's newest Paintball Fields. Set just out of Mansfield in the heart of Victoria's High Country, Mansfield Paintball caters for a variety of ages starting at ten years old.
The fields are brand new and set in the natural farming landscape of Barwite. Gum trees, hay bales and massive rock game fields are proving to be a great challenge for the daring and enthusiastic.
Their fully trained referees will challenge your stamina and your will, to create your paintball experience a day to remember and a talking point until next time.
Mansfield Paintball is great for all ages, offering kids birthdays, hens days, work functions, corporate events and family fun days.
Paintball is now legal from age 16 and up.
332 Old Tolmie Road
Barwite, VIC, 3722
Located 19.9K from Sawmill Settlement
Mansfield Zoo
Mansfield Zoo is home to over 100 native and exotic animals, including two rare White Lions which are a must see for many visitors and the only white lions in Victoria. Friendly animals provide an interactive and engaging experience and many of them, including monkeys, can be fed by visitors.
With over 100 animals from lions, monkeys and alligators, to kangaroos, wallabies and wombats, there is plenty for animals lovers to enjoy. Experience the distinct personalities of the many animals as you wander the 30 acre park like setting, overlooking the Delatite Valley to Mount Buller.
Meet Miss Greedy and Baby Greedy, the friendly fallow deer, who love to escort visitors around the zoo, sneaking food wherever possible.
You can even sleep overnight in the Zoo with your own gear, for a self-contained camping experience in the grounds with our animals. Fall asleep to the roar of the lions, the howl of the dingoes and the chirrup of the frogs.
Find out more about the animals on a Zoo Keeper guided tour, where you can see lions at their most active and get the chance to walk with one of the dingoes.
1064 Mansfield-Woods Point Road
Mansfield, VIC, 3722
Located 20.6K from Sawmill Settlement
Tin Shed Cider
Tin Shed Cider was born of the idea to use the beautiful produce from an old apple orchard in Tolmie, Victoria.
This has evolved into the production of a traditionally crafted still cider made from pure fresh apple juice. No added sugar, no added water, gluten and preservative free.
A new range of Sparkling Ciders has been added to the range. Lightly carbonated to add a refreshing sparkle, this range is also made from the pure fresh juice of Victorian apples, has no added sugar or water and has a minimal amount of preservative to extend shelf life.
The old orchard is being renovated, following organic principles - a project that will take a number of years.
The old shed is being developed not only as a cellar door but a quirky venue for smaller personal functions. A varied range of events are scheduled each year.
This wickedly enjoyable cider is available at the Cellar Door and selected outlets and markets. The Cellar Door is open every Sunday. A light lunch is available most Sundays, please phone for bookings.
Follow them on Facebook for the latest news on happenings at the Cellar Door and local events.
1090 Tabletop Road
Tolmie, VIC, 3723
Located 21.4K from Sawmill Settlement
Mansfield Armchair Cinema
The Mansfield Armchair Cinemas are a unique community movie theatre, built by the community for the community and opened in 2009. Mansfield Armchair Cinema screen the latest blockbuster movies and their 3D movies use the latest technology.
Mansfield Armchair Cinema provides local students the opportunity gain skills and experience through school based apprenticeships. The students are trained to operate the technical side of the cinema, as well as hospitality and the business management skills.
You are encouraged to sit back in the reclining leather armchairs or on a huge beanbag and relax while enjoying a glass of wine, coffee or many of the candy bar items.
The cinema is available for private and group bookings or work conferences seven days a week. Public screenings from Tuesday to Sunday.
The cinema is open every day during school holidays.
1 Chenery Street
Mansfield, VIC, 3722
Located 24.8K from Sawmill Settlement
Alpine Blooms Florist Mansfield
Alpine Blooms Florist Mansfield is a family owned and operated retail florist and gift shop established since 1984. Staffed by sisters Lisa and Michelle Maroney, both are fully qualified and experienced florists.
Located in one of the townships original old miners cottages we are located at the "top end" of the High St. As a proud member of Interflora and The Flower Company Relay Networks, they can deliver beautiful fresh flowers, gourmet hampers, helium balloons, living gifts and much more locally, across Australia or around the world.
Catering for all tastes and budgets, from the modern to the traditional, at Alpine Blooms they can deliver something special for a birthday, anniversary, new arrival or just to say I love You. Sympathy arrangements can also be delivered to the either home or to the service.
Wedding and event flowers are their speciality and with 20 years industry experience Alpine Blooms can create the perfect flowers for your perfect wedding day. Offering a true bespoke service, all their wedding and event work is tailored to suit the individual. As no two brides are alike neither are their flowers.
Their aim is to provide each and every customer with only the freshest of blooms, arranged to the very highest of standards. The simple fact that they have been in in business for such a long time and are so highly regarded attests to this.
Phone orders are welcome or pop in to the store to say hello. For safe and secure online ordering please visit their website and follow the links. Also you can find them on Facebook, Alpine Blooms Florist Mansfield.
12 High Street
Mansfield, VIC, 3722
Located 24.8K from Sawmill Settlement
The Produce Store
Welcome to the Mansfield Regional Produce Store, known to locals simply as The Produce Store. It is the place in town to eat, meet and relax and they look forward to welcoming you as well.
Located in the busy country town of Mansfield; only two and a half hours from Melbourne, this is the place to stop in for a bite to eat, a cup of coffee or a slice of home made cake.
Built in 1895 the high ceilings and crafted rafters of their rustic building help create a wonderful ambience that you will discover the moment you walk in. Once inside it will be time to decide where to start.
The Produce Stores shelves are loaded with local produce, gift ware and an extensive range of regional wines. We can also help you create your own picnic basket full of delicious goodies to take with you when you head out to explore.
Named as one of "the places to go" in the Age Good Food Guide coffee trail, The Produce Store look forward to seeing you in the store next time you are in town.
68 High Street
Mansfield, VIC, 3722
Located 25.1K from Sawmill Settlement
Sawmill Settlement: Events
Boy out of the Country
There is more to land than real-estate. There is more to family than DNA. Jane Clifton leads a stellar cast to tell a story about family, love, loyalty and property prices in regional Australia.
Boy out of the Country tells an Australian story that is timeless, but also as immediate as the stories we read in our daily papers: stories about family disputes, love, real estate; stories about urban sprawl, lost traditions, and people making a quick buck.
The play asks how society can balance the values of tradition with the potential of development. It asks questions about what gets lost between the cracks when farmland turns to housing estate: the loss of traditions, a sense of community.. the elderly.
It is also a play about language, embracing the Australian idiom and mining the Australian vernacular for all its humour, majesty and poetry. Using naturalistic and non-naturalistic performance styles, the play features use of idiom, verse, storytelling and direct address.
Event Dates
2016
      18th Mar
      19th Mar
      20th Mar
      21st Mar
      22nd Mar
      23rd Mar
      24th Mar
      25th Mar
      26th Mar
      27th Mar
      28th Mar
      29th Mar
      30th Mar
      31st Mar
      1st Apr
      2nd Apr
      3rd Apr
      4th Apr
      5th Apr
      6th Apr
      7th Apr
      8th Apr
      9th Apr
      10th Apr
      11th Apr
      12th Apr
      13th Apr
      14th Apr
      15th Apr
      16th Apr
      17th Apr
      18th Apr
      19th Apr
      20th Apr
      21st Apr
      22nd Apr
      23rd Apr
      24th Apr
      25th Apr
      26th Apr
      27th Apr
      28th Apr
      29th Apr
      30th Apr
      1st May
      2nd May
      3rd May
      4th May
      5th May
      6th May
      7th May
      8th May
      9th May
      10th May
      11th May
      12th May
      13th May
      14th May
      15th May
      16th May
      17th May
      18th May
      19th May
      20th May
      21st May
      22nd May
      23rd May
      24th May
      25th May
      26th May
      27th May
      28th May
      29th May
      30th May
      31st May
      31st May
      1st Jun
      2nd Jun
      3rd Jun
      4th Jun
      5th Jun
      6th Jun
      7th Jun
      8th Jun
      9th Jun
      10th Jun
      11th Jun
      12th Jun
      13th Jun
      14th Jun
      15th Jun
      16th Jun
      17th Jun
      18th Jun
      19th Jun
      20th Jun
      21st Jun
      22nd Jun
      23rd Jun
      24th Jun
      25th Jun
      26th Jun
      27th Jun
      28th Jun
      29th Jun
      30th Jun
      1st Jul
      2nd Jul
      3rd Jul
      4th Jul
      5th Jul
      6th Jul
      7th Jul
      8th Jul
      9th Jul
      10th Jul
      11th Jul
      12th Jul
      13th Jul
      14th Jul
      15th Jul
      16th Jul
      17th Jul
      18th Jul
      19th Jul
      20th Jul
      21st Jul
      22nd Jul
      23rd Jul
      24th Jul
      25th Jul
      26th Jul
      27th Jul
      28th Jul
      29th Jul
      30th Jul
      31st Jul
      1st Aug
      2nd Aug
      3rd Aug
      4th Aug
      5th Aug
      6th Aug
      7th Aug
      8th Aug
      9th Aug
      10th Aug
      11th Aug
      12th Aug
      13th Aug
      14th Aug
      15th Aug
      16th Aug
      17th Aug
      18th Aug
      19th Aug
      20th Aug
      21st Aug
      22nd Aug
      23rd Aug
      24th Aug
      25th Aug
      26th Aug
      27th Aug
      28th Aug
      29th Aug
      30th Aug
      31st Aug
      1st Sep
      2nd Sep
      3rd Sep
      4th Sep
      5th Sep
      6th Sep
      7th Sep
      8th Sep
      9th Sep
      10th Sep
      11th Sep
      12th Sep
      13th Sep
      14th Sep
      15th Sep
      16th Sep
      17th Sep
      18th Sep
      19th Sep
      20th Sep
      21st Sep
      22nd Sep
      23rd Sep
      24th Sep
      25th Sep
      26th Sep
      27th Sep
      28th Sep
      29th Sep
      30th Sep
      1st Oct
      2nd Oct
      3rd Oct
      4th Oct
      5th Oct
      6th Oct
      7th Oct
      8th Oct
      9th Oct
      10th Oct
      11th Oct
      12th Oct
      13th Oct
      14th Oct
      15th Oct
      16th Oct
      17th Oct
      18th Oct
      19th Oct
      20th Oct
      21st Oct
      22nd Oct
      23rd Oct
      24th Oct
      25th Oct
      26th Oct
      27th Oct
      28th Oct
      29th Oct
      30th Oct
      31st Oct
      1st Nov
      2nd Nov
      3rd Nov
      4th Nov
      5th Nov
      6th Nov
      7th Nov
      8th Nov
      9th Nov
      10th Nov
      11th Nov
      12th Nov
      13th Nov
      14th Nov
      15th Nov
      16th Nov
      17th Nov
      18th Nov
      19th Nov
View Street
Mansfield, VIC, 3722
Located 24.9K from Sawmill Settlement
Mansfield Lantern Festival
The Mansfield Lantern Festival is a family friendly community festival held on or around the longest night of the year, the Winter Solstice - celebrating winter, community, family and fun.
Held for the first time in 2015, the festival is open to anyone who would like to take part. Check the website for details about the lantern making workshops.
The festival celebrates community and art with arts, crafts, workshops, regional food, a parade, street theatre, music and more. Come along and help light up the night. Have a look at the website gallery to see some images from the inaugural festival in June 2015.

Event Dates
2016
      18th Jun
High Street
Mansfield, VIC, 3722
Located 25.0K from Sawmill Settlement
Sawmill Settlement Map
Sawmill Settlement Map - Legend

Multiple Hotels

Hotel
Click on the map markers for more information. Hover over the map to zoom in & out or see satellite & terrain views.