Australian Sports Museum

-

Australian Sports Museum Admission

Melbourne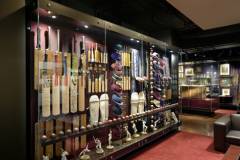 National Sports Museum
Departure Days:
Daily except: 04APR20-05APR20, 10APR20-11APR20, 13APR20, 18APR20, 25APR20, 02MAY20-03MAY20, 17MAY20, 24MAY20, 30MAY20, 08JUN20, 27JUN20-28JUN20, 04JUL20, 11JUL20, 18JUL20-19JUL20, 25JUL20-26JUL20, 01AUG20, 08AUG20-09AUG20, 15AUG20-16AUG20, 26SEP20, 03NOV20, 25DEC20.~~~~
Departure Time:
Museum is open from 10:00am to 05:00pm.
Limited opening times:
Museum open from 10:00am to 12:00pm: 07JUN20, 21JUN20.
Museum open from 10:00am to 01:00pm: 26APR20, 10MAY20, 31MAY20, 02AUG20.
Museum open from 10:00am to 01:30pm: 09MAY20.
Museum open from 10:00am to 02:30pm: 24APR20, 23MAY20, 10JUL20.
Museum open from 10:00am to 04:30pm: 02APR20, 16MAY.
Museum open from 10:00am to 05:00pm: 15MAY20, 29MAY20, 12JUN20, O5JUL20, 17JUL20.
Inclusions:
- Entry to Australian Sports Museum.
Departure Point:
Gate 3 of the MCG.
Price:
Adults: A$30
Children: A$19
Full Itinerary:
Australia's largest sporting collection is housed in the Australian Sports Museum at the MCG. This contemporary space boasts interactive zones for visitors of all ages, 3D holograms of sporting stars like Shane Warne, and memorabilia from some of our country's biggest sporting heroes. Ranging across the Olympics, AFL, Cricket, horseracing, and much more, the Australian Sports Museum cannot be missed.

Child Policy:
Valid for 01APR18-31MAR22:
Infant: 0-4 years inclusive - free of charge.
Child: 5-15 years inclusive - child rates apply.

Important Information:
Valid for 01APR20-31MAR22:
Australian Sports Museum has alternate opening hours on event days. Please see the following link for information: https://www.mcg.org.au/things-to-do/mcg-tour/operating-hours.


~~ 16-Mar-2020 to 30-Mar-2020~~Valid for 16MAR20-30MAR20:
Following advice from the Department of Health and Human Services (DHHS) regarding the global COVID-19 pandemic, otherwise known as Coronavirus, the Melbourne Cricket Club (MCC) wishes to advise that MCG Tours and Australian Sports Museum will not operate from Tuesday the 17th of March.