Melbourne Star Observation Wheel

-

General Admission

Melbourne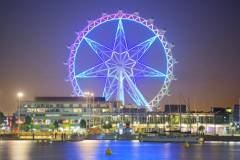 Melbourne Star
Inclusions:
- Entry to the Melbourne Star Observation Wheel incorporating a 30 minute flight.
- In cabin audio tour and map.
Price:
Adults: A$36
Children: A$22
Full Itinerary:
Melbourne Star invites you to experience Melbourne in a whole new way. A unique introduction to the city, with all its colour, culture and eccentricities giving visitors and locals alike a new way to engage with Melbourne's vibrant cityscape. Experience a single 30 minute flight including a complimentary in-cabin audio tour and map.

Child Policy:
Valid for 01APR19-31MAR21:
General Admission and Sights and Lights Flight:
Infant: 0-4 years inclusive - free of charge.
Child: 5-15 years inclusive - child rates apply.

Welcome to Melbourne brewed coffee/tea and cake flight, Welcome to Melbourne Sparkling Flight, Private Cabin:
Child: 0-15 years inclusive - not catered for.

Important Information:
Valid for 01APR20-31MAR21:
- Due to operational requirements, restrictions on motorised and non-motorised wheelchairs apply.
- A maximum of six (6) wheelchairs at any one time is allowable, with a maximum of two (2) wheelchairs per cabin.
- Occupants of wheelchairs must be accompanied by a capable carer or companion.
- Due to operational requirements, prams and mobile scooters are not permitted within the cabins.
- Non-motorised wheelchairs are available from the Melbourne Star if the passenger is unable to walk aboard unassisted. Passengers requiring assitance must be accompanied by a capable carer or companion (a holder of a recognised companion/ carer card).
- Prams and mobile scooters may be left in the designated area adjacent to the boarding platform at the owner's risk.
- The Melbourne Star has lift accessibility to the Star Boarding deck and ramps are available to assist with ease of movement in and out of cabins.
- Wheelchairs requirements must be notified at the time of booking and are subject to space availability.
- Guests must arrive 15 minutes prior to their confirmed departure flight.
- Late arrival may result in cancellation of the flight with no refund.