Broken Hill Accommodation, Hotels, Tours & Information
Broken Hill
Take a real break in Broken Hill, discover the nationally-significant heritage, meet colourful characters and enjoy authentic 'silver city' experiences in the heart of the accessible Outback.

Striking, robust and powerfully real, Broken Hill has drawn generations of pioneers, and helped define the nation through the remarkable work of some of Australia's most influential social advocates and mining entrepreneurs. This grand dame of the Outback also became the muse for generations of artists, film makers, publicans and restaurateurs.

Today it is easy to become part of the unique atmosphere of Broken Hill. Listen to inspiring stories told in lively bar side conversations and experience the city's vivid character through a range of walking and driving tours. Enquire at the Broken Hill Visitor Information Centre for more information or visit their website.
Broken Hill: Where To Go / Sightseeing
Broken Hill Heritage Walk Tour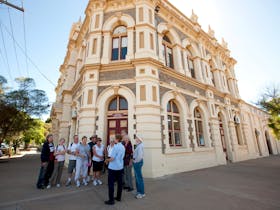 The Broken Hill Heritage Walk Tour is a two hour volunteer guided tour through Broken Hill's CBD, taking visitors past many outstanding heritage buildings. Australia's First Heritage Listed City has always been associated with silver, lead and zinc mining. Many of the streets are named after metals, minerals and compounds, or after mine managers, leading citizens and civic leaders.
The Heritage Walk Tour is a great way to take in the character of Broken Hill. Be sure to look out for the Post Office, former St Josephs Convent, and the Trades Hall, all of which are on the State Heritage Register.
Their group of passionate, dedicated and knowledgeable volunteer guides will ensure you will have an enjoyable and insightful experience.
Tours start at the Visitor Information Centre every Tuesday, Wednesday and Thursday at 10.00am.
23-27 Bromide Street
Broken Hill, NSW, 2880
Located 0.9K from Broken Hill
Riddiford Arboretum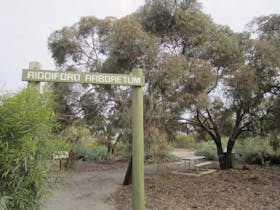 The Riddiford Arboretum features trees and shrubs of the region and is located opposite the Centro shopping centre. It was set up in 1988 on land that was a repair and oil transfer depot for the Silverton Tramway.
It is named after Walter Riddiford, mayor of Broken Hill from 1949 to 1962. But it is also a tribute to Albert Morris, a self-taught botanist who was responsible for establishing the regeneration reserves around the city. The plants in those reserves hold down the local dust and greatly reduced the previously horrible effects of the dust storms that turned day into night.
Galena Street (opposite Centro Shopping Centre)
Broken Hill, NSW, 2880
Located 1.0K from Broken Hill
Silver City Mint and Art Centre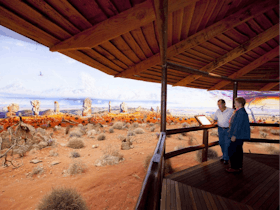 The Silver City Mint and Art Centre is an iconic tourism attraction next to housing the 'Big Picture'. There is exquisite silver jewellery crafted in Broken Hill, a wide range of artworks for purchase, and chocolates or fudge to entice your taste buds. The Silver City Mint and Art Centre offers a huge collection of art from local and interstate artists.
Many artists can be paralysed by that moment when they stare at a blank canvas - imagine the overwhelming feeling of facing a blank canvas measuring almost 100 metres long and 12 metres at its highest point! Peter Anderson had a vision and was able to take that first brush stroke and a million more to finish the Big Picture, the world's largest acrylic painting on canvas by a single artist. Opened to the public in 2001, Ando's Big Picture quickly became Broken Hill's number one tourist attraction!
66 Chloride Street
Broken Hill, NSW, 2880
Located 1.1K from Broken Hill
Albert Kersten Mining and Minerals Museum (GeoCentre)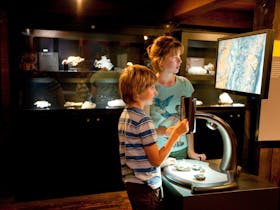 The Albert Kersten Mining and Minerals Museum displays minerals, gems and interesting props regarding mining in Broken Hill and the town's special gift of minerals. This museum is not a static collection of rocks but a dynamic and active interpretive centre.
With the many hands-on exhibits, light, sound and movement, visitors can discover some of the beauty and mystery of the world of minerals. Learn about the science of crystals, explore the history of the planet; find out how the 'super giant' ore body formed in Broken Hill.
Uniquely designed cabinets display over 200 choice specimens at a time. Each of these specimens is individually lit so that they may be seen to their best possible advantage.
Corner Crystal and Bromide Streets
Broken Hill, NSW, 2880
Located 1.2K from Broken Hill
Royal Flying Doctor Service Bruce Langford Visitors Centre Broken Hill
The Bruce Langford Visitor Centre combines a museum, theatre and shop, with interactive displays showing the history of the Service, as well as tributes to the doctors, pilots and flight nurses who work for the Royal Flying Doctor Service (RFDS) and the many community groups and benefactors who support them.
So visit now and tour a working RFDS Base. View the aircraft in the hangar. Watch a unique film in the 44 seat theatre. Shop for special souvenirs and explore the Mantle of Safety Museum.
Broken Hill Airport, Bonanza Street
Broken Hill, NSW, 2880
Located 1.2K from Broken Hill
Broken Hill: Events
Outback | Colour | Wind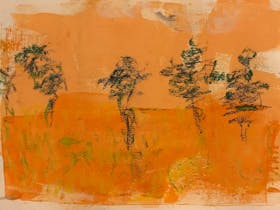 Pop up art exhibition at the Lodge Outback Motel. It has long been their vision to use the public area at the Lodge Outback Motel to display art, so it is with great excitement that they have finally taken the steps towards making this new Broken Hill tourism venture a reality.
The culture and heritage of this building is significant and one that they believe supports their idea. The exhibition that they will be showing is a celebration of the outback and its colours. It will be running in conjunction with the Broken Hill Art Exchange Desert Equinox Solar and wind project.
Each of the featured artists will bring their individual interpretation of the Exhibition title Outback, colour and wind. One of the artists that will be featured is Helene Power, besides being joint owner of the motel she has also worked as a visual artist using soft pastels, pencils and clay.
Her point of focus has been the Australian landscape, taking inspiration from the strong and vibrant energy of the vast plains, the red dirt, the heat intensity and the dust storms; an energy and landscape that stands in strong contrast to Denmark, where she grew up.
Event Dates
2018
      5th Mar
      6th Mar
      7th Mar
      8th Mar
      9th Mar
      10th Mar
      11th Mar
      12th Mar
      13th Mar
      14th Mar
      15th Mar
      16th Mar
      17th Mar
      18th Mar
      19th Mar
      20th Mar
      21st Mar
      22nd Mar
      23rd Mar
      24th Mar
      25th Mar
      26th Mar
      27th Mar
      28th Mar
      29th Mar
      30th Mar
      31st Mar
      1st Apr
      2nd Apr
      3rd Apr
      4th Apr
      5th Apr
      6th Apr
      7th Apr
      8th Apr
      9th Apr
      10th Apr
      11th Apr
      12th Apr
      13th Apr
      14th Apr
      15th Apr
      16th Apr
      17th Apr
      18th Apr
      19th Apr
      20th Apr
      21st Apr
      22nd Apr
      23rd Apr
      24th Apr
      25th Apr
      26th Apr
      27th Apr
      28th Apr
      29th Apr
      30th Apr
252 Mica Street
Broken Hill, NSW, 2880
Located 0.7K from Broken Hill
Broken Hill Community Markets
Broken Hill Community Markets will recommence in March as long as the forecast temperature does not exceed 35 degrees celsius. Thereafter they occur on the second Saturday of each month.
Come and meet the locals.
The Markets run from 8am to 1pm in autumn and spring, and from 9am to 1pm in winter. In December they have a Twilight Market from 5pm to 8.30pm after the Christmas Pageant.
Regular stalls offer delicious food such as freshly cooked barbecue, Asian food, 'allergy' cakes for the food intolerant, handmade chocolates, doughnuts cooked on site, homemade cakes, jams and chutneys, and Alain the 'French Foodie Frog' has his imported pate and other delicacies from south western France.
For the browsers they have stalls full of old wares and collectibles, 'Art from the Heart' and other crafts, minerals from Broken Hill and elsewhere, and hand made jewellery.
Occasional stalls offer Menindee fruit and vegetables, quandong products, hand made clothing, second hand clothing, hair and baby items, and more.
How to get to the Markets: just a short walk from Broken Hill's main street, the Centre for Community is in Beryl Street on the side of Sturt Park opposite Aruma Lodge.

Event Dates
2018
      10th Mar
      10th Mar
      14th Apr
      14th Apr
      12th May
      12th May
      9th Jun
      9th Jun
      14th Jul
      14th Jul
      11th Aug
      11th Aug
      8th Sep
      8th Sep
      13th Oct
      13th Oct
      10th Nov
      10th Nov
      8th Dec
200 Beryl Street
Broken Hill, NSW, 2880
Located 0.9K from Broken Hill
Broken Heel Festival in Broken Hill
Desert, Disco and plenty of Divas darlings.
Headline performances from the nation's best cultural personalities plus DJ's Showgirls, Bio Queens, Drag Queens and Drag Kings representing every corner of Australia's diverse community.
Throughout the Festivals three stages, you'll experience plenty of comedy, cabaret, live music and social activities paying homage to the iconic cult movie and stage musical, "Priscilla- Queen of the Desert".
Also, don't forget to head to Town Square for the Main Drag In Drag street parade where you and the community of Broken Hill joins in on the celebrations.
Plenty to see and do, you'll be living your own desert adventure with all of the incredible sights, sounds and tastes in and around Broken Hill.
Hold your boa babe and sparkle up, there's nothing else like it.
The Broken Heel Festival is a bucket list journey you won't want to miss.
Event Dates
2018
      8th Sep
      9th Sep
227 Argent Street
Broken Hill, NSW, 2880
Located 1.1K from Broken Hill
Broken Hill: Travel Tips
Broken Hill Visitor Information Centre
The friendly staff at the Broken Hill Visitor Information Centre will handle your bookings for local tours and provide you with all the necessary information for your step into the Great Outback.
The centre has a range of facilities, including showers, toilets and disabled access for visitors. Browse through their gift shop and take home a souvenir which includes locally made items.
23-27 Bromide Street
Broken Hill, NSW, 2880
Located 0.9K from Broken Hill
Broken Hill Map
Broken Hill Map - Legend

Multiple Hotels

Hotel
Click on the map markers for more information. Hover over the map to zoom in & out or see satellite & terrain views.